How coronavirus is affecting Chicago theater
Broadway's shut down. Sports, too. But theater in Chicago, for now, is more complicated.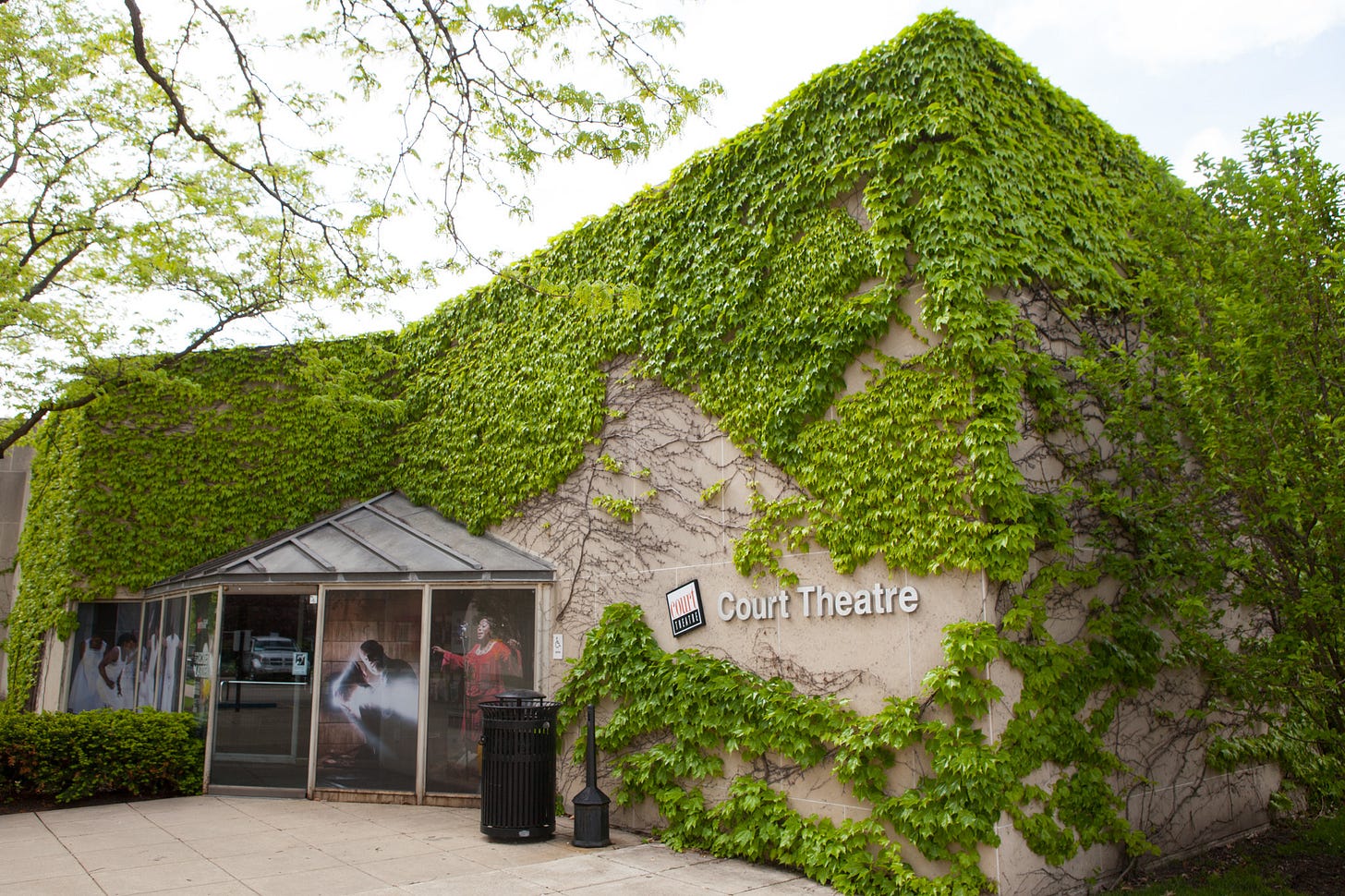 Court Theatre today became the first theater in Chicago to shut down due to the coronavirus outbreak. The company, which is situated on the University of Chicago campus, is subject to the guidelines issued by the school on Tuesday restricting events to crowds of 100 or less through April 15. For the 250-seat Court, which was scheduled to begin previews tonight on a revival of Henrik Ibsen's The Lady from the Sea running through April 12, that cap proved logistically untenable.
Up until close of business today, Chicago's other big cultural institutions seemed to be taking a wait-and-see approach, as I wrote at Chicago magazine earlier today. I checked in with reps of more than 20 organizations, including the League of Chicago Theatres, the Art Institute, the Chicago Symphony Orchestra, Museum of Contemporary Art, the Second City and Lyric Opera—all of whom were saying as of this morning that their shows would go on, though most were offering "relaxed" refund or exchange policies for nervous patrons.
Of course, that was this morning. Since noon today, New York Gov. Andrew Cuomo effectively shut down Broadway; Major League Baseball, the National Hockey League and Major League Soccer all suspended their seasons; the NCAA canceled March Madness and most Division I conferences canceled their men's basketball tournaments; concert promoters Live Nation and AEG suspended all of their current concert tours; and even Disneyland called a shutdown.
And in a 5pm news conference at the Thompson Center today, Gov. Pritzker issued new statewide guidelines asking for all community gatherings of more than 250 people to be voluntarily canceled or postponed until May 1. Any gatherings of more than 1,000 people are banned for 30 days.
The ban on 1,000+ crowds could be devastating to Lyric Opera's multimillion dollar April stagings of the Ring Cycle, and will also affect the pre-Broadway production of Once Upon a One More Time at the James M. Nederlander Theatre. The Auditorium Theatre has already issued a statement acknowledging that all of its events are canceled for the next 30 days.
The city's largest resident theaters generally have venues under 1,000 seats. But assuming larger theaters follow the non-enforced guidelines on gatherings over 250, many of the city's Equity theaters will be affected, including the Goodman, Steppenwolf, Marriott, Drury Lane, Paramount and Chicago Shakespeare.
What the huge number of theaters with capacities under 250 seats choose to do remains to be seen, and will likely follow conversations within the League of Chicago Theatres and among the community.
Within the last hour—and even before the governor's press conference—Trap Door Theater followed Court's lead by announcing the suspension of its current production, Lipstick Lobotomy, and the postponement of its May show The Water Hen. The upcoming commercial production of Be More Chill, which was scheduled to begin rehearsals next week and start performances April 17 at the Apollo Theater, announced it would postpone its premiere until July.
I'll be watching for more updates as they come in.
UPDATE March 12, 6:15pm: The Goodman Theatre is suspending performances of School Girls; or the African Mean Girls Play, which had been in previews for a Monday opening in the Albert Theatre. Molly Sweeney, which had been set to start performances March 27 in the Owen Theatre, has been pushed back to April 20.
UPDATE 2, 6:40pm: I've received word that tonight, March 12, will be the final performance of Drury Lane Oakbrook's An American in Paris, which was meant to run through March 29. No word yet on fate of Drury Lane's production of Evita, which was scheduled to begin previews April 10.
UPDATE 3, 6:55pm: The remaining performances of Steppenwolf Theatre Company's Bug (which was in its extension week), I Am Not Your Perfect Mexican Daughter, & First Floor Theater's visiting 1700 Theater production of Plano have all been canceled. Touring performances of Mexican Daughter are canceled as well.
---
Thanks for reading! This is the free edition of Storefront Rebellion, a newsletter about Chicago theater by Kris Vire. Send tips and feedback to kris@krisvire.com, and if you know someone you think would enjoy this newsletter, feel free to forward this to a friend.