Quick hits: "Sheepdog," "Labyrinth," "The Gulf"
Sheepdog
at Shattered Globe Theatre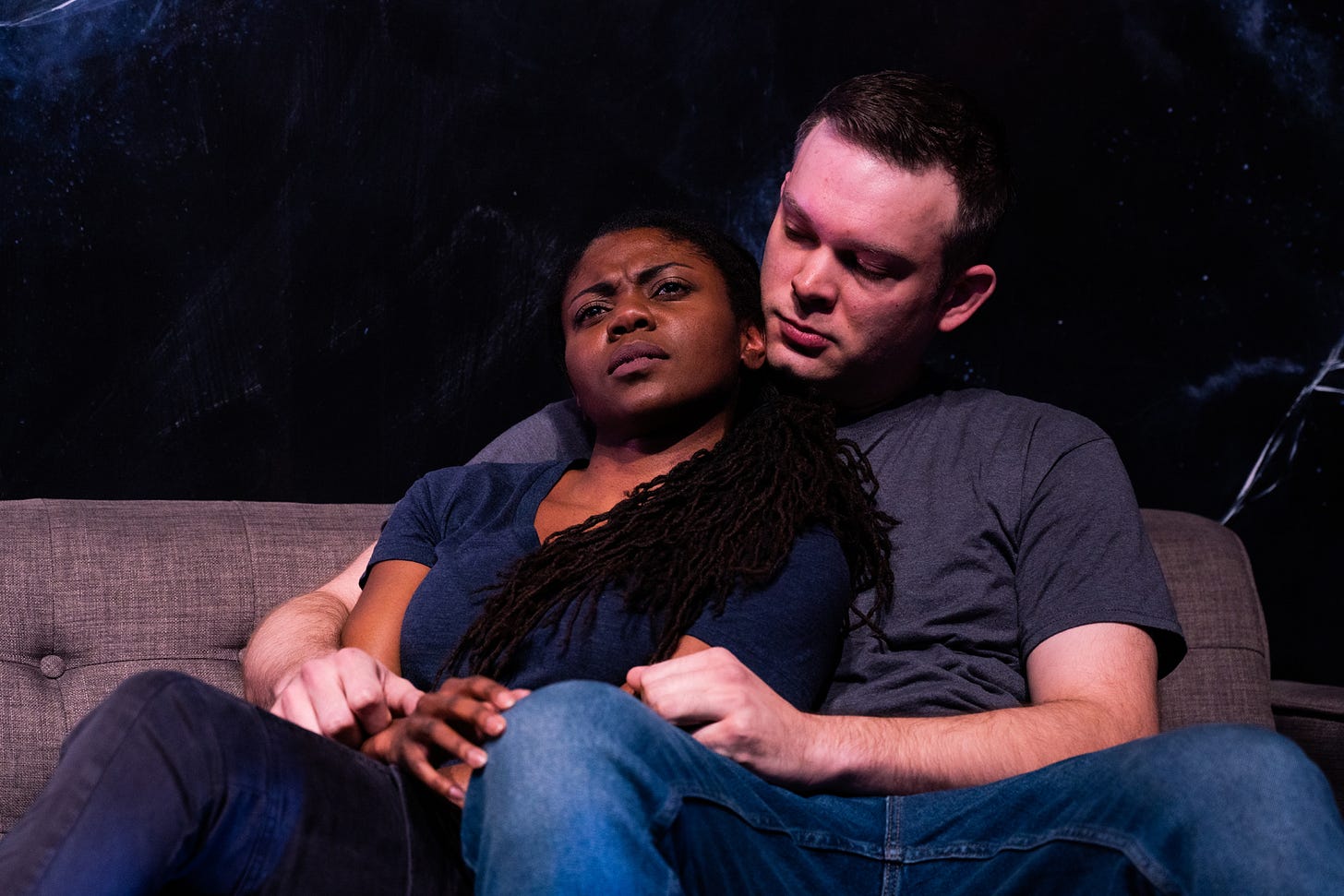 Leslie Ann Sheppard and Drew Schad in
Sheepdog
. Photograph: Lowell Thomas
Playwright Kevin Artigue complicates the narrative around a police shooting and cover-up in Sheepdog, a 2019 drama that's now onstage in a fascinating Chicago premiere at Shattered Globe. But while Artigue's plot hinges on the shooting (which isn't directly depicted), his play deals more directly with the complicated nature of modern policing culture. Oh, and it's also a smart and engaging love story.
Amina (Leslie Ann Sheppard) is a Black police officer in Cleveland, born and raised in one of the city's most impoverished neighborhoods. Her patrol partner, Ryan (Drew Schad), is from small-town Cambridge, Ohio, 120 miles and an entire world away from Cleveland. As Artigue's script jumps back and forth in time, we see the pair transition from work partners to romantic partners, though both are possessed of a natural wariness; they open up to each other playfully about their respective cultural blind spots, and sensitively about their inherited perspectives on race.
And then Ryan shoots and kills a young Black man on what should have been a routine traffic stop, and both characters must reckon with the implications and aftermath—including varying pressures from the public, the media, city lawyers and the police union—even as Amina pursues her own doubts. Amina narrates the play in second-person direct address ("you run after the suspect," "you go full Nancy Drew"), as if to implicate the audience directly: what would you do differently? Wardell Julius Clark's direction is impressively composed, eliciting intensely truthful performances from both of his actors.
Sheepdog
Shattered Globe Theatre at Theater Wit (1229 W Belmont Ave). By Kevin Artigue. Directed by Wardell Julius Clark. Associate director: Am'Ber Montgomery. Assistant director/dramaturg: Deanna Reed-Foster.
Cast: Leslie Ann Sheppard (Amina), Drew Schad (Ryan).
Designers: Sydney Lynne Thomas (scenic), Jason Lynch (lighting), Hailey Rakowiecki (costumes), Christopher Kriz (original music/sound), Jonathan Berg-Einhorn (props), Smooch Medina (projections), Jyreika Guest (intimacy choreographer). Stage manager: Tina M. Jach.
Running time: 1 hour 30 minutes; no intermission. Through February 29 (now extended through March 15). Tickets ($42) at theaterwit.org.
---
Labyrinth
at Broken Nose Theatre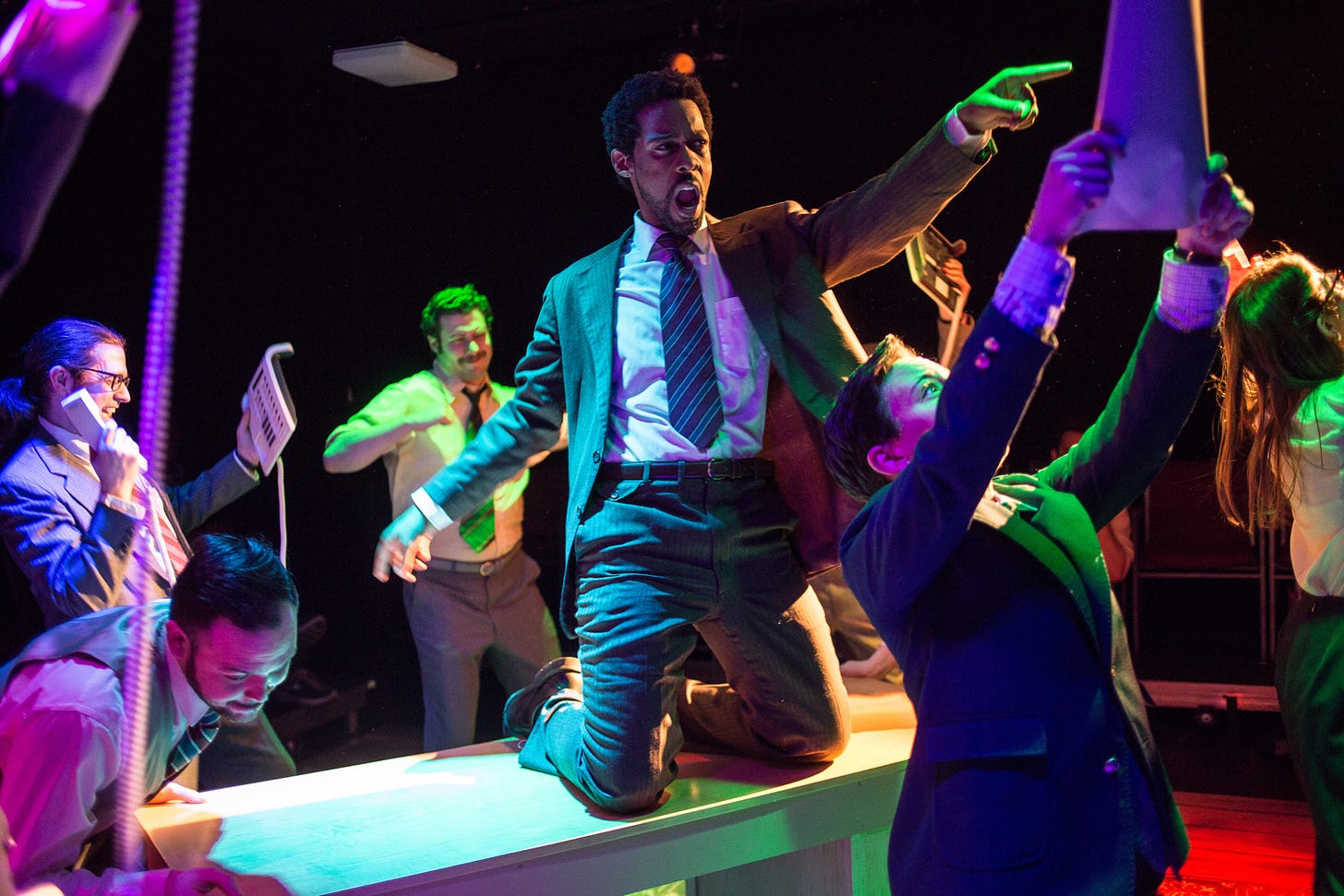 William Anthony Sebastian Rose II, center, and the ensemble of
Labyrinth
. Photograph: Austin D. Oie
Beth Steel's 2016 play Labyrinth explores the Latin American debt crisis of the late '70s and early '80s in a manner that can't help but recall an earlier busy British take on American financial malfeasance, Lucy Prebble's Enron. Rather than an authority figure like Enron's Jeff Skilling, though, Steel's POV character is himself an outsider at the start. John (William Anthony Sebastian Rose II, a winning protagonist) is a newly-hired credit analyst at an unnamed Wall Street firm. Lacking the Ivy League connections of most of his peers, he goes along to get along even as he recognizes that the deals he and his amoral mentor Charlie (David Weiss) are enabling—loans in the tens of millions of dollars to countries like Mexico and Argentina for construction projects that are unlikely to ever be completed but will nonetheless create profits for American firms—make little financial sense.
Steel crams her script with information and keeps the narrative rushing forward, as if it's driven by the same rampant cocaine use that keeps John and his colleagues hurtling full speed ahead. The result can come across as entertaining didacticism, not unlike the explainer interludes in The Big Short. But one plot strand seemingly intended to humanize John—he's increasingly haunted by the specter of his father, a small-time fraudster whose legacy he'd meant to escape—backfires in its heavy-handedness (though Darren Jones is terrific as the insinuating dad).
Spenser Davis, directing the play's U.S. premiere for Broken Nose Theatre, is smart to keep his in-the-round staging relatively simple, letting the actors themselves (12 cast members squeezed onto a cramped stage) create the chaos. It's easy to imagine a larger company loading up on flashy design effects for this big-money tale; ironically, Labyrinth probably benefits from a low budget.
Labyrinth
Broken Nose Theatre at The Den Theatre (1331 N Milwaukee Ave). By Beth Steel. Directed by Spenser Davis. Assistant director: Ben F. Locke.
Cast: William Anthony Sebastian Rose II (John), David Weiss (Charlie), Darren Jones (Frank), Robert Koon (Howard), Elise Marie Davis (Grace), Adam Soule (Rick), Benjamin Brownson (Philip), Ambrose Cappuccio, Rebecca Flores, David Lovejoy, Jackie Seijo, Julia Skeggs (ensemble).
Designers: Therese Ritchie (scenic), Seth Torres (lighting), Rachel Sypniewski (costumes), Tony Ingram (sound), Devon Green (props), Zack Meyer (fight director), Spenser Davis & Ben F. Locke (movement/choreography). Stage manager: Rose Hamill.
Running time: 2 hours 15 minutes; one intermission. Through February 29 (now extended through March 7). Tickets (pay-what-you-can) at brokennosetheatre.com.
Photographs by Austin D. Oie.
---
The Gulf
at About Face Theatre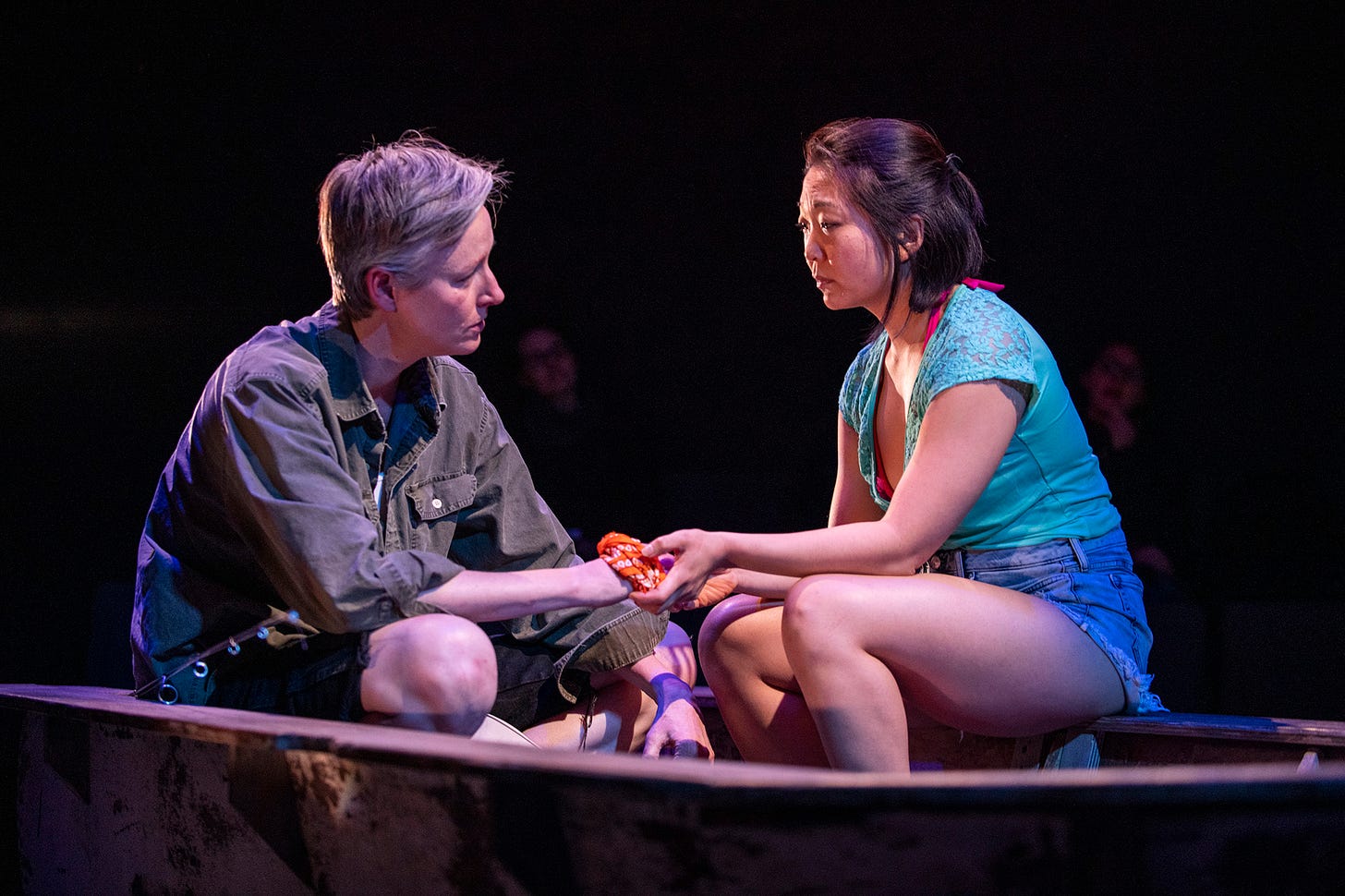 Kelli Simpkins and Deanna Myers in
The Gulf
. Photograph: Michael Brosilow
Actors Kelli Simpkins and Deanna Myers are already onstage when the house opens for About Face Theatre's The Gulf. They pretty much have to be; director Megan Carney and scenic designer Joe Schermoly have reconfigured one of Theater Wit's proscenium spaces for an intimate, in-the-round staging centered on a small fishing boat, surrounded by an array of half-filled washtubs and buckets representing the shallows off of Alabama's Gulf Coast. Attempting a stealthy entrance in a darkened house would be inadvisable.
Schermoly's evocative design is one of this production's highlights; the apparently practical boat floats above a clever base that allows it to rock with the actors' weight and rotate as they paddle against the stage floor, creating a nifty illusion of naturalistic movement, while the washtubs and other whimsical touches suggest we're out on metaphorical waters.
That contrast works well for playwright Audrey Cefaly's portrait of a lovingly bickering couple whose relationship is about to either turn a corner or tump over. Betty (Myers) and Kendra (Simpkins) are specifically rendered—as someone who came of age around my fair share of Southern lesbians, I felt like I knew these women well. But the choppy waters they face should be recognizable to most anyone who's had to navigate the compromises of long-term love.
Simpkins and Myers have a terrific yin-yang chemistry, and they imbue their characters with an unflinching honesty. That the boat's outboard motor is going to break down is as obvious as Chekhov hanging a gun above the mantel. But you'll find yourself fully invested in the question of whether they can get it going again.
The Gulf
About Face Theatre at Theater Wit (1229 W Belmont Ave). By Audrey Cefaly. Directed by Megan Carney. Assistant director: Amy Tien. Dramaturg: Lanise Shelley.
Cast: Kelli Simpkins (Kendra), Deanna Myers (Betty).
Designers: Joe Schermoly (scenic), Rachel Levy (lighting), Caitlin McCarthy (costumes/props), Robert Hornbostel (sound), Gaby Labotka (intimacy & fight director). Stage manager: Logan Boyd Jones.
Running time: 1 hour 30 minutes; no intermission. Through February 15. Tickets ($32) at theaterwit.org.
---
Questions or feedback for me? Reply to this email, or if you're reading this on the web, hit me at kris@krisvire.com or find me on Twitter @krisvire. Subscribers can also leave public comments on the web version of the newsletter; click the headline above or the links at the bottom of this post.