Review: "Dark Matters" at Exit 63 Theatre
Dark Matters remains mostly murky, but an impressive DIY production holds promise for Exit 63 Theatre.
Dark Matters
remains mostly murky, but an impressive DIY production holds promise for Exit 63 Theatre.
Theater review by Kris Vire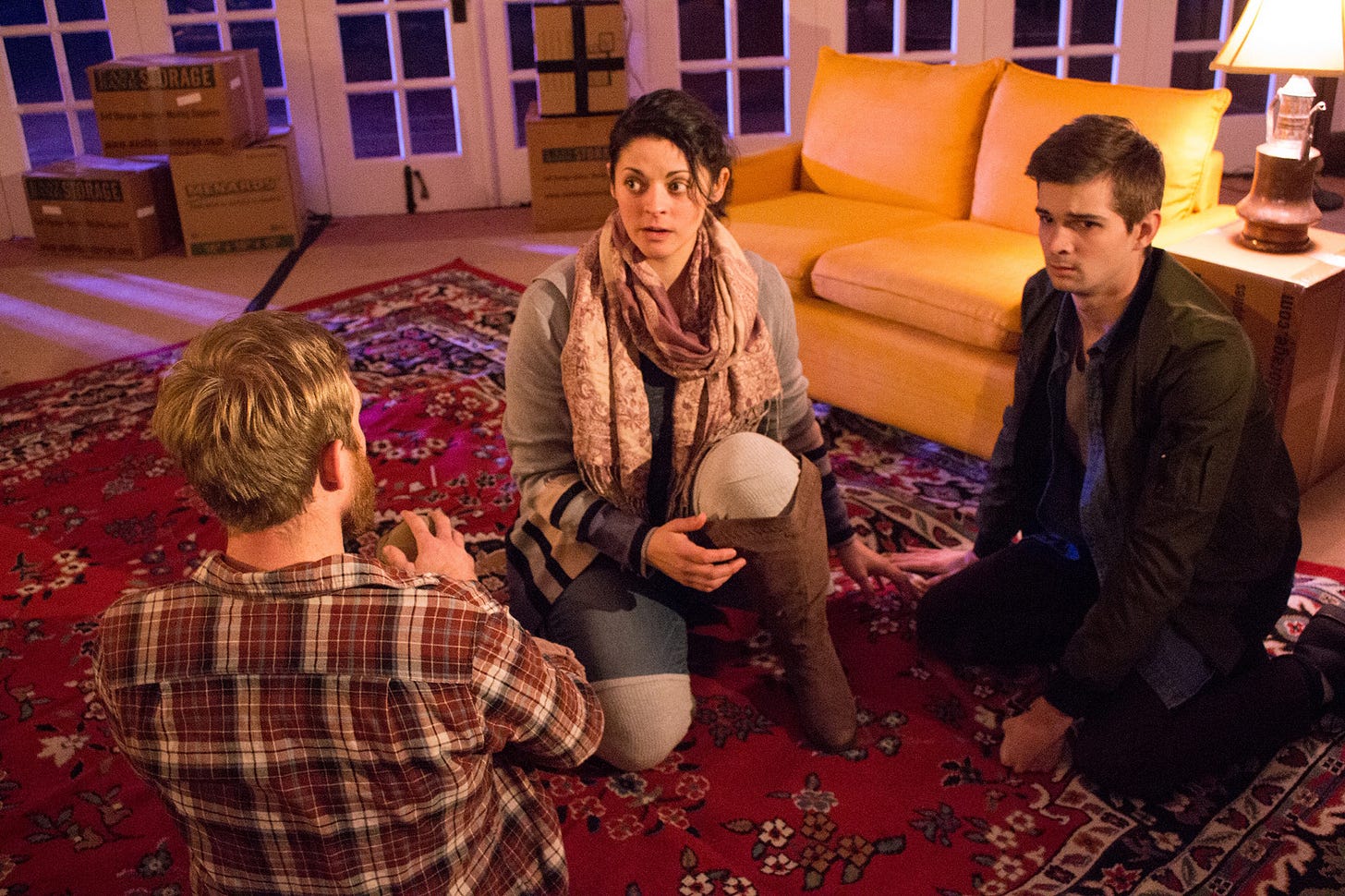 Bridget Cleary didn't come home from the grocery store. Her husband, Michael, is explaining as much to the local sheriff when their 16-year-old son, Jeremy, arrives in a manic state. Jeremy hasn't heard the news about his mom; he's just been drinking—or maybe doing some harder drugs—with his pals in the woods. The tension between father and son tells the sheriff, and us, that the Cleary family has been dealing (or not dealing) with some things long before Mom went missing.
You'd be forgiven, after this first scene of Roberto Aguirre-Sacasa's Dark Matters, if you didn't see the alien abduction coming. But then maybe it doesn't? Over the next handful of scenes, the playwright reveals in interactions between Michael, Jeremy and that very attentive sheriff that the Clearys just moved to this small Virginia mountain town six months earlier from Washington, D.C. (where Aguirre-Sacasa himself grew up); that Bridget has a habit of wandering off into the country at night to stargaze; that Bridget's own father warned Michael off of marrying her, at least in Michael's telling; and that shortly before the move, Michael broke Bridget's nose in a domestic violence incident.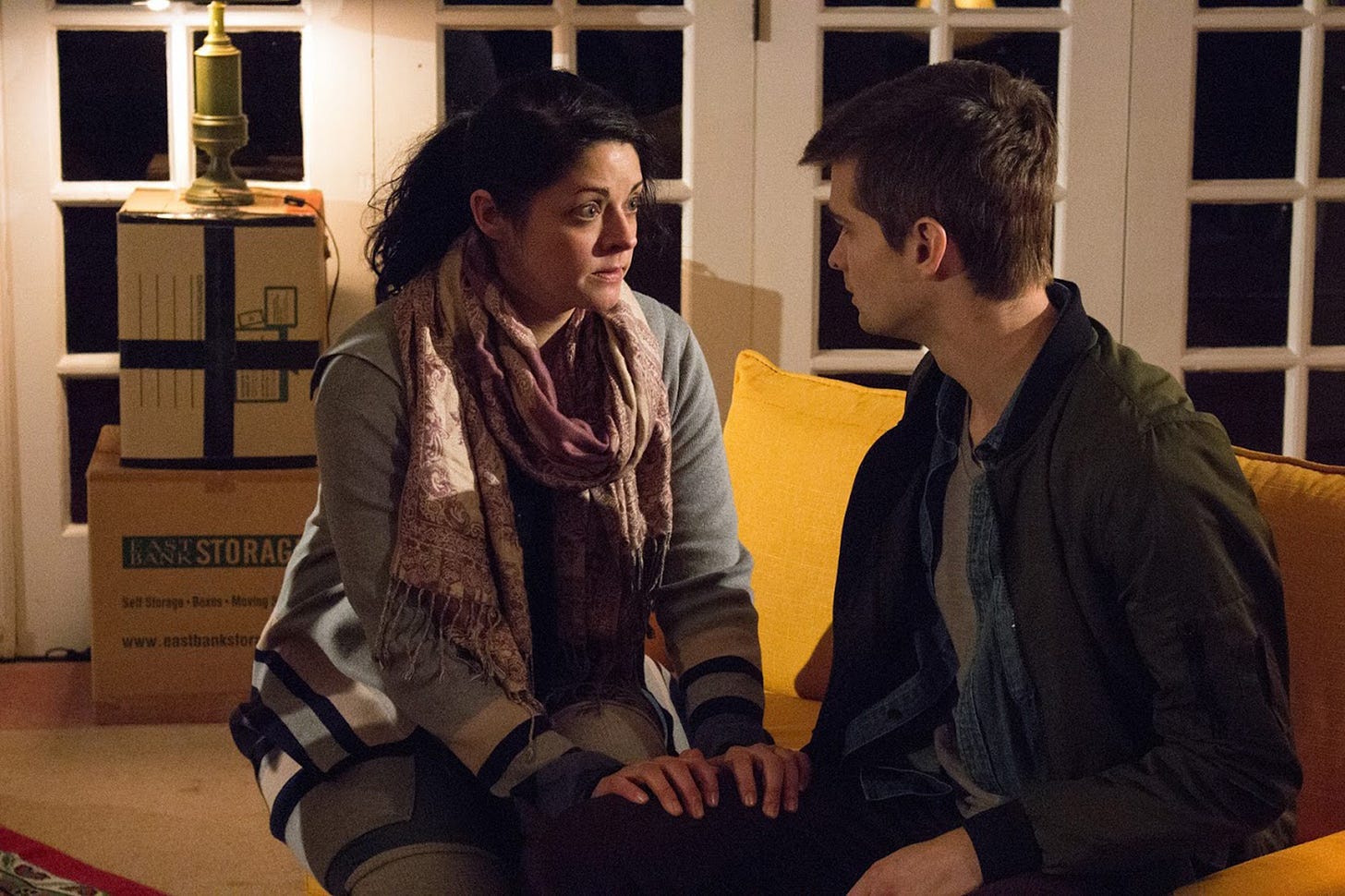 So when Bridget walks back in through the front door nearly a week after she went missing, apologizing for not calling because the extraterrestrials who took her didn't have a phone, it's hard to know what to believe. And the playwright, either to his credit or his detriment, never makes the Clearys' situation any clearer.
Aguirre-Sacasa is a writer and television producer best known these days for dual roles: chief creative officer of the longrunning Archie Comics Group, and showrunner of the two (so far) deeply thirsty teen TV melodramas he's crafted out of Archie's wholesome midcentury properties: The CW's Riverdale and Netflix's Chilling Adventures of Sabrina.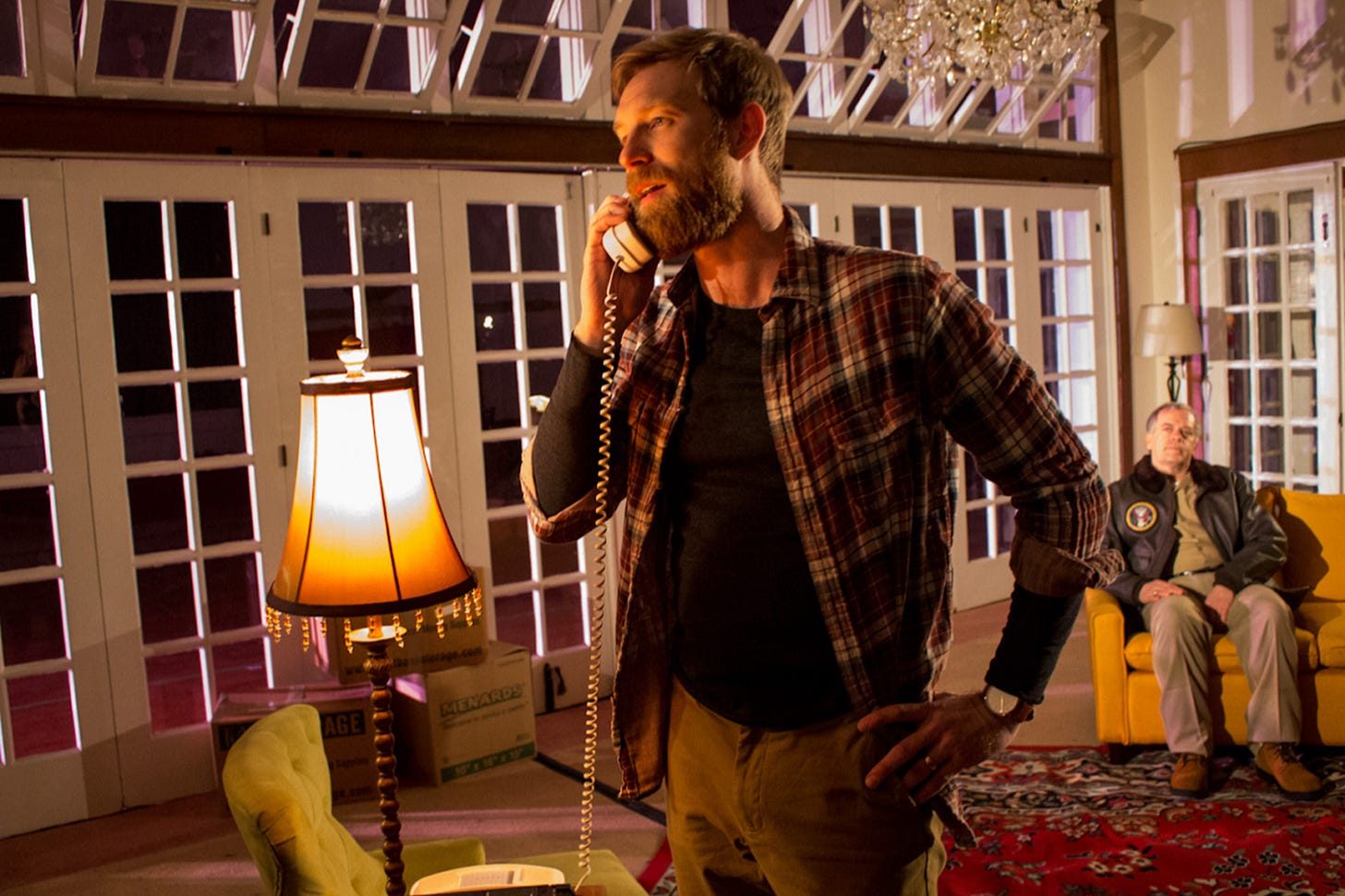 Before he got into television, Aguirre-Sacasa was a playwright whose work often dabbled in the tropes of comics, sci-fi and fantasy. Fans of Riverdale and Sabrina may recognize some of the genre-bending non sequiturs on display in Dark Matters; in a 2006 Time Out Chicago review of his romcom satire Say You Love Satan (produced here by About Face Theatre), I wrote that "Aguirre-Sacasa's plot doesn't hold up under close examination—yes, it's fantasy, but it doesn't even play by its own rules half the time."
And that holds true here. While Exit 63 Theatre's production is a Chicago premiere, Dark Matters was seen Off Broadway in 2006, and an earlier version was staged in D.C. in 2003. Aguirre-Sacasa's script raises a lot of questions that it refuses to answer—about the existence of the aliens, about the threat they pose to Jeremy (Bridget says they're coming to take him to a new world), about whether anyone we see is actually who they say they are, or whether this is all just a metaphor for a family that's lost its trust in one another.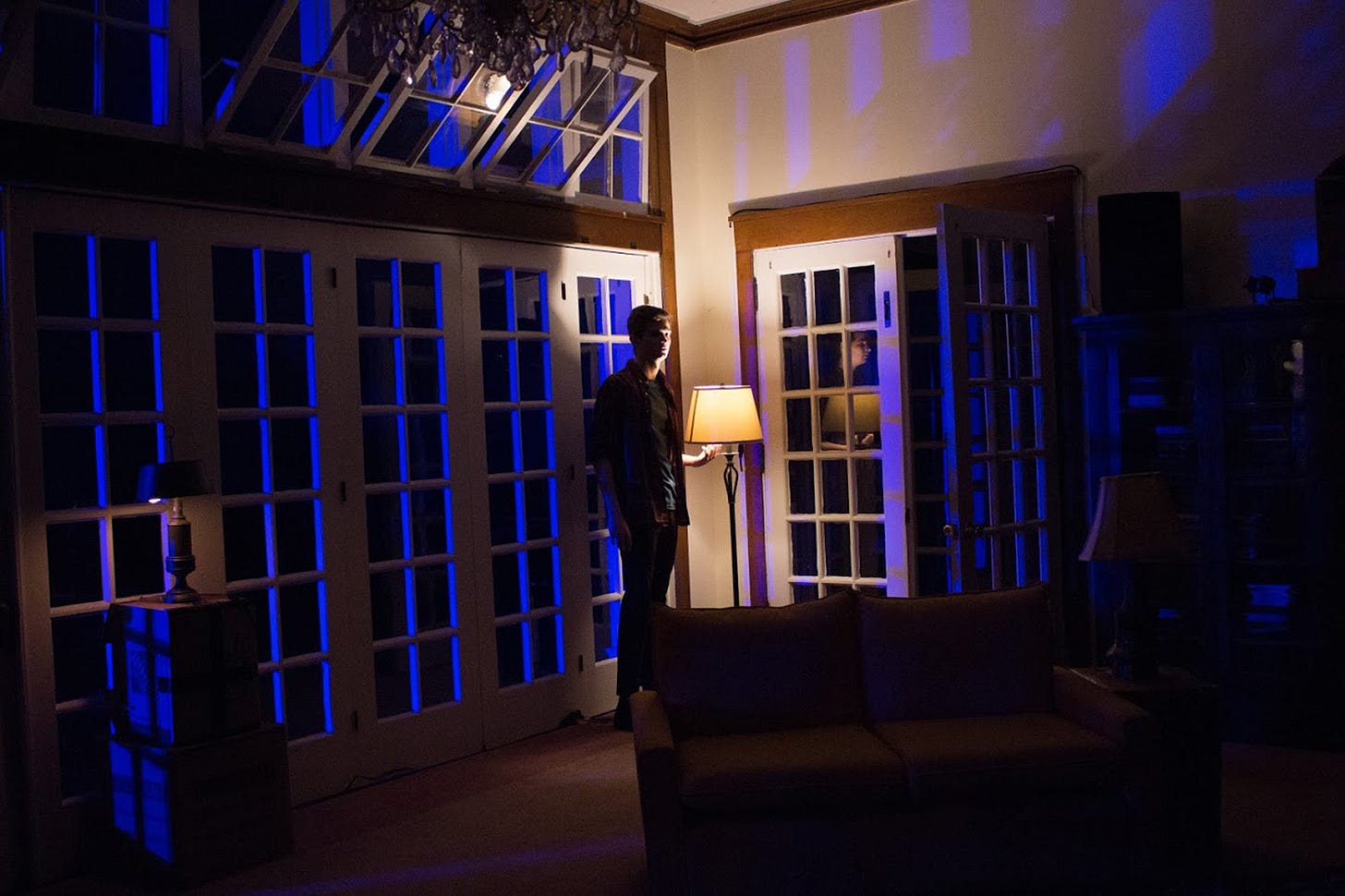 It ultimately makes for a bit of a frustrating viewing, but it's also an absorbing one in this inventive found-space staging. Mounted DIY-style in a second-floor room of the 102-year-old former Rogers Park Women's Club (soon to be renovated as the new home of the Cuckoo's Theater Project), Nora Lise Ulrey's staging makes intelligent low-budget use of its surroundings, with an effective lighting design by David Goodman-Edberg that employs ominously flickering practical lamps.
Michael Carey and Ann Sonneville, given some truly wild parameters to work within, deliver solidly naturalistic performances as the gun-shy married couple at the center of the play. (It's worth mentioning, though it's no one's fault, that Sonneville's look and vocal quality match that of Cecily Strong just enough for Bridget's earnest descriptions of her captors to distinctly recall several recent SNL sketches about alien abductions.) Dark Matters feels a little more like a treatment than a fully fleshed-out play, but Ulrey's production marks Exit 63 as a young company to watch.
Dark Matters
Exit 63 Theatre at Rogers Park Women's Club (7077 N Ashland Ave). By Roberto Aguirre-Sacasa. Directed by Nora Lise Ulrey.
Cast: Michael Carey (Michael Cleary), Ann Sonneville (Bridget Cleary), Nick Shank (Jeremy Cleary), Scott Olson (Sheriff Egan).
Lighting design: David Goodman-Edberg. Costume design: Uriel Gomez. Original music: Donny Walker.
Running time: 1 hour 30 minutes; no intermission. Through January 27. Tickets (pay-what-you-wish) at exit63theatre.com.
Photographs by Shea Petersen.
---
Thanks for being an early Storefront Rebellion paid subscriber!
If someone forwarded you this email, and you'd like to support independent, ad-free coverage of Chicago theater, you can sign up as a subscriber right now:
Send your feedback and tips to kris@krisvire.com.