Review: "La Ruta" at Steppenwolf
Playwright Isaac Gomez gives powerful voice to the endangered women of Juárez
This Storefront Rebellion theater review would normally go out to paid subscribers only. But in the spirit of the season, I'm making subscriber content free to all for the month of December. Want to give a gift subscription? You can do that too. Have feedback for me? Reply to this email, or if you're reading this on the web, hit me at kris@krisvire.com or find me on Twitter @krisvire.
Note: The biweekly free digest that would normally be delivered on Monday, December 24, will be pushed back to Wednesday, December 26 due to the holiday.
---
Playwright Isaac Gomez gives full-throated voice to the endangered women of Juárez
Theater review by Kris Vire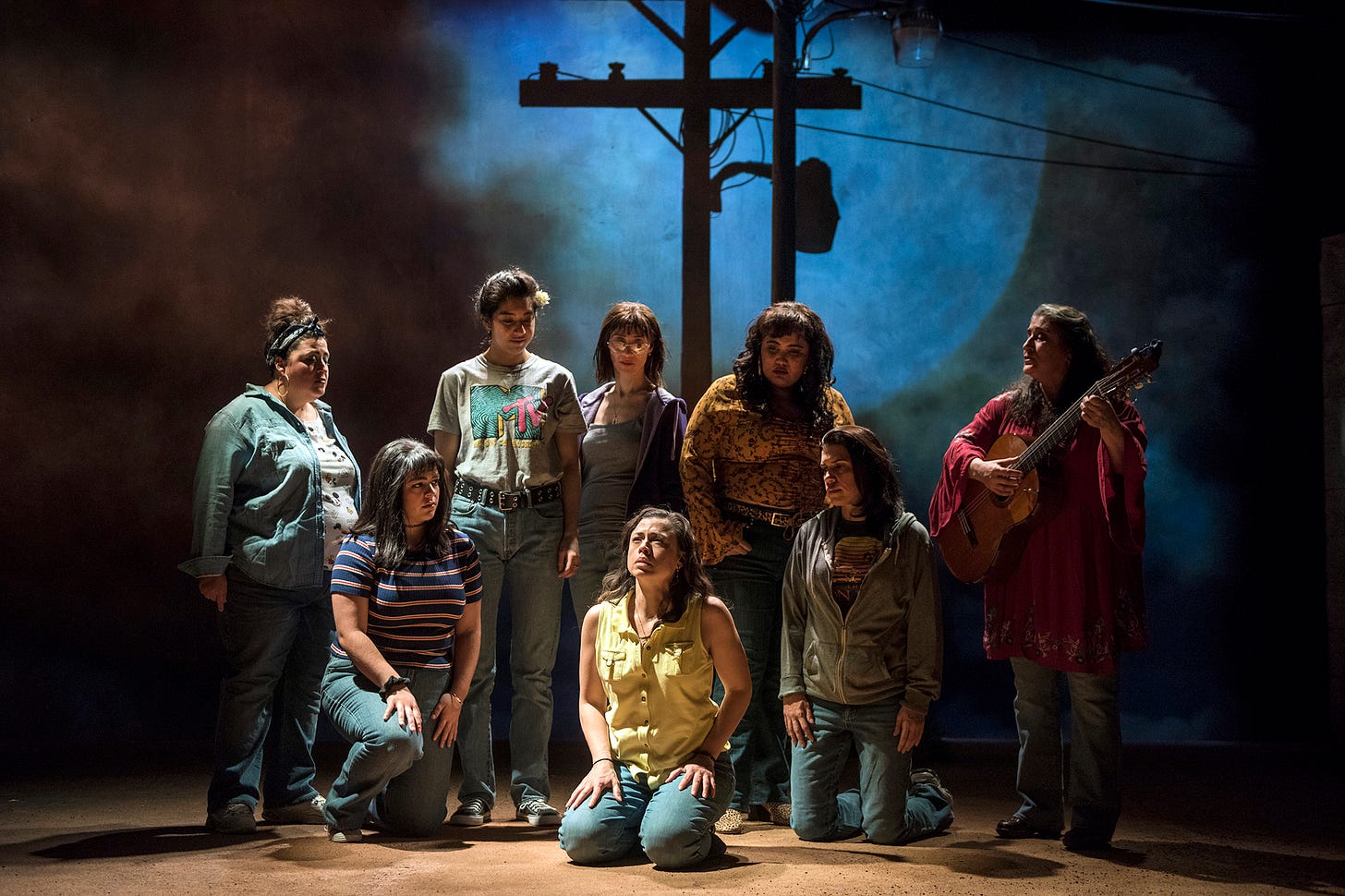 A growing cluster of pink crosses erupts from the desert. Fliers with photos of missing women dot the city's walls. Regina García's set design evokes the grief and danger of Mexico's Ciudad Juárez before Isaac Gomez's powerful new play even begins.
And then it does, and after a musical introduction (actor Laura Crotte soundtracks the proceedings as a kind of troubadour spirit), Gomez leads off with a disarmingly funny, relaxed exchange between longtime friends Marisela (Charín Alvarez) and Yoli (Sandra Delgado). It's only after several minutes of teasing banter that it's casually revealed that one of their daughters is among las desaparecidas—the missing girls. La Ruta, it's clear, will treat its subject—the ongoing femicide epidemic in Juárez—with both the urgency and the complexity it demands.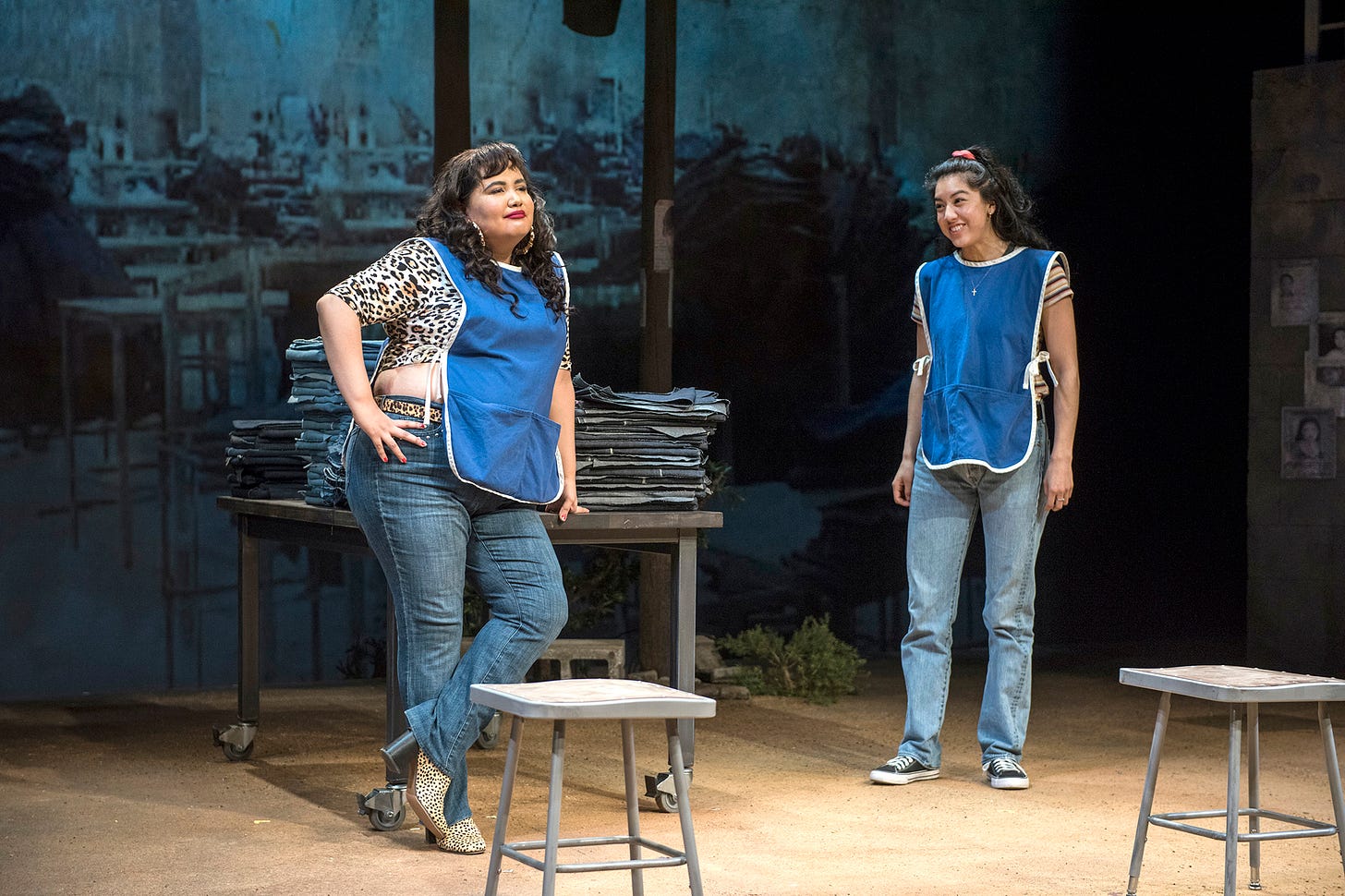 The 27-year-old Gomez grew up in El Paso, Texas, just across the border from Ciudad Juárez, and has placed the women of Juárez onstage before, in the 2016 solo piece The Way She Spoke: A Docu-mythologia. Like that play, La Ruta is based in on-the-ground research, though Gomez stops short of labeling it documentary. Each of the characters played by the all-Latina cast are based on real women and their real experiences, though the playwright has done some dramatic remixing to bring them together.
The title, which translates literally to "the route," refers to the company bus that transports female employees to and from the American-owned factories that opened in the wake of NAFTA, where workers endure 12-hour shifts six days a week. In the opening scene, Yoli and Marisela are waiting for the bus carrying night-shift workers home—Yoli, to meet her teenage daughter Brenda (Cher Álvarez), who started work a few months earlier, and Marisela to pass out flyers seeking information on her own daughter's disappearance.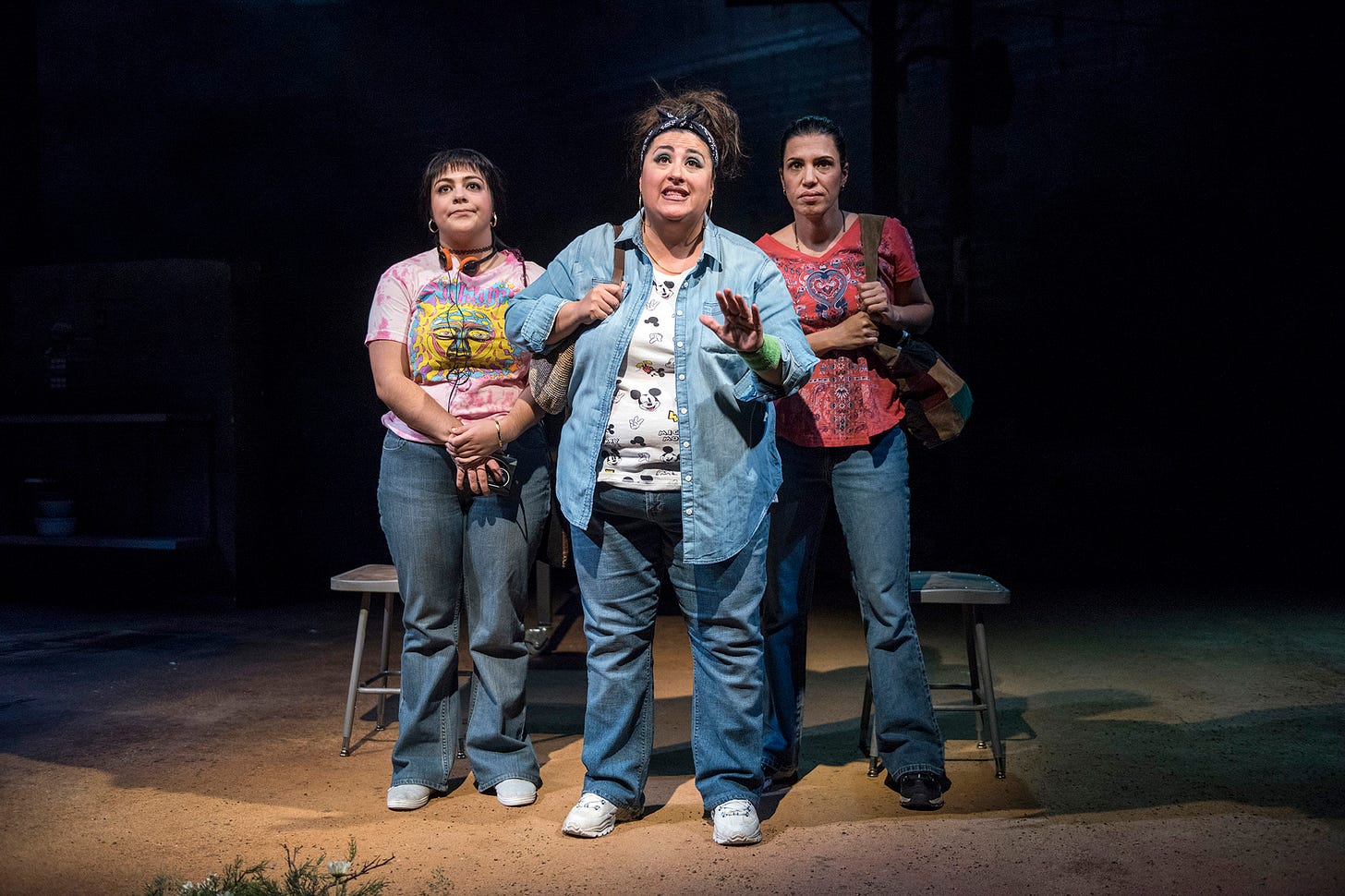 When Brenda doesn't show up on the last bus of the night, Gomez begins jumping back and forth in time to further set the scene. We see Brenda's first day on the job, where she's befriended by a bristly coworker (played by Karen Rodriguez, the incendiary actor who performed The Way She Spoke in 2016 and became a Steppenwolf ensemble member earlier this year). We see the strain on Marisela and Yoli's friendship, as both struggle with the belief that their daughters will return, and the possibility that they won't.
And in dribs and drabs, though no men appear onstage, we get a sense of the dread they impart. The situation in Juárez, where 1,400 women's bodies have been found over the last couple of decades and thousands more remain missing, is a result of a confluence of bad circumstances: drug cartels and warring gangs are in the mix, but so are an indifferent police force and bad-faith governance on both sides of the border—Mexican government has preferred to sweep the problem under the rug, while a faction of American politicians has been all too eager to exploit Juárez's reputation for its own xenophobic ends.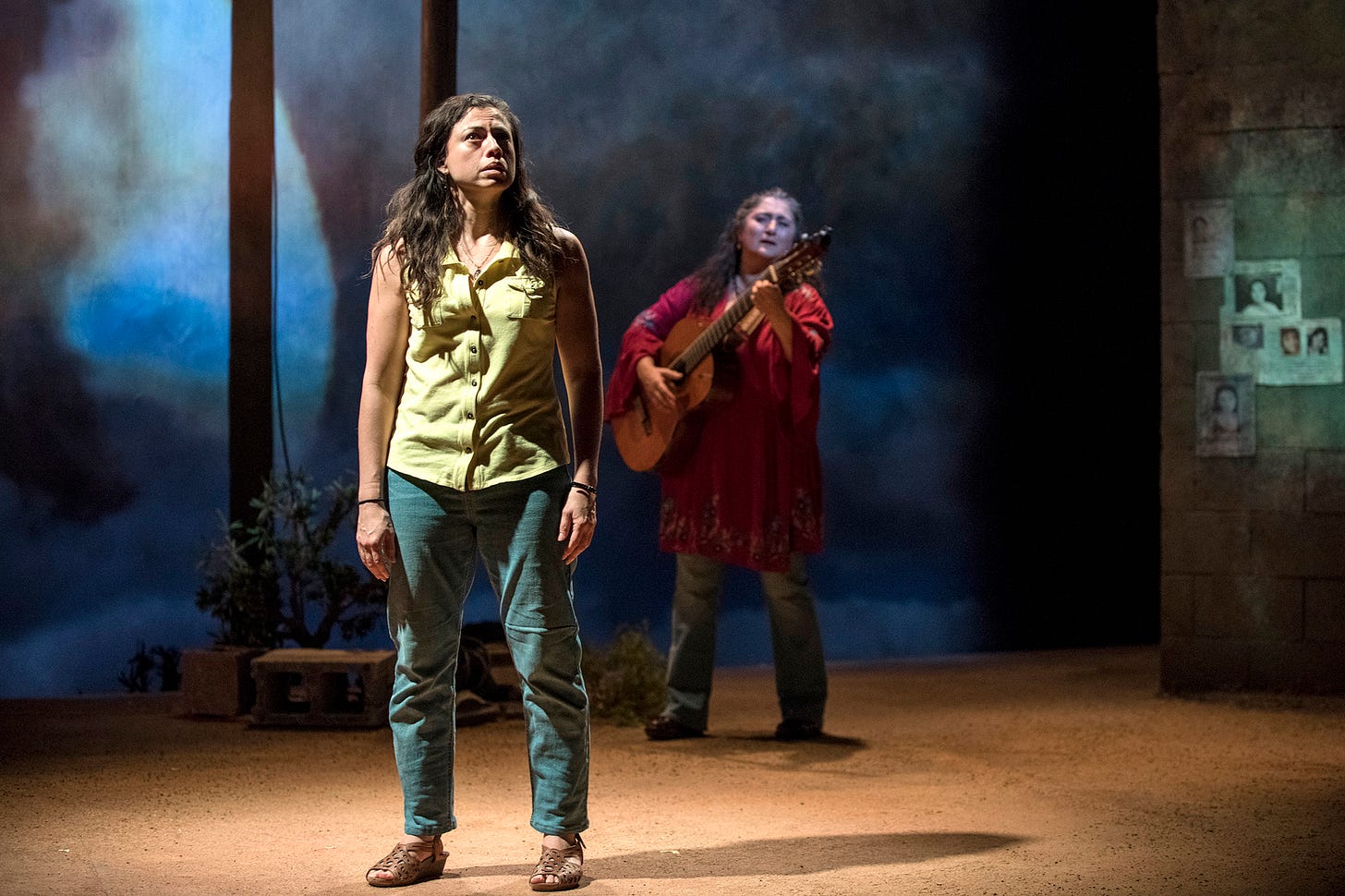 Watch the factory worker played by Mari Marroquin blanch when a male supervisor responds to her request for the bus to drop workers off closer to their homes by asking for her name. Has she just made herself a target? Listen to the story about a man who confessed to murdering his girlfriend, led detectives to her dismembered body, and was acquitted in court. These are the unchecked extremes of toxic masculinity—or, as Gomez says in a program note, machista cultura, as it's referred to in Latin America.
One of the best things that director Sandra Marquez's confident staging achieves is the sense that this is not, in fact, taking place in some distant land or time we can view from an emotional distance. Costume designer Christine Pascual clothes characters in T-shirts sporting iconic American brands. Gomez underlines that we're so close to the United States that these women can step outside their houses to watch the Fourth of July fireworks show taking place in El Paso. What he and Marquez don't offer are answers; there are no easy ones. But if you don't leave La Ruta wanting to fix this, your empathy buttons are broken.
La Ruta
Steppenwolf Theatre Company (1650 N Halsted St). By Isaac Gomez. Directed by Sandra Marquez.
Cast: Charín Alvarez (Marisela), Cher Álvarez (Brenda), Laura Crotte (Desamaya), Sandra Delgado (Yoli), Mari Marroquin (Zaide), Karen Rodriguez (Ivonne), Alice da Cunha, Isabella Gerasole (Women of Juarez).
Scenic design: Regina García. Costume design: Christine Pascual. Lighting design: Jesse Klug. Sound design: Mikhail Fiksel. Projection design: Rasean Davonte Johnson. Music direction: Zacbe Pichardo. Vocal direction: Andra Velis Simon. Dramaturg: Polly Hubbard. Fight choreography: Gaby Labotka. Assistant director: Denise Yvette Serna.
Running time: 1 hour 35 minutes with no intermission. Through January 27. Tickets ($20–$89) at steppenwolf.org.
Photographs by Michael Brosilow. From top: Sandra Delgado, front, and the cast of La Ruta; Karen Rodriguez and Cher Álvarez; Isabella Gerasole, Mari Marroquin and Alice da Cunha; Sandra Delgado and Laura Crotte.
---
Thanks for reading! Storefront Rebellion subscribers get exclusive reviews like these from me, Kris Vire. You can subscribe for $6 a month or $60 a year to receive exclusive show reviews in your inbox.
Send tips and feedback to kris@krisvire.com, and if you know someone you think would enjoy this newsletter, feel free to forward this to a friend.