Review: "The Revolutionists" at Strawdog Theatre Company
A clunky, self-congratulatory case for art's place in the revolution
This Storefront Rebellion theater review would normally go out to paid subscribers only. But in the spirit of the season, I'm making subscriber content free to all for the month of December. Want to give a gift subscription? You can do that too. Have feedback for me? Reply to this email, or if you're reading this on the web, hit me at kris@krisvire.com or find me on Twitter @krisvire.
---
The Revolutionists
at Strawdog Theatre Company: A clunky, self-congratulatory case for art's place in the revolution
Theater review by Kris Vire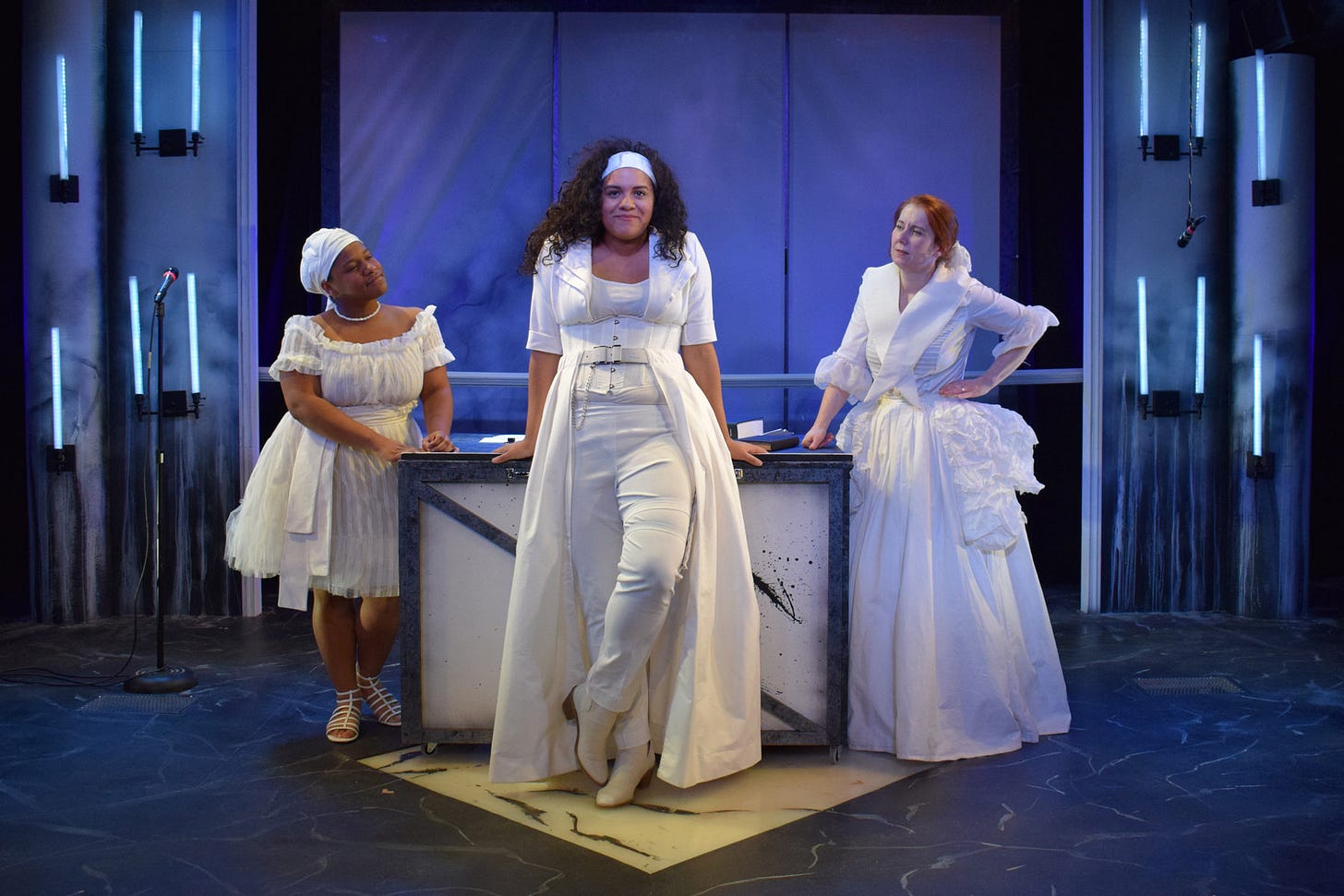 Lauren Gunderson's 2016 work of metatheater depicts four female figures from the French revolution—three historical, one a fictional composite. But the focus of this "fugue" is a playwright, the unjustly forgotten Olympe De Gouges, and her effort to break through her writer's block while history is happening in Paree and she just happens to be visited by revolutionaries seeking the services of a writer.
"Writing a play about writing a play?" Olympe asks herself (rhetorically) early in The Revolutionists. "I'd rather watch the guillotine." I wouldn't phrase it quite so harshly, but with occasional exceptions, I tend to echo the character's sentiment when it comes to plays about playwrights doing the hard work of writing plays. But Gunderson's hanging a lampshade on the cliche doesn't make it less tedious.
Olympe (Kat McDonnell) is visited first by Marianne Angelle (Kamille Dawkins), Gunderson's composite invention. Marianne represents Caribbeans protesting France's slave trade, underlining one hypocrisy of a revolutionary movement that would remain exclusionary, just with slightly adjusted parameters. (The real-life De Gouges would find herself at the guillotine, largely for penning a manifesto demanding women be seen as equals to men.)
Olympe's next visitor is Charlotte Corday (Izis Mollinedo), on her way to fulfill her destiny as assassin of the revolutionary journalist Jean-Paul Marat and seeking from Olympe a catchy phrase to shout from the gallows.
And the final arrival is none other than deposed queen Marie Antoinette. The ex-monarch is written by Gunderson and played by the sublime Sarah Goeden as so detached and disoriented by her circumstances as to have gone all the way past Kardashian-kooky and back around to accidentally warm and profound.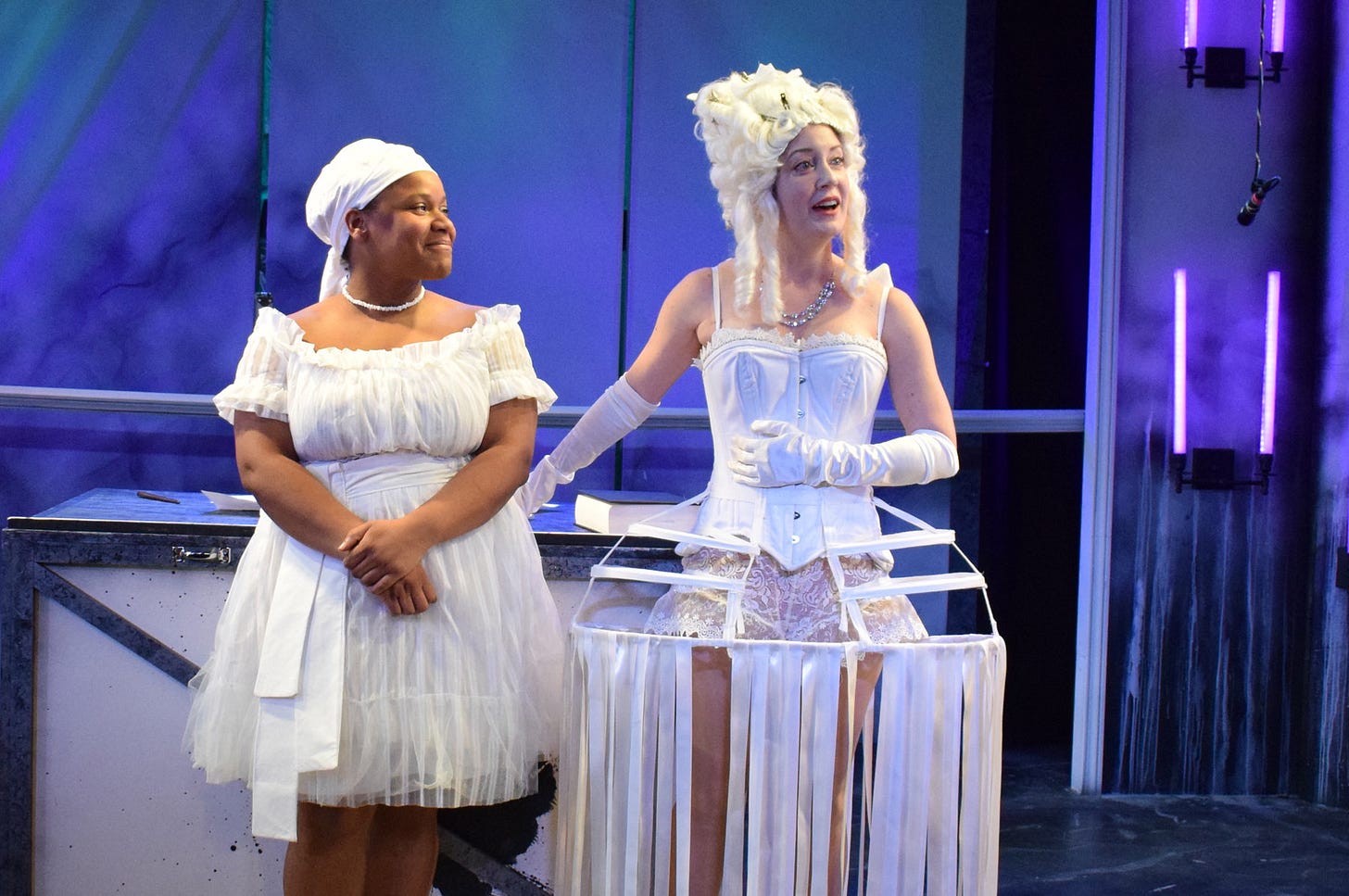 Goeden's arrival is one of the first promising notes in what up to then looks to be a deadeningly talky evening in Denise Yvette Serna's Strawdog staging, which features a clunky set design that encourages busy, repetitive blocking, along with a half-baked sound-design element that puts the actors at microphones and sometimes on vocal loops to create artificial emphasis. Next to the too-timid Dawkins and Mollinedo, and McDonnell, doing her best with an easily distracted protagonist who feels imported from an Amy Sherman-Palladino series, Goeden's specific energy is a godsend.
Yet I can't fault Serna, nor her cast or designers, for the wibbly-wobbly tone imparted by the playwright. Gunderson is a hot commodity in the American theater; in 2017, she earned the title of most-produced living playwright in the country, despite having a scant slate of productions in New York, the city of theatrical record (for the media).
On the one hand, it's encouraging to see a prolific stage writer earn so many productions across the country without the imprimatur of Broadway (or even Off).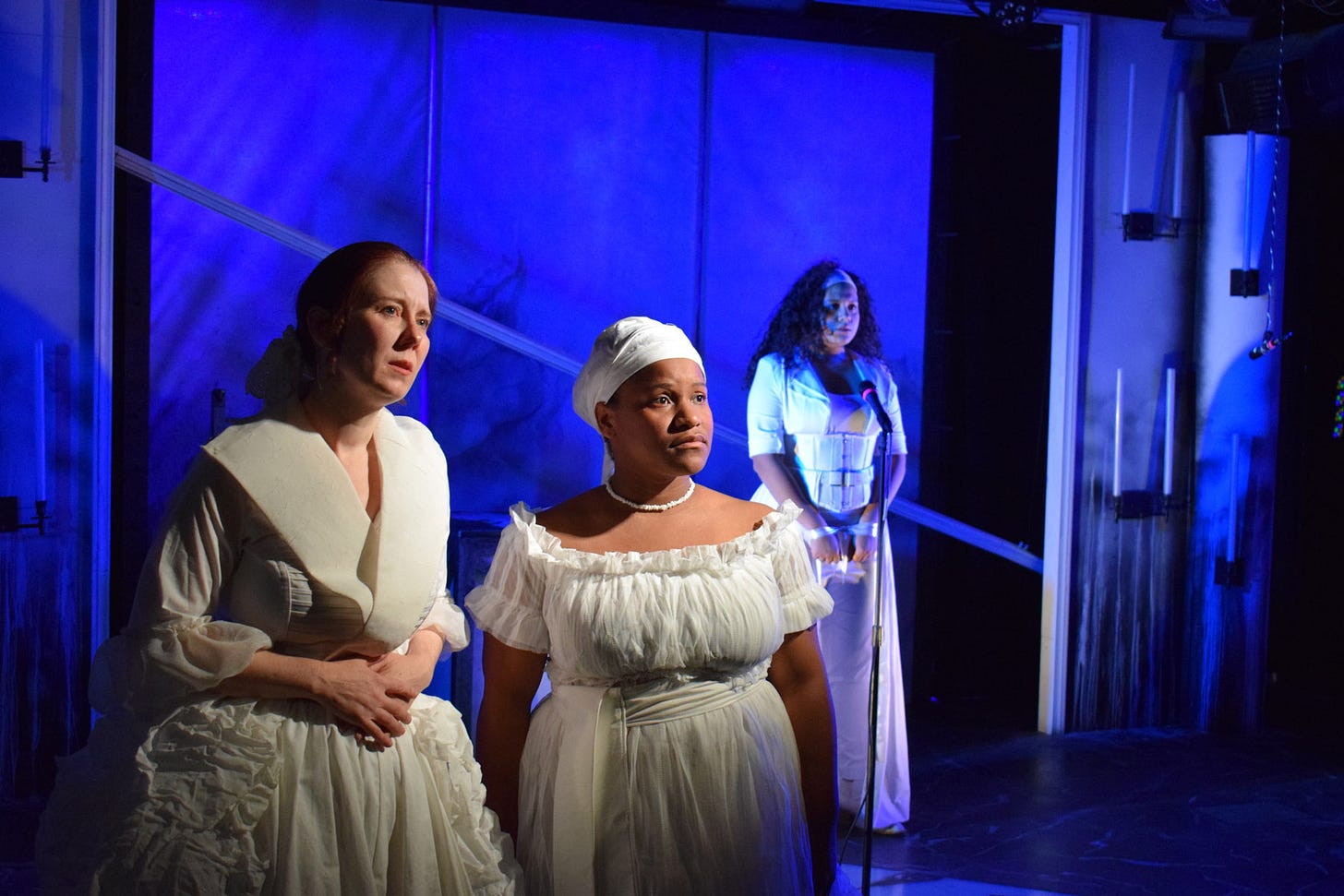 But Gunderson seems to have accomplished this largely by congratulating theater programmers and subscribers alike for their inherent belief that art is capital-I important. The Book of Will scratches the Shakespeare in Love fanfic itch; Miss Bennet and The Wickhams, Gunderson's two Jane Austen sequels written with Margot Melcon, anticipate their audiences' prerequisites.
The Revolutionists, by the close of its second act, gets so caught up in making and remaking its case that art is activism that it simultaneously undermines itself. Between Olympe's brutal, repeated in-universe insistence on the importance of "story" and "storytellers" and Gunderson's underlining of the same, we start to feel an inevitable Artistic Importance Fatigue. Gunderson wants to flatter her audiences into thinking that they're seeing something inherently, immutably weighty. But there's nothing all that insightful about these revolutionists' story.
The Revolutionists
Strawdog Theatre Company. By Lauren Gunderson. Directed by Denise Yvette Serna. With Kat McDonnell, Kamille Dawkins, Izis Mollinedo, Sarah Goeden. Running time: 2 hours with one intermission. Through December 29. Tickets ($35–$40; seniors $26) at strawdog.org.
Photographs by Collin Quinn Rice. From top: Kamille Dawkins, Izis Mollinedo and Kat McDonnell; Dawkins and Sarah Goeden; McDonnell, Dawkins and Mollinedo.
---
Thanks for reading! Storefront Rebellion subscribers get exclusive reviews like this one from me, Kris Vire. You can subscribe for $6 a month or $60 a year to receive exclusive show reviews in your inbox.
Send tips and feedback to kris@krisvire.com, and if you know someone you think would enjoy this newsletter, feel free to forward this to a friend.