Reviews: "The Full Monty" and "The Winter Wolf"
Theo Ubique feels a little lost in its new digs
This Storefront Rebellion theater review would normally go out to paid subscribers only. But in the spirit of the season, I'm making subscriber content free to all for the month of December. Want to give a gift subscription? You can do that too. Have feedback for me? Reply to this email, or if you're reading this on the web, hit me at kris@krisvire.com or find me on Twitter @krisvire.
---
Monty is an odd choice for Theo Ubique's new hall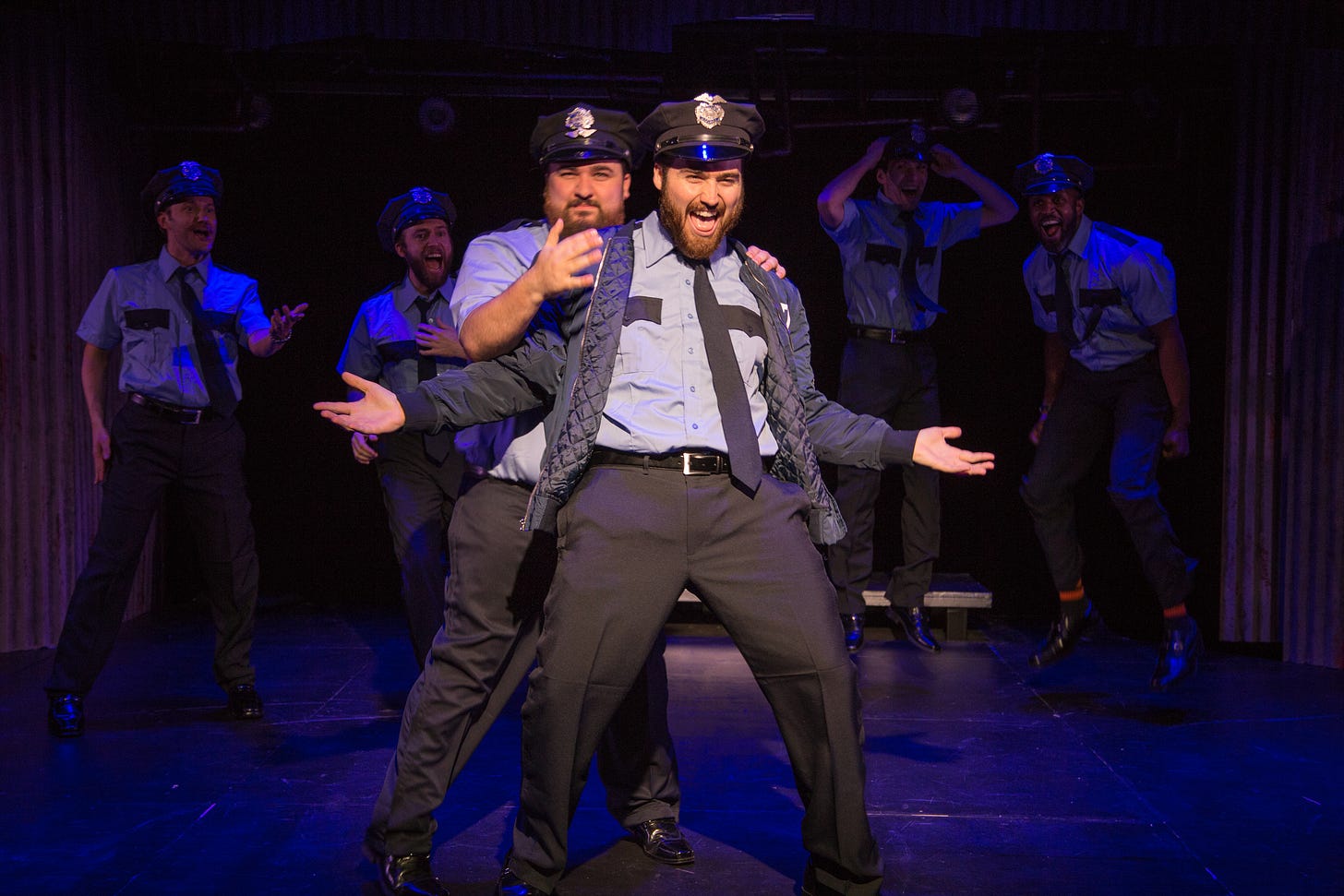 The last time I saw a production of The Full Monty, Terrence McNally and David Yazbek's Broadway adaptation of the British indie film about out-of-work blokes who put on an amateur male strip show to make some fast cash, was a little under four years ago. Reviewing that 2015 staging by Kokandy Productions, I wrote that for a show that premiered and is ostensibly set in the year 2000, "the show's gender politics feel so weird."
The musical transfers the movie's English setting to Buffalo, New York, where many of the menfolk are languishing in unemployment after the city's steel mill shut down 18 months earlier. The men we meet are largely presented as emasculated by their forced idleness while the women in their lives continue to work. But bullheaded bro Jerry, the show's ostensible hero, and his best bud Dave refuse to consider any of the available jobs at Walmart or the local mall; as Jerry spits, that kind of stuff is "women's work," beneath the consideration of "real men" like himself.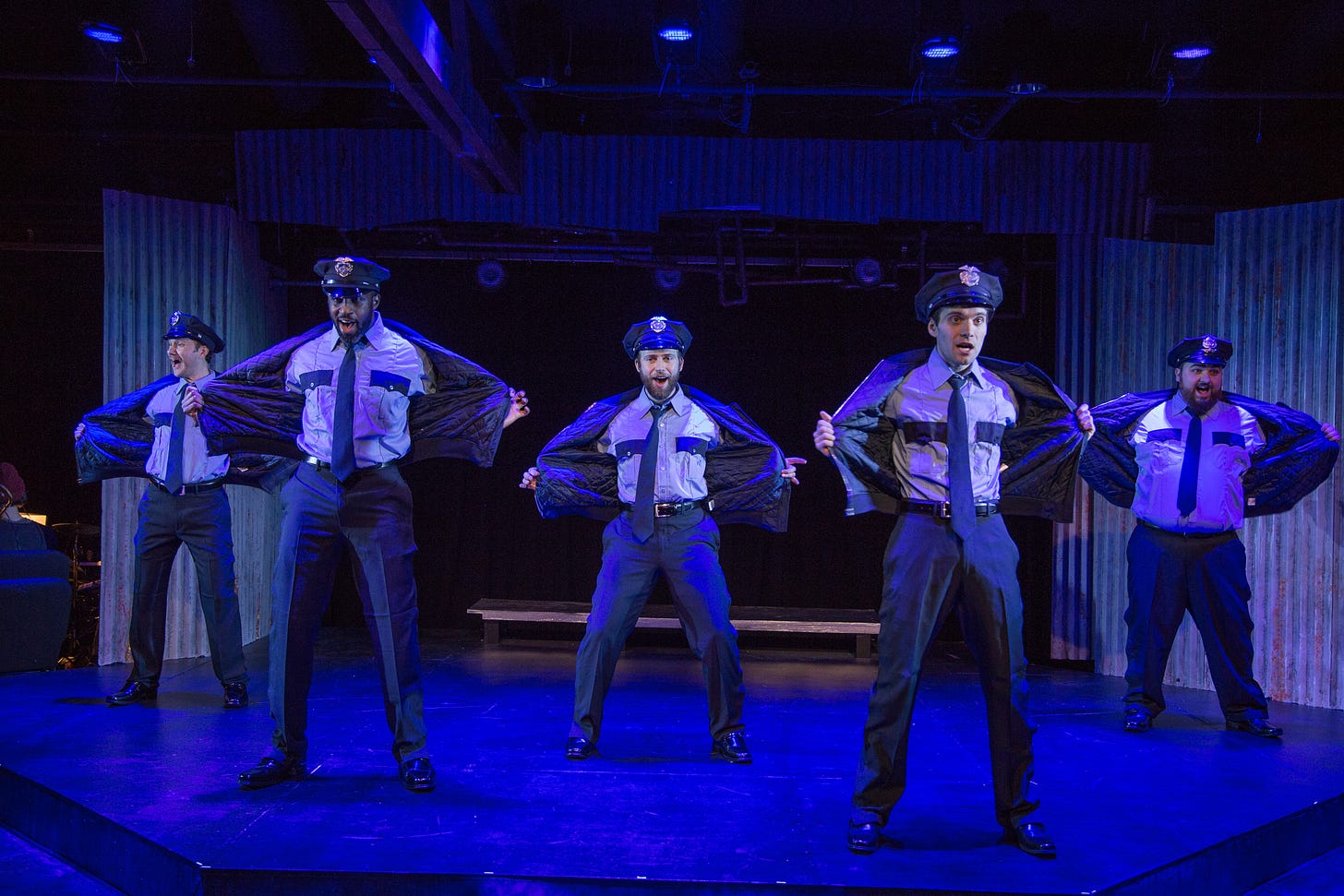 As I wrote of Kokandy's production, "it's as if McNally's conception of authentic blue-collar America is either stuck in the 1970s, or, if it's 2015, takes place at an MRA convention." But 2015 feels like another country now. In the current climate, The Full Monty's retrograde machismo is extra cringey—and it's not just Jerry's dickish views on women; there's also his blatant homophobia and casual racism. (Though a blindered insistence on reopening steel plants rather than retraining for new jobs does, I suppose, fit right into the Trump era.)
It's hard to imagine how Theo Ubique artistic director Fred Anzevino thought this show was the best choice to christen his company's brand new home on the Evanston side of Howard Street, just across Chicago's northern city limit. The dedicated space feels 10 times larger than Theo Ubique's former longtime home at the No Exit Café a few blocks to the south and east in Rogers Park, a venue whose walk-in-closet dimensions helped build Ubique's reputation for intimate reinventions of Broadway-sized scripts. But the leap to Evanston, as of this first production, comes with some growing pains.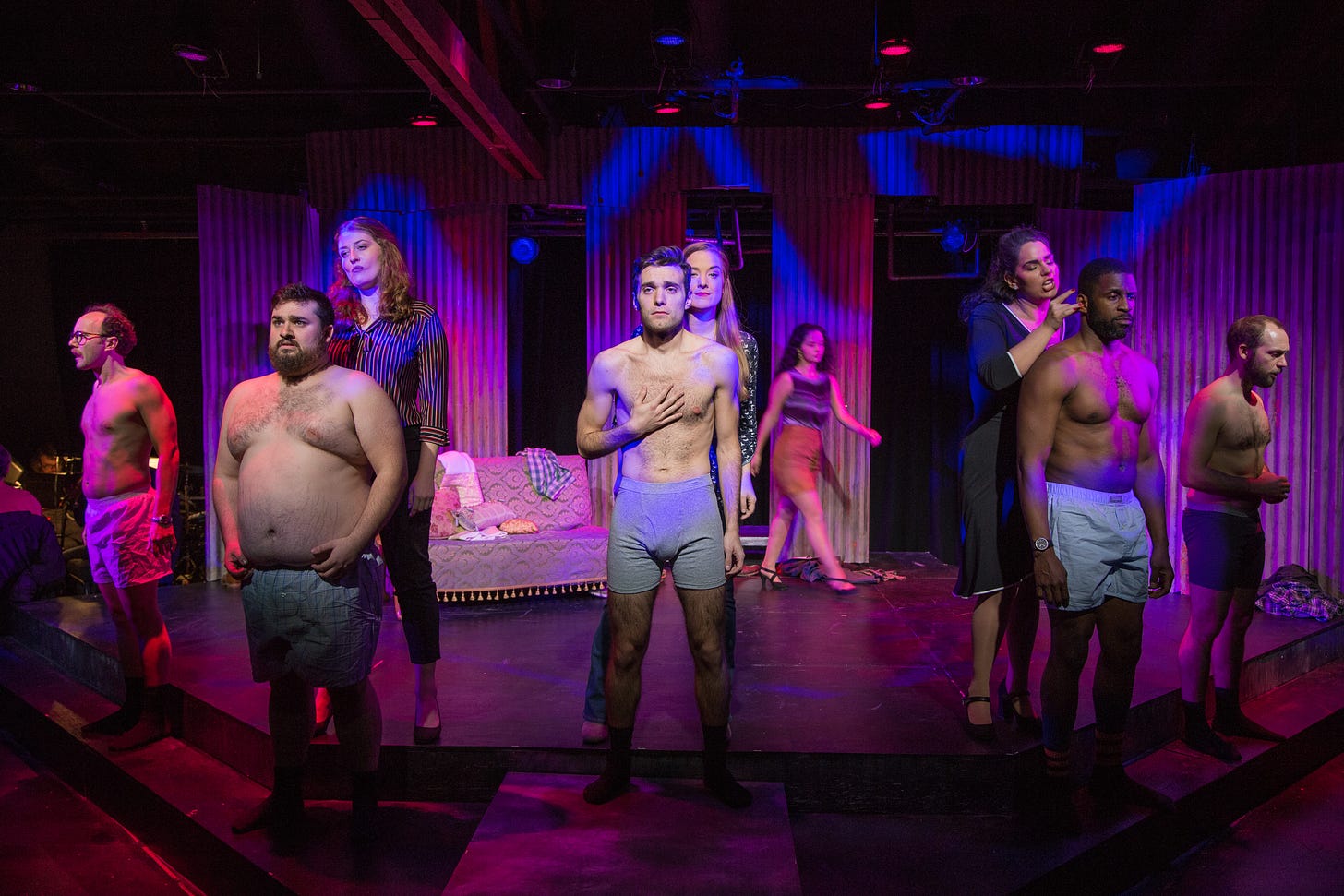 The company has carried over its tradition of seating audience members at cabaret-style tables, where they can order a pre-show dinner (with advance reservations) or just drinks, with costumed actors doubling as servers. That last bit, an eccentric adaptation at the ramshackle old space, already has a different, and vaguely exploitative, feel in the handsomely renovated new building.
That's one of several attempts to maintain the feel of the No Exit, as Anzevino told me last spring he hoped to do. It's not the only one that backfires. The 16 actors in The Full Monty's cast aren't equipped with body mics; that was often the case for Theo Ubique shows of old, and the intimate proximity made it a pleasure to be able to hear unamplified voices.
Anzevino and sound designer Robert Hornbostel try to make up the difference in this larger footprint with drop mics on the ceiling. But Ubique's brilliant music director Jeremy Ramey doesn't seem to have calibrated to the new room yet either. So this show's main pleasure, the poppy, earwormy first Broadway score by composer Yazbek (who finally won a Tony last spring for The Band's Visit and could be up again this season for Tootsie) gets a disappointingly muddled treatment: the lyrics are either more or less drowned out by Ramey's synth-heavy five-piece band, depending on how close the actors are to the ceiling mics as they move about the stage.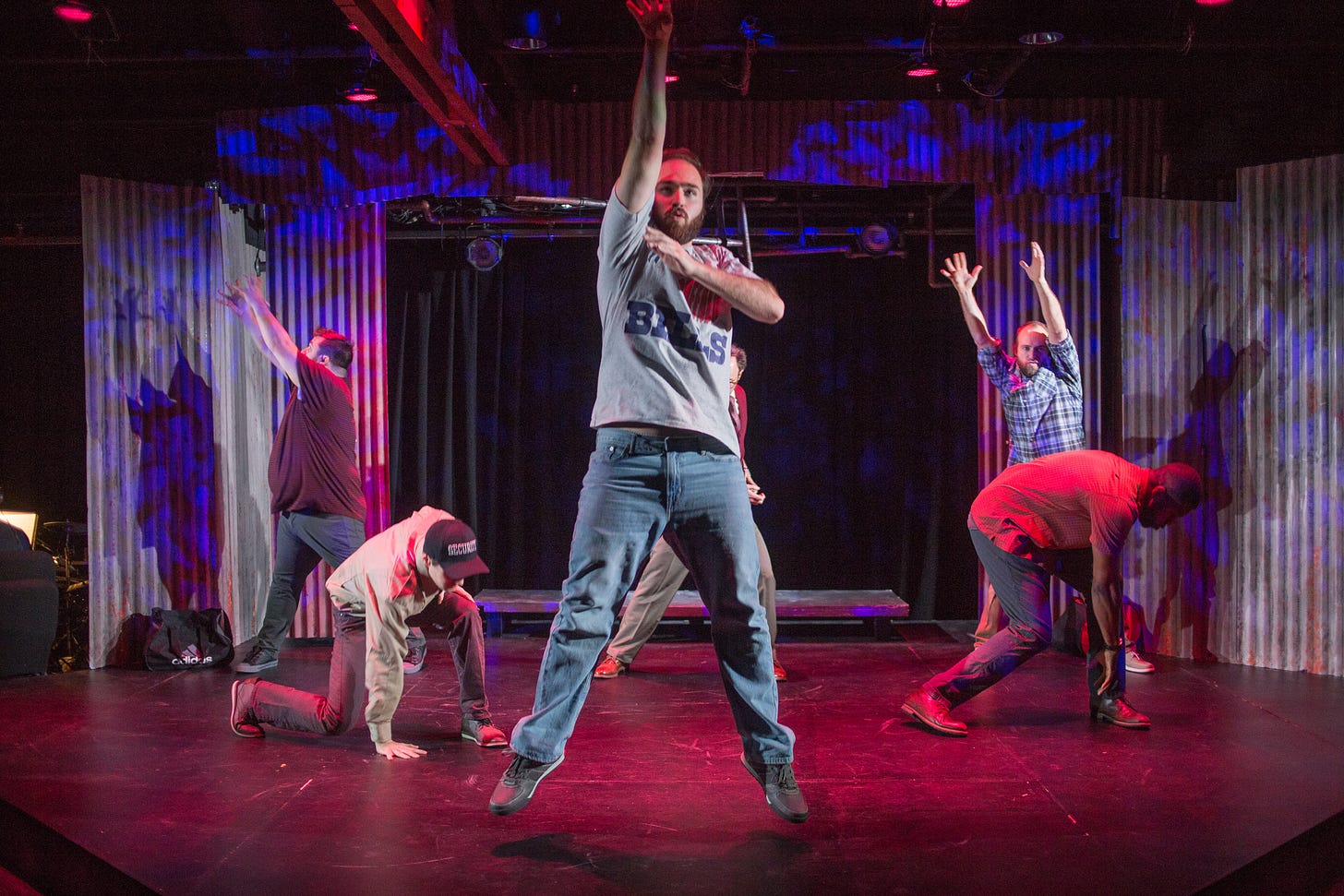 And that movement—Sawyer Smith's sharp and engaging group choreography aside—is often aimless. Given more room to wander, Anzevino and his actors do exactly that—including in paths through the audience, another feature of necessity from the old place that just feels forced now. And it should be said that, at least in this initial configuration, the sightlines are somehow worse than in the former shoebox.
The evening isn't a complete misfire. Joe Giovanetti—a Jeff Award nominee in 2017 for Theo Ubique's The Most Happy Fella, which I missed—makes an appealing impression as socially awkward mama's boy Malcolm. And I was taken with Molly LeCaptain and Anna Dvorchak in the thankless roles of Dave's wife and Jerry's ex, respectively.
Yet Anzevino's production feels mostly miscast; McNally has already boiled the cast down to a set of physical types and character tropes, and the actors here tend to miss on both counts. On the whole, though, Monty is just poorly fitted to both this cultural moment and this company's new digs. Theo Ubique needs to re-read the room, in multiple senses.
The Full Monty
Theo Ubique Cabaret Theatre (721 Howard St, Evanston). Book by Terrence McNally. Music and lyrics by David Yazbek. Directed by Fred Anzevino.
Cast: Emily Barnash, Janyce Caraballo, John Cardone, Alexander Christ, Nick Druzbanski, Anna Dvorchak, Matt Frye, Joe Giovannetti, Kate Harris, Molly LeCaptain, Marc Prince, Jonathan Schwart, David Stobbe, Neil Stratman, Tyler Symone, Sean Zielinski.
Assistant director: Courtney Crouse. Music direction: Jeremy Ramey. Choreography: Sawyer Smith. Scenic design: Ben Lipinski. Costume design: Bill Morey. Lighting design: James Kolditz. Props design: Matt Zalinski. Sound design: Robert Hornbostel. Sound engineer: Giselle Castro. Assistant choreographer: Leon Evans. Stage manager: Isabelle Rund.
Running time: 2 hours 40 minutes with one intermission. Through January 27. Tickets ($39–$44; students and seniors $34–$39) at theo-u.com.
Photographs by Austin D. Oie.
---
The Winter Wolf howls with unpretentious charm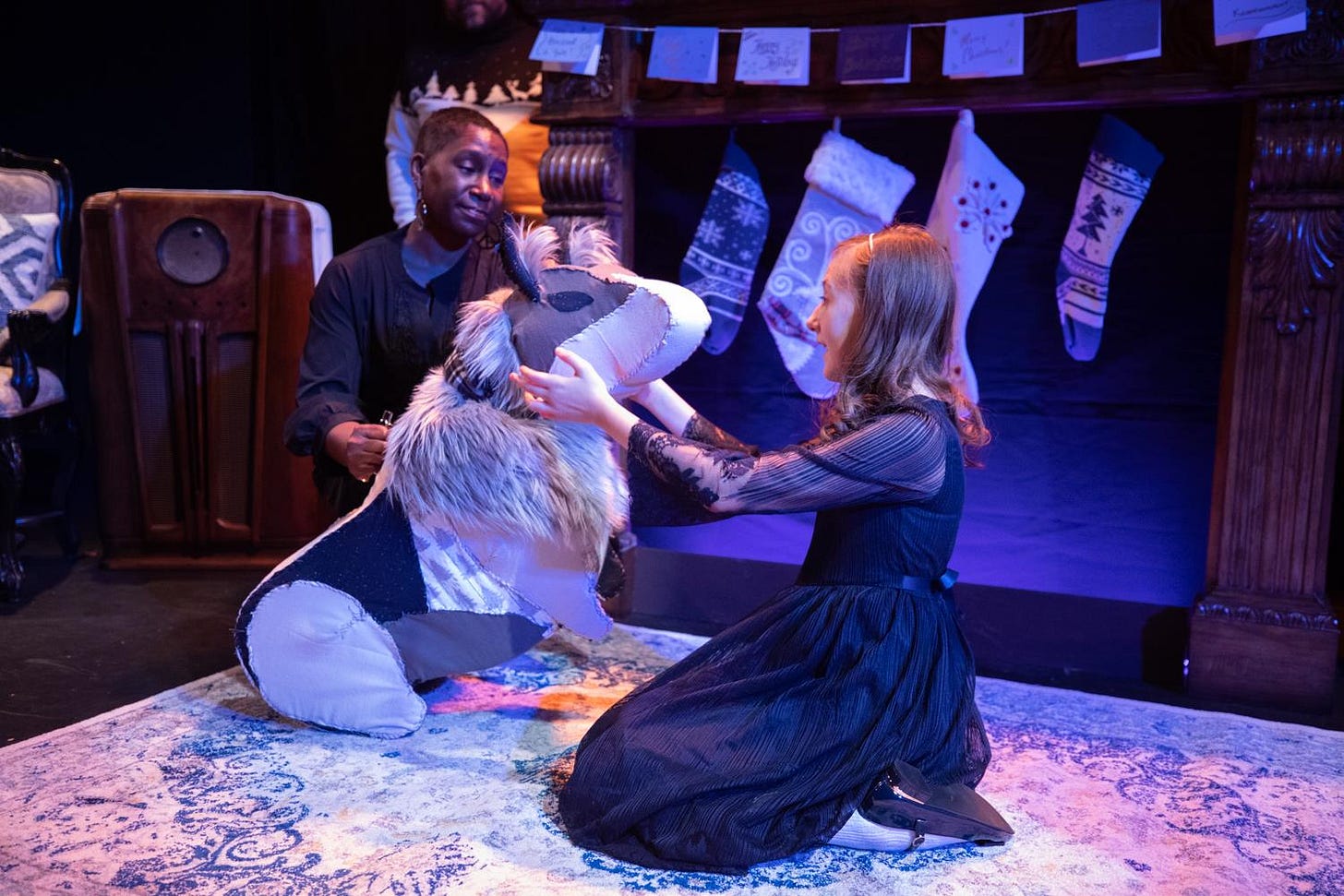 Otherworld Theatre, a six-year-old company, took over the lease at 3914 N Clark St last spring. Control of the building has passed among the hands of several theater companies over the last couple of decades, but with its move-in, Otherworld declared the space "the world's first venue dedicated to live Science Fiction + Fantasy performance."
My first opportunity to check out the sci-fi and fantasy offerings at Otherworld's new home came with this family-friendly(ish) new holiday fable from Michigan-based playwright Joseph Zettelmaier. The wolf of Zettelmaier's title is an eternal spirit, "time's hunter," who comes for those whose time it is to pass on. The wolf approaches the home of an assertive young girl named Cora one Christmas Eve, seeking out her ailing grandfather, but Cora tricks the wolf into a deal—or is Cora the one being tricked?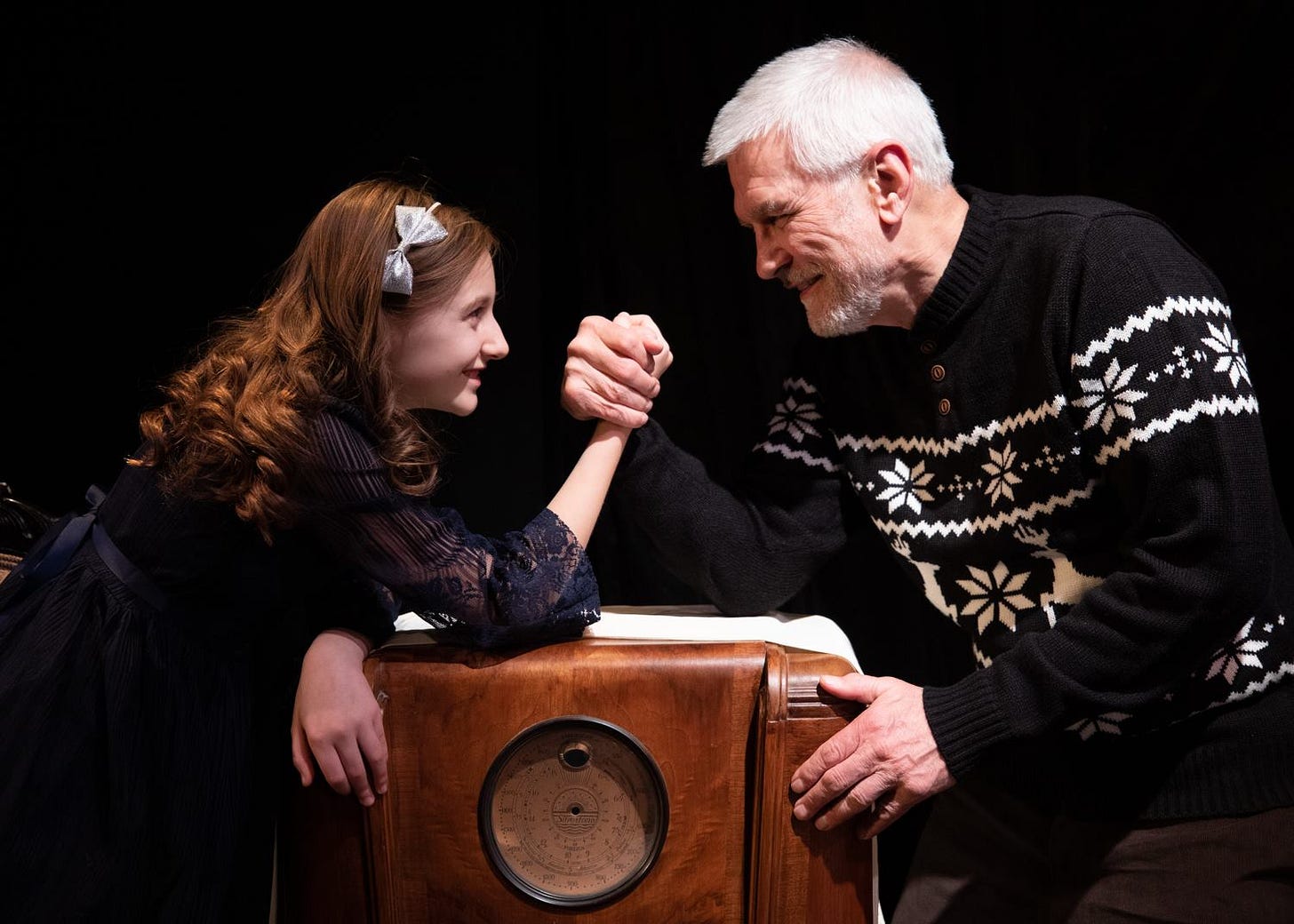 At its base level, Zettelmaier's new folk tale is winning enough, and Lauren Nicole Fields's hyper-simple staging has some serious strengths—mostly in the crank-scrolled shadow-puppet device and the Winter Wolf puppet, both seemingly created by designer Janie Killips, and in the Wolf's puppeteer and voice, Shariba Rivers.
Rivers's indispensably warm and layered performance, accomplished while simultaneously bringing to life a previously unheard of demigod beast, goes a long way toward lending this simple story the gravitas it needs even to win over young audiences. Keep in mind, though, that this is ultimately a story about accepting the inevitability of loss and grief, and that Zettelmaier makes a debatable choice to give Cora a gift that no real griever gets to accept.
The Winter Wolf
Otherworld Theatre (3914 N Clark St). By Joseph Zettelmaier. Directed by Lauren Nicole Fields.
Cast: Molly Southgate, Shariba Rivers, Mike Rogalski, Nathan Pease, Katy Crow.
Scenic, puppet and props design: Janie Killips. Lighting design: David Goodman. Sound design: Tiffany Keane Schaefer. Stage manager: Sara Robinson.
Running time: 1 hour 5 minutes with no intermission. Through January 6. Tickets ($20 suggested donation or pay-what-you-can) at otherworldtheatre.org.
Photographs by Steven Townshend. From top: Shariba Rivers and Molly Southgate; Molly Southgate and Mike Rogalski.
---
Thanks for reading! Storefront Rebellion subscribers get exclusive reviews like these from me, Kris Vire. You can subscribe for $6 a month or $60 a year to receive exclusive show reviews in your inbox.
Send tips and feedback to kris@krisvire.com, and if you know someone you think would enjoy this newsletter, feel free to forward this to a friend.