Welcome to the free edition of Storefront Rebellion! This newsletter brings Chicago theater news and reviews from me, longtime critic and journalist Kris Vire, right to your inbox. If you're enjoying it, please tell your friends. Word of mouth is our best advertising. (I borrowed that from a few thousand post-curtain-call speeches.)
Storefront Rebellion is ad-free and supported entirely by readers. If you appreciate my perspective on theater in Chicago, please consider supporting at $6 per month or $60 per year.
I also very much want to hear your feedback: Reply to this email, or if you're reading this on the web, hit me at kris@krisvire.com or find me on Twitter @krisvire. You can also leave public comments on the web version of the newsletter; click the headline above or the links at the bottom of this post.
---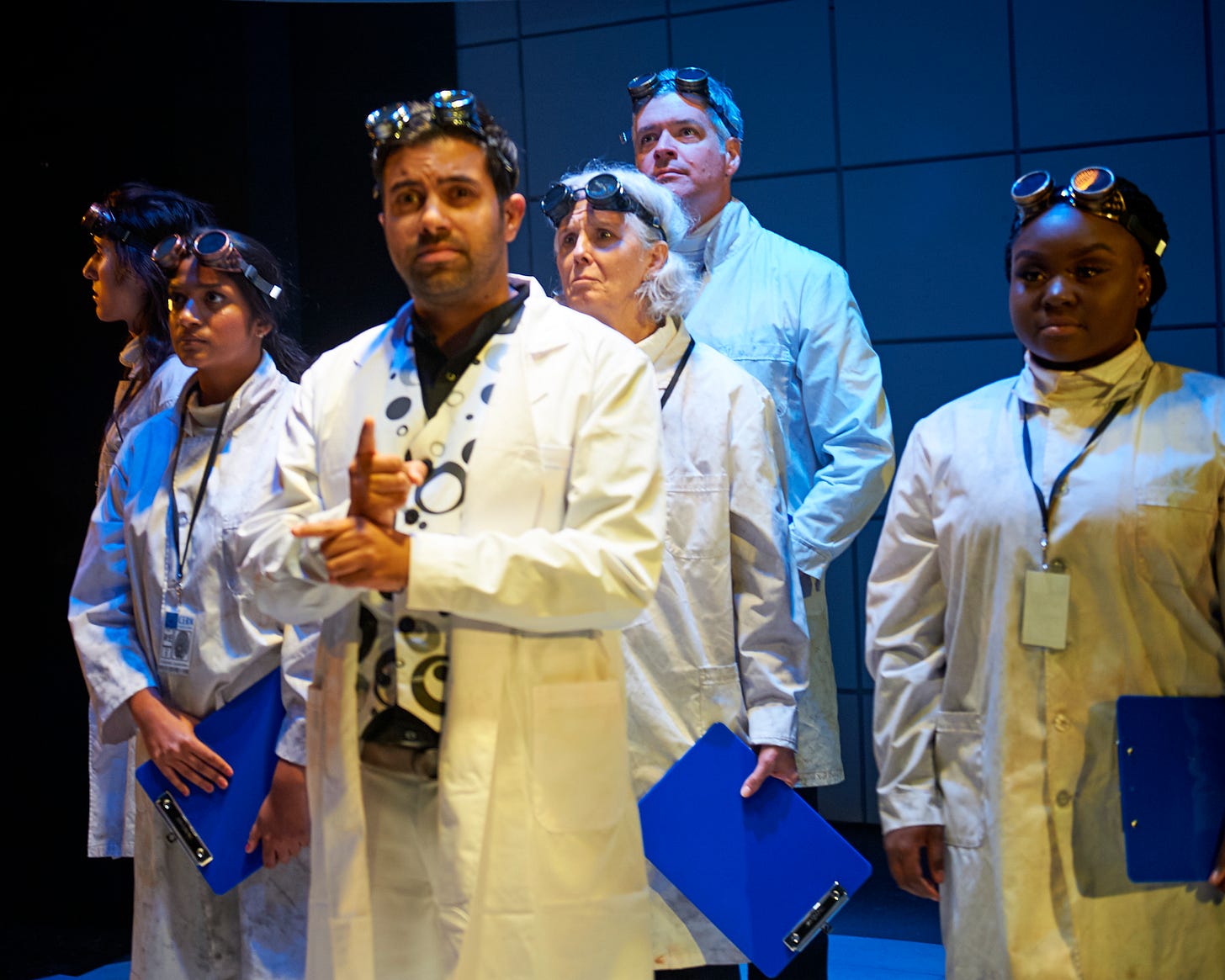 The cast of Mosquitoes at Steep Theatre. Photograph: Lee Miller
It's a new month already? September flew by in a flurry of new theater openings, many of them very good (see the end of this newsletter for my current recommendations). But October's not looking to slow down. I previewed a larger than usual number of new shows in this month's issue of Chicago magazine, both in the usual Go listings and in the Fall Culture Preview.
But there were still many more that I didn't have room for in print—or in many cases, weren't yet announced in time to be considered. So I've compiled here in chronological order (starting with those already in previews) my 11 blurbs from the magazine, plus nine more notable shows opening in October. Apparently it's a bad year for apple picking, so you'll have that much more time to devote to this bumper crop.
The Silence in Harrow House at Rough House Theatre Company. Photograph: Evan Barr
The Silence in Harrow House
Rough House's immersive, choose-your-own-adventure style production is part puppet theater, part haunted house, allowing you to explore the home of reclusive architect Milton Harrow and meet his associates and acolytes. After debuting last fall as The Walls of Harrow House, it returns with a new title and new scares. Rough House Theater Company at Chopin Theatre, through Nov 10. $20–$32.

Mosquitoes
British playwright Lucy Kirkwood's The Children, seen earlier this year at Steppenwolf, was a fascinating character study of three retired scientists facing their personal liability in the wake of a Fukushima-style disaster (you can read my full review at the Sun-Times). Kirkwood's Mosquitoes, with a plot that involves the Large Hadron Collider, looks to be another examination of the collision of science and ethics; Steep Theatre gets the U.S. premiere. Steep Theatre Company, through Nov 9. $27–$39.

Big Fish
Adapted from Daniel Wallace's novel and Tim Burton's film about a yarn-spinning father and his resentful son, this musical by Andrew Lippa and John August had its pre-Broadway tryout in Chicago in 2013 but didn't make much of a splash in New York. BoHo Theatre has made a habit of breathing new life into underappreciated musicals; with artistic director Stephen Schellhardt at the helm, the company will try to make Big Fish hook us anew. BoHo Theatre at Greenhouse Theater Center, through Nov. 17. $35.

The Brothers Size
From Chicago magazine: "Set on Louisiana's Gulf Coast, this moving one-act about responsible auto mechanic Ogun and ex-con Oshoosi incorporates elements of West African Yoruba mythology. The Brothers Size was part of playwright Tarell Alvin McCraney's introduction to Chicago audiences a decade ago, when Steppenwolf presented his Brother/Sister Plays trilogy; now Size returns as a standalone in the Steppenwolf for Young Adults series." Steppenwolf Theatre Company, Oct 2–19. $20–$30.

Sundown, Yellow Moon
From Chicago magazine: "Twin sisters return to their hometown to deal with a crisis in this Southern family drama by Rachel Bonds (Five Mile Lake). What distinguishes it from the hundreds of other plays that could fit that description is its soundtrack. The family of musicians puts into practice the subtext of musical theater: When something is too hard to say, say it in song. Written for this play by husband-and-wife songwriters the Bengsons, the folk tunes will be performed by a cast of dual talents, including Liz Chidester, Diana Coates, and Will Casey." Raven Theatre, Oct 3–Nov 17. $15–$43.
A Man of Good Hope. Photograph: Trevor Samson

A Man of Good Hope
From Chicago magazine: "Last seen in 2014 with an Africanized staging of Mozart's The Magic Flute, Cape Town's Isango Ensemble returns to Chicago Shakespeare Theater with an equally acclaimed musical adaptation of the 2014 book A Man of Good Hope, the true-life chronicle of a young Somali refugee's yearslong journey to South Africa." Chicago Shakespeare Theater, Oct 4–13. $60–$90.

Cabaret
From Chicago magazine: "The time seems right for an immersive, in-your-face staging of Kander and Ebb's classic musical. Cowardly Scarecrow Theatre Company turns the upstairs of Chief O'Neill's into the seedy Kit Kat Klub; storefront theater stalwarts Kevin Webb and Caitlin Jackson play the insinuating Emcee and tragic chanteuse Sally Bowles." Cowardly Scarecrow Theatre Company at Chief O'Neill's, Oct 5–25. $29–$31.

Hell Followed With Her
The only thing wrong with a world-premiere zombie play is that none of the "revival" puns I want to make really work. But trust the horror-theater specialists at WildClaw Theatre to do zombie drama right. And did I mention that Bill Daniel's play is a zombie Western? With a revenge-seeking female lead? Yes. WildClaw Theatre at The Den Theatre, Oct 7–Nov 9. $15–$30.

Grey House
A young couple escapes a brutal car accident in an Oregon blizzard and seeks help at a nearby cabin, but its inhabitants—a quartet of unnerving children and their guardian—seem to have intimate knowledge of their guests' deepest secrets. A Red Orchid gets in the Halloween spirit with this spooky premiere by ensemble member Levi Holloway. A Red Orchid Theatre, Oct 10–Dec 1. $30–$40.
Hollis Resnik as Norma Desmond in a promotional image for Sunset Boulevard. Photograph: Joe Mazza/Brave Lux

Sunset Boulevard
From Chicago magazine: "The musical theater troupe has been on a hot streak since taking up residence at the Ruth Page Center for the Arts two seasons ago. Its new challenge: tackling the big-screen bombast of Sunset Boulevard, Andrew Lloyd Webber's adaptation of the Billy Wilder film." Porchlight Music Theatre at Ruth Page Center for the Arts, Oct 11–Nov 24. $39–$66.
The Effect
From Chicago magazine: "The British playwright Lucy Prebble has a knack for using unexpected imagery to make big ideas accessible. Witness the velociraptors and lightsaber battles she employed in Enron to illustrate the complex financial schemes that brought down the energy company. See how she tackles love itself in The Effect, in which budding romance is complicated by the setting of the couple's meet-cute: They're participants in a clinical trial for an antidepressant." Strawdog Theatre Company, Oct 13–Nov 23. $15–$55.

Kentucky
From Chicago magazine: "Japanese American playwright Leah Nanako Winkler spent part of her childhood in Kamakura, near Tokyo, before moving with her family to Kentucky. That state is the setting of this adventurous 2016 work, presented here by the Gift Theatre, about a tightly wound New Yorker who returns home to try to stop her born-again Christian sister from getting married. Don't expect anything too naturalistic, though — Winkler breaks the fourth wall with confessional monologues and musical numbers, and the large cast of characters includes a talking cat." The Gift Theatre at Theater Wit, Oct 17–Nov 16. $25–$42.
Emjoy Gavino and Hannah Toriumi in a promotional image for Kentucky at The Gift Theatre. Photograph: Claire Demos

Proxy
The new-musical–minded Underscore Theatre Company's latest score is the world premiere of this punk-rock piece by the NYC-based writers Alexander Sage Oyen, Rachel Franco and Austin Regan. (Technically, I should note, it's the "non-Equity world premiere," which is a distinction I've never heard of before but I'm sure the language was carefully negotiated, so noted.) The plot follows a woman whose childhood best friend tried to murder her; now a grown-up journalist, she decides to go undercover and interview her attempted killer. Underscore Theatre Company at The Understudy, Oct 18–Nov 24. $10–$25.

Sugar in Our Wounds
Playwright Donja R. Love's magical-realist drama about queer romance among young slaves on a plantation during the Civil War is part of a trilogy about Black love in different eras. Mikael Burke helms First Floor's Chicago premiere, with a promising cast led by Michael Turrentine and Londen Shannon. First Floor Theater at The Den Theatre, Oct 19–Nov 23. $10–$35.

New Stages Festival
From Chicago magazine: "The Goodman's annual fest offers free sneak peeks at works in progress by established and emerging writers — a mix of 'developmental productions' (fully staged with minimal sets) and readings. This year's lineup features performances of In the Sick Bay of the Santa Maria by Pulitzer finalist Rajiv Joseph and Incendiary by spoken-word poet and playwright Dave Harris, along with readings of works by Calamity West, Zayd Dohrn, Charlayne Woodard, and Cheryl West." Goodman Theatre, Oct 23–Nov 10. Free.
Daniella Pereira and Sam Hubbard in a promotional image for The Effect at Strawdog Theatre Company. Photograph: Jon Cole Media

I Am Going to Die Alone and I Am Not Afraid
Billed as "a furious history of the Holocaust," Prop Thtr's new devised work, conceived and directed by Anna H. Gelman, uses the Nazi campaign of atrocity—and those who fought back against it from within—as a lens to examine contemporary oppression. The production features original music composed by Alec Phan. Prop Thtr, Oct 23–Dec 6. $10–$20.

Laura and the Sea
From Chicago magazine: "How well do we really know our coworkers? That's the question at the heart of Kate Tarker's 'unhappy comedy' about a travel agent who commits suicide on the day of a company outing and how her colleagues try to make sense of her death." Rivendell Theatre Ensemble, Oct 25–Dec 8. $18–$38.

Latin History for Morons
From Chicago magazine: "Colombian-born, Queens-raised actor and comedian John Leguizamo's autobiographical solo performances (Mambo Mouth) are famous for the ways they dismantle Latino stereotypes. This latest monologue, Leguizamo's sixth, was inspired by a distinct lack of Latin American names in his son's American history textbook; he sets out to correct the record in a performance that earned him a special Tony Award in 2018." Cadillac Palace Theatre, Oct 29–Nov 3. $22–$147.
Liz Chidester and Diana Coates in a promotional image for Sundown/Yellow Moon at Raven Theatre. Photograph: Christopher Semel

Packing
From Chicago magazine: "Scott Bradley is best known to local audiences for writing and performing in punky and hilarious pop culture parodies like Alien Queen and Carpenters Halloween. He will get (slightly) more serious for a presumably inventive solo performance for About Face Theatre, in which he weaves his own personal narrative as a 'genderqueer vagabond' from middle-of-nowhere Iowa into the bigger picture of LGBTQ history in the United States." About Face Theatre at Theater Wit, Oct 31–Dec 7. $15–$38.

Hoodoo Love
Playwright Katori Hall wrote the book for Tina: The Tina Turner Musical, the jukebox tuner that's opening on Broadway this month after a wildly successful reception on London's West End. This much earlier work (which predates Hall's previous Broadway success with the Martin Luther King portrait The Mountaintop, in 2011) is a moody, blues-soaked melodrama about doomed lovers in midcentury Memphis. Hoodoo Love had an unpersuasive Chicago staging in 2012, but with rising director Wardell Julius Clark at the helm of this new production, second time could be the charm. Raven Theatre, Oct 31–Dec 15. $15–$46.
---
Reviews and other views
I've stayed busy at the Sun-Times these last couple of weeks, squeezing in four more reviews since the last SR digest:
Every Brilliant Thing. Photograph: Michael Brosilow
Every Brilliant Thing, receiving a belated Chicago premiere from Windy City Playhouse, is a marvelously constructed solo performance (with many assists from the audience), featuring a luminous performance by Rebecca Spence. Read the full review.
Terri McMahon in Bernhardt/Hamlet. Photograph: Liz Lauren
Theresa Rebeck's Bernhardt/Hamlet took me by surprise at the Goodman; I often find myself w(e)ary of theater that's about making theater, but this fanciful take on 19th-century celebrity Sarah Bernhardt is full of charm and insight. Read the full review.
Ronald L. Conner, Kelvin Roston Jr. and A.C. Smith in King Hedley II. Photograph: Michael Brosilow
At Court Theatre, King Hedley II struck me as one of the less forceful of August Wilson's plays. But lesser Wilson is still outstanding in the right hands, and it's a thrill to see Ron OJ Parson tackle the last piece of Wilson's cycle he had yet to stage. Read the full review.
Elizabeth Ledo, James Frain and Harry Hadden-Paton in The King's Speech. Photograph: Liz Lauren
The theatrical edition of The King's Speech is perhaps the biggest letdown of the new season so far. Whatever alchemy Colin Firth, Geoffrey Rush, Helena Bonham Carter and director Tom Hooper found for the Oscar-magnet film is lost in a listless slog onstage at Chicago Shakes. Read the full review.
Hello Again. Photograph: Austin D. Oie
Here in the newsletter, I reviewed Theo Ubique's revival of Michael John LaChiusa's Hello Again—a handsome production with a few electrifying performances (Neala Barron, Molly LeCaptain, Courtney Jones) among the youngish ensemble, but the show's sexual politics feel too tied to its 19th-century source material to really speak to us in the 21st. Storefront Rebellion supporters got that review in their inboxes last week; if you missed it, read it here. I'll have more reviews coming your way later this week.
---
Kris recommends:
Midsummer (A Play with Songs) Greenhouse Theater Center, through 10/6
Dana H. Goodman Theatre, through 10/6
King Hedley II Court Theatre, through 10/13
The Raveling Walkabout Theater Company at Victory Gardens, through 10/13
Tiny Beautiful Things Victory Gardens Theater, just extended through 10/20
Oslo TimeLine Theatre Company at Broadway Playhouse, through 10/20
Bernhardt/Hamlet Goodman Theatre, through 10/20
X Sideshow Theater Company at Victory Gardens, through 10/27
Every Brilliant Thing Windy City Playhouse South, through 12/8
---
Questions or feedback for me? Reply to this email, or if you're reading this on the web, hit me at kris@krisvire.com or find me on Twitter @krisvire. You can also leave public comments on the web version of the newsletter; click the headline above or the links at the bottom of this post.