Welcome to the free weekly edition of Storefront Rebellion! This free digest brings Chicago theater news and reviews from me, Kris Vire, right to your inbox. If you're enjoying it, please tell your friends. Word of mouth is our best advertising. (I borrowed that from a few thousand post-curtain-call speeches.)
I also very much want to hear your feedback: Reply to this email, or if you're reading this on the web, hit me at kris@krisvire.com or find me on Twitter @krisvire.
---
Lots of big news to get to this week, including a deluge of season announcements. But first, the biggest announcement with the fanciest architectural renderings:
Steppenwolf 2021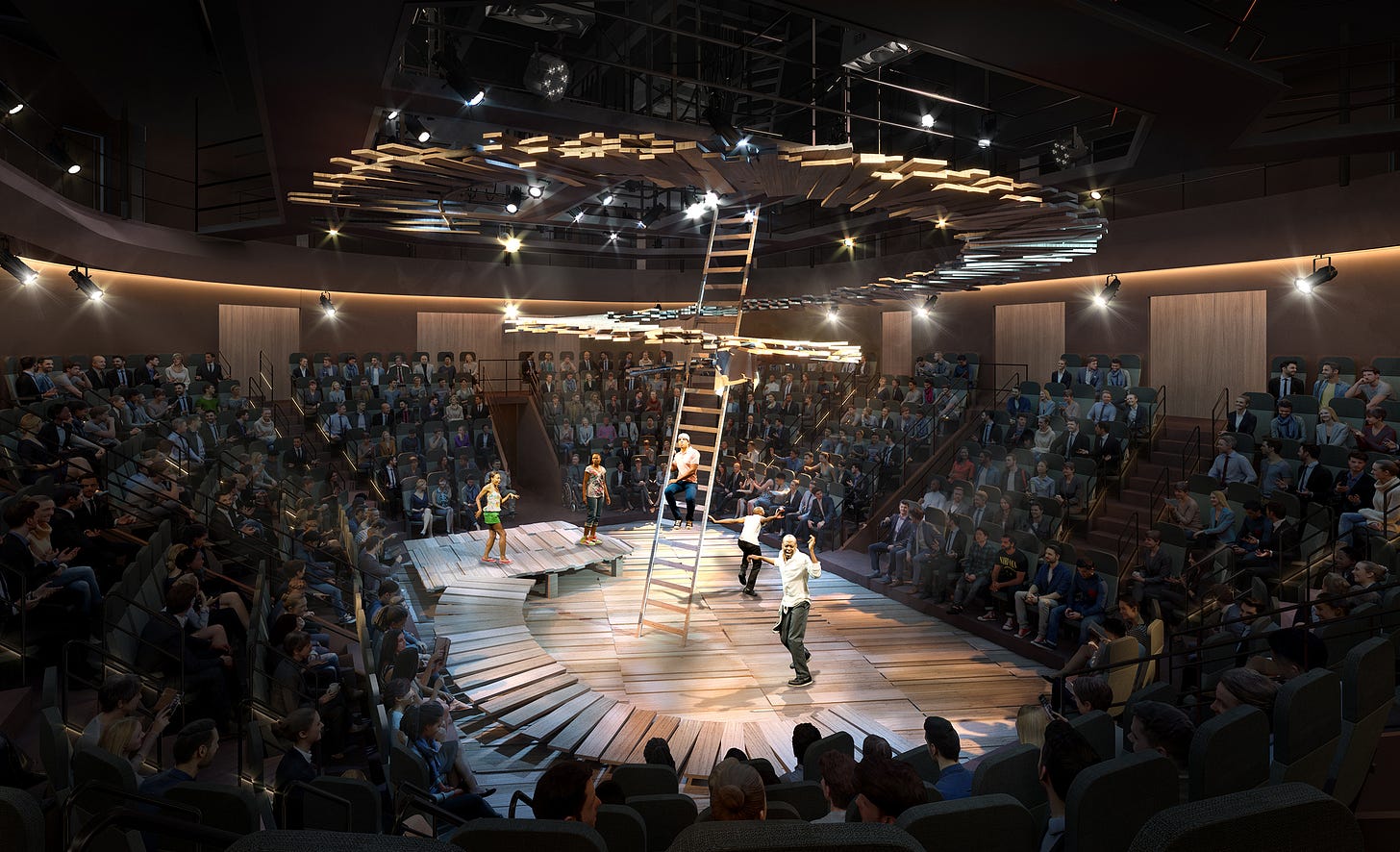 Illustration: Adrian Smith + Gordon Gill Architecture
On Tuesday, Steppenwolf held a ceremonial groundbreaking for the long-anticipated next phase of its building expansion. The new 50,000-square-foot building, to be constructed on what's currently a surface parking lot between the existing building at 1650 N Halsted and the theater's parking garage, will contain a 400-seat in-the-round theater, designed by the inventive London firm Charcoalblue. Key selling points: the audience will be just six rows deep, with no one more than 20 feet from the stage.
The new theater will supplant the Upstairs Theater, which will revert to rehearsal space—presumably necessary as Steppenwolf is divesting itself of Yondorf Hall, on the northeast corner of Halsted and North Avenue, to consolidate in a single connected row of structures stretching from 1624 to 1700 North Halsted Street.
Illustration: Adrian Smith + Gordon Gill Architecture
Also part of the new building will be an entire floor dedicated to the theater's education arm, which will expand the number of teens served by Steppenwolf programming from 15,000 to 40,000 annually. The building's patron-facing facilities will also feature a two-story lobby space, a new wine bar, and a sidewalk lounge; Steppenwolf's costume shop and other production facilities will have homes here as well. The new building is set to open in the summer of 2021.
Hamlet Is [Still, Again] the Latest Chicago Shakespeare Theater Role that Didn't Go to a Local
Last October, when Chicago Shakespeare Theater announced that the title role in Barbara Gaines's upcoming production of Hamlet would be played by Raúl Esparza, I took the opportunity to write a piece at Chicago magazine about the theater on the pier's "well-ingrained habit of importing actors from other cities to fill the leading roles in its own productions of Shakespeare's plays," and why it bothers me as both an audience member and an advocate for Chicago theater.
With some exceptions, Esparza included, the actors that Chicago Shakes casts from New York (or Canada or England), aren't known names or potential box-office draws. And in my professional opinion, they don't generally bring any special qualities to the stage that justifies the opportunities they're taking from the actors making their lives and careers in Chicago, or the opportunities they're taking from Chicago audiences to see our own artists take on roles like Hamlet—which in three mainstage productions at Chicago Shakespeare has never been played by a Chicago actor.
In writing that piece, I asked CST's casting director, Bob Mason, about the theater's practices. He assured me there was no quota of contracts the company sets aside for out-of-town casting.
"Chicago Shakespeare always begins its casting process in Chicago, with every hope that we will find what the director is looking for here at home," he said via email. "We see Chicago actors for every lead role — the only exception to this is when a director's vision has been formed with a certain actor in mind."
Fast forward to yesterday afternoon, when Chicago Shakes announced that Esparza had withdrawn due to scheduling conflicts. Our new Hamlet? Maurice Jones, a New Yorker "most recently appearing on Broadway in The Lifespan of a Fact opposite Daniel Radcliffe," according to CST. (Jones was an understudy on that show.) The roles of Ophelia and Laertes will also be played by New Yorkers.
Season Announcement Season!
Oh man, SAS has been torrential over the last two weeks. We've seen new slates announced for Court Theatre, Steppenwolf, Writers, Northlight and more. Let's hit a few key takeaways:
A few days ahead of its groundbreaking, Steppenwolf announced a nine-play season (seven in the main series, two Steppenwolf for Young Adults productions). There are three world premieres, including a piece by ensemble member Eric Simonson featuring music by Ladysmith Black Mambazo; a play by ensemble member Rajiv Joseph inspired by LeBron James; and La Ruta playwright and director Isaac Gomez and Sandra Marquez reteaming to adapt Erika L. Sánchez's I Am Not Your Perfect Mexican Daughter for SYA.
Carrie Coon and Namir Smallwood will star in a new production of Tracy Letts's Bug, directed by David Cromer; Monty Cole will direct a revival of Tarell Alvin McCraney's The Brothers Size for SYA; and there are Chicago premieres of plays by Lauren Yee, Clare Barron, James Ijames and Mia Chung. I believe this is the first time in Steppenwolf's history that more than half of the season's plays are by writers of color, and nine of the 14 ensemble members whose involvement is so far confirmed come from those added in the last four years, under Anna D. Shapiro's tenure as artistic director.
Northlight's audience-friendly season includes How a Boy Falls, a new play by Steven Dietz, who's having quite a moment in Chicago right now—his On Clover Road is currently playing at American Blues Theater, and both Remy Bumppo and Promethean Theatre Ensemble have Dietz plays coming up this spring. There's also populist playwright Lauren Gunderson returning for a second dip into Jane Austen's intellectual-property pool with The Wickhams: Christmas at Pemberley (following on Miss Bennet: Christmas at Pemberley), and a revival of Lynn Nottage's Intimate Apparel. I'm maybe most pleased by the prospect of Songs for Nobodies, in which the inimitable Bethany Thomas sings Judy Garland, Patsy Cline, Edith Piaf, Billie Holiday and Maria Callas (Thomas performed the show at Milwaukee Rep last fall).
Gary Griffin directed a string of stunning Sondheim stagings at Chicago Shakes some years back, including Sunday in the Park with George and Follies. But Griffin's going to Glencoe for Into the Woods, a personal favorite of mine, which will open Writers' season in August. Also on deck: a new adaptation of Ibsen's A Doll's House by Sandra Delgado and Michael Halberstam, directed by Lavina Jadhwani, and about which I would like to know more; Ron OJ Parson staging Lydia Diamond's Stick Fly; and Mementos Mori, a new piece by Manual Cinema in their first Writers outing.
Ron OJ Parson directing August Wilson, Charles Newell directing Sophocles—all appears to be in order here. In the back half of the season, Sean Graney looks to make Agatha Christie interesting, director Shana Cooper makes her Chicago debut with one of the lesser-seen Ibsens, and then there's the '80s gospel-musical retelling of Oedipus, The Gospel at Colonus.
Stray announcements
American Blues Theater's season will include Rick Cleveland's Five Presidents, a new play set at Nixon's funeral; Trifles and Triflin', a pairing of one-acts by early 20th-century playwright Susan Glaspell and ABT ensemble member Nambi M. Kelley; and the Green Day musical American Idiot, just in time for the summer 2020 presidential conventions.
Black Button Eyes Productions announced a two-show season of musicals by quirky composers with cultish followings: Ghost Quartet, by Dave Malloy (Natasha, Pierre & the Great Comet of 1812) and Whisper House, by Duncan Sheik (Spring Awakening) and Kyle Jarrow (SpongeBob SquarePants).
Reviews and other views
This week, I reviewed four shows—two at the Sun-Times and two as Storefront Rebellion exclusives.
Robert Quintanilla and Teressa LaGamba. Photograph: Michael Brosilow
I Wanna Fucking Tear You Apart — Two best friends' intense relationship threatens to keep them both in stasis in Morgan Gould's comedy of co-dependency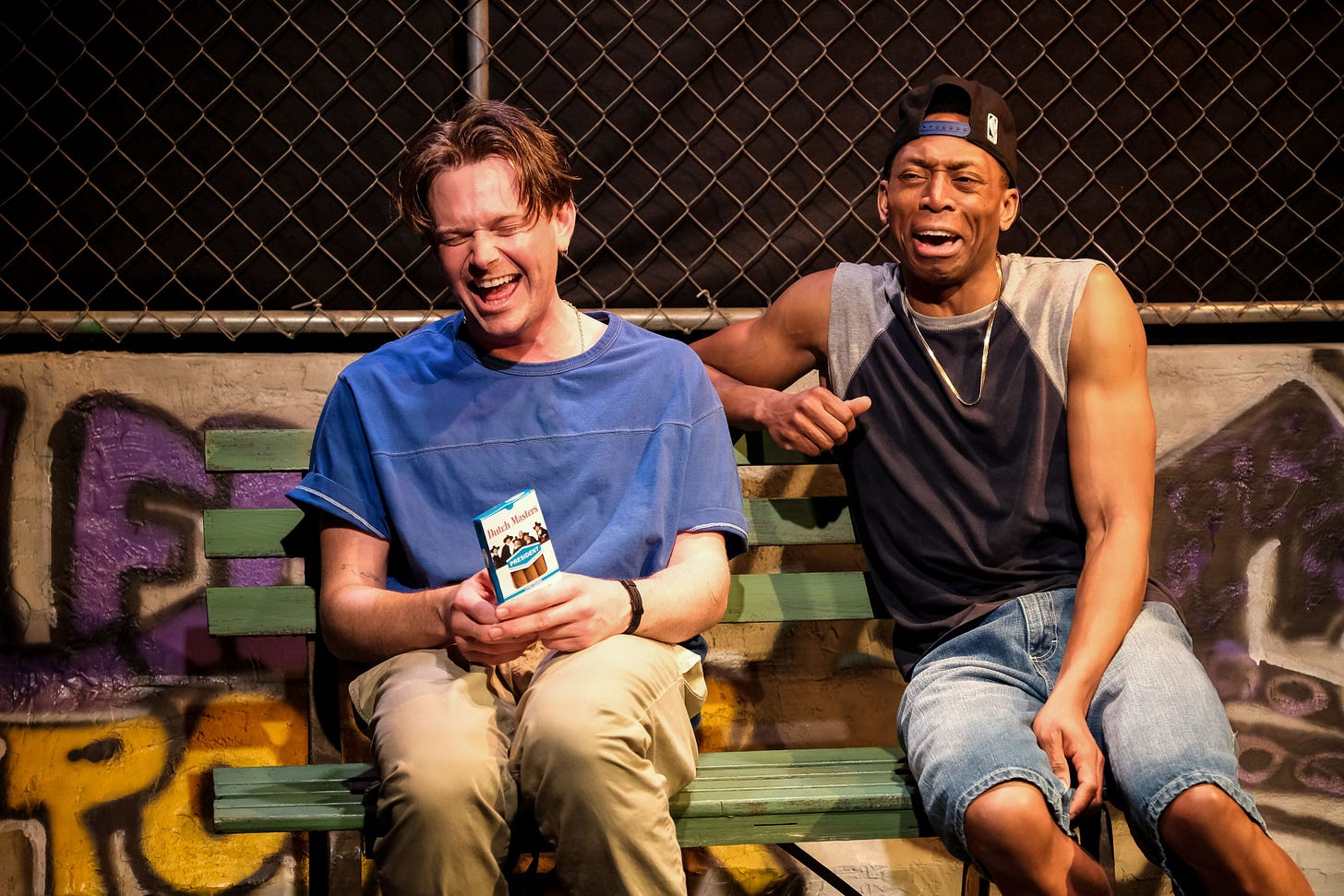 Sam Boeck, left, and Patrick Agada. Photograph: Joel Maisonet
Dutch Masters — Jackalope mounts a persuasive production of Greg Keller's unconvincing script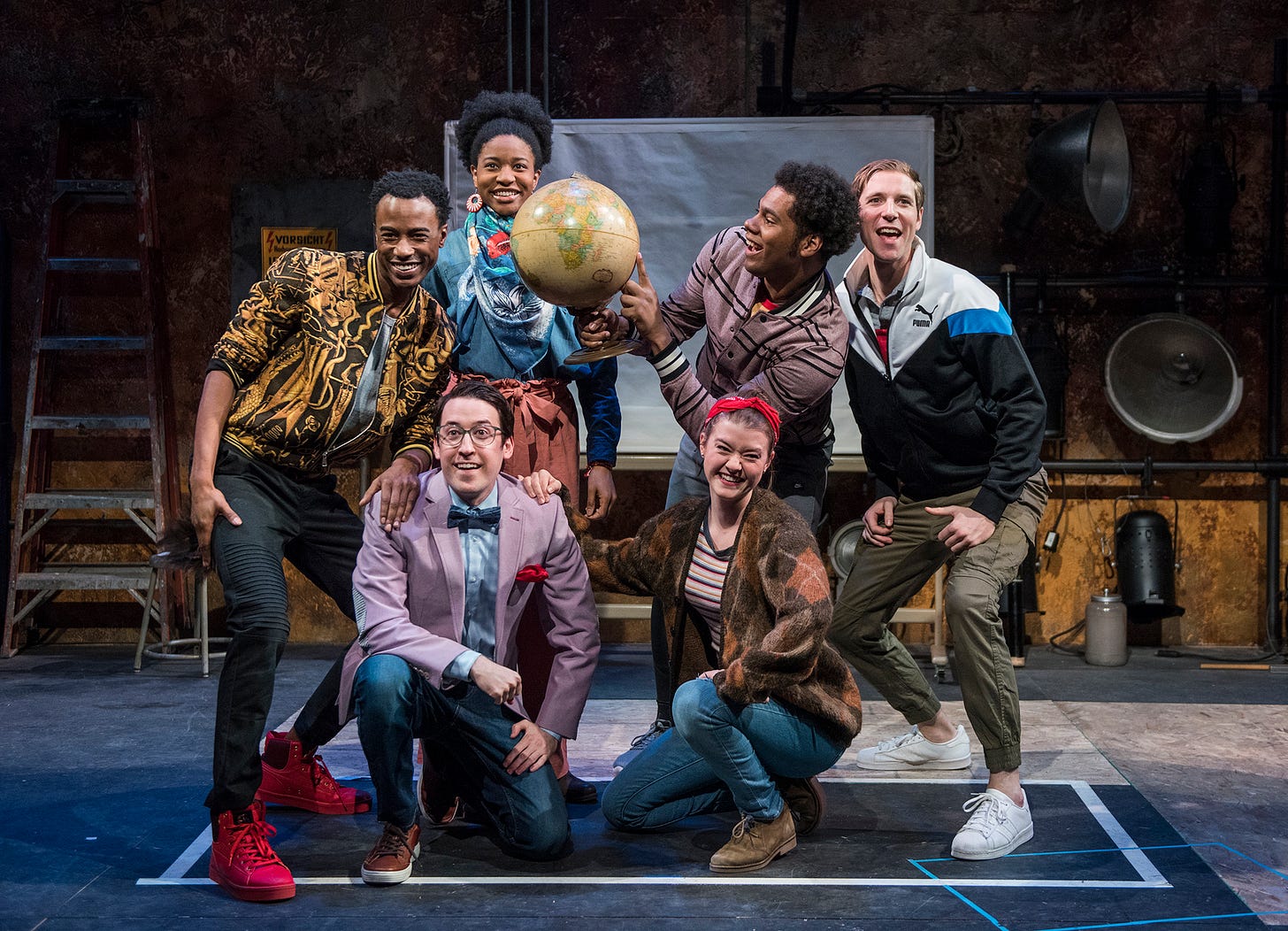 Terry Bell (from left), Will Allan, Jennifer Latimore, Taylor Blim, Jeffery Owen Freelon Jr. and Michael Holding. Photograph: Michael Brosilow
We Are Proud to Present a Presentation… — Steppenwolf for Young Adults stages Jackie Sibblies Drury's compelling piece of metatheater
North Homeward, foreground, and the cast of Southern Comfort. Photograph: Heather Mall
Southern Comfort — Young cast struggles to find its footing in a musical that manages to be commendable, invigorating, and insufficient all at once
Bonus reading
I enjoyed this essay by Christine Aucoin, the daughter of Boston Globe theater critic Don Aucoin, on the value of seeing plays with her dad as a teenager.
We simply didn't have any cultural common ground — that is, until we experienced live theater sitting side by side in identical plush seats. Something I hadn't learned while analyzing The Crucible to death in English class is that theater can leave you feeling vulnerable. Making eye contact with a character giving his dying soliloquy or professing her love, I was forced into more unguarded emotions than usually provoked by the screen-based mediums that helped me maintain my oh-so-cool brooding facade. There was no algorithm spoon-feeding me my own opinions. I was inhaling countless worldviews, all with my dad at my side.
---
Thanks for reading! This is the free weekly edition of Storefront Rebellion, a newsletter about Chicago theater by Kris Vire. You can subscribe for $6 a month or—now through March 31 only!—just $48 a year to receive exclusive show reviews and features in your inbox.
Send tips and feedback to kris@krisvire.com, and if you know someone you think would enjoy this newsletter, feel free to forward this to a friend.