SR review: "A Doll's House, Part 2" at Steppenwolf Theatre Company
Nora returns to the scene of the slam in Lucas Hnath's cheeky Ibsen sequel
You're reading an exclusive review for paying subscribers to Storefront Rebellion, a new endeavor in Chicago theater reviewing from longtime critic Kris Vire. Have feedback for me? Reply to this email or find me on Twitter at @krisvire.
---
Nora returns to the scene of the slam in Lucas Hnath's cheeky Ibsen sequel
Theater review by Kris Vire
Sandra Marquez and Yasen Peyankov
The translation in the copy on my bookshelf describes it rather timidly: "The sound of a door shutting is heard from below," reads the stage direction. But it's become known as the slammed door that scandalized 1879 audiences, as Henrik Ibsen's A Doll's House ended with his proto-feminist heroine Nora Helmer walking out on her unhappy bourgeois life, leaving behind her husband and children for an unknown but self-determined future.
For 140 years now, people have been imagining for themselves what might have happened to Nora after Act III ended and her own act began. Lucas Hnath has some ideas, too. The brainy, convention-breaking playwright of works like The Christians and Hillary and Clinton sets his 2017 play 15 years after the end of A Doll's House, bringing Nora back through the Helmer household's door to reveal all. And Hnath has the chutzpah to call it A Doll's House, Part 2.
Cheeky title aside, Hnath's play doesn't pretend to be a direct sequel, exactly. Some of the modern vernacular he puts in the characters' mouths would send those 19th-century audiences to their fainting couches all over again, for one thing. If it helps, think of Hnath's scenario as one among an infinite number of potential timelines created by Nora slamming that door—and this timeline is far from the darkest.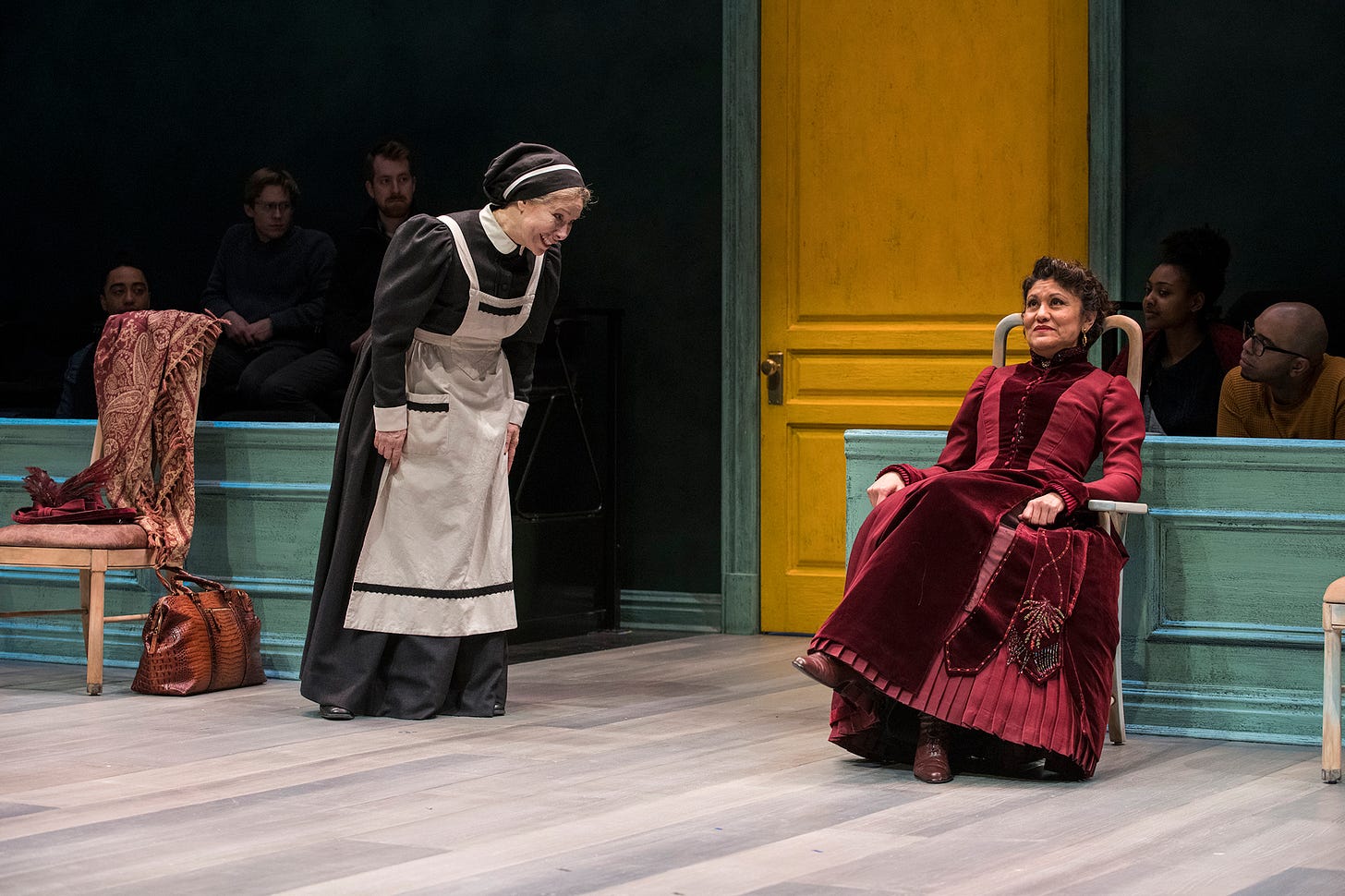 Barbara E. Robertson and Sandra Marquez
ADHP2 is, in fact, often boisterously funny in Robin Witt's effective staging for Steppenwolf's Chicago premiere. Hnath confines his palette to four characters: Nora (Sandra Marquez), her erstwhile husband Torvald (Yasen Peyankov), their youngest child, Emmy (Celeste M. Cooper), and their nanny, Anne Marie (Barbara Robertson), who raised both Nora and her children. Nora arrives, after a decade and a half of no contact, looking as though she's done quite well for herself—but she has a big favor to ask.
Nora, we learn, has become a successful author (using a pseudonym) of books for women, in which she writes against the institution of marriage. Her first bestseller was a thinly disguised recounting of her own marriage to Torvald, and the way she felt demeaned, diminished and unseen by her husband. But recently, after years of living as a free woman, she's discovered that Torvald never filed the divorce papers as he agreed to; unless she can get him to follow through, some of her own actions since she left—in both business and pleasure—will become retroactively criminal.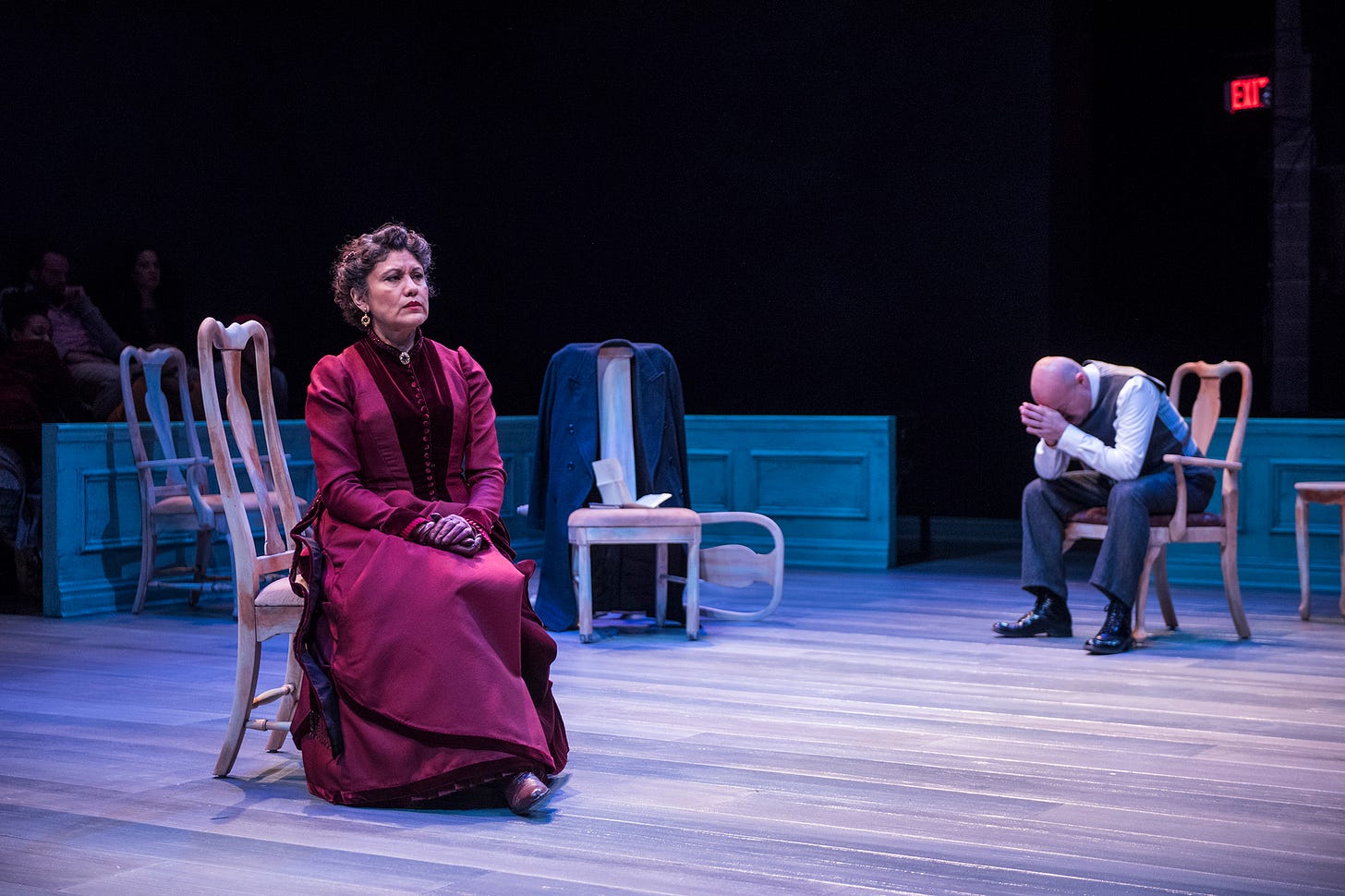 Sandra Marquez and Yasen Peyankov
Writers frequently love a chance to play in their predecessors' sandboxes. When we used to let copyrights expire after a reasonable amount of time, back in the pre–Walt Disney world, a new batch of properties entered the public domain every single year so modern creators could start futzing with them. Such sequels and prequels can sometimes be quite lucrative: Wicked, which marked 15 years on Broadway last fall, just got a release date for its movie adaptation; Lauren Gunderson and Margot Melcon hit such a jackpot with their Pride and Prejudice sequel, Miss Bennet: Christmas at Pemberley (which combined two hot markets, Jane Austen and holiday fare), that they wrote a second one.
And then some authors just itch to have a conversation with a classic. It's no surprise that A Doll's House would inspire such ambitions; some sources credit it as the beginning of modern drama. Just looking at the Doll's overhauls Chicago has seen in recent years, you have Rebecca Gilman re-setting it in mid-aughts Lincoln Park (2005's Dollhouse at the Goodman); the experimental troupe Mabou Mines deconstructing it in a co-production with Court Theatre (Mabou Mines Dollhouse, also 2005 at the Museum of Contemporary Art); and Calamity West riffing on its themes alongside the fall of the Berlin Wall (2014's The Doll's House Project: Ibsen Is Dead).
Celeste M. Cooper
Hnath's project feels like a blend of these two impulses. It's neither a straight sequel nor a remix, but instead more of—to borrow a term from Jeff Bezos—a complexifier of Ibsen's original. It's less interested in what happened to Nora Helmer, individual and (non-)divorcée, than in what that slamming door means for society at large.
This can make the play feel, at least initially, more debate society than drama. Hnath maps out his script in mostly two-person scenes between Nora and the three other characters in succession. Upon her initial arrival, relaying her recent history to Anna Marie, Nora might as well be laying out The Case Against Marriage.
That earned her some snaps of approval from my section of the audience at Sunday night's opening, but the TED Talk feel was a little worrisome. That Witt and scenic designer Courtney O'Neill put some audience members onstage, in a Steppenwolf first, exacerbates that feeling; the upstage seats are arranged in two rows of six on each side of The Door, so that they evoke jury boxes, and you start to worry that we're in for Law & Order: Nora's Choices on Trial.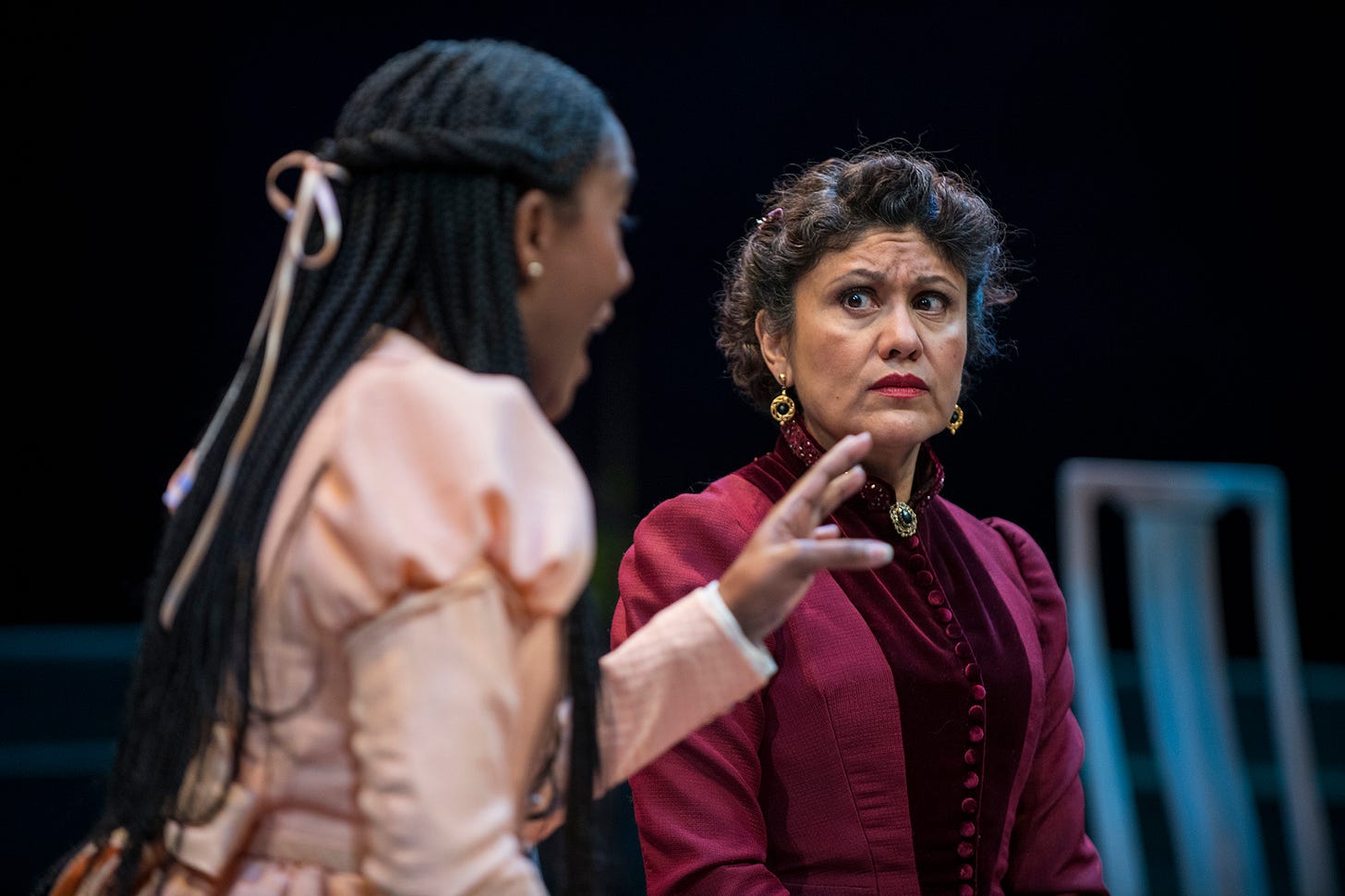 Celeste M. Cooper and Sandra Marquez
But Hnath isn't one for Dick Wolf binaries of good and bad. With a couple of offstage plot elements that echo Ibsen (blackmail, check; societal expectations, check; saving face, check), Hnath makes questions of responsibility and rugged individualism bracingly complicated.
Marquez takes over the role of Nora from her fellow Steppenwolf ensemble member Laurie Metcalf, who won a Tony Award in the Broadway production. I didn't get to see Metcalf's performance, but I think it's safe to say Marquez is a generally more measured actor, not given to Metcalf's mercurial shifts, and Marquez's Nora is always (and maybe to a fault) in control.
Peyankov, Cooper and Robertson are all able to bare their teeth on occasion in Witt's confident production, even as their characters are trying to maintain their poker faces. All in all, Hnath's play opens some illuminating new windows onto its well-worn predecessor. What's the old saying? Every time a door slams…?
---
A Doll's House, Part 2
Steppenwolf Theatre Company (1650 N Halsted St). By Lucas Hnath. Directed by Robin Witt.
Cast: Sandra Marquez (Nora), Barbara E. Robertson (Anne Marie), Yasen Peyankov (Torvald), Celeste M. Cooper (Emmy).
Designers: Courtney O'Neill (scenic), Izumi Inaba (costumes), Christine Binder (lighting), Thomas Dixon (sound).
Running time: 1 hour 30 minutes; no intermission. Through March 17. Tickets ($27–$60) at steppenwolf.org.
Photographs by Michael Brosilow.
---
Thanks for being an early Storefront Rebellion paid subscriber!
If someone forwarded you this email, and you'd like to support independent, ad-free coverage of Chicago theater, you can sign up as a subscriber right now:
Send your feedback and tips to kris@krisvire.com.