SR review: "All Quiet on the Western Front" at Red Tape Theatre
War's still hell in Red Tape's kinetic, uneven adaptation of the WWI novel
Theater review by Kris Vire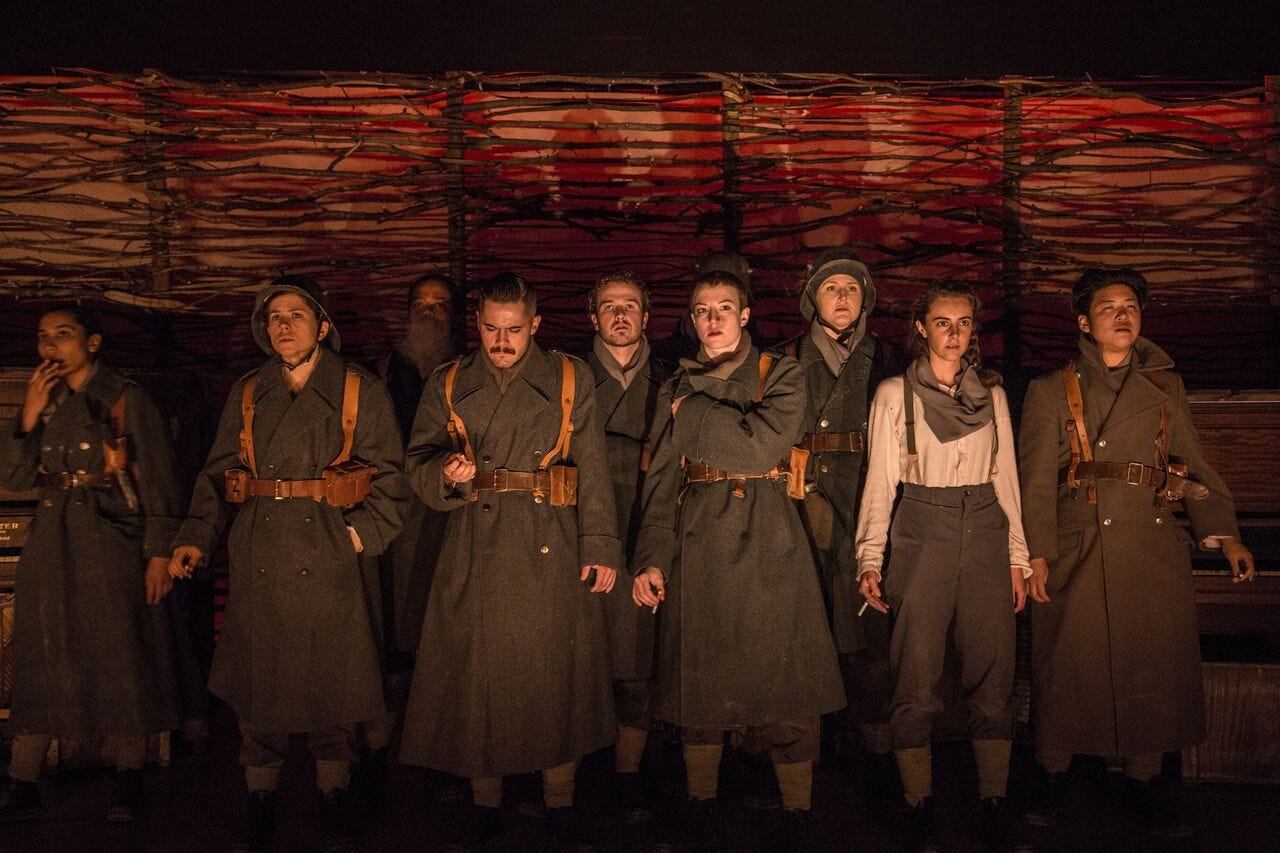 Red Tape Theatre's new adaptation of Erich Maria Remarque's 1929 horrors-of-war novel opens with the book's epigraph: "This…is to be neither an accusation nor a confession. It will try simply to tell of a generation of men who, even though they may have escaped its shells, were destroyed by the war."
Those words are spoken here by Paul Bäumer (Elena Victoria Feliz), a German private serving in World War I in a company comprised largely of his classmates, all of whom enlisted right out of high school amid the "Iron Youth" propaganda push. Paul serves as Remarque's narrator in the novel, as we follow him and his cohort from training camp to the front lines, and through a litany of demoralizing and dehumanizing events.
Adapter-director Matt Foss and casting director Catherine Miller are wise to avoid the kind of traditional casting that might have stocked this staging with interchangeable blond boys, instead offering a 12-person ensemble representing a range of genders, ethnic backgrounds, body types and—to a certain degree—ages. Which makes the play all the more resonant, underlining that while Remarque's tale reflected his own experience fighting for the Germans in The Great War, it's really about the devastating effects of every war on every side.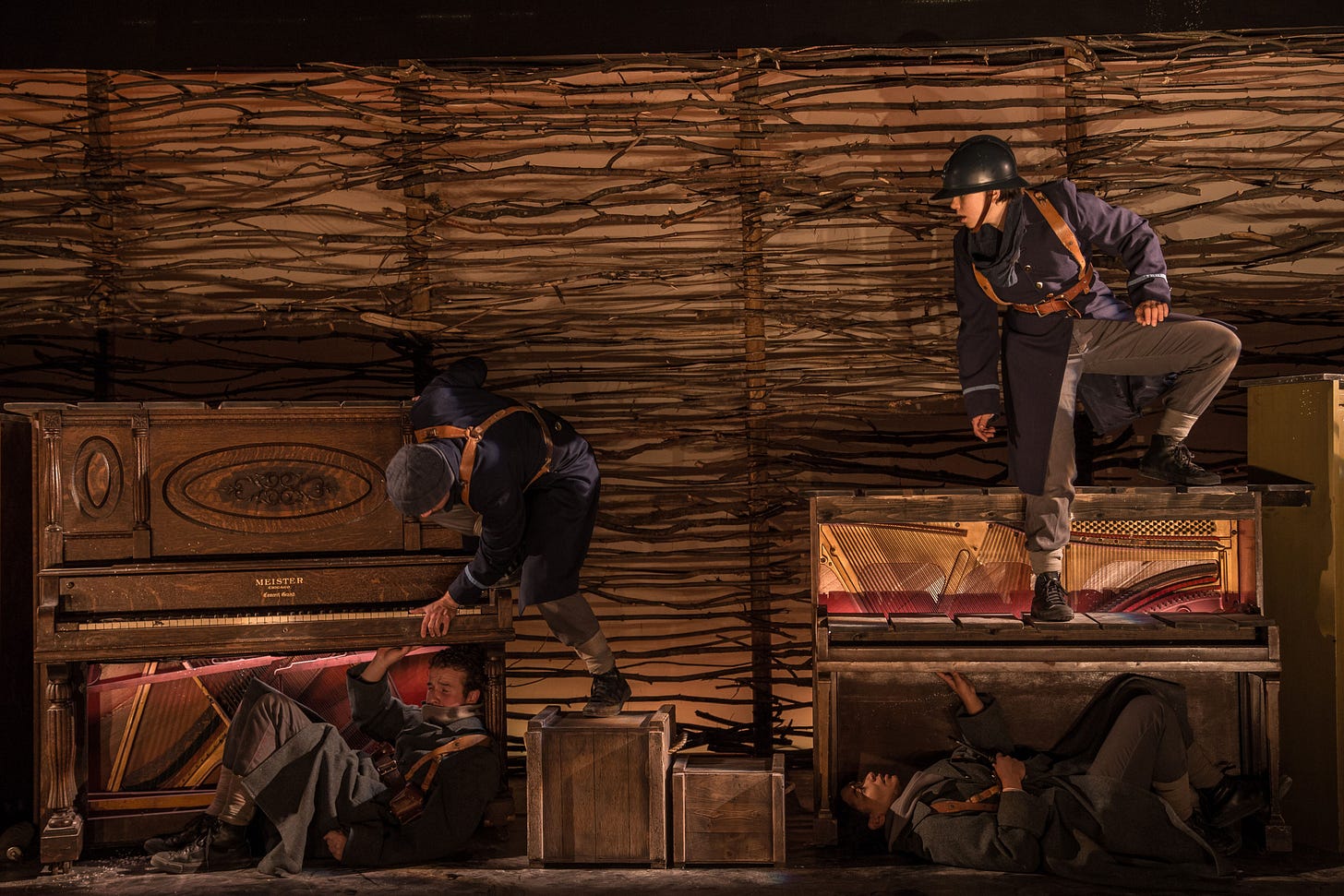 Still, some ensemble members make stronger impressions than others. Feliz, who made an engrossing Emily in Redtwist Theatre's Our Town two seasons ago, carries more of the burden here but bears it fairly well; Collin Quinn Rice, Ian Maryfield and Charlotte Mae Ellison, each in a variety of roles, offer strong support. Others are less assured. The character of Stanislaus "Kat" Katczinsky, for instance, is meant to be the charismatic pillar of strength among the soldiers in Paul's company. In Caitlin Ewald's low-key, affectless portrayal, though, Kat falls flat.
Foss's impressionistic staging contains some breathtaking stage pictures—which will be no surprise to anyone who saw his similarly inventive adaptation of Upton Sinclair's The Jungle at the sadly defunct Oracle Theatre in 2014. Many of Foss's most ingenious strokes here come in concert with Leah Urzendowski's stirring movement routines and with scenic designer Nicholas James Schwartz's unsettlingly simple set, a row of artfully distressed upright pianos that can evoke trench warfare and provide its own disquieting sound effects.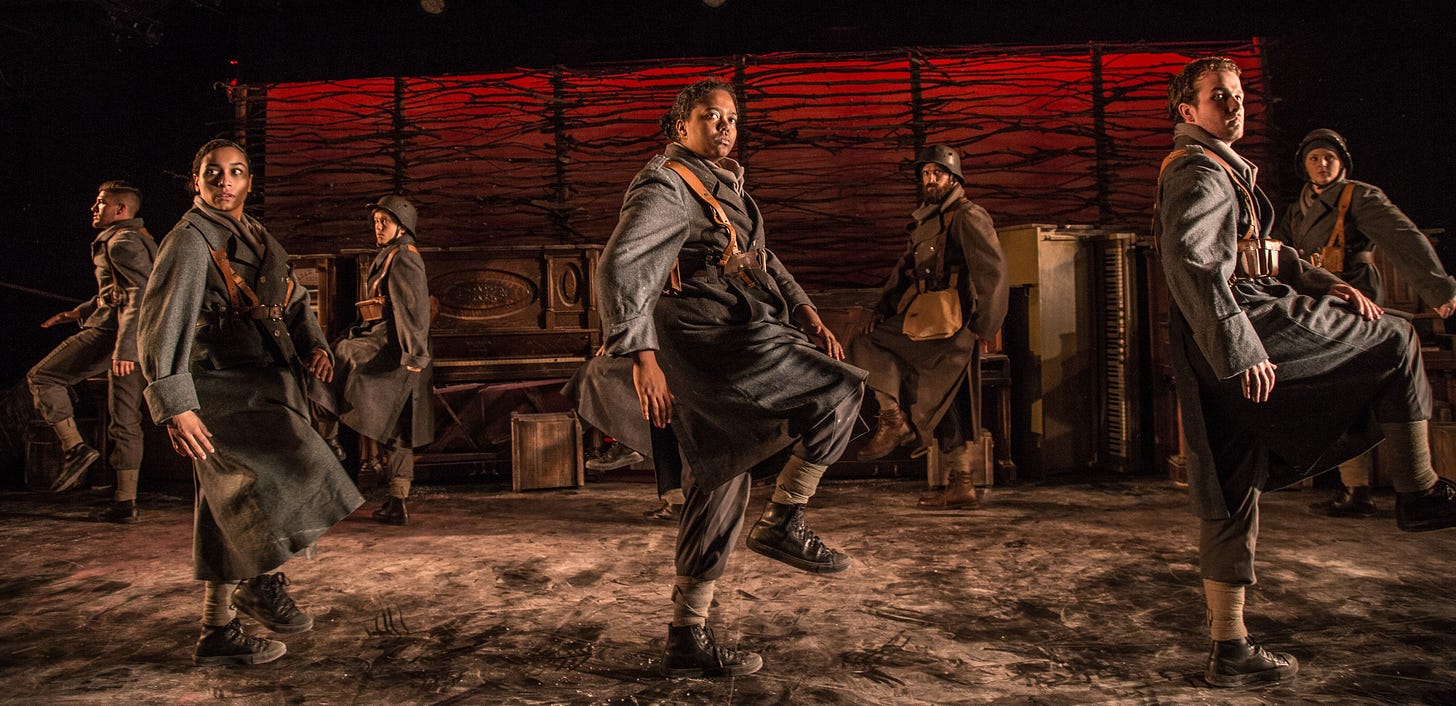 But Foss overplays his hand in other ways, chiefly in an overreliance on a soundtrack of Vietnam-era anti-war songs (some of them in twee modern covers). We don't need to hear "Gimme Shelter," "Fortunate Son," "For What It's Worth" and a Hendrixesque version of "All Along the Watchtower" to appreciate the point that war is hell for every generation, and the cues are sometimes jarring in Dan Poppen's sound design. 
Similarly, a good 15 minutes could be excised from Foss's script, which restates some of its points more times than necessary. Paul may be "almost glad the end had come" by the time it does, but the audience needn't feel the same.
---
All Quiet on the Western Front
Red Tape Theatre at Greenhouse Theater Center (2257 N Lincoln Ave). Adapted and directed by Matt Foss, from the novel by Erich Maria Remarque.
Cast: Charlotte Mae Ellison (Kemmerich/Replacement/Duval/others), Caitlin Ewald (Kat/others), Elena Victoria Feliz (Paul), Ian Maryfield (Lt. Bertink/others), Colin Morgan (Muller/others), Alec Phan (Tjaden/others), Collin Quinn Rice (Kropp/others), Laila Rodriques (Leer/others), Joel Rodriguez (Westhus/others), Brenda Scott Wlazlo (Detering/Himmelstoss/others), Bianca Canigila (Soldier/others), Austin Rambo (Soldier/others).
Designers: Nicholas James Schwartz (scenic), Rachel Sypniewski (costumes), Stephen Sakowski (lighting), Dan Poppen (sound), Matt Foss (props). Movement director/choreographer: Leah Urzendowski. Military consultant/drill director: Patrick Murray. Assistant director: Kate Staiger. Stage manager: Emily Melgard.
Running time: 1 hour 45 minutes; no intermission. Through September 14. Tickets (free!) at redtapetheatre.org.
Photographs by Austin D. Oie.
---
Thanks for being a Storefront Rebellion paid subscriber!
If you know someone who'd be interested in independent, ad-free coverage of Chicago theater like this, send them this link to get 20 percent off the next 12 months of Storefront Rebellion if they sign up by September 15:
Send your feedback and tips to kris@krisvire.com.