Welcome to a special bonus edition of Storefront Rebellion. Most reviews are for subscribers only, but I wanted to share this one more broadly. Storefront Rebellion is ad-free and supported entirely by readers. If you appreciate my perspective on theater in Chicago, please consider subscribing for $6 per month or $60 per year.
---
Paramount's first "pre-Broadway" musical is unfortunately a piping hot mess
Theater review by Kris Vire
When it was first announced in February of 2018, the world premiere of August Rush: The Musical was to be a co-production between Virginia's Signature Theatre and Aurora's Paramount, bowing first in Arlington before transferring here. By the time Signature announced its full 2018–2019 season two months later, though, it had dropped its commitment to the show, citing scheduling issues. That means Chicago-area audiences are getting the first public look at August Rush. And having done so, we might suspect Signature saw the writing on the wall.
The new musical, based on a modest, mawkish 2007 movie that starred a young Freddie Highmore as an orphaned musical prodigy determined to find his parents, comes to Aurora with commercial backing, a cast of New York–based actors, and direction by Tony winner John Doyle. It's essentially an out-of-town tryout, the kind of production that producers and marketers want you to think of as "Broadway-bound."
But then plenty of big new musicals that describe themselves as Broadway-bound never make it there. We see our fair share of them in Chicago. And in its current shapeless form, it's hard to imagine August Rush making that move. It might be the most misguided "pre-Broadway tryout" I've seen in Chicago since White Noise. (Ah, remember when white nationalism was such a fringe concern that Whoopi Goldberg could produce a silly musical about it?)
In this August Rush, as in the movie, the title character is an 11-year-old boy who's never known his parents, and whose parents don't know he exists. He's the product of a rooftop tryst between rocker Lewis (George Abud here, taking over Jonathan Rhys Meyers's film role) and sheltered classical musician Lyla (Sydney Shepherd, subbing in for Keri Russell).
Lyla's uptight dad forbids the lovers-at-first-sight to see one another again and insists she give up the baby. In one of the movie's biggest logical leaps, preserved here on stage, her father forges her signature on adoption papers after she goes into premature labor, and then tells his daughter that the baby didn't survive.
The baby did, of course, and at the top of the show he tells us "I believe in music the way some people believe in fairy tales"—a line that also opened the movie's trailer, so we know we should treat it as a thesis even though it means absolutely nothing. Given the name Evan, the boy (played on opening night Friday by Jack McCarthy of Broadway's Finding Neverland, alternating performances with Huxley Westemeier) repeatedly runs away from orphanages and foster homes, though he prefers to call it "running toward."
Running toward what? New York City, where he was conceived, and where, we're told through some awkward ensemble narration, he's "fixated on the city's tolerance for buskers." That's right, our boy is obsessed with street musicians, and he soon falls in with a crew of them, led by a Fagin-like figure who calls himself the Wizard.
Now here's where August Rush: The Musical begins to deviate from the screenplay. In the movie, the Wizard is portrayed by Robin Williams cosplaying as Bono. Robin Wizard Bono gives young Evan his new stage name, August Rush, and seems to be basically benevolent even if he does capitalize on his new protege's impressive talents.
Adapters Mark Mancina, who composed the film's music, and Glen Berger, the playwright who wrote a tell-all about his time served on the disastrous Spider-Man: Turn Off the Dark, seem to have determined that the feel-good movie's shortage of villains is a problem. So they turn Wizard into a devil: Here, he's a sort of cult leader of a group of homeless, possibly tunnel-dwelling buskers, referred to as The Collective.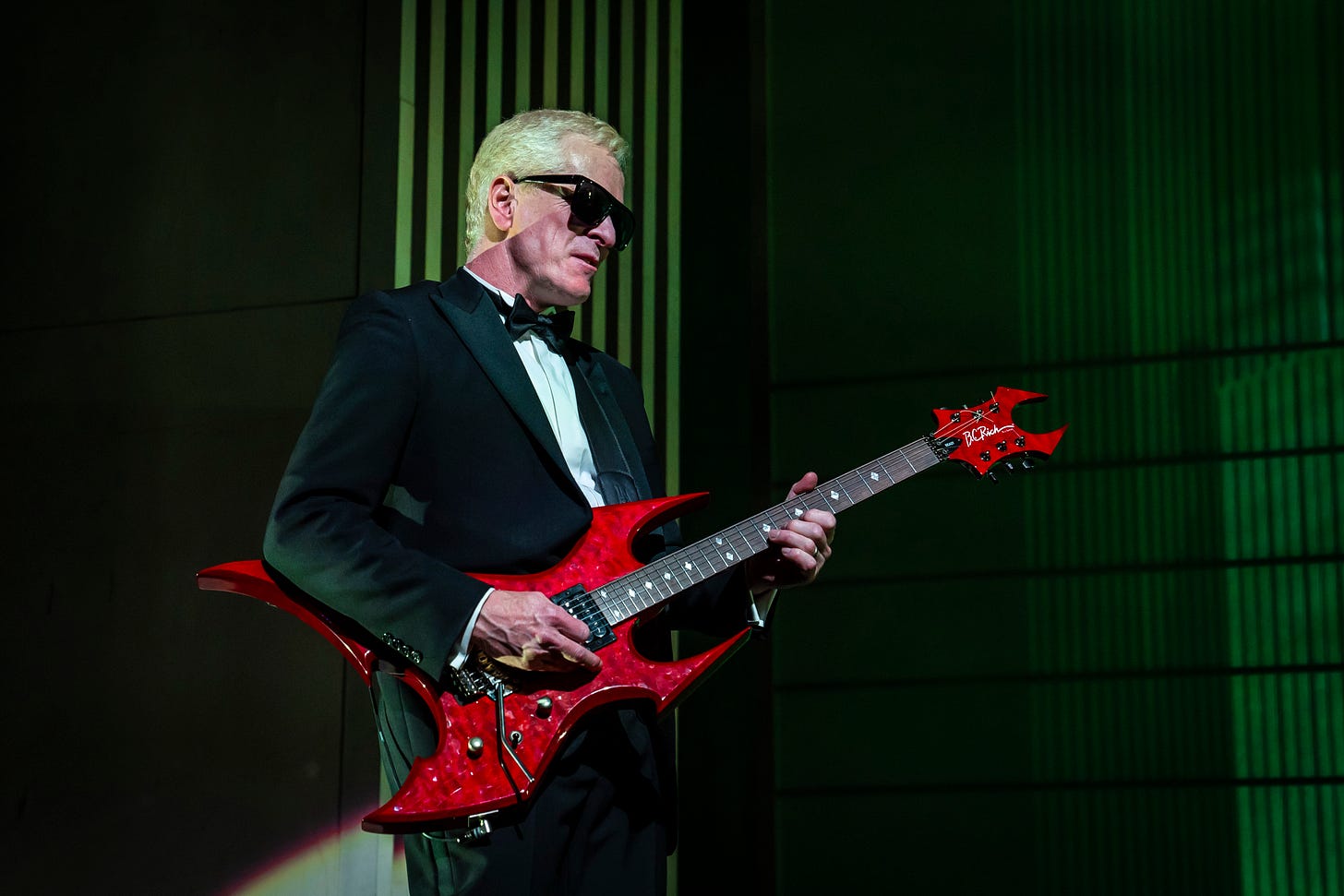 After he's adopted young August into the Collective, we get our first hint that he might be evil when he appears playing a fire-red B.C. Rich Warbeast, a guitar that Tipper Gore would doubtless recognize as an instrument of heavy-metal darkness. It's also here that other members of the Collective (read: the ensemble) warn August/Evan that Wizard has a vaguely wizardly tool to keep them all in check, lest they try to leave the group. Venture out on your own, and Wizard will unleash The Sound Check, which will bust your eardrums!
I wish I was kidding.
And I haven't even mentioned yet that Berger, Mancina and Doyle have deemed that the same actor, John Hickok, should play both Wizard and Lyla's Father (and at one early point, also Lewis's father, or manager, or something?). Hickok, who wears a sharp tuxedo throughout, morphs from Lyla's Father into Wizard by unbuttoning his suit jacket to reveal a red cummerbund, and donning a pair of sunglasses.
Why is the cult leader of a band of homeless street musicians always wearing a sharp tuxedo? Great question! But a more pressing question is why he also seems to be creepily threatening to molest the 11-year-old boy he's taken into his care, as in the song where he insists that August "Give It Up." Give what up, you ask? The movie this is based on was rated PG, but this is very uncomfortable! And is the role-doubling ultimately meant to indicate that Wizard is, in fact, the boy's grandfather? Probably not, but there's a weird exchange that suggests maybe? The storytelling here is woefully unclear!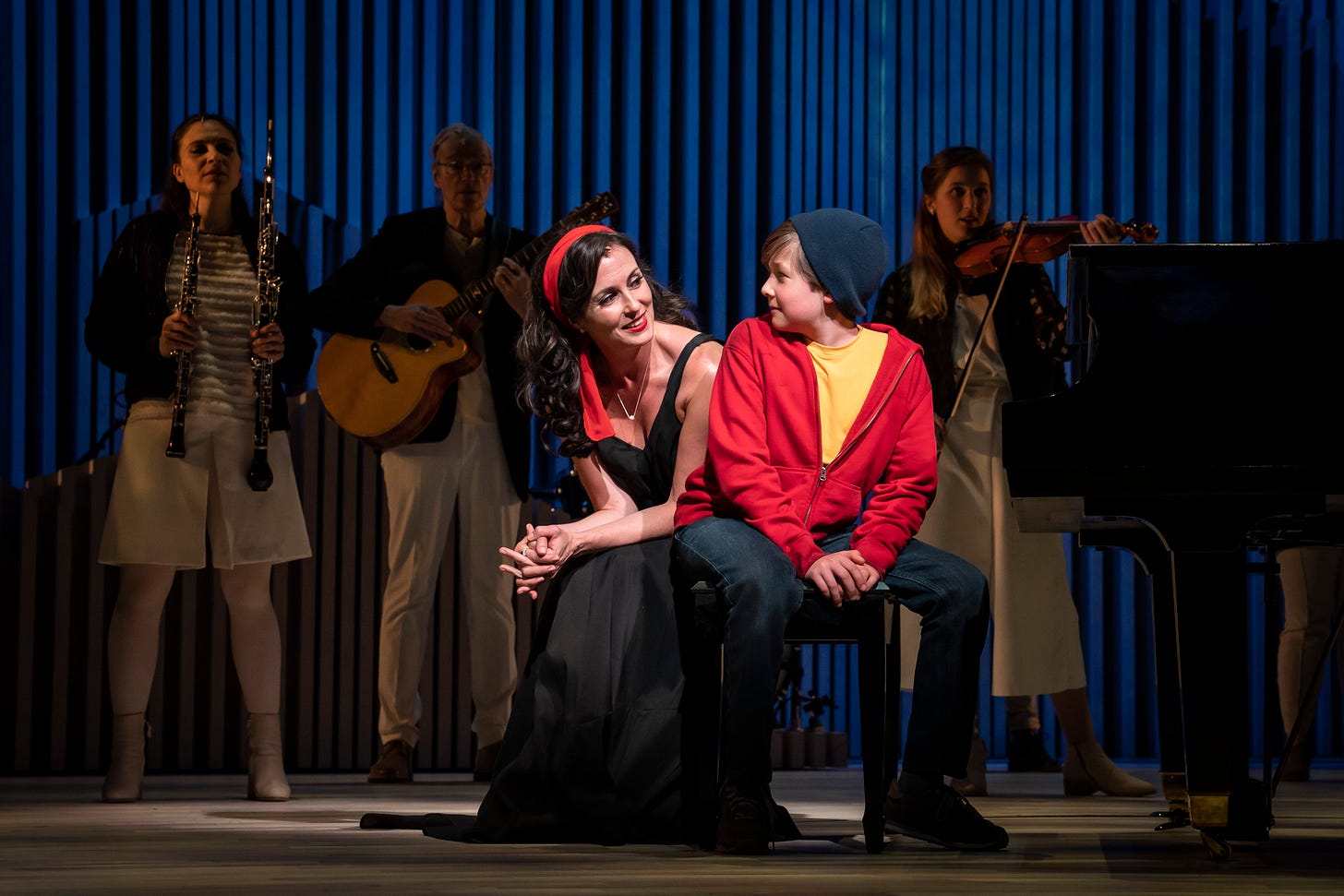 The one other named character in August Rush: The Musical is Hope, who in the film was an adorable African-American girl who exists to teach August to read music and then spread his glory. Here, Hope (Leenya Rideout) is an adult white woman who might be an actual human being or might be a personification of the spirit of music itself; she seems to appear only to August.
Hope is just another example of the massive shortcuts taken by the creative team in this astonishing pile of half-measures. Mancina's score is intermittently sweeping but largely amorphous; rather than decide which moments to musicalize, he and Berger have musicalized nearly everything. (A sequence in which Lyla is frustrated by government bureaucracy literally becomes a song about filling out forms.)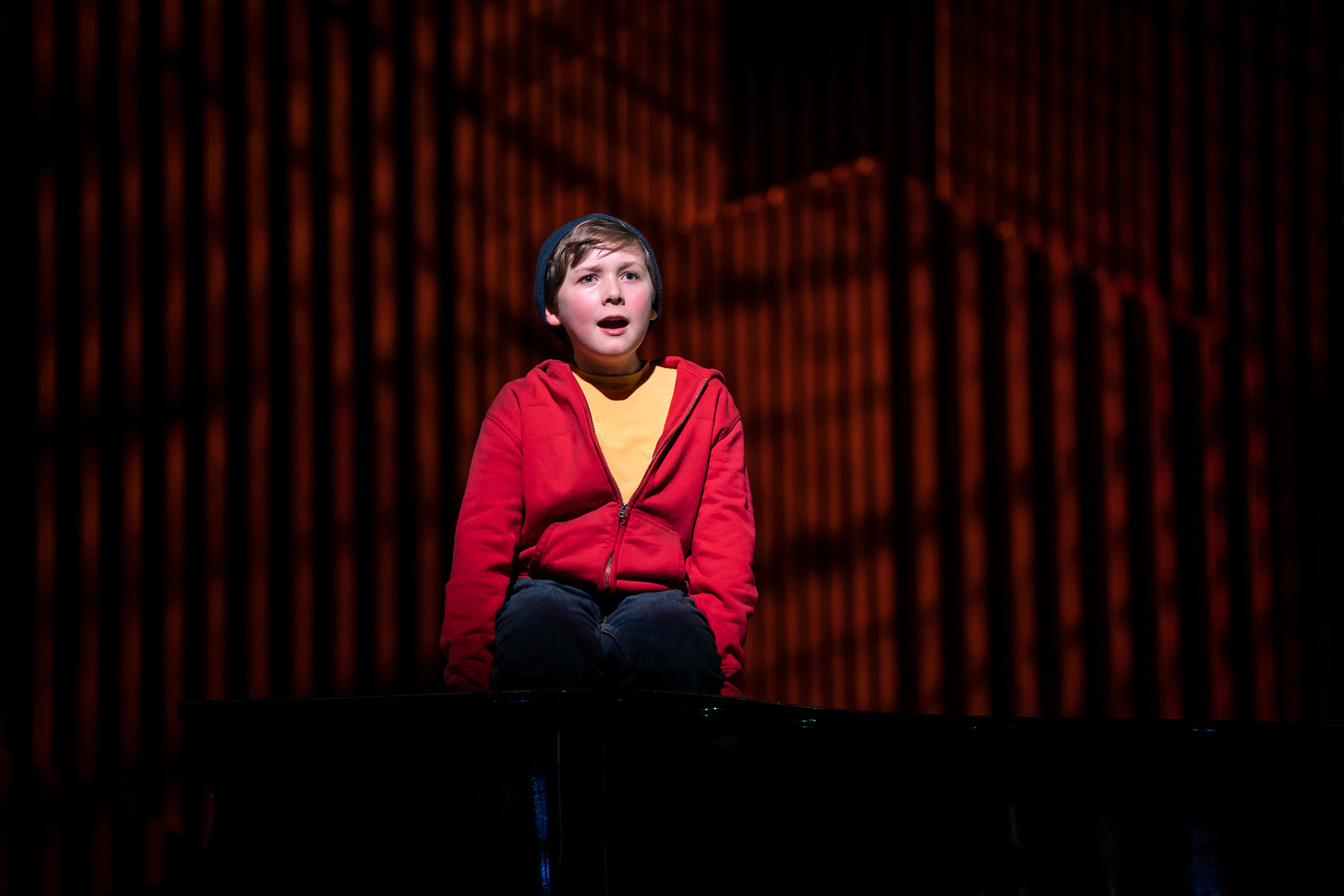 The authors have streamlined an already-slight story to nearly nothing. At 80 minutes straight through, August Rush: The Musical comes in at half an hour under its source material's running time. Scott Pask's monotone set, all blond wood slats and beige flying panels, is presumably meant to evoke a concert hall but leaves every scene feeling like it's nowhere in particular. The only pieces of furniture on the stage are a grand piano on a central turntable and a handful of cajóns that also serve as seats and pedestals.
It's a John Doyle production, so of course the actors are enlisted as orchestra as well. But with only five named characters, the 10 additional actor-musicians often feel extraneous onstage, frequently lined up in a row at the back of the set with not much more to do than play and sing backup.
And as the show reaches its climax, with August winning some kind of vaguely-defined composing contest that brings his parents back into proximity with both each other and their child, Berger and Mancina seem to have given up altogether. The show's last sequence is nearly wordless and completely rudderless; the long-lost family comes together as if Doyle had to decree it because the writers forgot to finish their script.
Most unforgivable of all the show's bizarre decisions, though, is that despite having all the tools of musical theater at its disposal, we're given no view into August's inner life; the boy doesn't appear to have any emotions. This may be a fairy tale of sorts, but the characters need to be human. The whole production, honestly, feels like a rush job.
---
August Rush: The Musical
Paramount Theatre (23 E Galena Blvd, Aurora, Illinois). Book by Glen Berger. Music by Mark Mancina. Lyrics by Glen Berger & Mark Mancina. Directed by John Doyle.
Cast: Jack McCarthy (August Rush/Evan Taylor), Huxley Westemeier (August Rush/Evan Taylor alternate), Sydney Shepherd (Lyla), George Abud (Lewis), John Hickok (Wizard/Father), Leenya Rideout (Hope), Marta Bargratuni, Alex Bender, Matt Deitchman, Ginna Doyle, Brad Giovanine, Lizzie Hagstedt, Jessie Linden, Troy Valjean Rucker, Doug Smith, Katrina Yaukey (ensemble).
Designers: Scott Pask (scenic), Ann Hould-Ward (costumes), Paul Toben (lighting), Dan Moses Schreier (sound), Joe Burke (projections), Katie Cordts (hair & makeup), Jesse Gaffney (properties). Orchestrations, arrangements and additional music by Dave Metzger. Music directed and conducted by Greg Jarrett. Choreographed by JoAnn M. Hunter.
Running time: 1 hour 20 minutes; no intermission. Through June 2. Tickets ($36–$69) at paramountaurora.com.
Photographs by Liz Lauren
---
Thanks for reading! This is a free edition of Storefront Rebellion, a newsletter about Chicago theater by Kris Vire. You can subscribe for $6 a month or $60 a year to receive exclusive show reviews and features in your inbox.
Send tips and feedback to kris@krisvire.com, and if you know someone you think would enjoy this newsletter, feel free to forward this to a friend.