White folks wake up to a paucity of POCs in Douglas Turner Ward's still-timely 1965 satire
Theater review by Kris Vire
Ann Joseph as the Mayor in Day of Absence
To mark its own 20th anniversary, Congo Square Theatre pays homage to one of its forebears and inspirations, New York's Negro Ensemble Theatre, with a production of Douglas Turner Ward's Day of Absence. The "satirical fantasy," originally staged in tandem with another Ward one-act, Happy Ending, was the Negro Ensemble's inaugural production in 1965.
Armed with that knowledge, you might be surprised by this production's references to Groupons, hashtags and Kardashians—or when a genial white bumpkin wonders where all the "pox" have gone, phonetically misconstruing the initialism for "people of color."
The premise of Ward's satire remains the same: The white residents of a Southern town—played by black and brown actors in whiteface makeup, inverting the practice of blackface minstrelsy—wake up one morning to find all of their nonwhite neighbors, coworkers and employees vanished without a trace. Finding productivity ground to a halt, forced to care for their own children (or parents), wash their own cars and empty their own trash, the white populace grows increasingly desperate to find their missing "pox"—or import some new ones.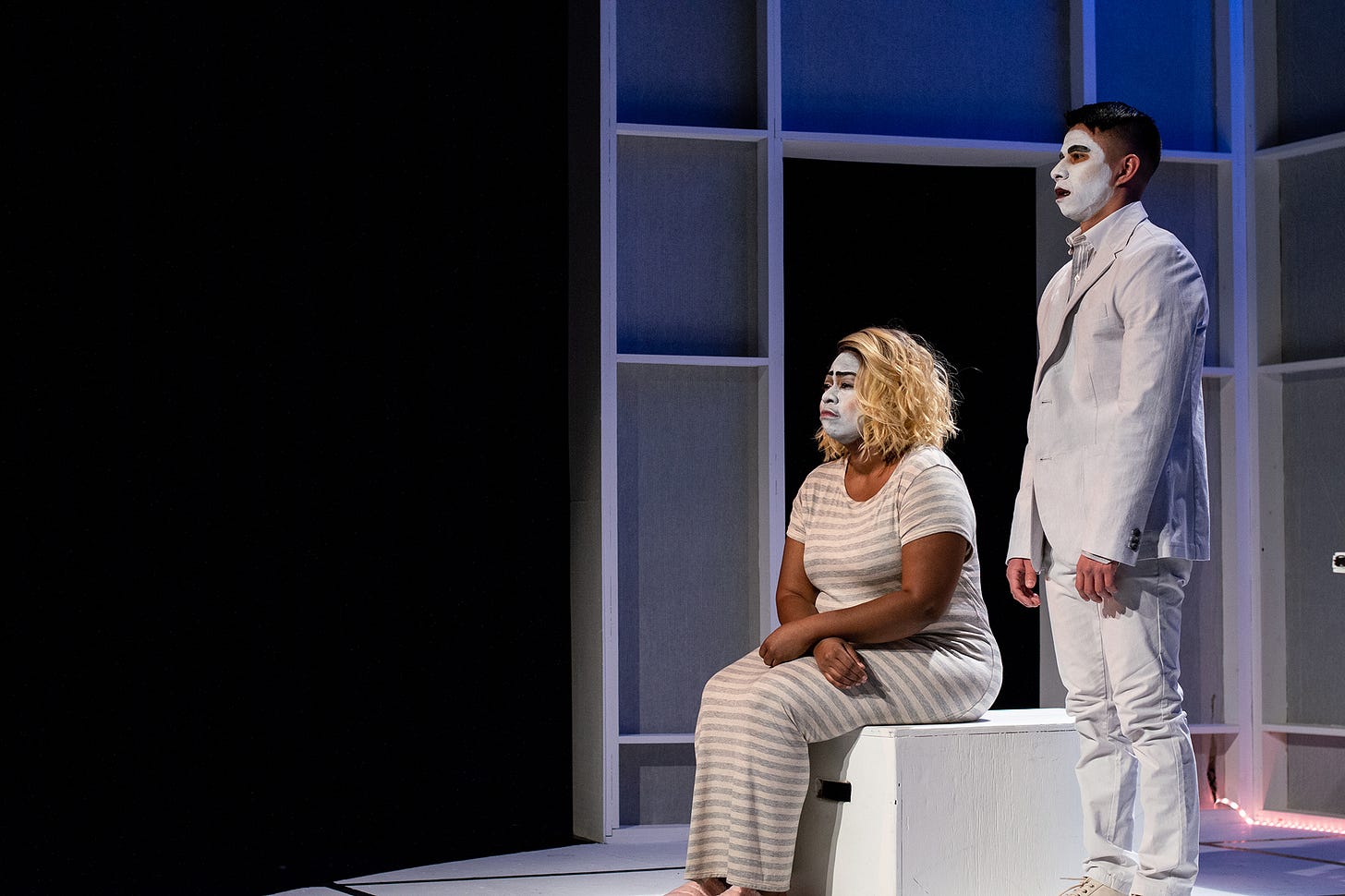 Meagan Dilworth and Jordan Arredondo in Day of Absence
Ward's episodic vignettes, which toggle among a few different sets of characters, can be both pointed and broad; a bickering couple (Jordan Arredondo and Meagan Dilworth) who have no idea how to care for their baby with their nanny MIA, don't need more than one scene to make their point, while some of the strongest bits come in interviews conducted by a straight-faced TV reporter (Dilworth again) with a fulminating televangelist (Kelvin Roston Jr.) and the local Klan leader (Bryant Hayes), the latter insistent that the people of color shouldn't have left until he ordered them out. Ann Joseph and Ronald Conner Jr. are terrific as the blowsy, blonde-bobbed mayor and her one remaining assistant.
I'm curious about the updates to the script; Ward is still living and could have penned a new iteration, but reviews of several recent productions elsewhere in the country don't mention any such revisions. Presumably the topical references replace mid-'60s analogues that would go over our heads today, but some of the newer bits already feel like they've aged poorly. That can't be said of Ward's concept, though—even if its message is unlikely to reach those who most need to hear it.
---
Day of Absence
Congo Square Theatre at Victory Gardens Theater (N Lincoln Ave). By Douglas Turner Ward. Directed by Anthony Irons.
Cast: Jordan Arredondo (John, Courier), Ronald L. Conner (Luke, Jackson), Meagan Dilworth (Mary, Supervisor, Announcer), Ann Joseph (1st Operator, Mayor), Bryant Hayes (2nd Operator, Businessman, Clan), Sonya Madrigal (3rd Operator, Club Woman, Mrs. Aide), Kelvin Roston Jr. (Clem, Industrialist, Rev. Pious).
Designers: Sydney Lynne Thomas (scenic/props), Rueben D. Echoles (costumes/makeup/wigs), Levi J. Wilkins (lighting), Rick Sims (sound). Stage manager: Deya Friedman.
Running time: 1 hour 5 minutes; no intermission. Through March 22. Tickets ($35, students and seniors $25) at congosquaretheatre.org.
Photographs by Jazmyne Fountain.
---
Questions or feedback for me? Reply to this email, or if you're reading this on the web, hit me at kris@krisvire.com or find me on Twitter @krisvire. Subscribers can also leave public comments on the web version of the newsletter; click the headline above or the links at the bottom of this post.