Isa Arciniegas and Jordan Arredondo. Photograph: Gregg Gilman
The hunt is a thrill in Rita Kalnejais's disorientingly inventive cross-species romance, an unexpected stunner at Steep
Theater review by Kris Vire
You don't necessarily go to Steep Theatre expecting comedy. Black comedy, maybe. Uncomfortable laughs. Perhaps whichever insinuatingly menacing character Peter Moore is playing this time tells an unexpected joke while he's threatening to break someone's fingers. As if to prove I'm not alone in this, when my partner told his coworker who does theater that we were headed to Steep last night, she said, "Ooh. Is it a dark one?" The company just tends to gravitate toward stories about people behaving awfully (and frequently Britishly). And it's very good in that groove.
So it's a little disarming when First Love Is the Revolution, Steep's new Midwest premiere by Australian-born, London-based playwright Rita Kalnejais, starts out not just charmingly funny but goddamn whimsical. As in actors-playing-cute-romping-animals whimsical. But don't worry—while the play remains startlingly, disorientingly funny, it also reveals itself to contain Shakespearean violence. Kalnejais isn't asking us to accept human actors as animals so much as to recognize the animal in humans.
Jin Park and Curtis Edward Jackson. Photograph: Gregg Gilman
Rdeca (Isa Arciniegas) is a young fox in the city, living in a den with her siblings Thoreau (Curtis Edward Jackson) and Gustina (Jin Park) and their mother, Cochineal (Lucy Carapetyan). Their father has gone missing, so it's time for the cubs to learn to hunt. Rdeca is a bit squeamish about going in for the kill.
Basti (Jordan Arredondo) is a 14-year-old boy who's small for his age and endures bullying both at school and at home, where his dad (Jose Nateras) tries to toughen him up by getting drunk and getting physical to teach him self defense. Basti's mother has gone missing, leaving him to do the cooking. He's in a spiral; Rdeca's trying to assert herself. When she winds up caught in his trap (literally), they discover they can understand each other…and then they discover they can really understand each other. Suddenly we're in interspecies R&J territory. And as with so many star-cross'd lovers' tales, Basti and Rdeca's connection proves objectionable to their respective clans and sets dangerous forces in motion.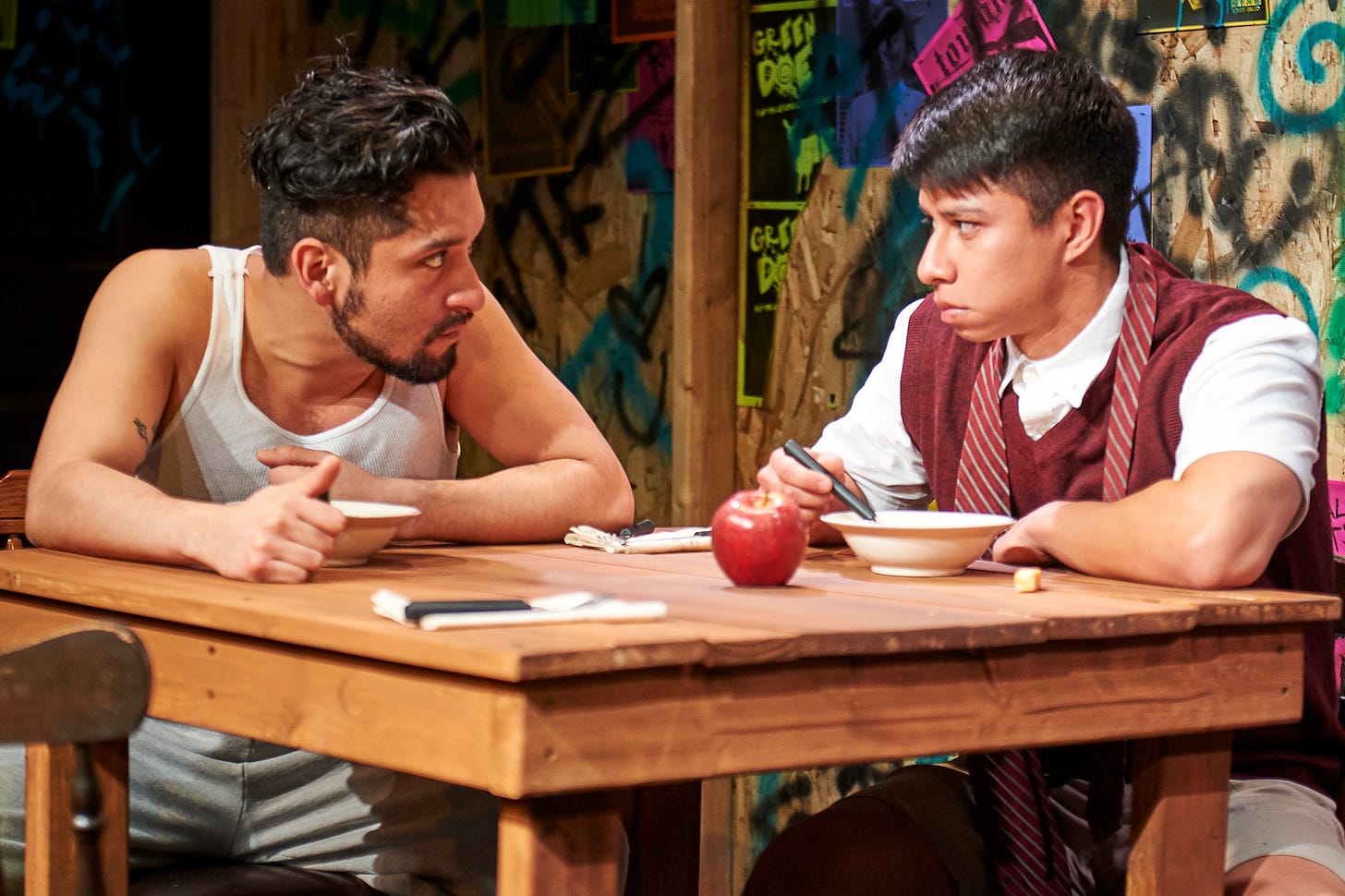 Jose Nateras and Jordan Arredondo. Photograph: Lee Miller
You can sense potential themes rushing past as you try to keep your bearings in the play's off-kilter world: the artificial and inhumane nature of cultural barriers, perhaps; the primal nature of hunger and lust; the dangers of operating out of fear. (As Carapetyan's fox mom says of we humans, "they kill what scares them, and they're scared of everything.")
But I'd encourage you not to try too hard to isolate symbols and suss out meaning. Why can Rdeca and Basti communicate? Doesn't matter, the play is not here for us to solve. Whether it's metaphor or allegory or literal (it's definitely not literal), it's a unique world created by Kalnejais, a fully committed cast, and the gloriously inventive director Devon de Mayo in an ideal match for her Steep debut.
Isa Arciniegas and Alex Gillmor. Photograph: Lee Miller
Arredondo's Basti is imbued with intelligence and deep sadness, as well as a familiar adolescent frustration at his lack of control over his shitty situation. Arciniegas brings both seductive innocence and aggression to Rdeca. You'll be surprised how invested you find yourself in their relationship; it may inarguably be cross-breeding, but it's remarkably pure.
And their central pairing is surrounded by brilliant touches. Jackson's secondary role as a hypermasculine guard dog is a wonder to behold; Arnel Sancianco's clever set is packed with Easter eggs (take a closer look at the wheat-pasted gig posters on the walls); costume designer Mieka van der Ploeg deserves every award and several monetary prizes for her conception of the animal characters. Only a few times a season do I find myself so unexpectedly bowled over by a show this singular. First Love is one of my most-loved productions of the year so far.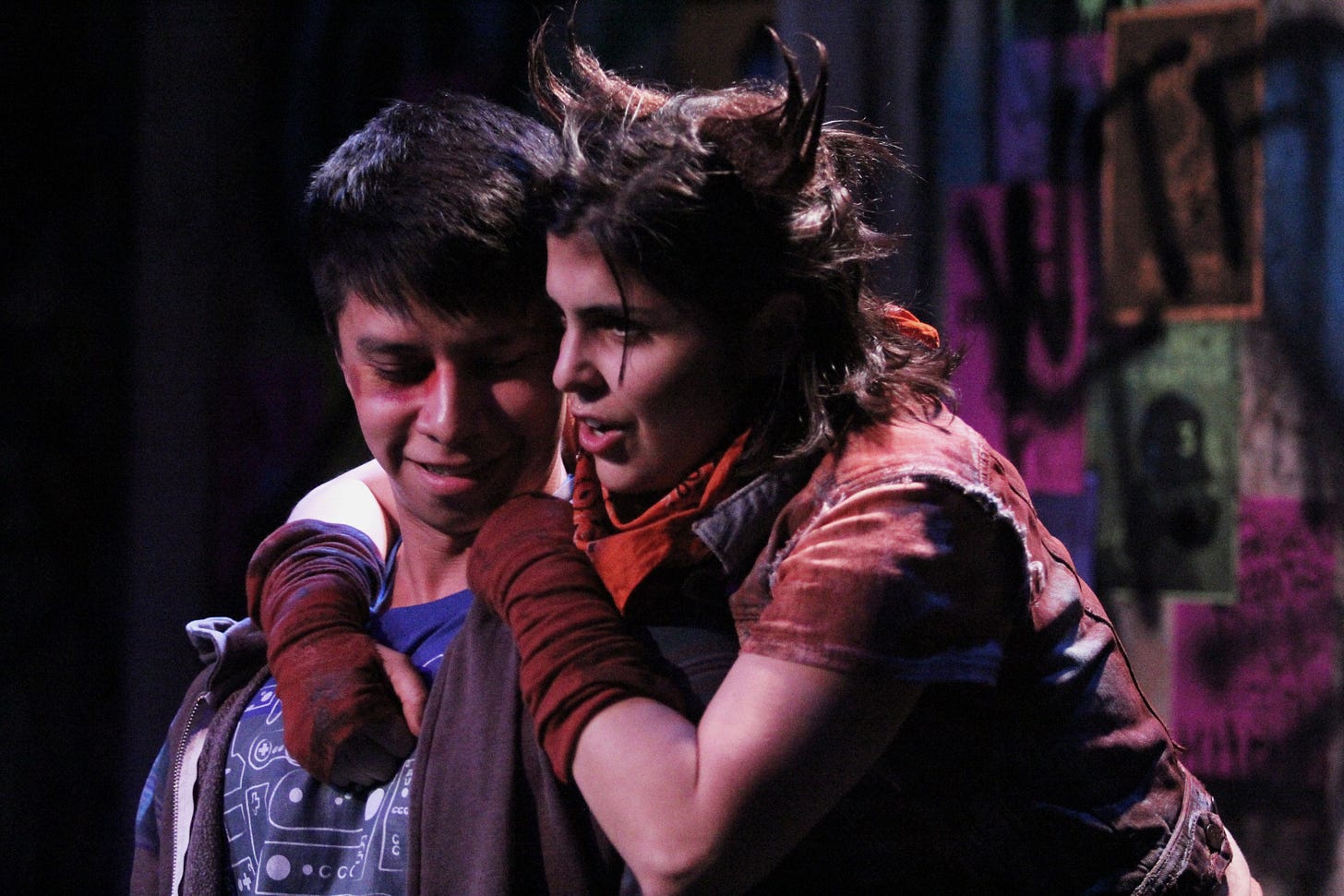 Jordan Arredondo and Isa Arciniegas. Photograph: Gregg Gilman
---
First Love Is the Revolution
Steep Theatre (1115 W Berwyn Ave). By Rita Kalnejais. Directed by Devon de Mayo.
Cast: Isa Arciniegas (Rdeca), Jordan Arredondo (Basti), Lucy Carapetyan (Cochineal, Bailey), Curtis Edward Jackson (Thoreau, Rovis), Jin Park (Gustina, Smulan), Jose Nateras (Simon), Destini Huston (Gemma).
Designers: Arnel Sancianco (scenic), Mieka van der Ploeg (costumes), Heather Sparling (lighting), Jeffrey Levin (sound/original music), Emma Cullimore (props), Sasha Smith (intimacy director), Rachel Flesher & Zack Payne (violence directors). Dramaturg: Sarah Slight. Assistant director: Am'Ber Montgomery.
Running time: 1 hour 30 minutes; no intermission. Through May 25. Tickets ($10–$38) at steeptheatre.com.
Photographs by Liz Lauren