SR review: "Fulfillment Center" at A Red Orchid Theatre
Another depressing workplace provides the backdrop for a quiet character study from Abe Koogler
You're reading an exclusive review for paying subscribers to Storefront Rebellion, a new endeavor in Chicago theater reviewing from longtime critic Kris Vire. Have feedback for me? Reply to this email or find me on Twitter at @krisvire.
---
Another depressing workplace provides the backdrop for a quiet character study from Abe Koogler
Theater review by Kris Vire
Jose Nateras and Natalie West
Abe Koogler's work was introduced to Chicago with a 2016 production of his Kill Floor at American Theatre Company (RIP). His second full staging here, A Red Orchid Theatre's Chicago premiere of 2017's Fulfillment Center, bears some similarities to Kill Floor: It's a study of characters and relationships that eschews outsized plot developments in favor of closely observed human behavior. Also like Kill Floor, it takes its title and central metaphor from an unglamorous workplace setting.
Here, it's a massive distribution warehouse for a massive, unnamed online retailer (you know the one). In the play's first scene, Alex (Jose Nateras), who's relocated from New York to small-town New Mexico to take a management job here, is running new applicant Suzan (Natalie West) through her paces—literally, timing her speed walking (but not running) a point-to-point course. Suzan, a sixtysomething faded hippie with a bad back and knees and a broken-down car, is in no way qualified for a physically demanding job moving packages. But she's a needling manipulator, and Alex, for whom managing people is clearly not in his comfort zone, relents.
Toya Turner and Jose Nateras
Alex goes home to his barren new apartment in a barren subdivision in a barren desert, to find his girlfriend, Madeleine (Toya Turner), who's just arrived after wrapping up their affairs in NYC. She's vocally unhappy about the relocation, and internally unhappy on broader terms. Working her corporate job remotely while Alex is putting in long hours at the fulfillment center trying to meet his metrics, Madeleine falls (back, it's lightly suggested) into a pattern of drinking too much. She also gets on a dating app, and makes plans to meet John (Steve Schine), a quiet lunk of a drifter who's also become an acquaintance of Suzan's—they're both currently living at the same campground.
Koogler's action unfolds in a little under 90 minutes, entirely in two-person scenes: unadorned portraits of four people, each lonely in their own way, flailing and failing to connect. Action feels like the wrong word, actually; as in Kill Floor, or in the works of Annie Baker or, to name another play currently on a Chicago stage, Will Eno's The Realistic Joneses, not all that much "happens" to these characters, at least not onstage in front of us. This is the kind of realism where the most realistic part is that people's problems don't crescendo into Sturm und Drang, but that doesn't mean the stakes aren't as high as they go. (For what it's worth, Koogler got his MFA from the playwriting program at the University of Texas at Austin, the same program whose faculty Baker just joined.)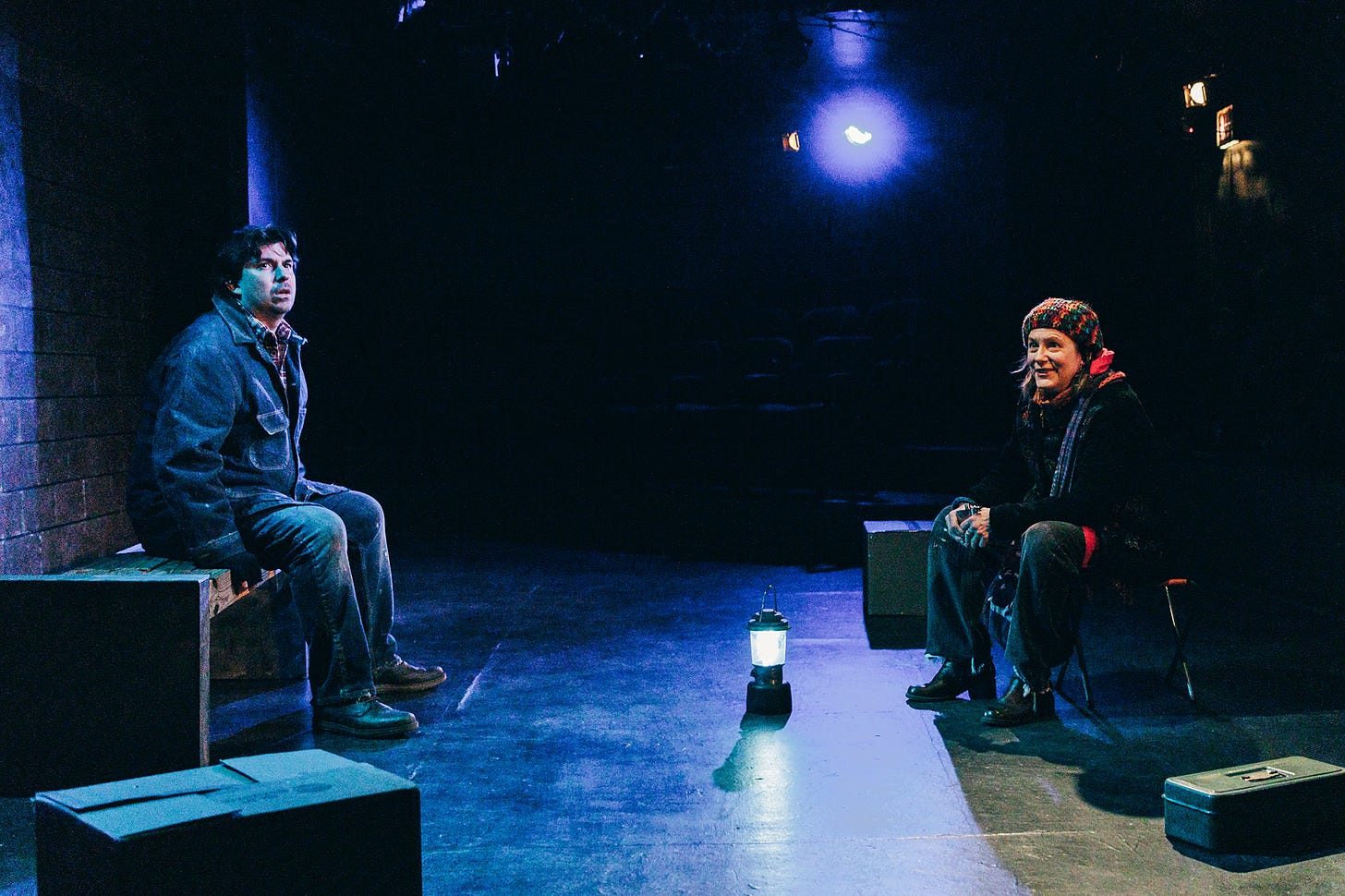 Steve Schine and Natalie West
About those character names: Apart from a single instance, I'm not sure any of them are actually spoken in the script. Except for Suzan, who shares her life's story almost compulsively, we don't get a lot of exposition or backstory from these folks. "Oh, let's skip the interview portion," Madeleine peevishly tells John at their first meeting. Instead we get glimpses of their inner selves in their interactions: the troubled dynamic between Madeleine and Alex; John's resistance and eventual capitulation to Suzan's eagerness for company.
It's a quiet feast for actors, and director Jess McLeod's cast makes a meal of it. West, one of the most reliable weapons in A Red Orchid's arsenal, is right in her wheelhouse of deceptively complex kooks with Suzan, who projects proud self-reliance but is in fact pretty dependent on the kindness of strangers.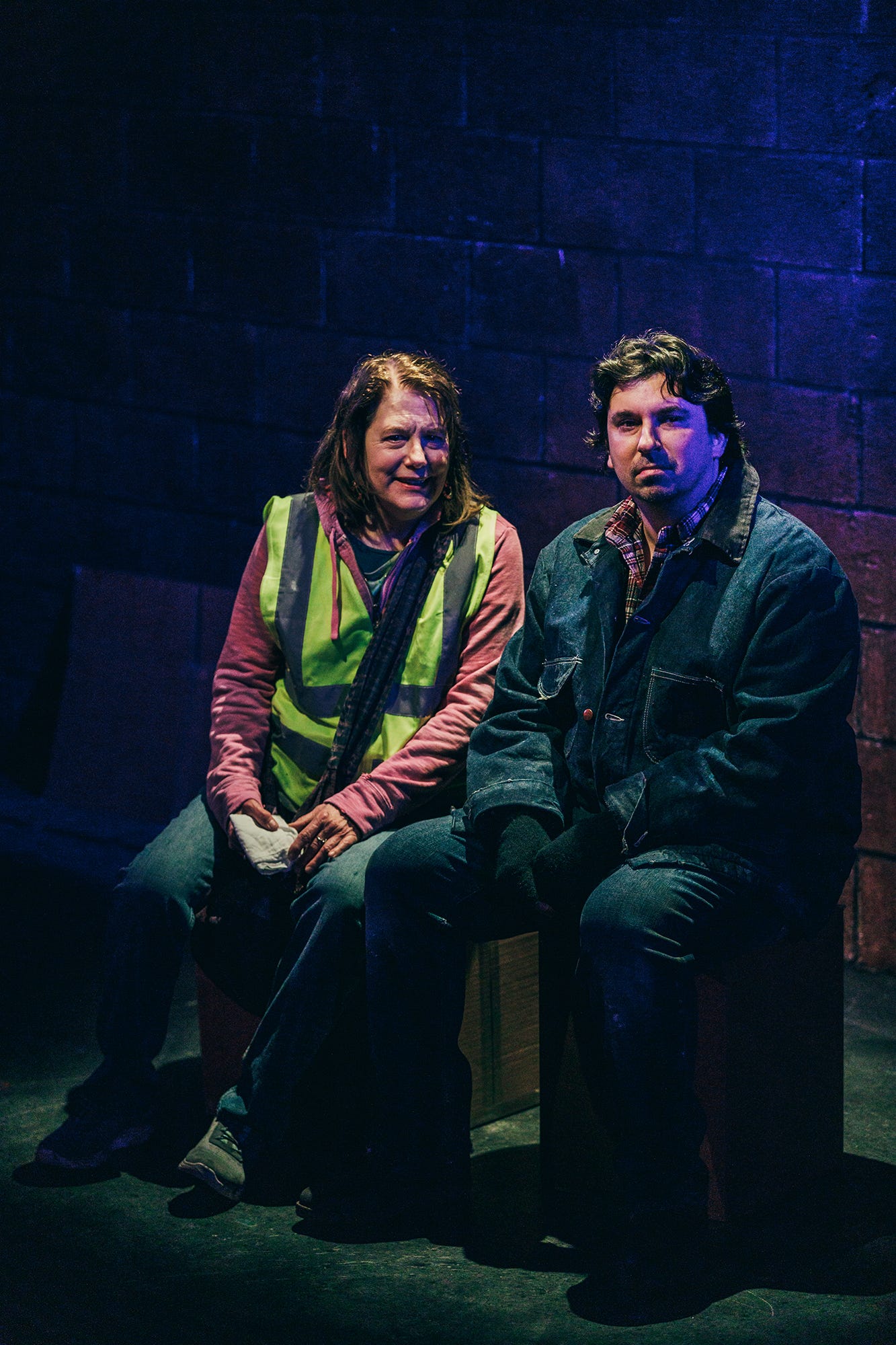 Natalie West and Steve Schine
Schine's John is a bit more shambling schlub than I might expect; though he tells Madeleine his philosophy is "live and let live," the character feels like he should have a magnetism in spite of himself. But Schine captures an underlying current of dormant danger that maybe does the trick in a different way. The two younger actors, Nateras and Turner, are both terrific in emotionally demanding roles; the three scenes they share tell volumes of stories about their characters' long and possibly stagnant relationship.
McLeod's staging, on a bare stage with only a bench and a couple of warehouse-style cardboard boxes serving as modular furniture, allows for quick-flowing scene transitions but mostly leaves the actors' words to evoke the imposing sterility of the hulking warehouse or the monotonous New Mexico landscape.
Toya Turner and Jose Nateras
The main feature of Sarah JHP Watkins's scenic design, instead, is a monolithic brick wall along the rear of the stage. Maybe it's meant to evoke the blank adobe facades that render New Mexico homes indistinguishable to Madeleine. Or it could represent the emotional walls keeping these four human beings at a distance from each other. Even the quixotic obsession with a border wall that would separate New Mexico from Old Mexico occurred to me, speaking of unhealthy barriers separating people.
Late in the play, at the moment just before at least some of the characters reach a turning point toward hope, the wall cracks ever so slightly. Interpret that as you will.
---
Fulfillment Center
A Red Orchid Theatre (1531 N Wells St). By Abe Koogler. Directed by Jess McLeod.
Cast: Jose Nateras (Alex), Natalie West (Suzan), Toya Turner (Madeleine), Steve Schine (John).
Designers: Sarah JHP Watkins (scenic), Stephanie Cluggish (costumes), Mike Durst (lighting), Brando Triantafillou (sound), Jeremy Hollis (props).
Running time: 1 hour 25 minutes; no intermission. Through March 24. Tickets ($30–$40) at aredorchidtheatre.org.
Photographs by Mike Hari.
---
Thanks for being an early Storefront Rebellion paid subscriber!
If someone forwarded you this email, and you'd like to support independent, ad-free coverage of Chicago theater, you can sign up as a subscriber right now:
Send your feedback and tips to kris@krisvire.com.