SR review: "Head Over Heels" at Kokandy Productions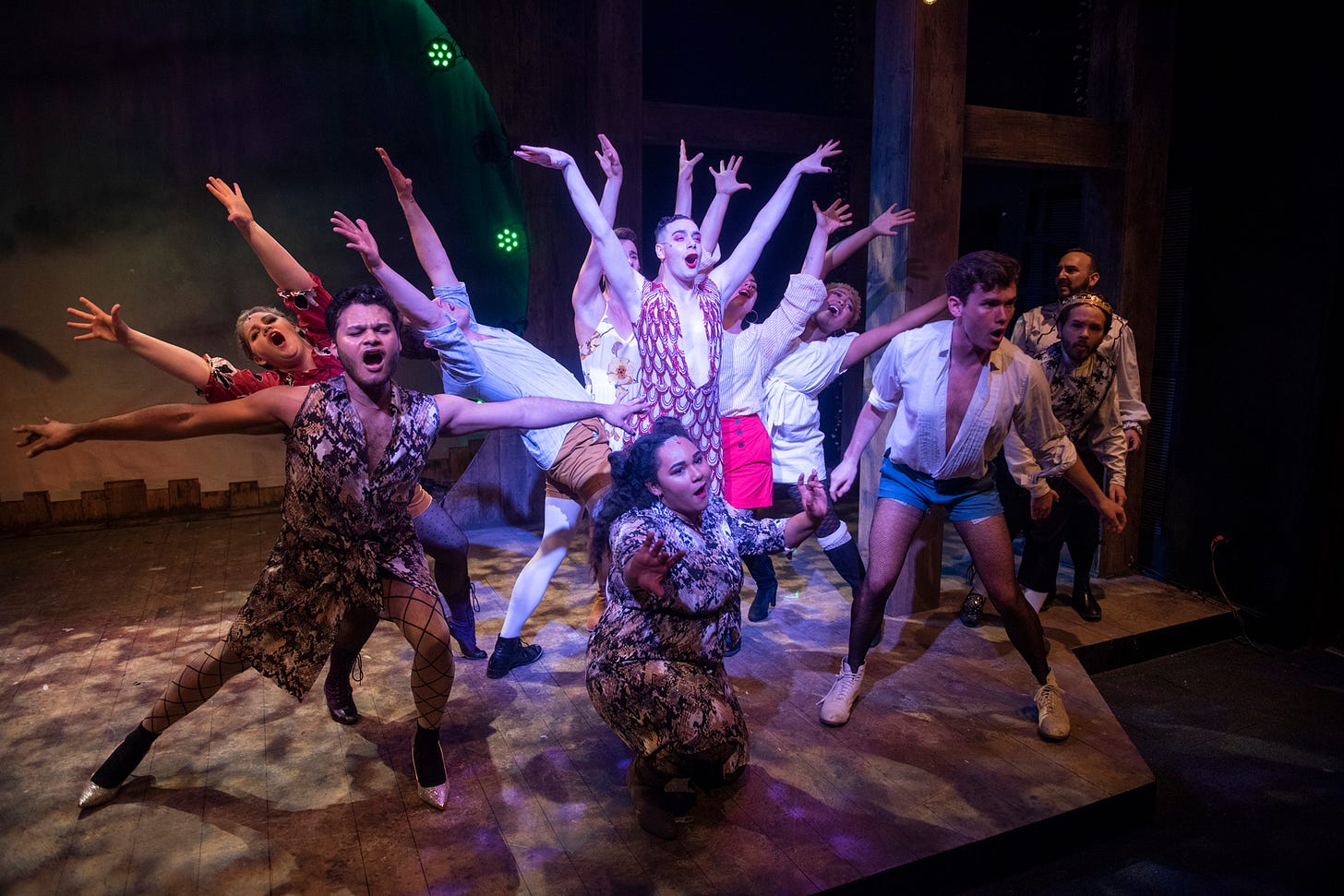 Parker Guidry, center, and the ensemble of
Head Over Heels
This Go-Go's-fueled, gender-norm-questioning summer confection is an improbable delight
Theater review by Kris Vire
Possibly setting a new land-speed record for a new musical's journey from Broadway to Chicago storefront, Kokandy Productions announced the Chicago premiere of Head Over Heels on April 2, less than three months after the Broadway production closed in January. That this quirky and extremely queer confection made it to Broadway at all feels like a small miracle. 
Honestly, try to imagine the elevator pitch: It's a comedy with a plot loosely drawn from 16th-century pastoral romance The Arcadia, adapted by Avenue Q's Jeff Whitty, later re-adapted by literary translator James Magruder, and infused with attitudes about sexual orientation and gender identity so up-to-the-moment you might expect to see Tumblr credited as a consultant.
Oh, and also, all the songs are drawn from the catalog of '80s new wave babes the Go-Go's.
Broadway seemed to regard the whole endeavor as a curiosity (it wound up with zero Tony nominations), but after seeing Kokandy's delightfully scrappy staging, you might come to think storefront was where Head Over Heels was destined to find its true fit.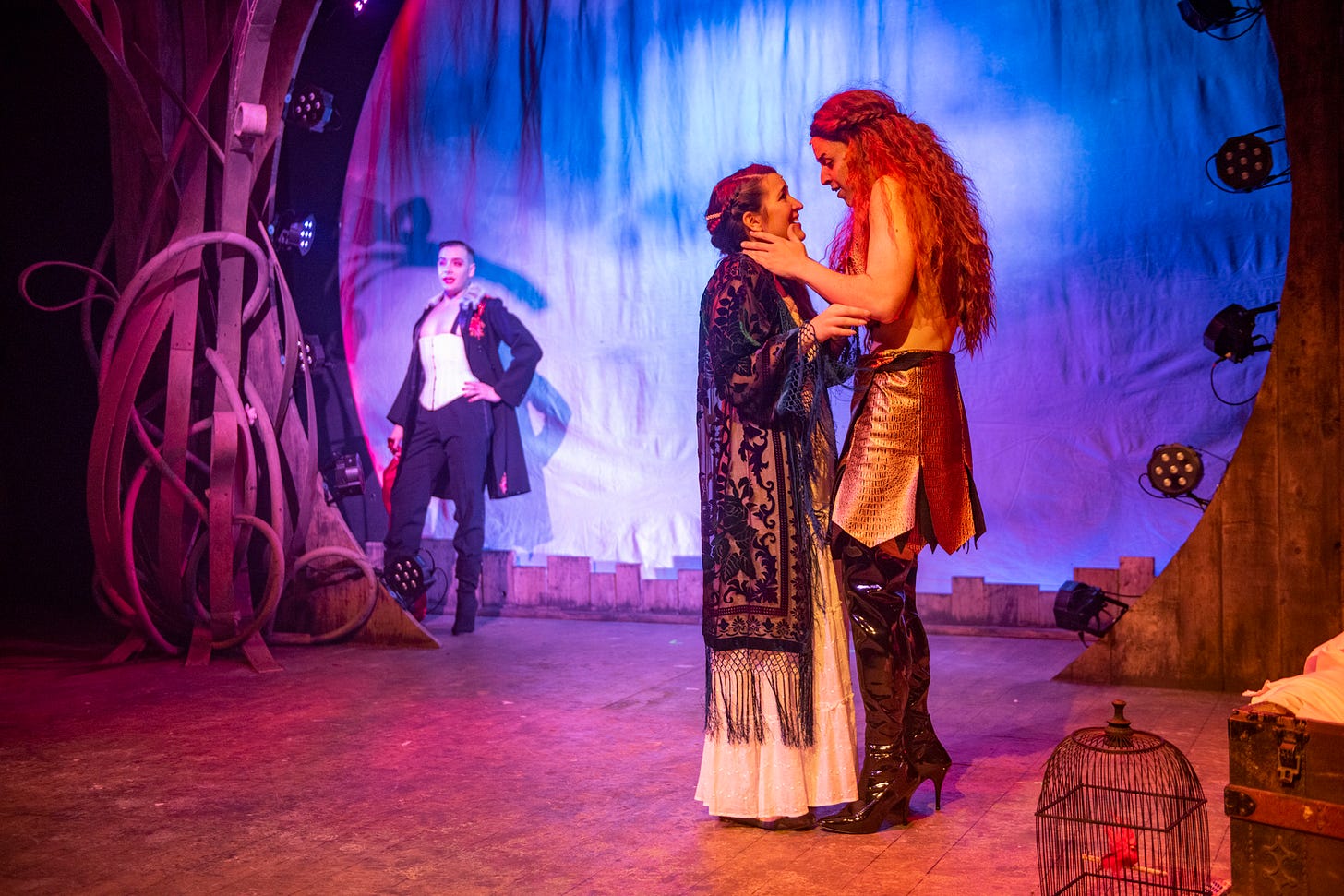 From left: Parker Guidry, Caitlyn Cerza and Jeremiah Alsop
Basilius (Frankie Leo Bennett), king of Arcadia, rules with a steady hand—some would say too steady, given his blind adherence to tradition. Things are done the way they are because that's the way things are done—which is why he can't abide his daughters' refusal to accept proper suitors. Pamela (Bridget Adams-King), a ravishing beauty (and she knows it), rejects potential suitors by the bushel; her sister Philoclea (Caitlyn Cerza), who's plainer (and Pamela makes sure she knows it), loves shepherd boy Musidorus (Jeremiah Alsop), whose class makes him (in Basilius's eyes) beneath a royal match.
Basilius receives a summons from the new Oracle at Delphi, Pythio (a deliciously arch Parker Guidry), who identifies as nonbinary plural—which, like all unfamiliar ideas, the king reflexively resists. But Pythio issues an ultimatum: Either Basilius learn to evolve with the times, or he's doomed to see his daughters paired up with unsuitable suitors, his long-suffering wife Gynecia (Liz Norton) commit adultery, and Arcadia losing its sustaining gift, "The Beat." 
Defying their warning, Basilius spirits his family off into the forest (where things tend to get wacky in these kinds of stories). Spurred by Pythio, Musidorus disguises himself as an Amazon warrior to follow his love. Calling himself "Cleophila," he's accepted by the royals all too readily, as Cleophila awakens lusty feelings in Basilius, Gynecia and Pamela—who starts to realize why she's never seen much in all those princes.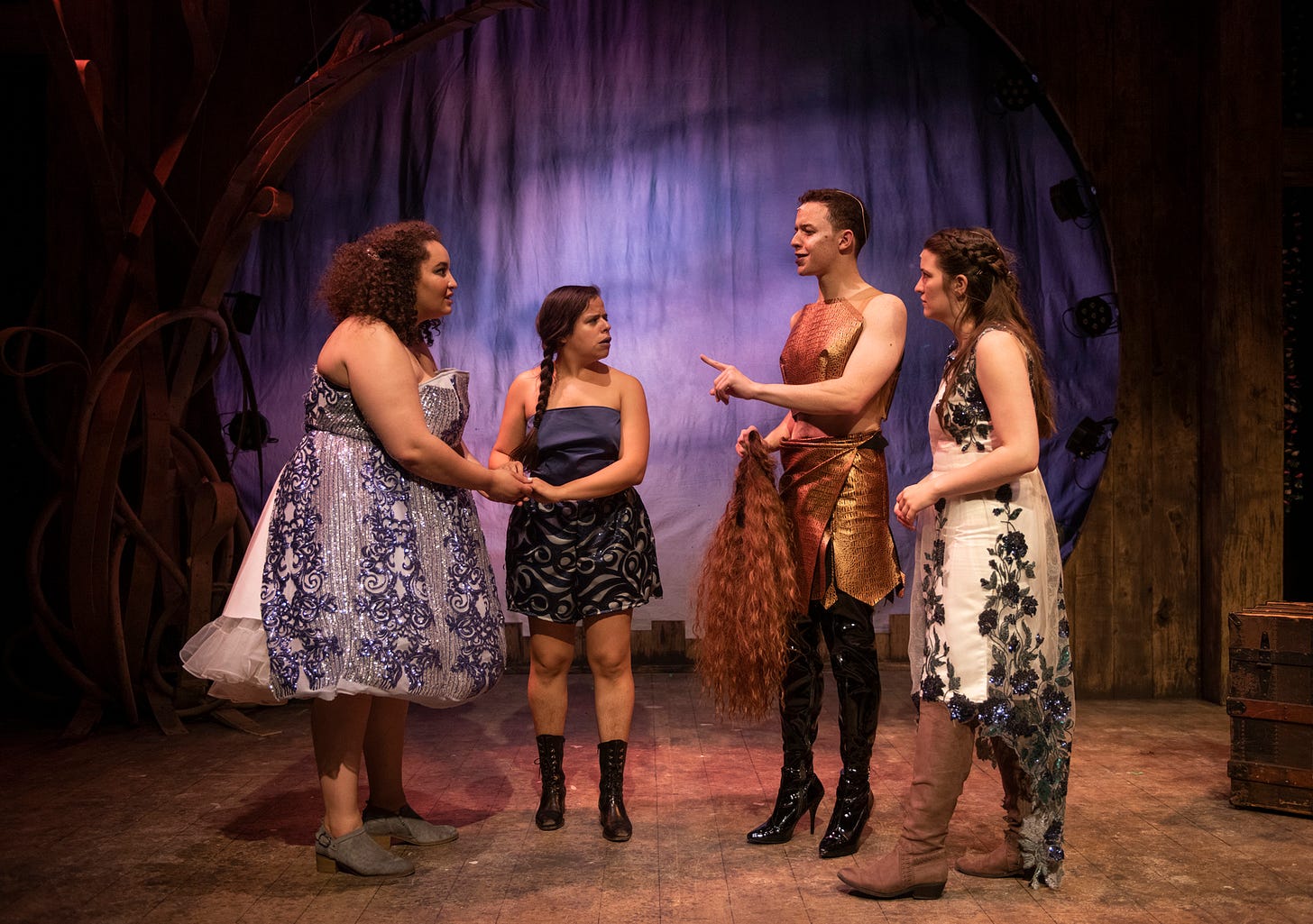 From left: Bridget Adams-King, Deanalís Resto, Jeremiah Alsop and Caitlyn Cerza
Borrowing the plot of an Elizabethan comedy to examine modern notions of gender is such a no-brainer you wish you'd come up with it first. Just think of how many of Shakespeare's comedies turn on gender-bending romance, mistaken identities or magick-fueled "inappropriate" attractions. What Whitty and Magruder have done with the bones of Sir Philip Sidney's Arcadia is brilliantly subversive.
The Go-Go's songs are… more of a stretch. The conceit of "The Beat" cutely allows the show to open with "We Got the Beat" as a placesetter, establishing the lighthearted, inclusive tone right at the top. Like all of the big group numbers here, it features infectiously exuberant choreography by Breon Arzell, performed by an engaging young ensemble bopping around like Shakespearean faeries in fishnets.
Most of the Go-Go's numbers, though, are wedged in pretty awkwardly. Belinda Carlisle and company certainly had some bops, but their lyrics tend toward anodyne pop genericism; turning them into tunes that can define character or advance plot takes perhaps more massaging than can be done.
But honestly, who cares when we're having this much fun? The whole production here exudes such large-hearted, let's-put-on-a-show gaiety (or should that be queerity?) that it's impossible not to like, even at its shaggiest. The whole cast is winning, but I'd give special commendation to Guidry, big-voiced Adams-King and Alsop, who puts a sly spin on his all-genders ingenue. It's like a high-minded beach read; for smartly silly summer fun, get up and go, go.
---
Head Over Heels
Kokandy Productions at Theater Wit (1229 W Belmont Ave). Songs by The Go-Go's. Conceived and original book by Jeff Whitty. Adapted by James Magruder. Directed by Derek Van Barham and Elizabeth Swanson. Choreography by Breon Arzell. Musical direction by Kyra Leigh.
Cast: Bridget Adams-King (Pamela), Jeremiah Alsop (Musidorus), Frankie Leo Bennett (Basilius), Caitlyn Cerza (Philoclea), Parker Guidry (Pythio), Liz Norton (Gynecia), Deanalís Resto (Mopsa), Shane Roberie (Dametas), Emily Barnash, Caitlin Dobbins, Britain Gebhardt, Connor Giles, Kaimana Neil, Roy Samra, Tiffany T. Taylor, Marco Tzunux (ensemble), Courtney Dane Mize, Patrick O'Keefe (swings).
Designers: Chris Rhoton (scenic), Uriel Gomez (costumes), G. "Max" Maxin IV (lighting), Michael J. Patrick (sound), Adam Borchers (props), Kate Booth (fight choreography), Sarah Scanlon (intimacy director).
Running time: 2 hours 20 minutes; one intermission. Through August 25. Tickets ($40, students and seniors $35) at kokandyproductions.com.
Photographs by Michael Brosilow.