SR review: "How I Learned to Drive" at Raven Theatre
Paula Vogel's devastating memory play about sexual abuse returns in a Raven Theatre revival
You're reading an exclusive review for paying subscribers to Storefront Rebellion, a new endeavor in Chicago theater reviewing from longtime critic Kris Vire. Have feedback for me? Reply to this email or find me on Twitter at @krisvire.
---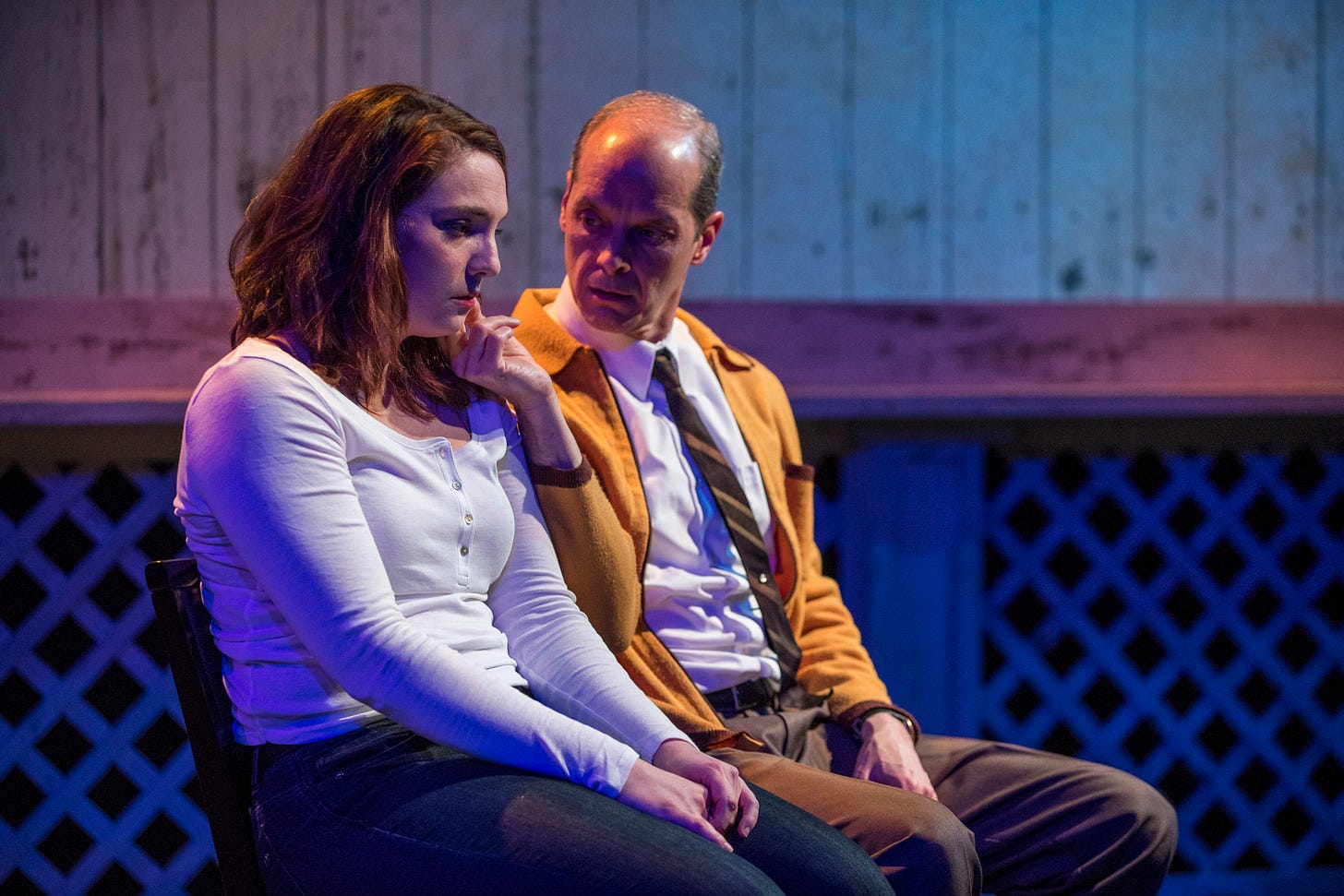 Eliza Stoughton and Mark Ulrich
Paula Vogel's devastating memory play about sexual abuse returns in a Raven Theatre revival
Theater review by Kris Vire
Midway through her tenure as one of the most influential playwriting teachers in American drama—but still a good two decades before she'd be produced on Broadway—Paula Vogel won the Pulitzer Prize for Drama for 1997's How I Learned to Drive. This stunning memory play, which unfolds in a seemingly random but carefully plotted assortment of vignettes, pulls off a remarkable feat: It gins up sympathy, at least in certain moments, for a sexual abuser.
The play's narrator is Li'l Bit, a woman of almost 35 looking back on her adolescent years, when she was engaged in an inappropriate relationship with a much older man. "Li'l Bit" is, somewhat obviously, a childhood nickname bestowed by her rural Maryland family. Which makes it all the more discomfiting that her abuser has been there since Li'l Bit was given the name, at birth.
"When you were born, you were so tiny that you fit in Uncle Peck's out-stretched hand," Li'l Bit's mother says, in what's likely a frequent recitation.
"Now that's a fact," Uncle Peck replies. "I held you, one day old, right in this hand." That we hear this after we've first been introduced to Peck, in a scene in which he holds Li'l Bit's 17-year-old breasts in his hands, is disorienting to say the least.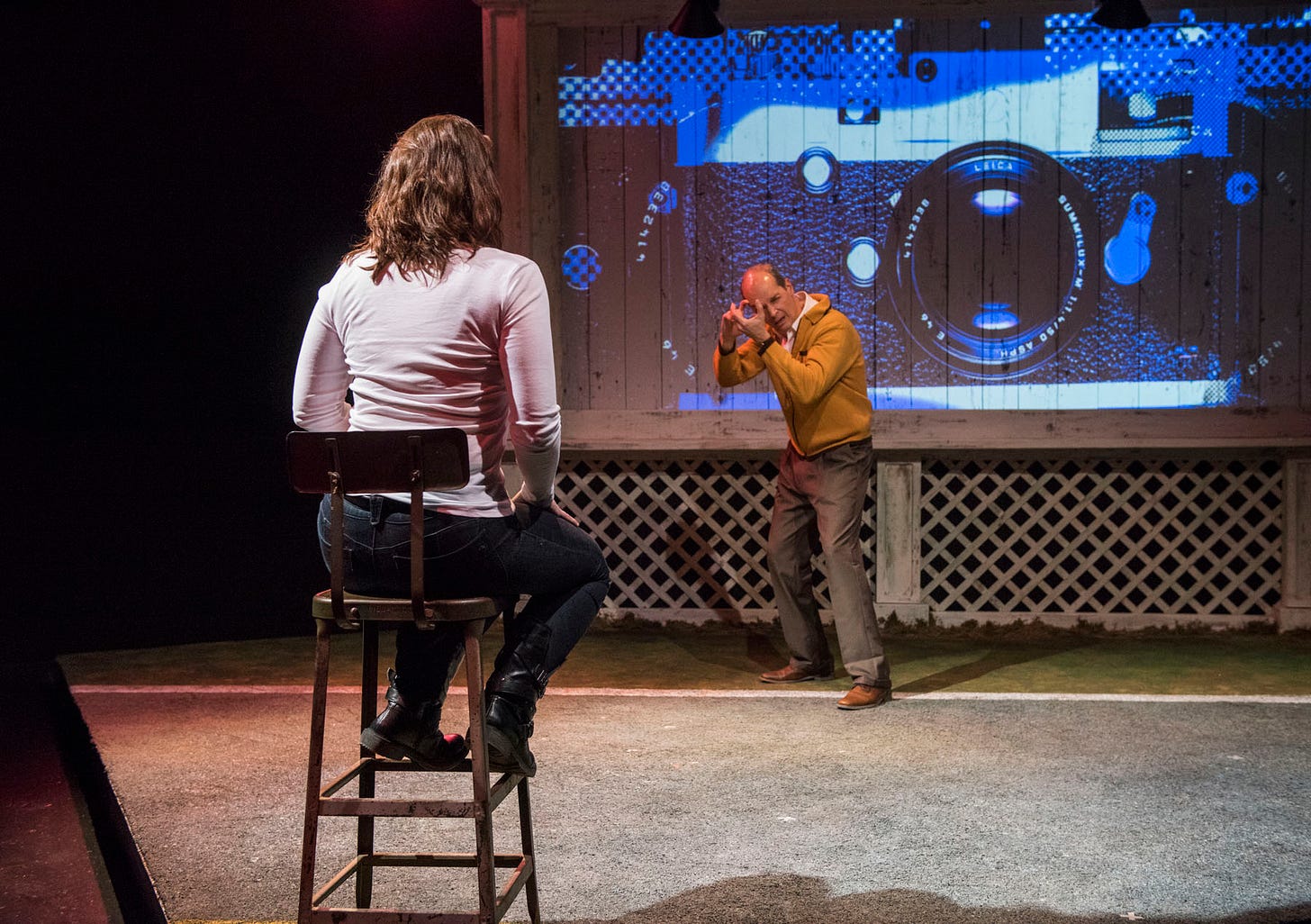 Eliza Stoughton and Mark Ulrich
During Li'l Bit's teenage years, she and her uncle meet secretly for rides in his car; he does in fact teach her how to drive, and Vogel uses chapter titles and passages from an imagined driver's ed manual—"Good defensive driving involves mental and physical preparation. Were You Prepared?"—as a kind of distancing and tone-setting mechanism. These are often spoken by the play's "Greek chorus," three actors who fill in all the roles around Peck and Li'l Bit, like the other members of their contentious family, or the middle-school classmates who make Li'l Bit self-conscious about her early development.
The play's period—the years that Li'l Bit is showing us in her memory—is the 1960s. Raven Theatre artistic director Cody Estle's moving production underlines that timing, maybe a touch too vigorously, via the work of projections designer Tony Churchill. The main feature of scenic designer Jeffrey D. Kmiec's set is an old-school wooden roadside billboard, which serves as a screen for Churchill's imagery, which frequently invokes sexualized and sexist '60s magazine advertising.
Kathryn Acosta, Eliza Stoughton and Mark Ulrich
I don't think Vogel's greyscale portrait of a particular abusive relationship has ever been easy to watch, no matter how vital it is; part of her striking craft in this piece is the way she endears Peck to us before slowly revealing the beginning and end of his story. But How I Learned to Drive might be a more difficult sell now, despite Estle's suggestion that it should be part of the #MeToo conversation, than it was when I last saw it during the George W. Bush administration.
But it's worth remembering that if Li'l Bit was a teenager in the 1960s, her adult self is talking to us from the early '80s. Peck is a World War II veteran in the script, and it seems clear that the second wave of feminism has yet to hit Li'l Bit's hometown. Li'l Bit's grandfather, who picked out his wife for marriage when she was 14, tells his granddaughter to her face that her only worth is as a sexual object. Even from the perspective of Vogel writing in the late '90s, everything we're hearing is coming from characters who don't have the language we have available to us now about this kind of predation.
Eliza Stoughton, Julian Hester, Kathryn Acosta and Katherine Bourne Taylor
It's by no means a light evening at the theater, but Raven's revival is sensitively handled and well worth your time. The Greek chorus can push a little too hard in moments, but Kathryn Acosta makes a strong impression with turns as Li'l Bit's mother and Aunt Mary—Peck's wife—that serve to further diffuse the blame.
Mark Ulrich captures the varying mix of magnetic and pathetic that's required for Peck to keep us on our toes. Eliza Stoughton, as Li'l Bit, nicely delineates her character's age, outlook and physicality across seven years of growth; what she's still missing is a clear point of view as the adult narrator looking back.
---
How I Learned to Drive
Raven Theatre (6157 N Clark St). By Paula Vogel. Directed by Cody Estle.
Cast: Eliza Stoughton (Li'l Bit), Mark Ulrich (Peck), Julian Hester (Male Greek Chorus), Kathryn Acosta (Female Greek Chorus), Katherine Bourne Taylor (Teenage Greek Chorus).
Designers: Jeffrey D. Kmiec (scenic), Theresa Ham (costumes), Becca Jeffords (lighting), Josh Schmidt (sound and original music), Tony Churchill (projections), Rachel Flesher (intimacy director), Abigail Cain (props and set dressing).
Running time: 1 hour 40 minutes; no intermission. Through March 24. Tickets ($43–$46) at raventheatre.com.
Photographs by Michael Brosilow.
---
Thanks for being an early Storefront Rebellion paid subscriber!
If someone forwarded you this email, and you'd like to support independent, ad-free coverage of Chicago theater, you can sign up as a subscriber right now:
Send your feedback and tips to kris@krisvire.com.