Discover more from Storefront Rebellion
Reviews and commentary about theater in Chicago from critic Kris Vire.
SR review: "Howards End" at Remy Bumppo Theatre Company
Douglas Post's adaptation of E.M. Forster's novel loses some nuance in its race to the finish
Theater review by Kris Vire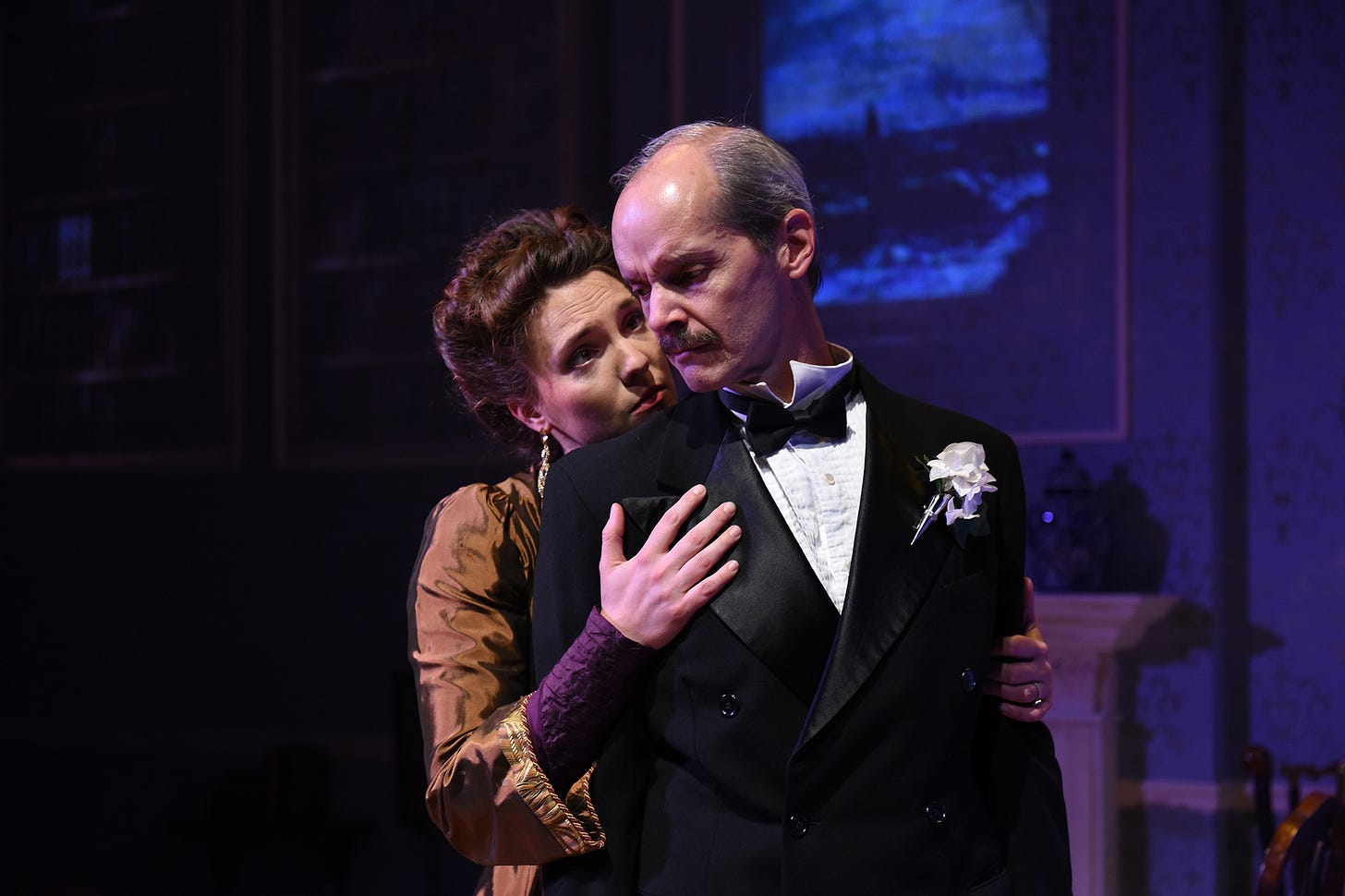 Eliza Stoughton and Mark Ulrich in Howards End at Remy Bumppo Theatre Company
E.M. Forster's 1910 novel centers on three English families of varying means, and varying attitudes about what it means to have said means. The Wilcoxes are well-off, with the family business in African rubber plantations; they've wealth enough to collect houses as children collect tadpoles, as another character observes, and to never have to consider what it might be like to be without wealth. 
The Schlegel sisters, Margaret and Helen, are less extravagantly moneyed—just the one house for them, and for now—but were raised to appreciate music and art and literature, and to have some awareness of the privilege of their position. Young Leonard Bast was raised with neither money nor art, though he's intent on improving his appreciation of the latter in hopes that it will help him appreciate more of the former. These families converge in Forster's work at the end of the brief Edwardian era, a time of rapid change in London and across England. Forster, from his omnipotent narrator's perch and with the unlimited casting budget of prose, commented widely upon this evolving landscape. 
Playwright Douglas Post, in penning this new stage adaptation commissioned by Remy Bumppo Theatre Company, must necessarily reduce both story and cast size. But in excising enough context and character development to fit Howards End onto a single stage and in two and a half hours' time, Post leaves us feeling a little like Helen and Margaret when they discover their family belongings unpacked willy-nilly into a new house: We recognize all the pieces, but nothing seems to be in the right place.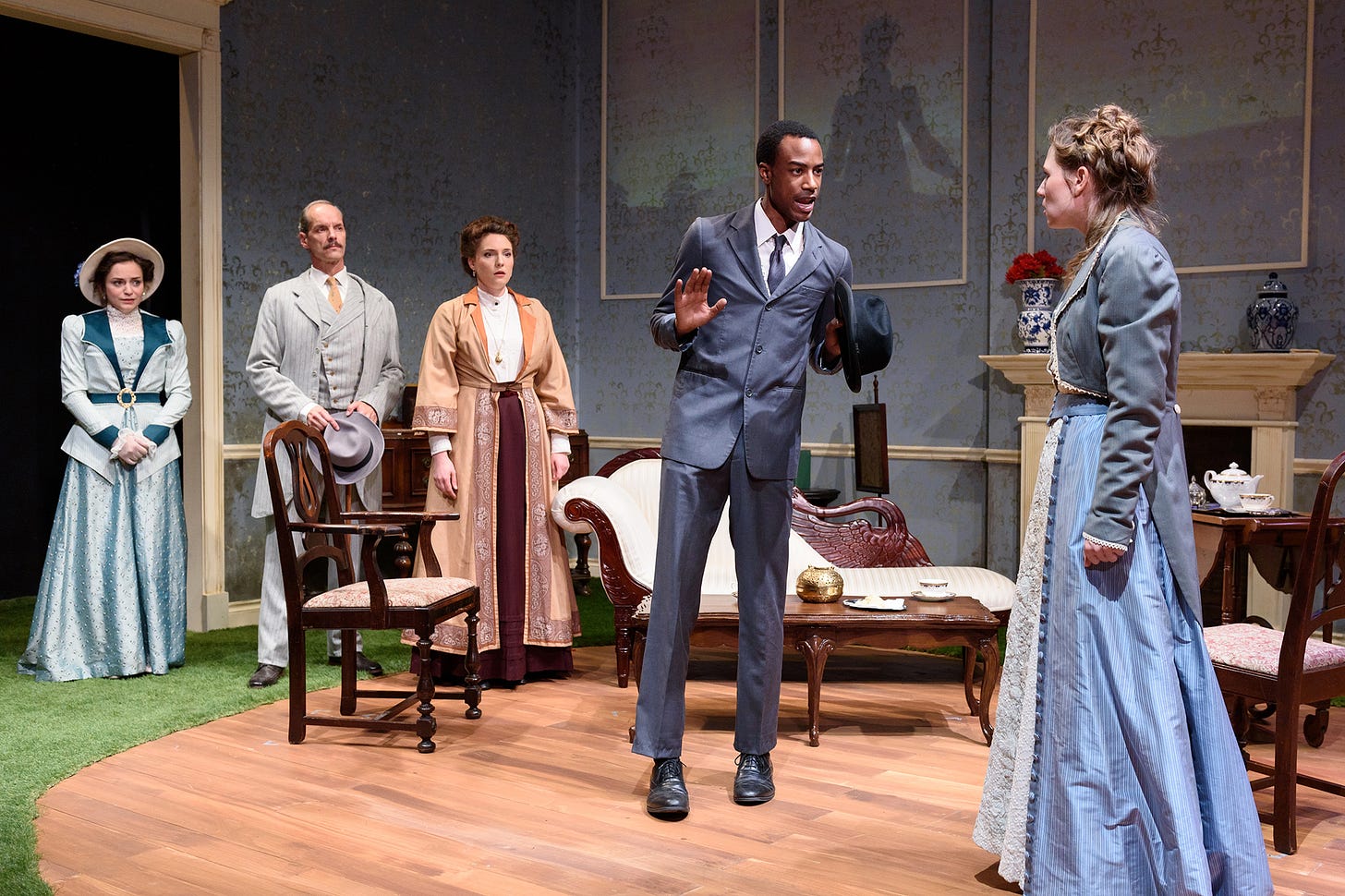 From left: Natalie Santoro, Mark Ulrich, Eliza Stoughton, Terry Bell and Heather Chrisler
If you didn't understand that last reference at all, let's jump back for a bit of context. Some years prior to the beginning of Forster's story, the Wilcoxes and the Schlegels met while on holiday on the continent, and Wilcox matriarch Ruth invites Margaret and Helen to Howards End, the country home that's been in her family for generations. The novel picks up with that visit, which only Helen can make, and on which she and Ruth's son Paul have a brief and mildly scandalous fling. Margaret and Ruth do later find friendship when the Wilcoxes move into a flat across the street from the Schlegels' London home.
Post opens his play on Ruth Wilcox's funeral (the 11th chapter of the novel), conveying some of what came before in exposition, but getting down to brass tacks: Ruth's husband Henry reveals to his adult children that their mother wrote an informal addendum to her will, bequeathing Howards End to Margaret. The Wilcoxes agree to ignore it, though Margaret will eventually become the mistress of Howards End regardless, as she accepts Henry's proposal of marriage some time later.
Helen, meanwhile, remains wary of the Wilcox family and displays some flashes of political awareness, which manifest in her interest in helping Mr. Bast attain a better position—which she recognizes he can't do without money. But her advice to Bast, passed on from Mr. Wilcox, backfires and leaves Bast worse off than before, and Wilcox's refusal to acknowledge any responsibility drives a wedge between Helen and Margaret.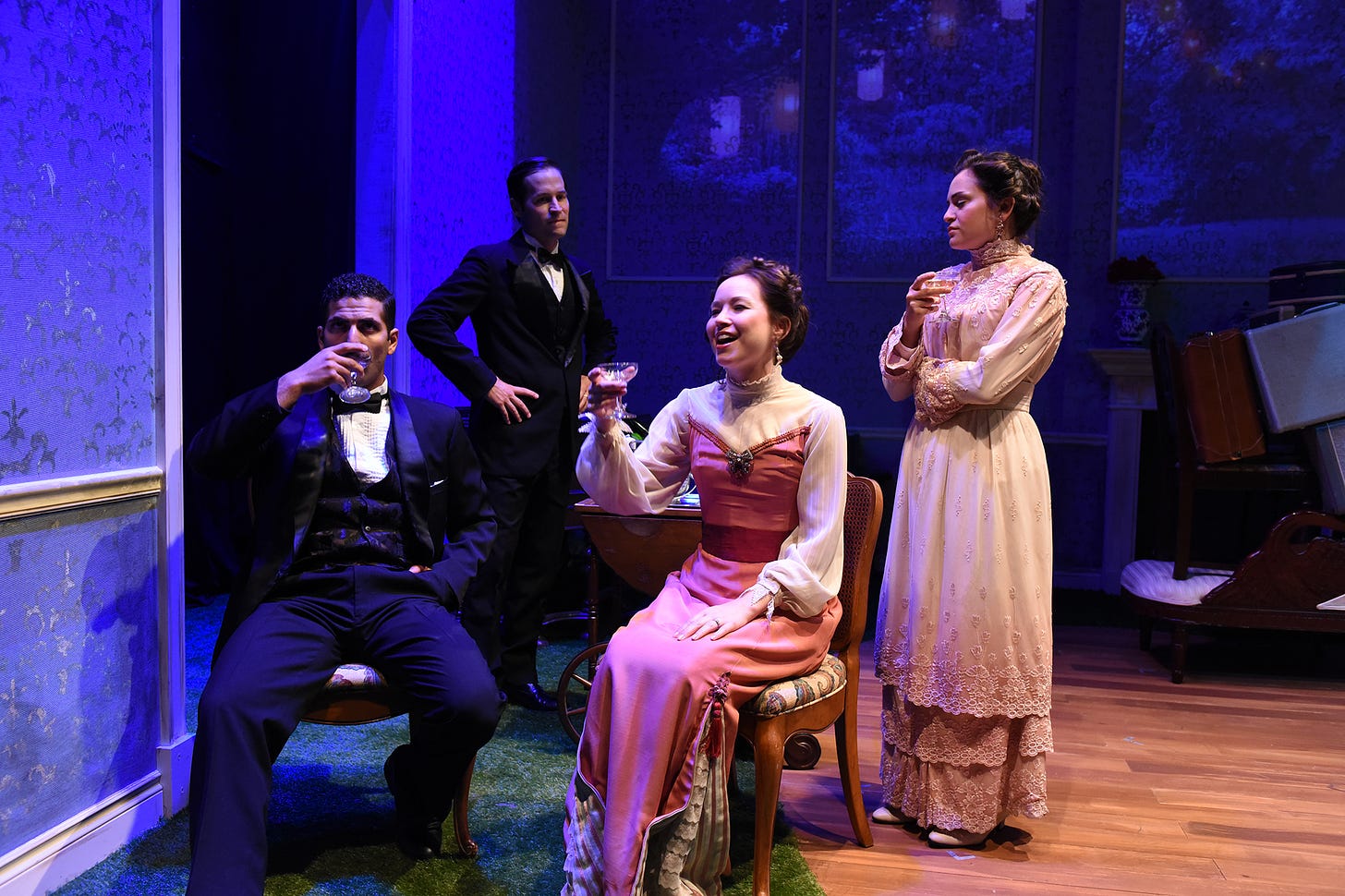 From left: Tommy Malouf, Michael McKeogh, Emily Tate and Natalie Santoro
Post necessarily concentrates so much plot into so few scenes that character development can feel as though it's being sacrificed; we speed past signposts and recognizable snippets of dialogue, but at the expense of really examining crucial relationships within the play. We hardly get a sense of what the Wilcox children—Charles, Paul and Evie—think of Margaret becoming their new stepmother, or of Margaret's true feelings about Bast.
Part of that, too, is down to the loss of Forster's authorial access to his characters' interior thoughts. The author could leapfrog among three or four points of view within as many paragraphs; mostly eschewing narration, Post can't directly convey that information to us—which was also a problem to some degree for the 1992 Merchant-Ivory film adaptation.
As in the film, though (for which Emma Thompson won an Oscar as Margaret), fine, thoughtful acting makes up a lot of the difference. Eliza Stoughton brings plenty of intelligence and strong feeling to Margaret, who you sense is always trying to make the best of whatever situation she's presented with.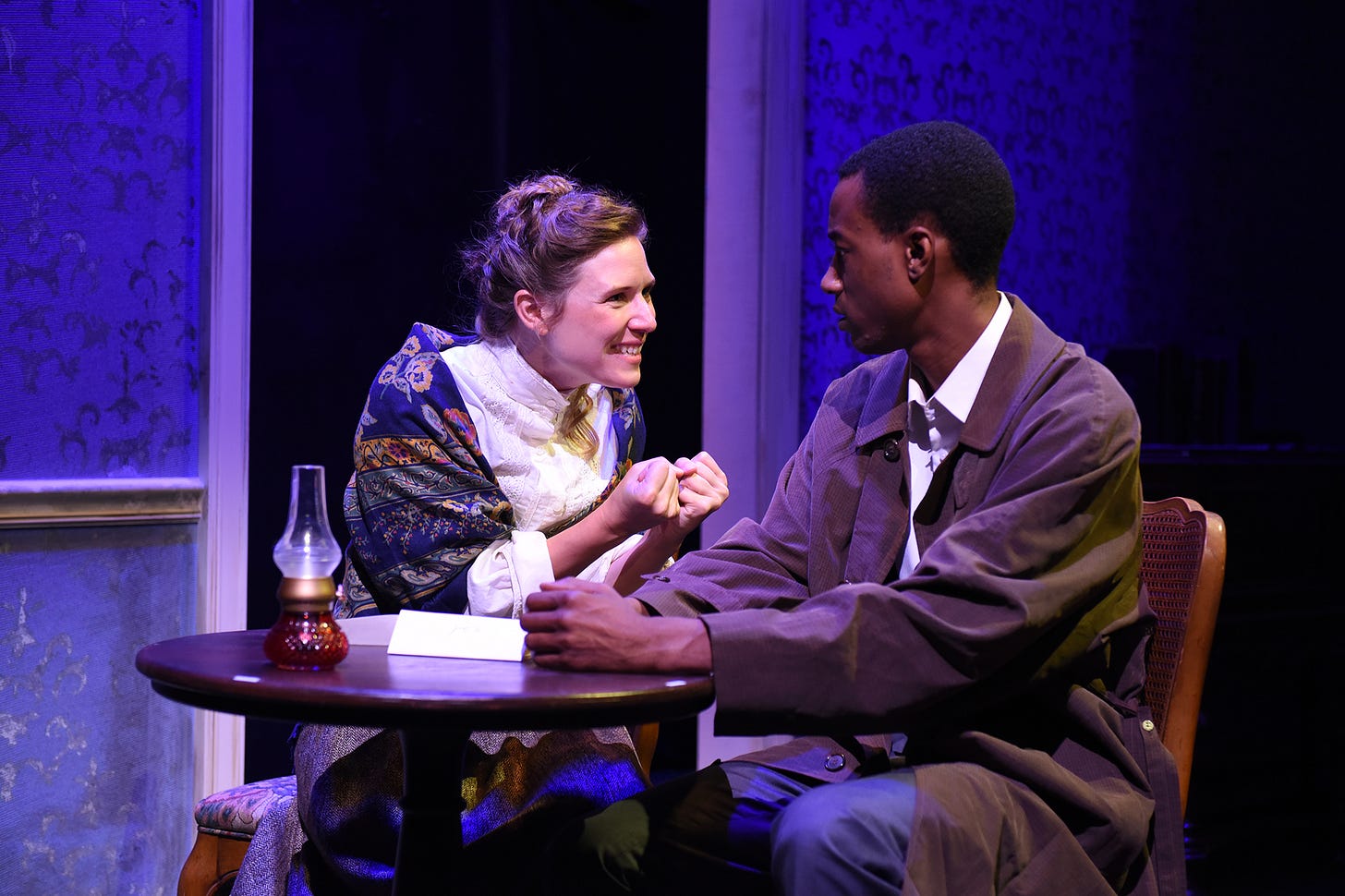 Heather Chrisler and Terry Bell
The always compelling Heather Chrisler gives Helen a highly charged, unnerving energy that strains at the limits of her station as an unmarried woman. Through her posture and sheer willpower (and perhaps clever draping by costume designer Kristy Leigh Hall), you'd swear Chrisler transmutes Helen's skirts into pants.
Truthfully, there's not a weak link in director Nick Sandys's cast, though Post's cuttings leave some of their characters with so little to do—Tommy Malouf's Paul, Natalie Santoro's Evie, and Emily Tate as Charles's tacky wife Dolly—that you wonder why the playwright kept them in but disposed of, say, Margaret and Helen's Aunt Juley. 
Similarly, you might wish Post's transcription found more room to analyze Forster's class warfare and its parallels to our current moment, or to dwell a little longer on the implications of Bast's ultimate disposability and how easily the Schleger sisters seem to forget him here. Despite a handsome staging and strong cast, Remy Bumppo's Howards is in an awful hurry to get to the End.
---
Howards End
Remy Bumppo Theatre Company at Theater Wit (1229 W Belmont Ave). By Douglas Post. Adapted from the novel by E.M. Forster. Directed by Nick Sandys.
Cast: Eliza Stoughton (Margaret Schlegel), Heather Chrisler (Helen Schlegel), Mark Ulrich (Henry Wilcox), Terry Bell (Leonard Bast), Jodi Kingsley (Jacky Bast), Michael McKeogh (Charles Wilcox), Emily Tate (Dolly Wilcox), Natalie Santoro (Evie Wilcox), Tommy Malouf (Paul Wilcox).
Designers: Yeaji Kim (scenic and projections), Kristy Leigh Hall (costumes), Mike Durst (lighting), Christopher Kriz (sound and original music), Jamie Karas (props), Eva Breneman (dialect coach). Stage manager: Mara Sagal.
Running time: 2 hours 40 minutes; one intermission. Through October 5. Tickets ($37.75–$62.75) at remybumppo.org.
Photographs by Michael Courier.
---
Thanks for being a Storefront Rebellion paid subscriber!
If you know someone who'd be interested in independent, ad-free coverage of Chicago theater like this, send them this link to get 20 percent off the next 12 months of Storefront Rebellion if they sign up by September 15:
Send your feedback and tips to kris@krisvire.com.