Discover more from Storefront Rebellion
Reviews and commentary about theater in Chicago from critic Kris Vire.
SR review: "Into the Woods" at Writers Theatre
An ideal cast brings Sondheim's fractured fairy tales to life in Gary Griffin's audience-inclusive staging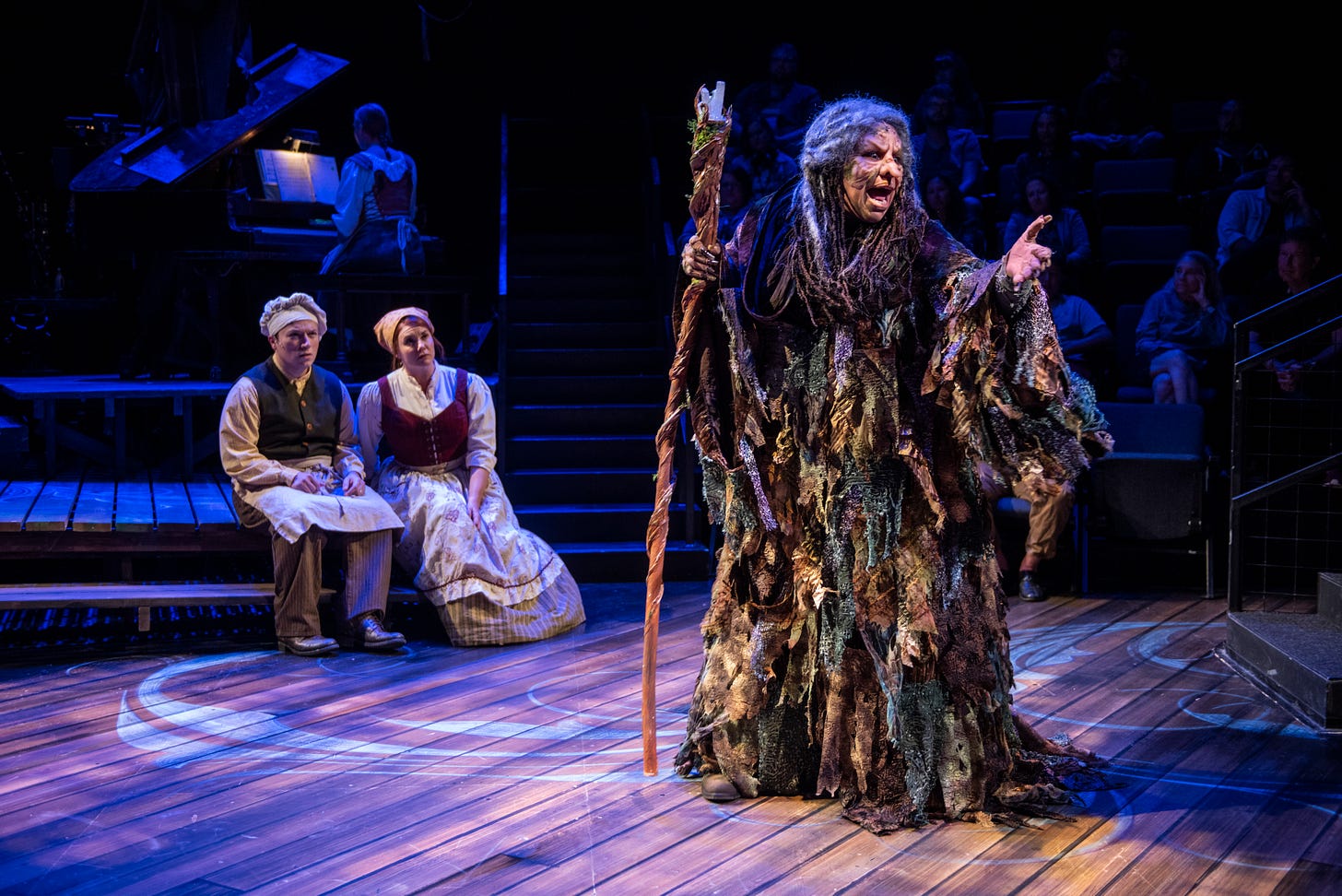 Michael Mahler, Brianna Borger and Bethany Thomas in
Into the Woods
An ideal cast brings Sondheim's fractured fairy tales to life in Gary Griffin's inclusive staging
Theater review by Kris Vire
Stephen Sondheim's body of work is rife with meditations on parent-child relations and the legacies we leave—two closely related themes, to be sure. But none of the composer's musicals tackles both so directly as Into the Woods, his 1986 collaboration with book writer and original director James Lapine. Mashing up a number of familiar fairy tales, the show insists on looking for what comes after "happily ever after"—and in so doing, muddies their storybook morals.

Director Gary Griffin, who's helmed eight Sondheim productions over the past two decades at Chicago Shakespeare Theater (including sublime renditions of theatrical landmarks Sunday in the Park with George and Follies), heads north to Glencoe for this entry in the composer's canon. Staged in-the-round in Writers Theatre's Nichols space, Griffin's new production shoots to the top of the list of my many walks through the Woods.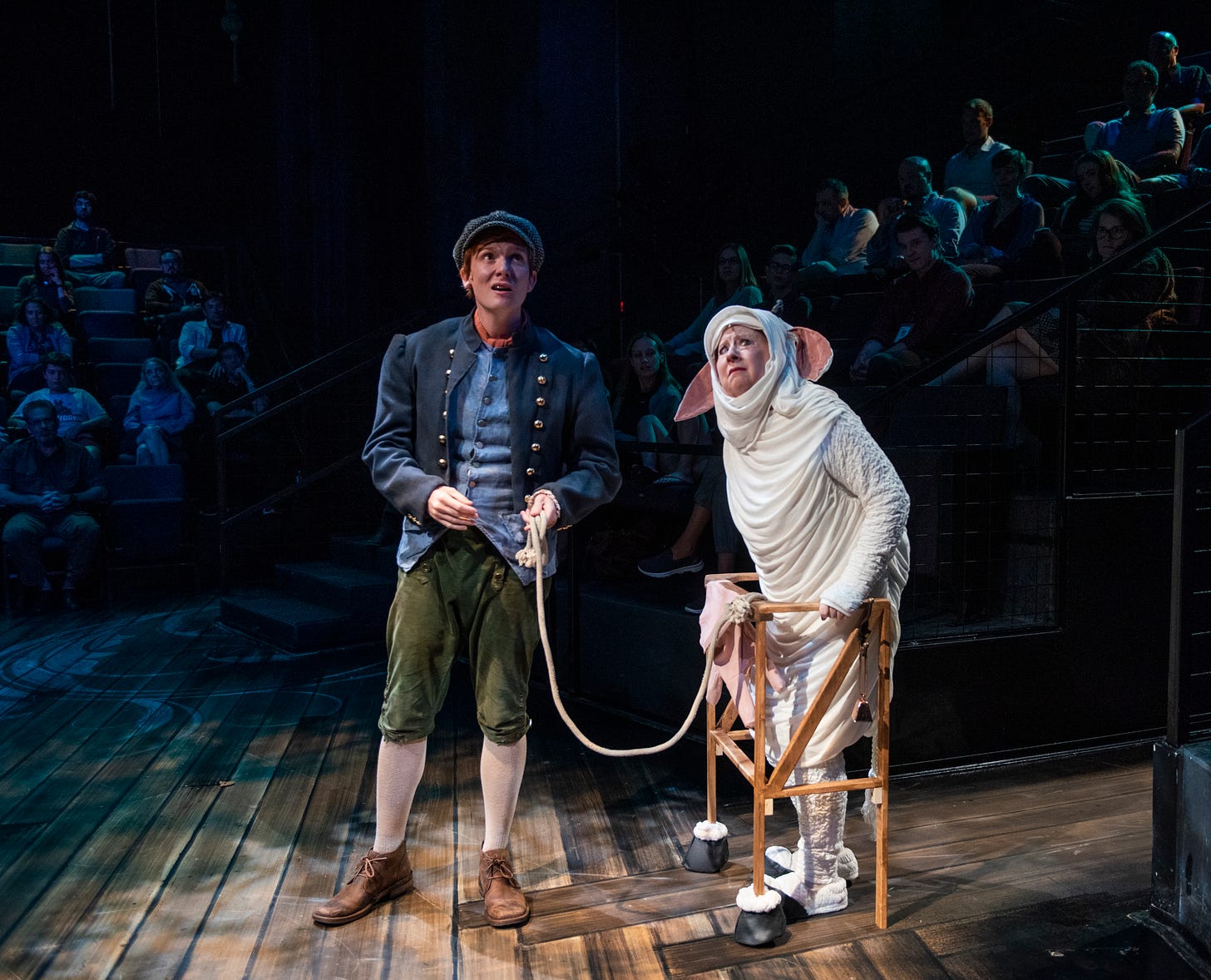 Ben Barker and Mary Poole in
Into the Woods
at Writers Theatre

Conceptually, Griffin doesn't layer anything new onto an already layered narrative. We meet old favorites like Cinderella (Ximone Rose), Jack the beanstalk climber (Ben Barker) and Little Red Riding Hood (Lucy Godínez) in a long opening sequence that establishes they exist in a shared universe, alongside Sondheim and Lapine's leads. These three newly invented characters are nonetheless so Fairy Tale Central Casting they don't even get proper names: They're the Baker (Michael Mahler), the Baker's Wife (Brianna Borger), and the Witch (Bethany Thomas).

That opening number also establishes that the Witch previously placed a curse on the Baker's parents—one he and his wife will need to reverse, with the help of their more famous neighbors, if they hope to have a child. (The Witch, naturally, has her own motivations for undoing her prior spell.) By intermission, the heroes all seem to have reached their happy ending. But Into the Woods reminds us that happy endings are rarely true endings.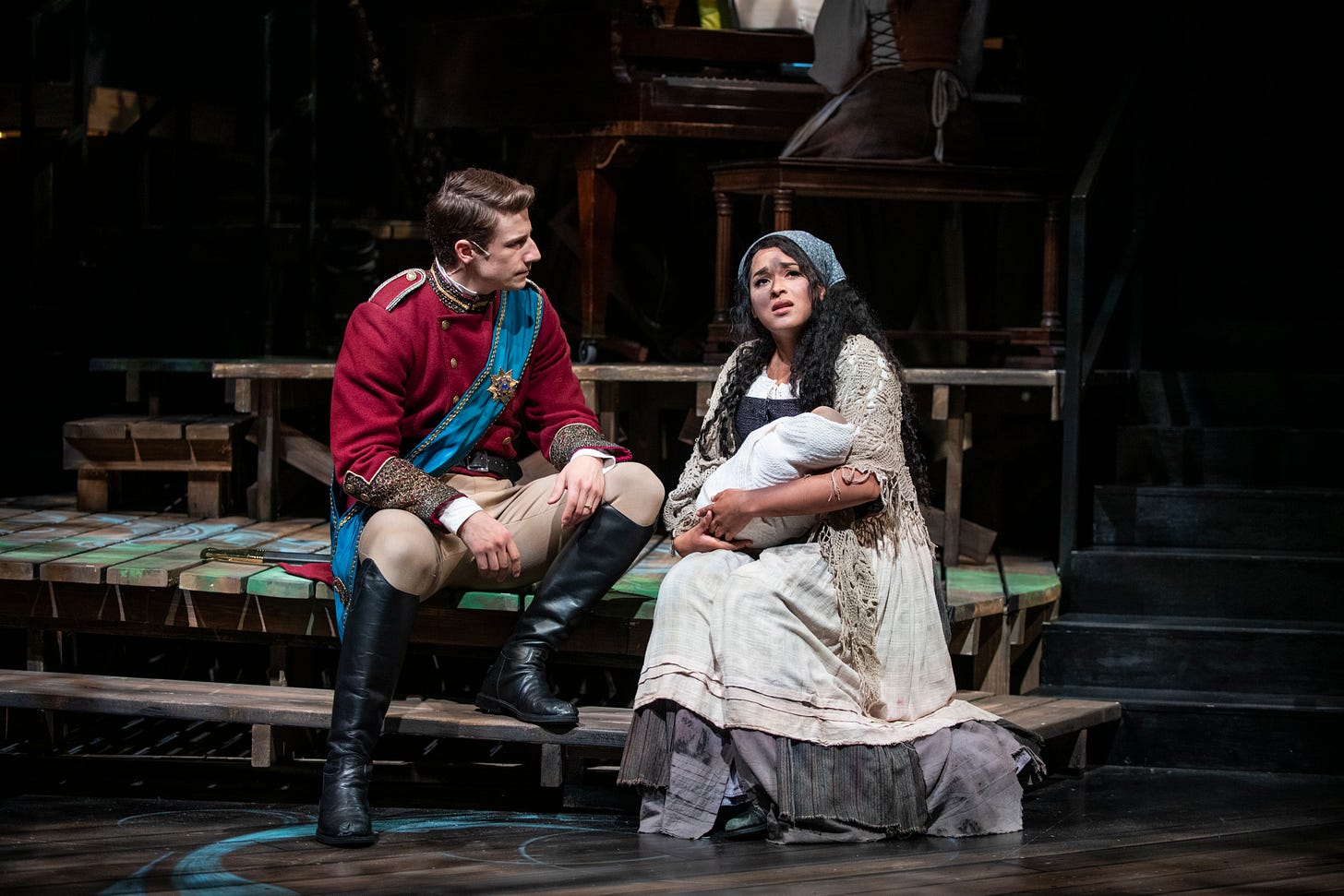 Ryan McBride and Ximone Rose

I should probably note that Into the Woods is a personal favorite—my introduction to musical theater, really, when I was a teenager. I've worn out recordings of the original Broadway production on both VHS and DVD; I've been cautiously optimistic about and then mildly disappointed by the 2014 Disney film adaptation; and I've seen a lot of live productions. 

I've also been able to see a lot of live productions, because Woods feels like it gets produced more than any of the other shows for which Sondheim wrote both music and lyrics. I've long thought of it as his most accessible musical, thanks to the name recognition of most of its characters and the relatability of its emotional themes. But I'm also aware that some fans of more difficult works like Pacific Overtures or Passion take a dim view of Woods for those same reasons. Even Griffin, in an interview in Writers Theatre's program for this production, says "I hadn't seen the challenges you see in other Sondheim pieces. It seemed easier."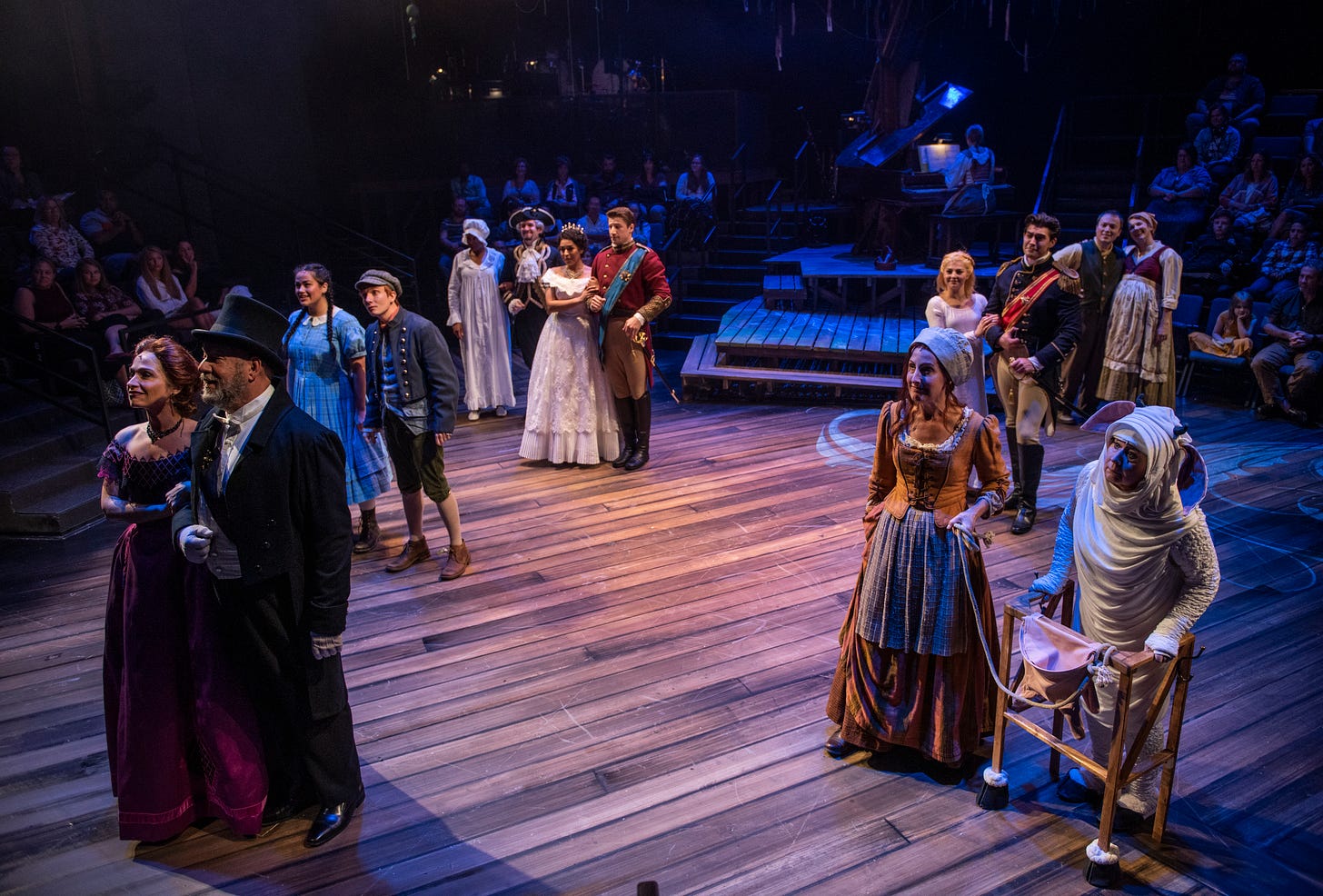 The company of
Into the Woods
at Writers Theatre

Happily, Griffin hasn't taken the easy route here. His physical staging smartly uses nearly the entirety of the Nichols Theatre in sync with his actors to make the story feel remarkably close at hand; it allows the cast to make the audience feel included without making a big show of breaking the fourth wall. We're all just in on the whole endeavor together.Music director Matt Deitchman has re-orchestrated Sondheim's score for a three-part band that somehow makes the music I know by heart sound brand new. (Credit also to sound designer Christopher M. LaPorte for real wizardry in making those three instrumentalists and 18 actors' voices come across as balanced and natural.)

And those actors. I could praise all 18 of them individually if I thought you'd keep reading that long; this cast is near ideal. Instead I'll just single out Godínez for her infectiously manic take on Little Red, along with two others who are actually reprising roles I saw them play nearly a decade ago.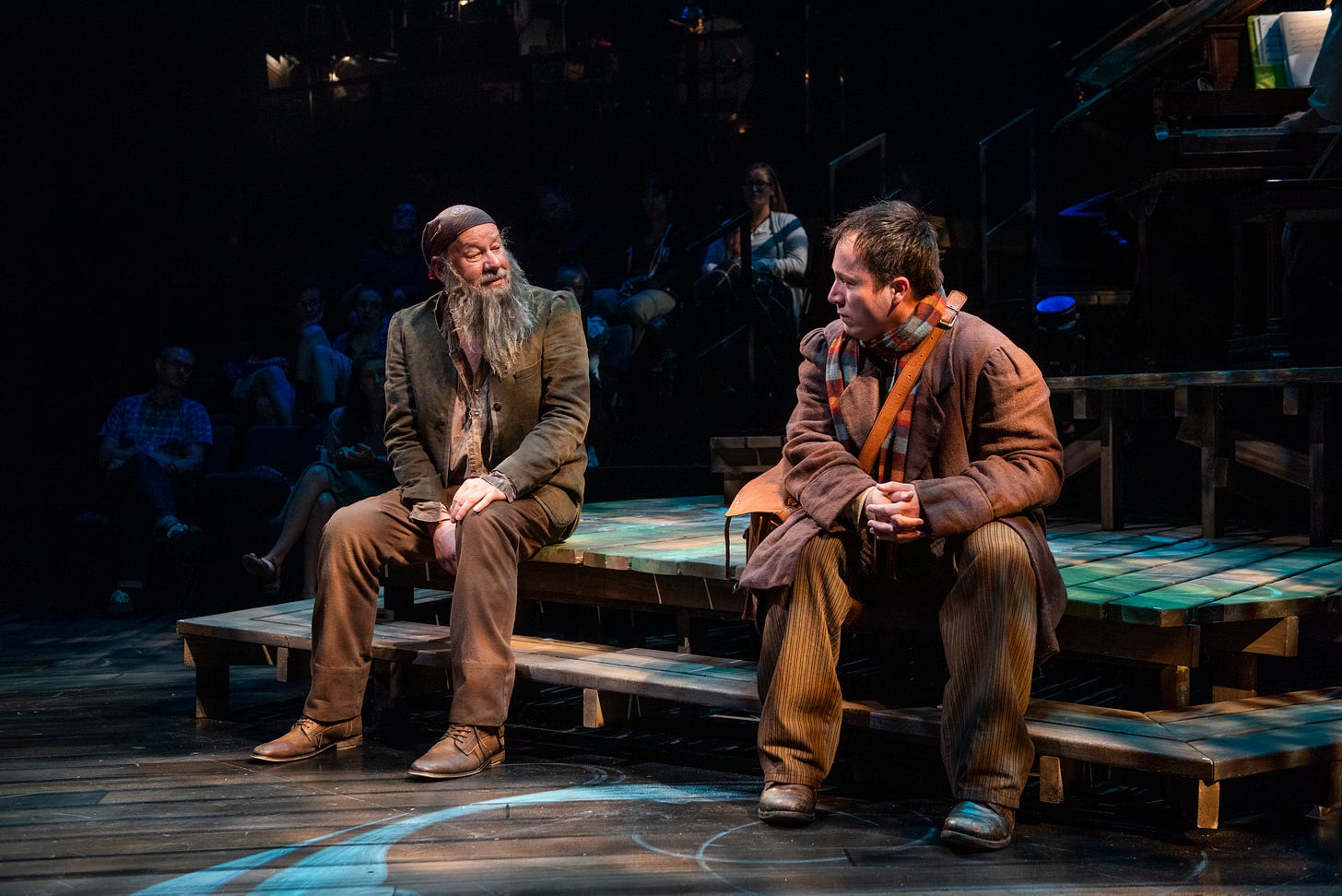 William Brown and Michael Mahler

Borger and Thomas previously appeared as the Baker's Wife and the Witch, respectively, in Porchlight Music Theatre's Into the Woods in the spring of 2010. Though I liked them both well enough back then, I do remember thinking they were a little green for these meaty parts.

I'm happy to report both have more than grown into their shoes; Thomas and Borger are both giving top-tier performances now that you won't want to miss. To pilfer a line from Sondheim's Witch: Go. To. This. Woods.
---
Into the Woods
Writers Theatre (325 Tudor Ct, Glencoe, IL). Book by James Lapine. Music and lyrics by Stephen Sondheim. Directed by Gary Griffin. Choreography by Aubrey Adams. Musical direction and re-orchestrations by Matt Deitchman.
Cast: Nicole Armold (Lucinda), Ben Barker (Jack), Alex Benoit (Rapunzel's Prince), Brianna Borger (Baker's Wife), William Brown (Mysterious Man/Cinderella's Father)*, McKinley Carter (Jack's Mother), Matt Edmonds (Steward/Wolf), Lucy Godínez (Little Red Riding Hood), Michael Halberstam (Narrator), Kelli Harrington (Cinderella's Stepmother), Molly Hernández (Florinda), Cecilia Iole (Rapunzel), Michael Mahler (The Baker), Ryan McBride (Cinderella's Prince), Harriet Nzinga Plumpp (Cinderella's Mother/Granny), Mary Poole (Milky White), Ximone Rose (Cinderella), Bethany Thomas (Witch). *Jonathan Weir takes over as Mysterious Man/Cinderella's Father from September 17.
Musicians: Charlotte Rivard-Hoster (piano/conductor and assistant music director), Jeff Handley (percussion, through September 1), Brandon Podjasek (percussion, from September 3), Mike Matlock (piccolo, flute, clarinet in B♭, soprano sax, oboe, bassoon).
Designers: Scott Davis (scenic), Mara Blumenfeld (costumes), Lee Fiskness (lighting), Christopher M. LaPorte (sound), Sasha Smith (intimacy and fight director). Dramaturg: Seph Mozes.
Running time: 2 hours 40 minutes; one intermission. Through September 22. Tickets ($35–$80) at writerstheatre.org.
Photographs by Michael Brosilow.