Discover more from Storefront Rebellion
Reviews and commentary about theater in Chicago from critic Kris Vire.
SR review: "Lottery Day" at Goodman Theatre
Ike Holter's Rightlynd Saga comes to a satisfying close in a final crossover event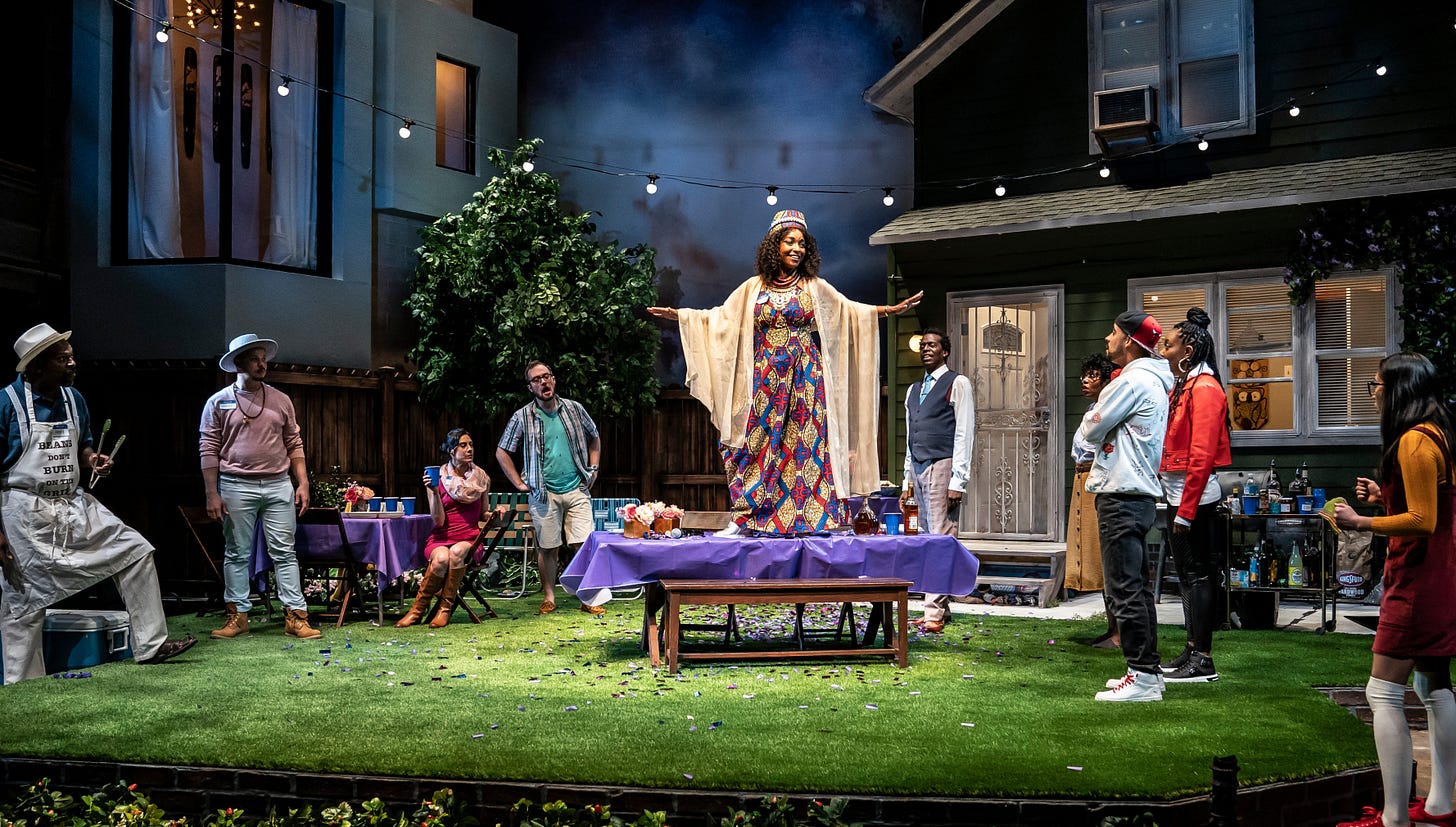 From left: James Vincent Meredith (Avery), Tony Santiago (Nunley), Michele Vazquez (Vivien), Pat Whalen (Ricky), J. Nicole Brooks (Mallory), Robert Cornelius (Robinson), McKenzie Chinn (Cassandra), Tommy Rivera-Vega (Ezekiel), Sydney Charles (Zora) and Aurora Adachi-Winter (Tori)
Ike Holter's Rightlynd Saga comes to a satisfying close in a final crossover event
Theater review by Kris Vire
Five years ago next month, Ike Holter's Exit Strategy premiered at Edgewater's Jackalope Theatre Company, then an ascendant storefront theater with a brand-new home in Broadway Armory Park. The play was a portrait of the beleaguered and demoralized faculty at a CPS high school that's slated to close at the end of the school year, set in a fictional Chicago neighborhood on the knife-edge of gentrification, with "two gangs and a crepe place on the same street." It opened a year after Mayor Rahm Emanuel had announced that 50 CPS schools would not reopen for the 2014–15 school year; Exit Strategy was an on-the-ground glimpse at what that could mean to a community.
Even Holter didn't know it then, but Exit Strategy was to become the first in a cycle of seven plays all set in the neighborhood of Rightlynd, in Chicago's difficult-to-locate 51st Ward. They've been produced at a variety of theaters across the city:
Exit Strategy (2014, Jackalope Theatre)
Sender (2016, A Red Orchid Theatre)
Prowess (2016, Jackalope Theatre)
The Wolf at the End of the Block (2017, Teatro Vista)
Rightlynd (2018, Victory Gardens Theater)
Last night, the final piece of the "Rightlynd Saga" opened at the Goodman Theatre. Lottery Day is both a farewell to this world and a very conscious crescendo. Where the six previous entries connected only at their edges, with fleeting mentions of plot points elsewhere in the shared universe acting like Easter eggs for die-hard collectors, Lottery Day actually brings together characters from each of the prior plays along with a few new faces to close out this story. It's a carefully plotted crossover event: the Avengers: Endgame of the Holterverse.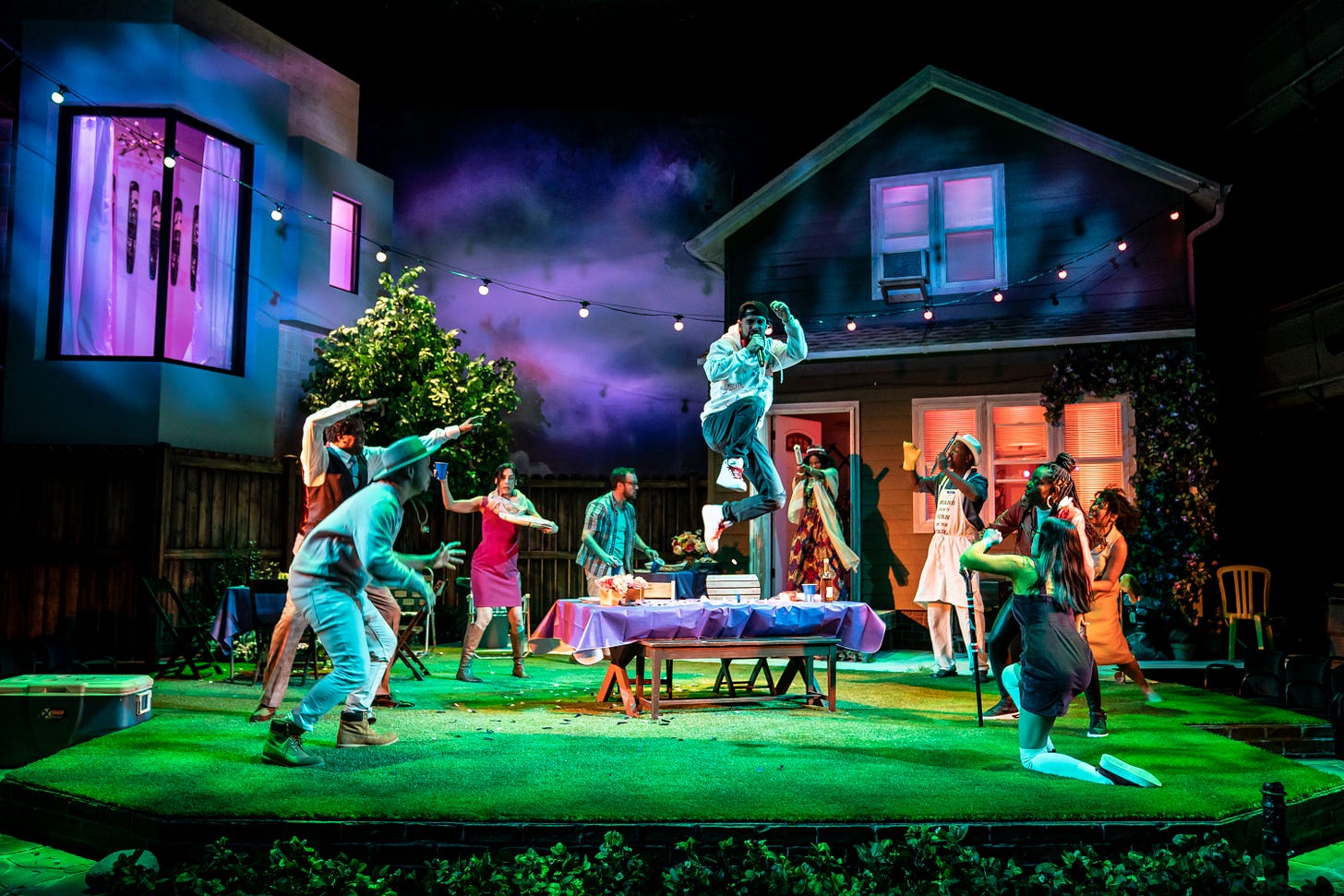 I feel comfortable making an MCU reference because Holter does, too. There's an Endgame joke in Lottery Day's script. There are also lines about this city's politics that feel like direct commentary on last week's mayoral runoff. And they might well be.
One of Holter's most admirable and unusual traits as a playwright is his willingness to place his plays in the moment of their production, at least for their initial stagings. The "two gangs and a crepe shop" line, which I quoted in my review of Exit Strategy in 2014, doesn't appear in the final version of the script that Northwestern University Press published last fall. The Avengers joke works because by the time that movie opens later this month, this production of Lottery Day will be closing. The political references can be aimed directly at the souls of Chicago audiences who voted, or didn't, last week, and revised later if needed. But here they bear a specificity and topicality that theater, at least at a Goodman price point, too rarely does.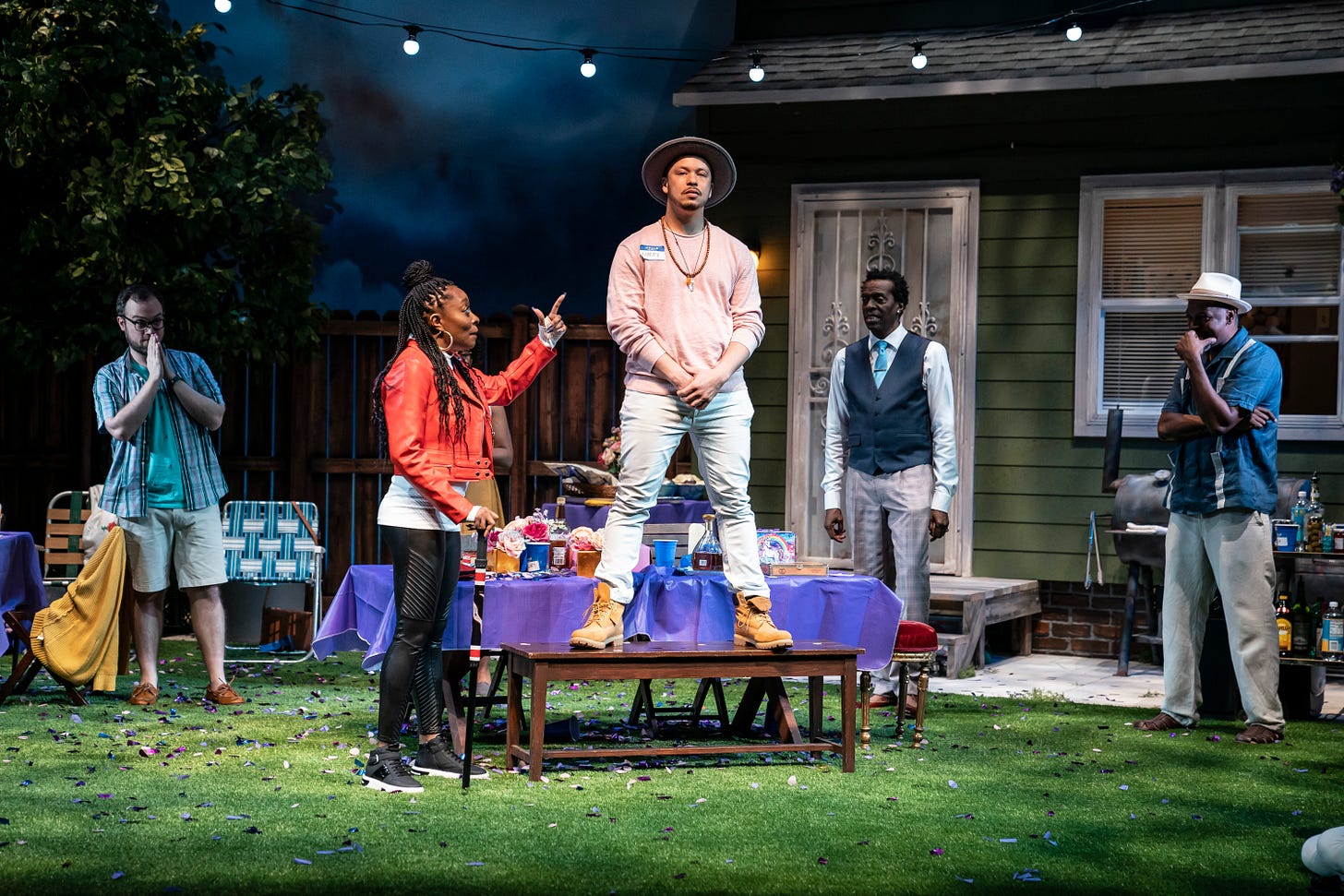 From left: Pat Whalen, Sydney Charles, Tony Santiago, Robert Cornelius and James Vincent Meredith
Luckily, Holter's plotting and characters are strong enough to support the present-tense accoutrements. Lottery Day's central character, Mallory (a massively compelling J. Nicole Brooks), is Rightlynd born-and-raised; her backyard has been a locus of her block's social activity since the house was her parents'.
The block has transformed around her, though, as Arnel Sancianco's set conveys even before the play begins. Butting up to the fence line next door to Mallory's classic Chicago worker's cottage is a new-construction McModern monstrosity. It's the home of Vivian (Michele Vasquez), the face of the new Rightlynd; she makes her living buying older homes in "transitioning" neighborhoods for teardown and replacement, less concerned with the character of the block than its potential property value.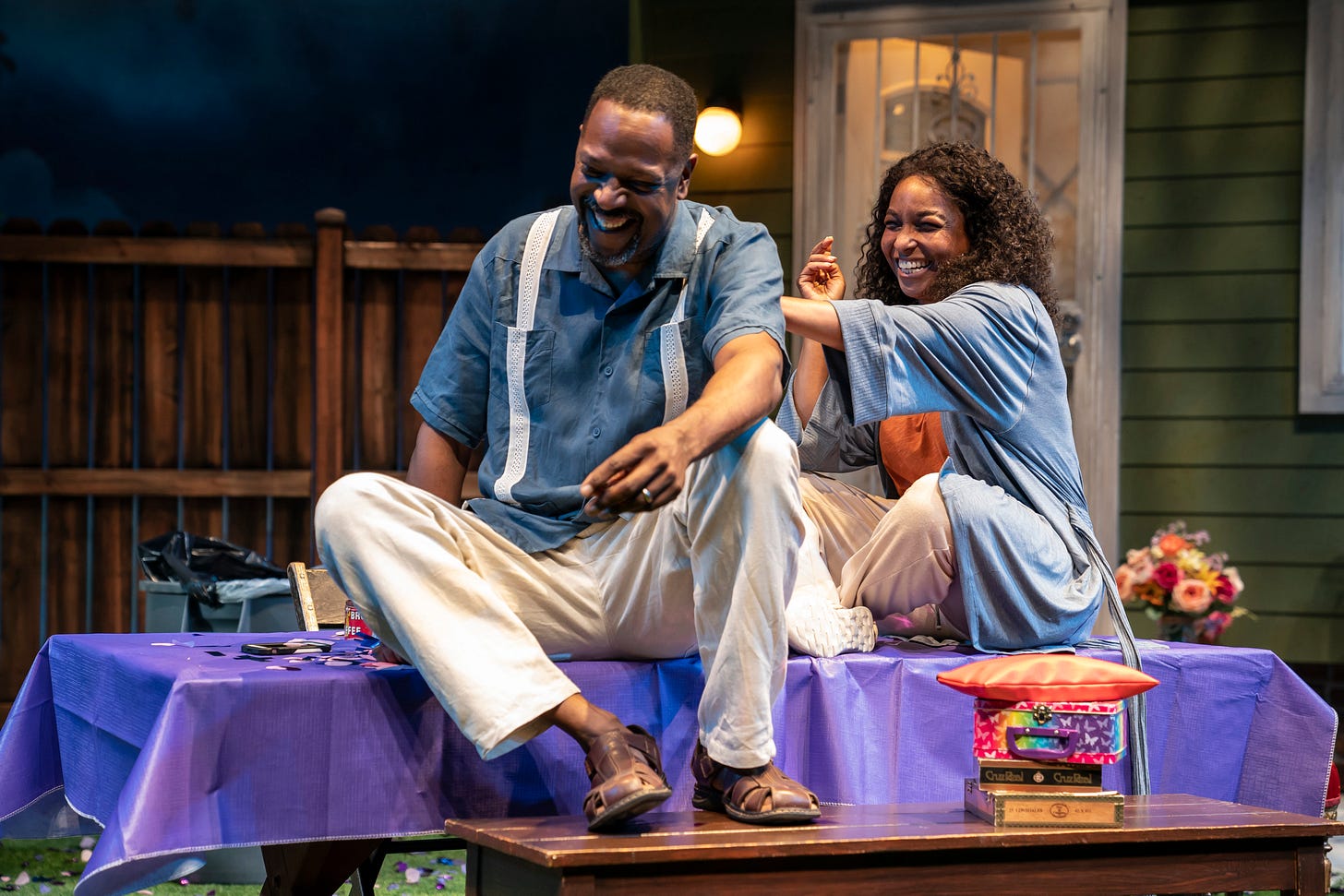 James Vincent Meredith and J. Nicole Brooks
But Mallory has suffered greater tragedies than eyesore architecture. As the play opens, she's preparing for a blowout backyard party to celebrate a new holiday she's invented. Unbeknownst to most of the attendees, the festivities are intended in part to purge some of Mallory's deeply held pain. And to accomplish this, she's willing to pit her guests against one another in a mildly perverse competition for a massive cash prize.
Those guests comprise some Rightlynd lifers, some natives who've moved on, and a couple of newer arrivals. The familiar faces on hand include Ricky (Pat Whalen), the high-strung vice principal who tried to save Exit Strategy's school; Zora (Sydney Charles), one of the crew who undertook vigilante tactics against gang violence in Prowess; and Tori (Aurora Adachi-Winter), the überproficient stage manager of the storefront theater that represented gentrifying artists in Red Rex.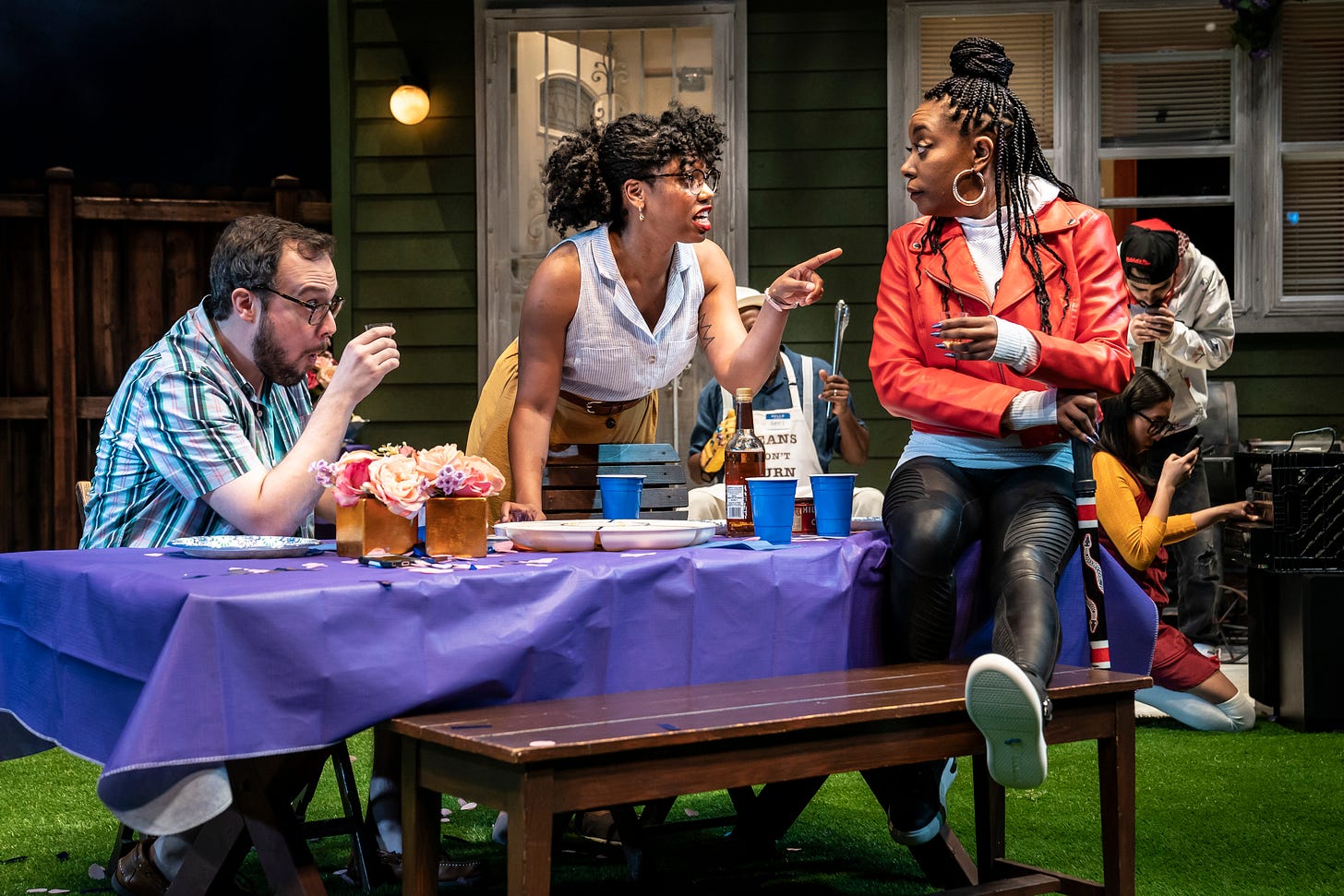 Pat Whalen, McKenzie Chinn and Sydney Charles
Mallory, we come to see, is the social glue that holds this disparate band together. She's helped raise some of these folks, we're told, and has served as de facto community organizer on many occasions; "she runs the block," says Robinson (Robert Cornelius), the car dealer introduced in last fall's Rightlynd. So Mallory's coming unglued comes to stand for old Rightlynd's last stand.
I've written before that there's a danger in Holter's love of indulgently dense, metrically composed speeches, replete with stacks of adjectives and gleeful profanity. My caution was that his characters could begin to sound too alike in their rhythms. But I've mostly come around to accepting his heightened lyricism as a feature, not a bug; to object to Ike Holter plays being crammed with epic reads is as crucial a misunderstanding as complaining that it's unrealistic for characters in musicals to burst into song. And Lili-Anne Brown's staging here—the best work I've seen from a talented director who's also still on the rise—is as carefully orchestrated, and with as many moving parts, as any musical, too.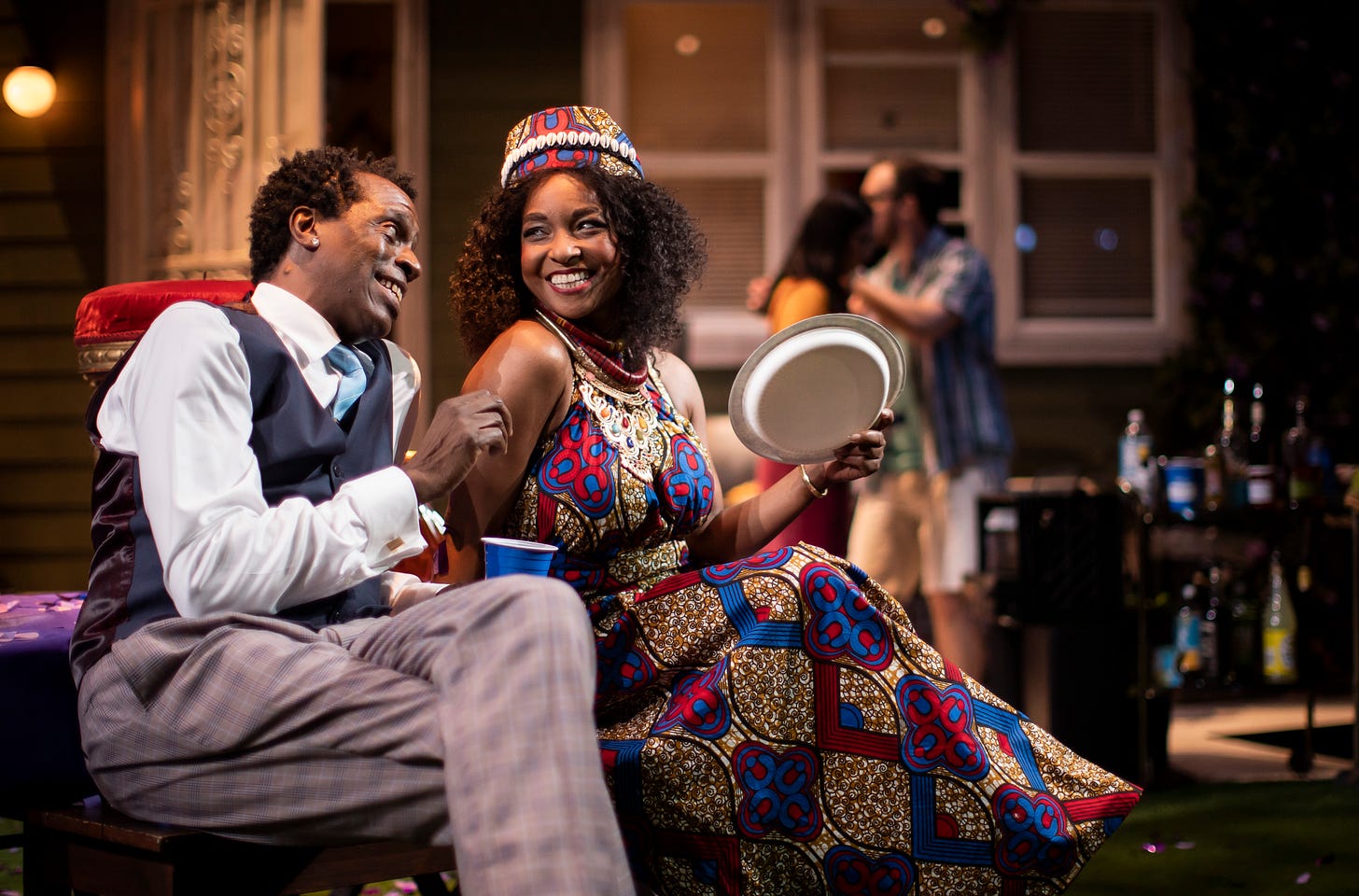 Robert Cornelius and J. Nicole Brooks
Holter is still very early in his career—remarkably so to have completed a project so ambitious and impressive as the Rightlynd Saga. His craft may yet branch off in new directions. But for the last five years, across seven plays at six different theaters, he's said what he needed to say, and what we needed to hear, right in the moment.
"Well, neighborhoods change," Ricky says at one point, the kind of what-can-you-do statement that the people being displaced hear so often in this city. "No. People change neighborhoods," counters a weary Robinson. "There's a difference."
---
Lottery Day
Goodman Theatre (170 N Dearborn St). By Ike Holter. Directed by Lili-Anne Brown.
Cast: Aurora Adachi-Winter (Tori), J. Nicole Brooks (Mallory), Sydney Charles (Zora), McKenzie Chinn (Cassandra), Robert Cornelius (Robinson), James Vincent Meredith (Avery), Tommy Rivera-Vega (Ezekiel), Tony Santiago (Nunley), Michele Vazquez (Vivian), Pat Whalen (Ricky).
Designers: Arnel Sancianco (scenic), Samantha C. Jones (costumes), Jason Lynch (lighting), Andre Pluess (sound). Dramaturg: Kendra Miller. Assistant director: Breon Arzell.
Running time: 2 hours 15 minutes; one intermission. Through April 28. Tickets ($15–$49) at goodmantheatre.org.
Photographs by Liz Lauren
---
Thanks for being an early Storefront Rebellion paid subscriber!
If someone forwarded you this email, and you'd like to support independent, ad-free coverage of Chicago theater, you can sign up as a subscriber right now:
Send your feedback and tips to kris@krisvire.com.