Discover more from Storefront Rebellion
Reviews and commentary about theater in Chicago from critic Kris Vire.
SR review: "Midsummer (A Play with Songs)"
David Greig's inventive, booze-soaked rom-com overflows with charm at the Greenhouse
Theater review by Kris Vire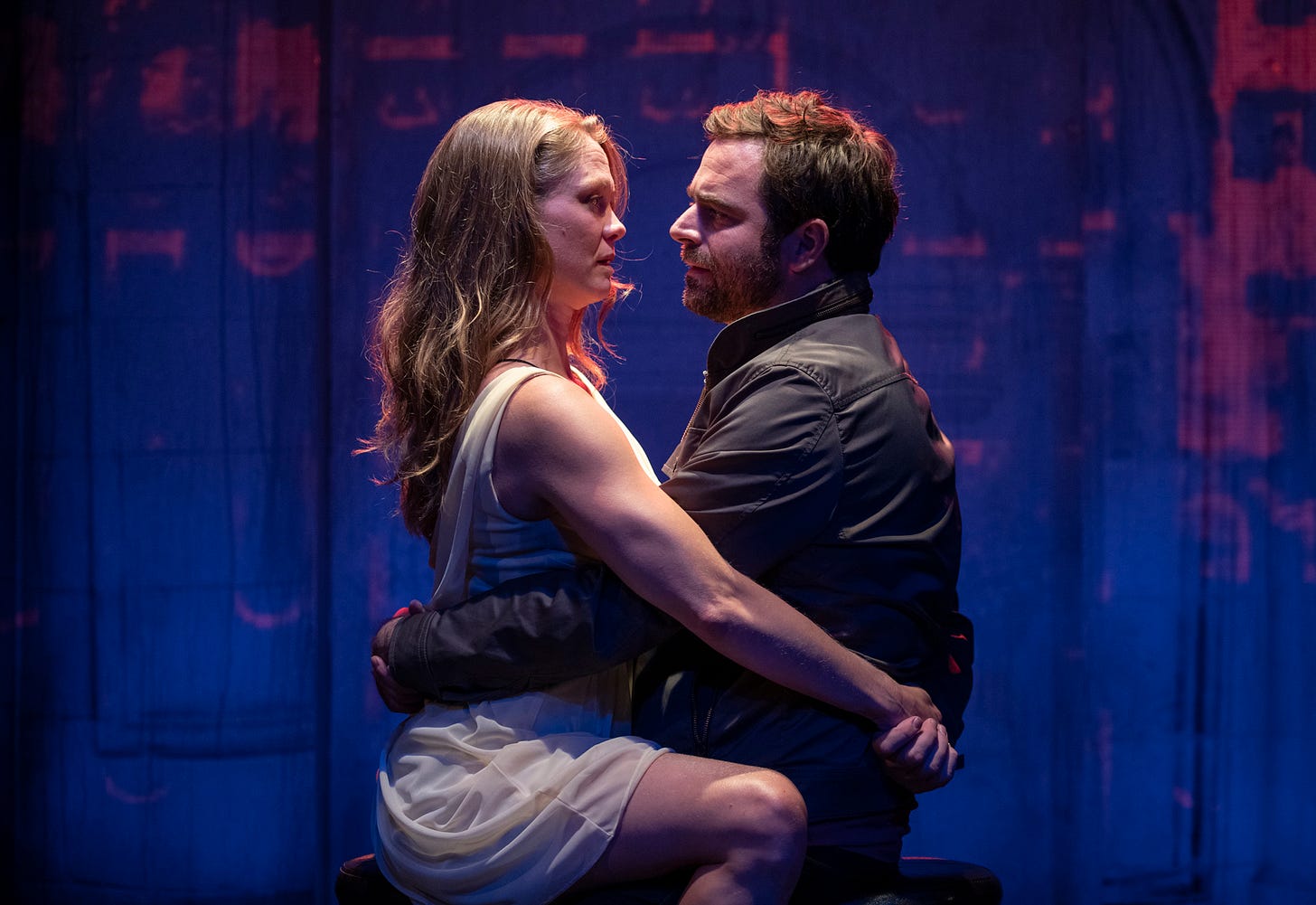 Playful, roguish, hopeful, and thoroughly romantic (even as its leading characters insist it's not), Midsummer (A Play with Songs) is everything that Patrick Mulvey and Chaon Cross's previous project was not. The two actors were onstage together last spring at Court Theatre, in David Auburn's why-are-we-doing-this-now adaptation of Saul Bellow's Midcentury Man novel The Adventures of Augie March, an affair that seemed to underline its importance without convincing the audience of it.
Still, Cross and Mulvey displayed a palpable chemistry, so it's gratifying to see them get to re-deploy it in a piece less weighed down by its own gravity. Midsummer is by David Greig, a Scottish playwright whose highest-profile stagings in Chicago have been touring productions by the National Theatre of Scotland, imported by Chicago Shakespeare Theater. For Greig's modern folk tale with music, The Strange Undoing of Prudencia Hart, CST turned its Upstairs Theater into an immersive pub in 2012; three years later, Greig's cheeky Macbeth sequel Dunsinane was seen at Navy Pier.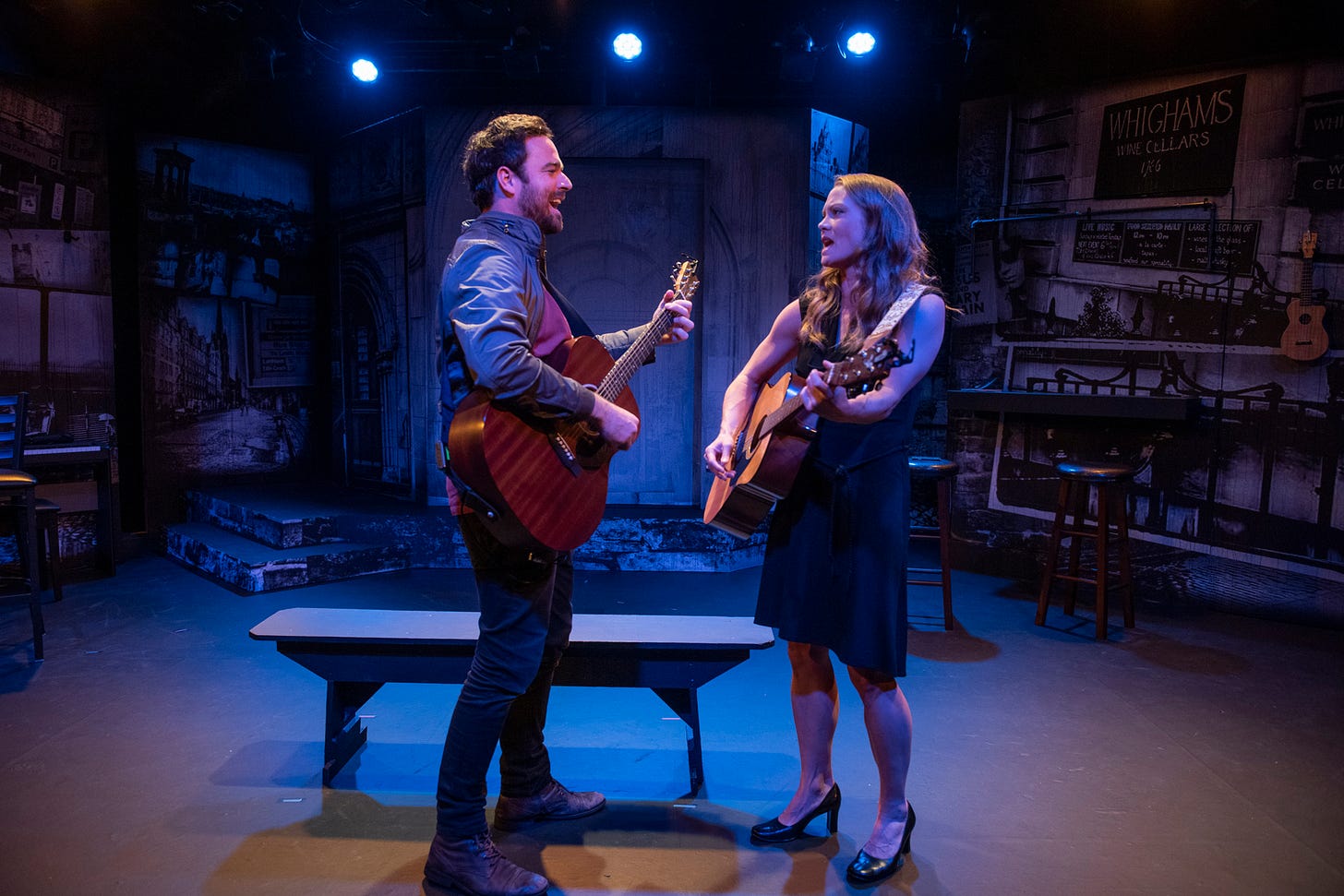 Midsummer, which predates both of those plays but is a Chicago premiere at the Greenhouse, is closer in tone and form to the rip-roaring Prudencia Hart. Here, Cross and Mulvey play Helena and Bob, two Edinburgh sad sacks who meet by chance at a low moment for both and decide to make the best of it. 
Bob, a low-level thief still nursing dreams of rock stardom at 35, and Helena, a jaded divorce lawyer being strung along by a married man, get blind drunk, have a shag and figure they'll never see each other again.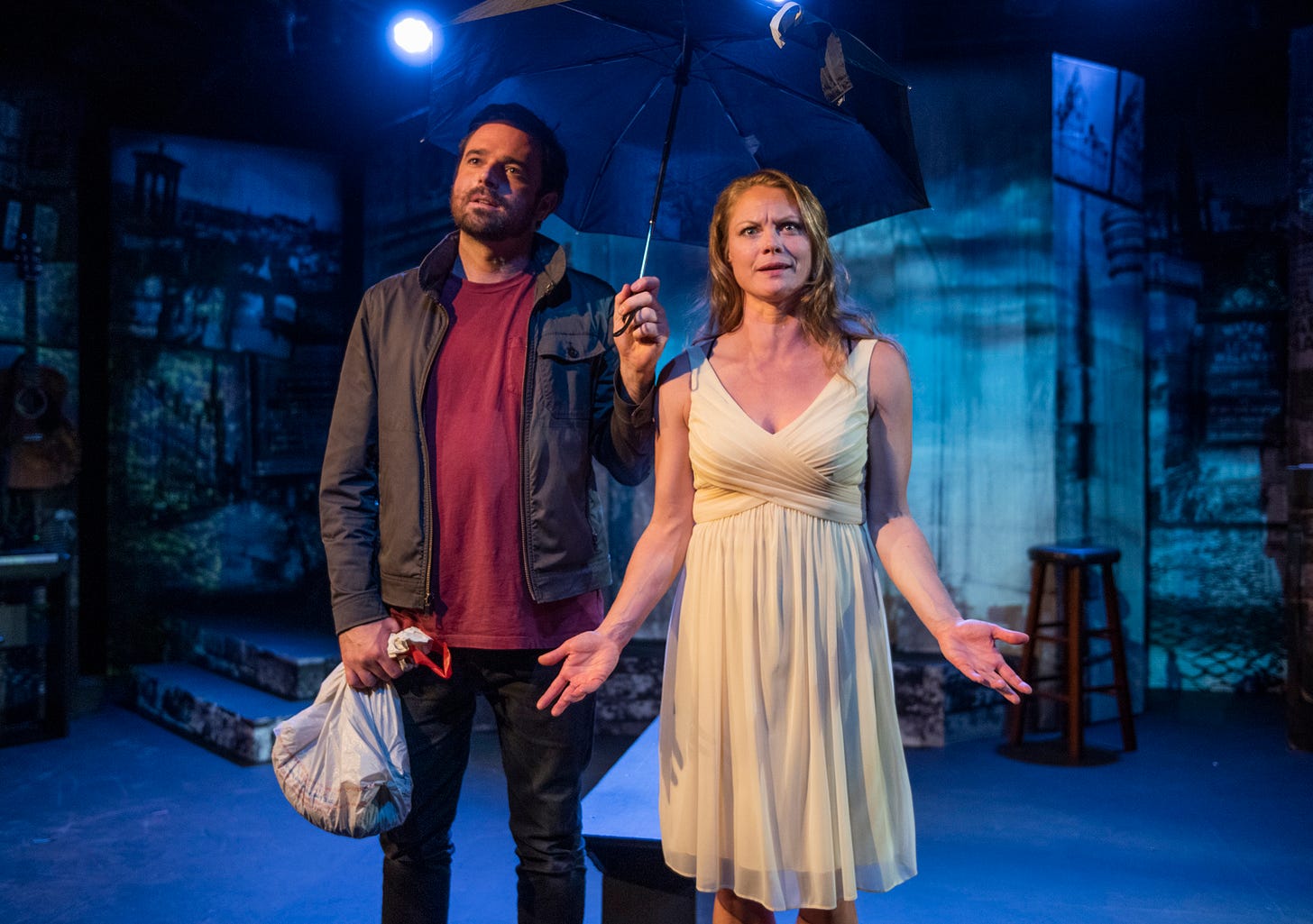 But as circumstance (and these types of stories) would have it, their intended one-night stand turns into a "legendary lost weekend," marked with stolen cash, a botched bridesmaid outing, and an extended adventure featuring teenage goths, bondage night at a sex club, and a nailbiting escape from a dangerous wee gangster.
The play is also scattered, as its full title indicates, with song breaks: erudite, lovesick ditties by Scottish songwriter Gordon McIntyre that recall the tunes of Balboy, the indie-darling band he fronted in the aughts. Mulvey and Cross accompany themselves on guitar, ukulele, keyboard and more for these recurring themes that punctuate the frenetic action.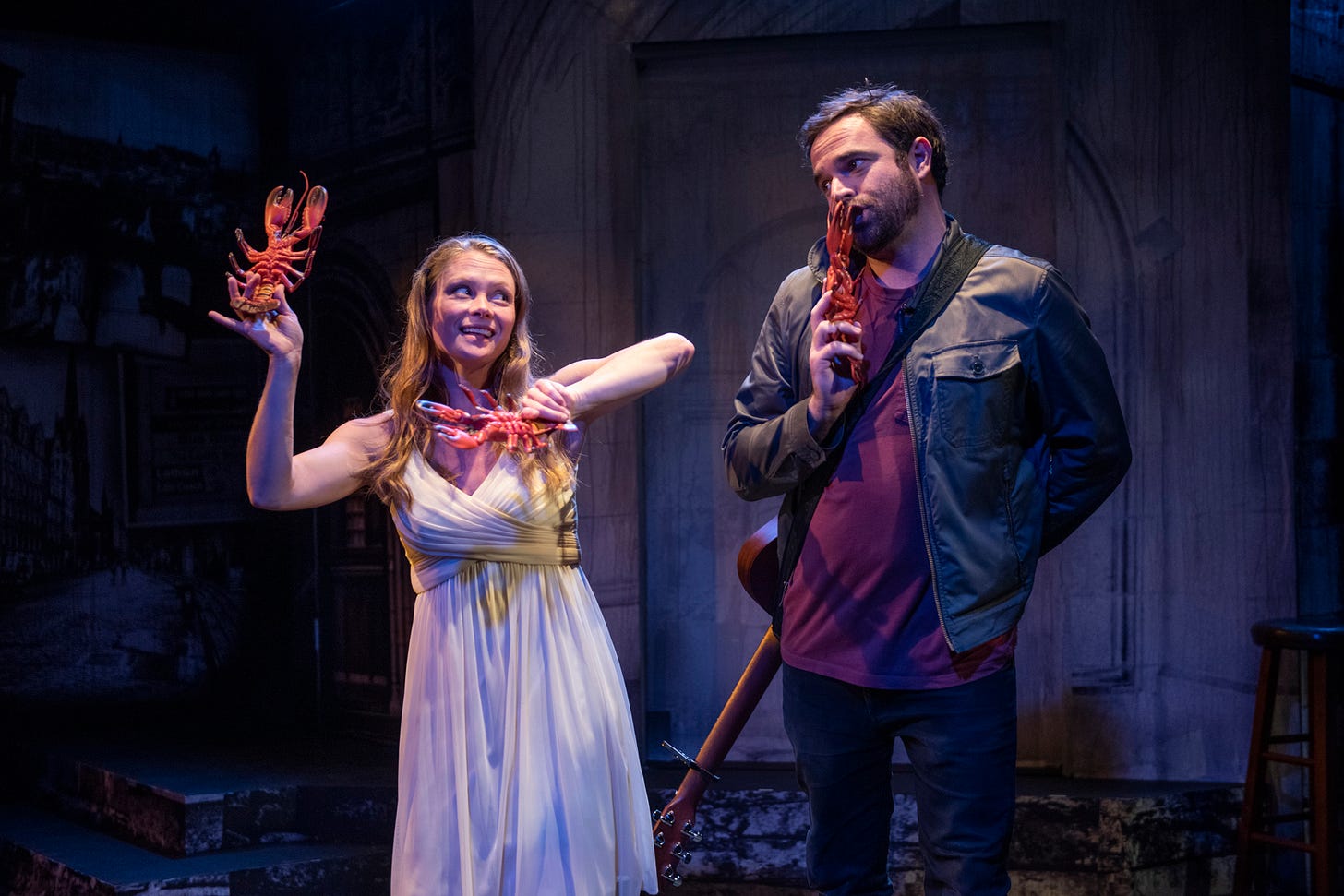 The actors also split Greig's shared narration, which frequently shifts between first– and third-person and also favors retelling episodes in the story (like the moment of Bob and Helena's initial meeting, and who said what) from multiple perspectives. A program note suggests that Greig's script doesn't indicate who speaks what line, leaving the shape of the play largely up to the director and actors. 
In this case, director Randy White and his cast deliver an exuberant, grown-up good time with an exaggerated sense of the wonder that's inherent in every instance two humans manage to connect despite the odds. Comparisons to Once may be inevitable, but I was reminded of another quirky film about the magic in opening up to the possibility of change: Midsummer is an L.A. Story for Edinburgh.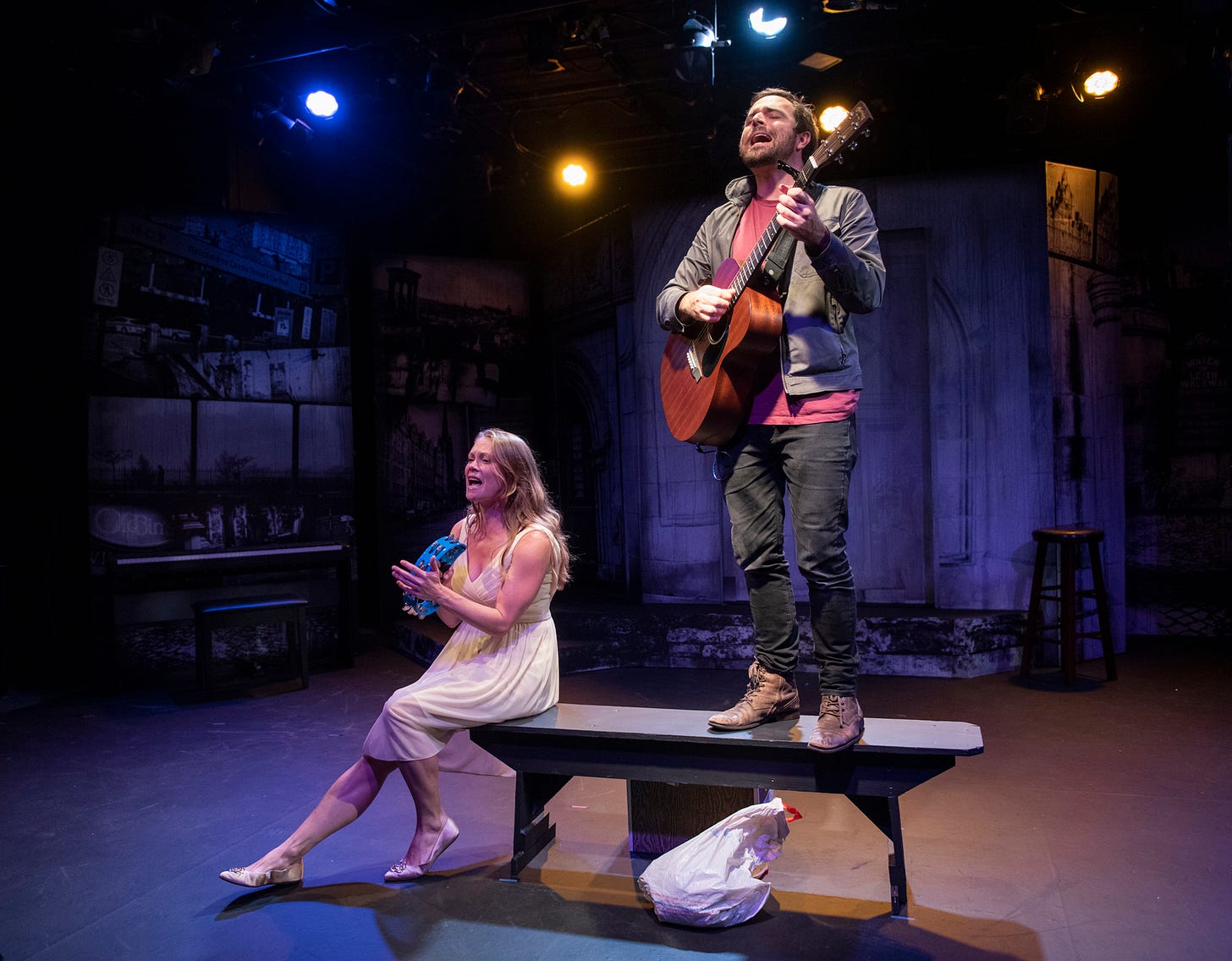 ---
Midsummer (A Play with Songs)
Greenhouse Theater Center (2257 N Lincoln Ave). By David Greig. Music by Gordon McIntyre. Directed by Randy White. Music direction by Jeremy Gentry.
Cast: Chaon Cross (Helena), Patrick Mulvey (Bob).
Designers: Mark F. Smith (scenic), Ellen Mackay (costumes), Brandon Wardell (lighting), Anthony Churchill (sound/projections). Stage manager: Andrew Hatcher.
Running time: 1 hour 35 minutes; no intermission. Through October 6. Tickets ($20–$25) at greenhousetheater.org.
Photographs by Michael Brosilow.
---
Thanks for being a Storefront Rebellion paid subscriber!
If someone forwarded you this email, and you'd like to support independent, ad-free coverage of Chicago theater, you can sign up as a subscriber right now:
Send your feedback and tips to kris@krisvire.com.