SR review: "Non-Player Character" at Red Theater Chicago
Walt McGough's take on video-game culture has lots of clever touches, but the final boss is (so far) impossible to beat
Theater review by Kris Vire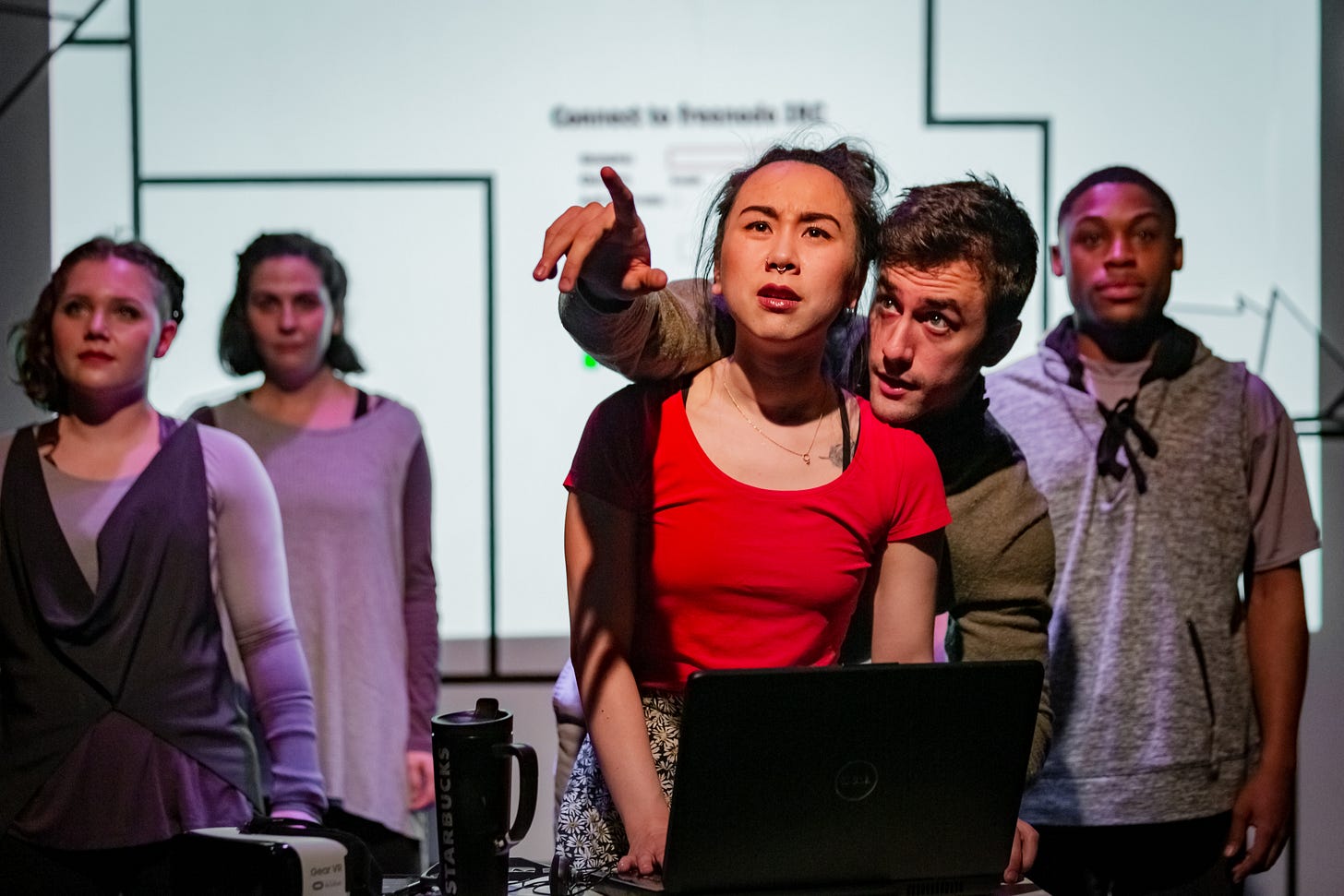 Walt McGough's dramatic treatment of #Gamergate is a worthy primer on that particular flavor of toxic masculinity. And in Beth Wolf's staging for Red Theater, it's packed with clever touches for the video-game astute. Unfortunately, McGough isn't able to bring this narrative to a satisfying conclusion—but then again, we as a society haven't managed that, either.
Katja (Alice Wu), a lifelong video gamer and aspiring developer, is working on an immersive virtual-reality worldbuilding game, and she's gotten some interest from some well-connected dudes she's met at networking events in Seattle, where she's working a day job at Starbucks. Katja relays this promising news to Trent (Matthew Schnitker), a childhood friend back home on the East Coast, with whom she maintains a weekly online date playing Spearlight, their favorite MMORPG (or massively multiplayer online role playing game—think World of Warcraft and such).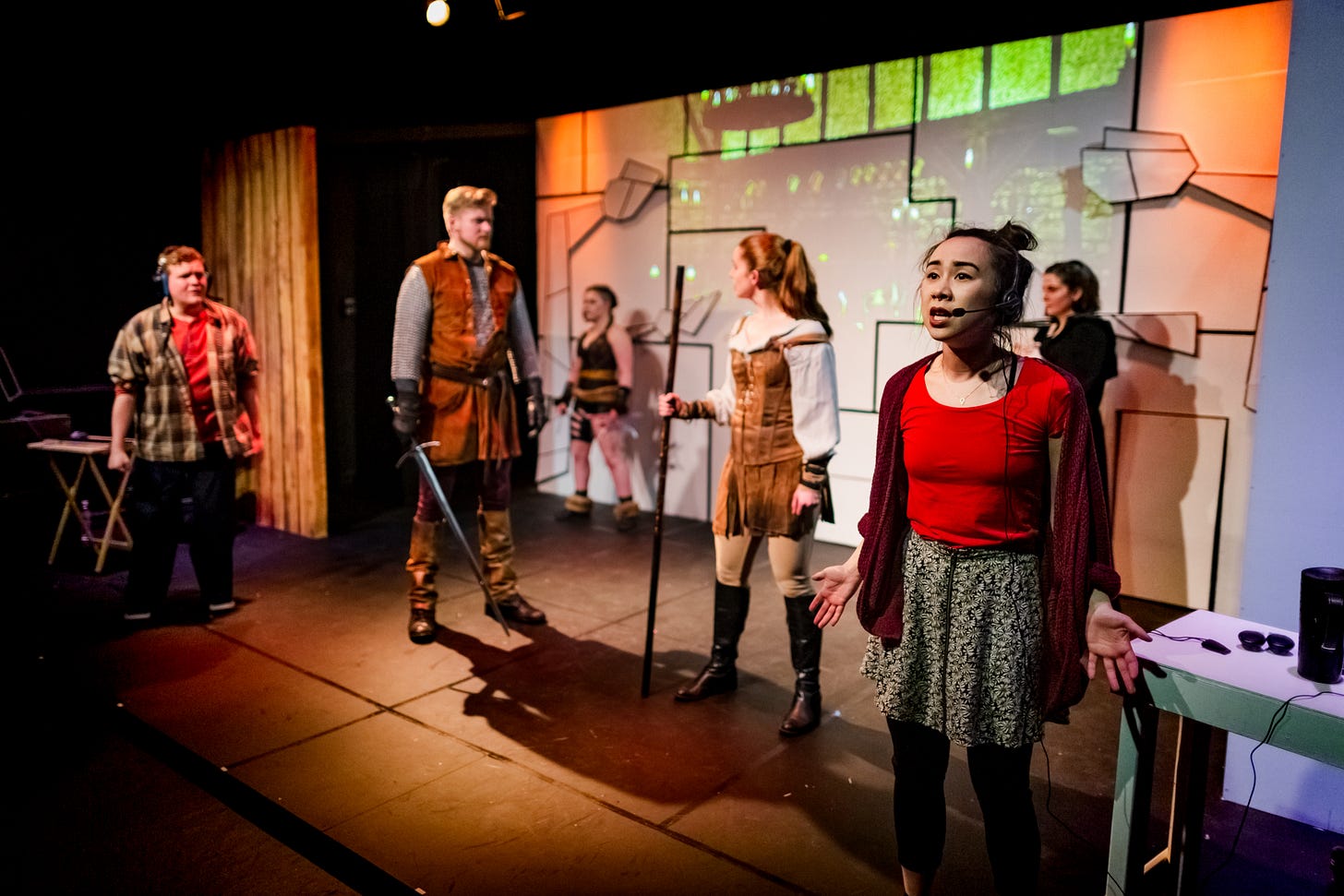 Where Katja is trying to make things happen for herself, Trent is a little stuck—living back home with his parents, having little luck finding a job, and feeling abandoned by his friends, Katja included. When he mentions he's been making online friends in the forums at "10click" (clearly McGough's stand-in for 4chan and the like), it's a red flag that Katja waves off. When one of those friends shows up, in-game, to join their Spearlight avatars' adventuring party, he (or his online persona) is everything you'd expect: an embodiment of crass, macho posturing and resentments.
When Trent's friend, who goes by "Feldrick" (Trevor Strahan), blames Katja for causing their party to get killed in a tough battle, he dares her to prove her fighting prowess by attacking a non-player character—a female innkeeper controlled not by any player but by the game, as part of its storytelling architecture. Katja protests that the game won't let her kill an NPC; Feldrick sets out to prove her wrong, but she's semi-right—the NPC acknowledges the attack, begs for mercy, and falls down, before resetting and returning to status quo. So Feldrick takes the character out, over and over again, in a disturbing demonstration of virtual violence against women.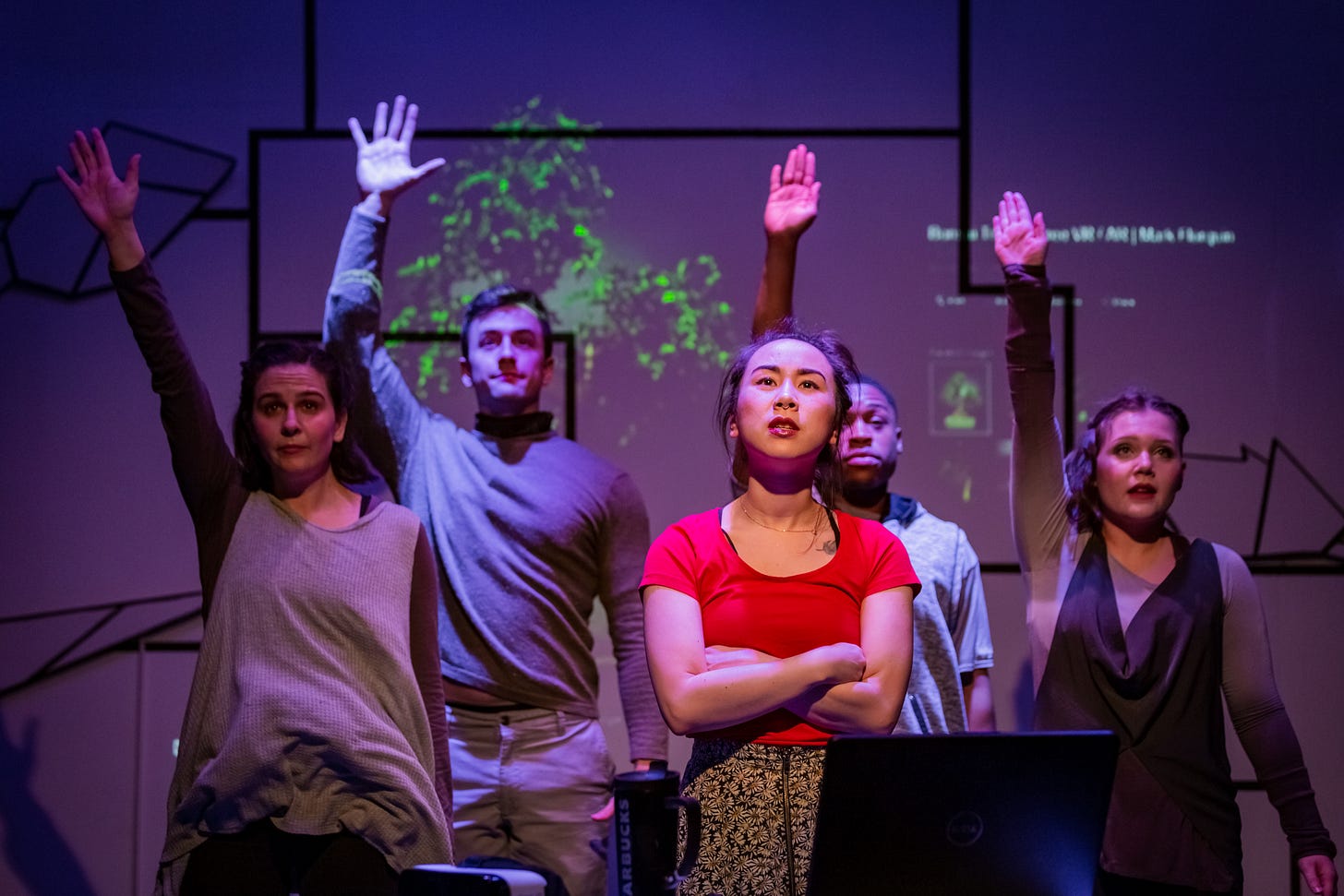 Both McGough's script and Wolf's staging are at their best in depicting these in-game experiences. Wolf sets Wu and Schnitker at opposite edges of the stage at their respective computer desks, while the Spearlight action plays out in a larger field between them. In an apparent departure from previous productions of Non-Player Character, separate actors portray Katja and Trent's in-game avatars, Aria (Tracey Green) and Caspar (Michael Saubert).
As their controllers speak to each other over their headsets, Aria and Caspar frequently double Katja and Trent's dialogue—all while maintaining their medieval-ish warrior bearings. The mirroring effect is a terrific shorthand for the overlapping of these online and IRL worlds. It also helps that Green, Saubert, Strahan and Abigail Lafont (as a fourth Spearlight avatar) are highly skilled actor-combatants, impressively executing Maureen Yasko and Chris Smith's battles in the tight space of the Auditorium Theatre's first-floor studio stage. (One other very nice touch that must also be a hell of workout for these actors: They perfectly capture the perpetual-motion swaying of video-game characters' "idle animations.")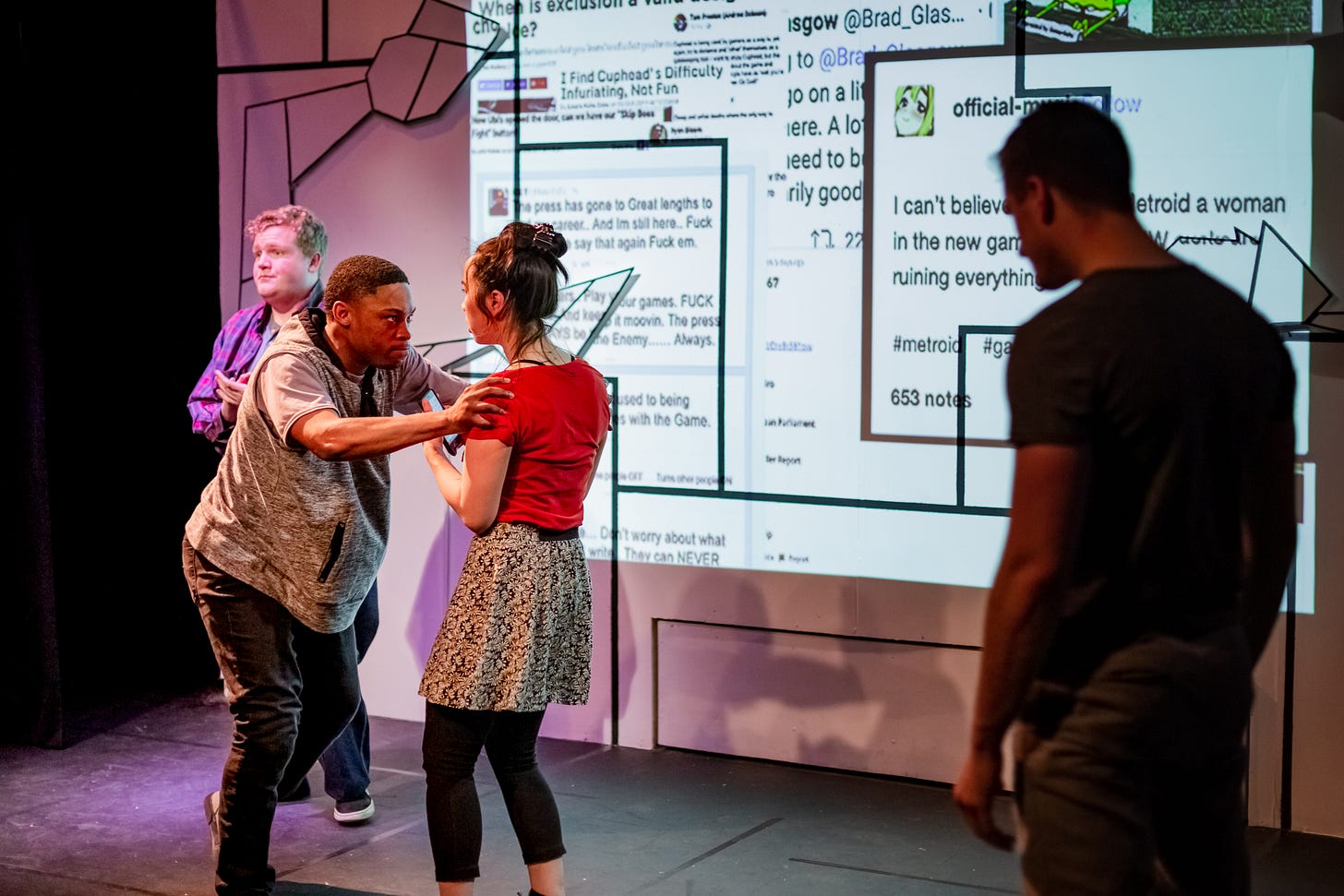 Inevitably, at the play's midpoint, Trent declares his love for Katja, and finds it unrequited. Poisoned with entitlement and resentment by Feldrick and the 10click world, Trent responds by taking to YouTube and Reddit, posting selections from their years of private chat logs and attempting to paint Katja as a harpy using her feminine wiles to get ahead in the gaming world.
This, of course, is straight from the IRL playbook of #Gamergate, a coordinated campaign of harassment, defamation and doxxing of women in the gaming industry, whose male perpetrators notoriously hide behind bad-faith arguments about "ethics in gaming journalism" and other such BS. And the latter half of McGough's work essentially dramatizes Katja's experience of the kind of harassment and trolling that real-life targets of that "movement" continue to face.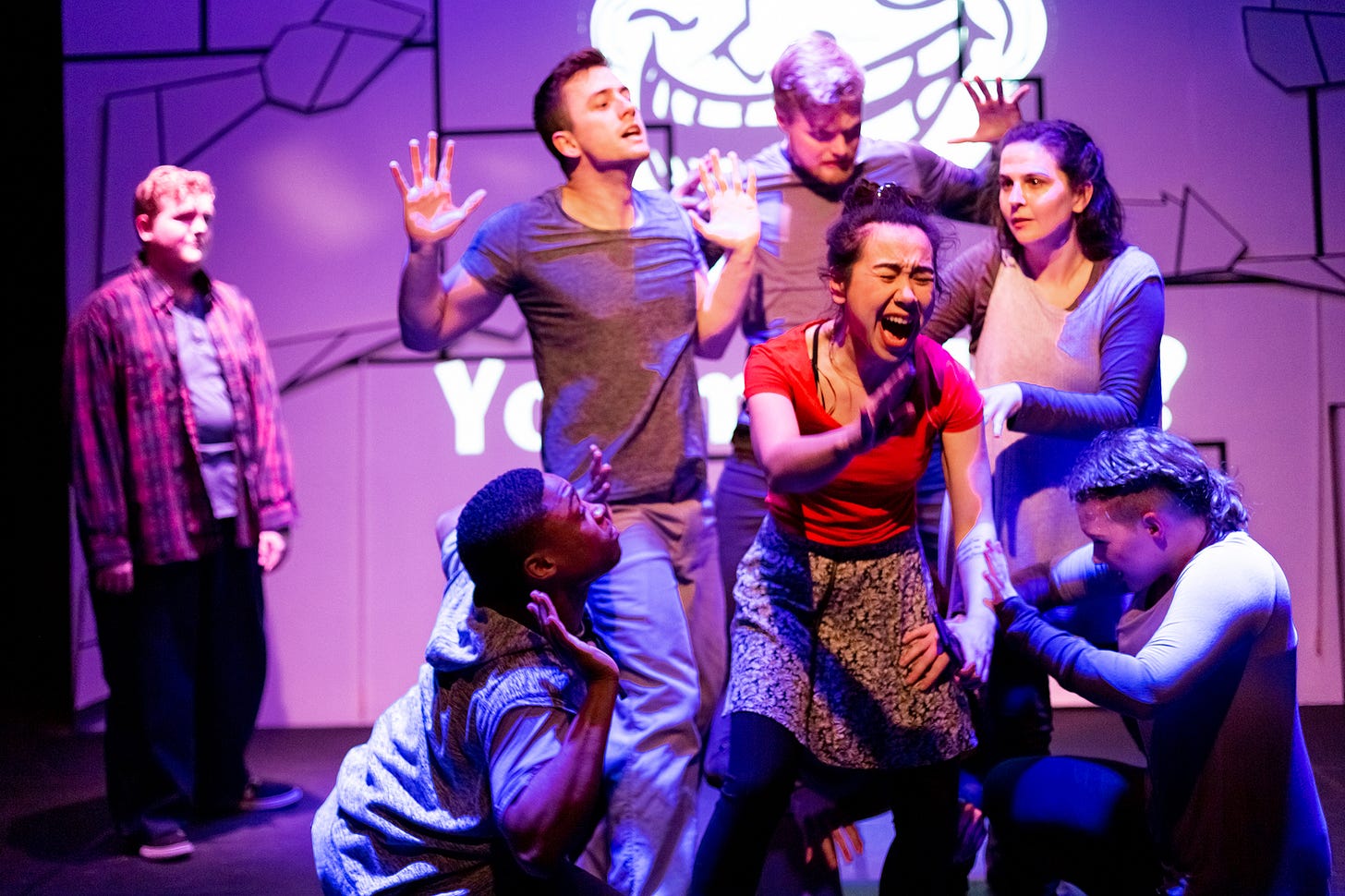 And it's here that Non-Player Character starts to feel like a slog, as Katja gets caught in a spiral of social-media abuse, menacing phone calls and online intimidation tactics that don't quite rise to the level of real threats in the eyes of the police. All of that is all too real, but I'm not sure putting it on stage accomplishes much other than being potentially triggering for some members of the audience. Katja's story eventually peters out with little in the way of resolution.
There's much to recommend in Red Theater's production, and McGough's instincts in telling this story feel admirable. It's not his fault that we haven't yet found the cheat codes we need to defeat this game's big bosses.
---
Non-Player Character
Red Theater Chicago at Athenaeum Theatre (2936 N Southport Ave). By Walt McGough. Directed by Beth Wolf.
Cast: Alice Wu (Katja), Matthew Schnitker (Trent), Michael Saubert (Caspar), Tracey Green (Aria), Trevor Strahan (Feldrick), Dre Marquis (Grant/Farmer Jenkins), Abigail Lafont (Morwyn/Officer), Margaret Kellas (Naomi/Crone/Voice of Spearlight).
Designers: Chas Mathieu (scenic/props), Sanja Manakoski (costumes), Marissa Geocaris (lighting), Stefanie M. Senior (sound), Maureen Yasko and Chris Smith (fight choreography/movement coaching). Dramaturg: Wyatt Kent. Assistant Director: Clare Brennan.
Running time: 1 hour 30 minutes; no intermission. Through May 18. Tickets ($22, students $17) at redtheater.org.
Photographs by James Murphy/Trainman Photography
---
Thanks for being a Storefront Rebellion paid subscriber!
If someone forwarded you this email, and you'd like to support independent, ad-free coverage of Chicago theater, you can sign up as a subscriber right now:
Send your feedback and tips to kris@krisvire.com.