Tearrance Arvelle Chisholm's satire skewers pop-cultural appropriation in a deft and dazzling Jackalope Theatre production
Theater review by Kris Vire
Tevion Devin Lanier, Garrett Young and Eric Gerard in P.Y.G.
Some years back, I opened my glowing review of Sigrid Gilmer's satire Harry & the Thief by calling it "the MTV's The Real World of Harriet Tubman comedies." (R.I.P., Pavement Group.)
So let's try this on for size: Tearrance Arvelle Chisholm's P.Y.G. or The Mis-Edumacation of Dorian Belle is the Harry & the Thief of The Real World satires. Okay, fine, that's not the kind of blurb that would sell a lot of tickets in a Jackalope e-blast. But I stand by it, as P.Y.G. checks all of the following boxes:
It is, among other things, an astute parody of the reality-show formula that MTV pioneered, confessional-room asides and all;

It's a raucous, irreverent but well-informed satire of the current pop-cultural conversation around race that gleefully colors outside the lines of polite theater;

It's blessed here with a remarkably committed cast and an inventive, ideally matched director.
Chisholm's conceit: Dorian Belle (Garrett Young), a young white pop star from Toronto (and a very thinly veiled avatar for Justin Bieber), has decided he's ready to add some edge to his Non-Threatening Boys Magazine image. His management and the programmers at "NTV" pair him with Petty Young Goons, a "bad-boy" hip-hop duo from Chicago (or…thereabouts) for a Real World–style reality show. In front of the ever-present cameras, P.Y.G. will make Dorian presentable for a new audience—not by sanding down his nonexistent rough spots but by teaching Dorian, in his own tone-deaf words, "how to be black."
Eric Gerard in P.Y.G.
P.Y.G.'s members, the hard-edged Blacky Blackerson (Eric Gerard) and cerebral Alexand Da Great (Tevion Devin Lanier), are quick to shut that suggestion down. But on some level, they both suspect that's a part of what they've been hired to do: to lend a veneer of authenticity to an act of cultural tourism.
Yet Dorian insists his love of hip-hop is genuine, and Black, to his own surprise, finds himself starting to be won over—by Dorian, by the money, by the proximity to fame, and by access to the trappings of whiteness (skiing! arugula!).
Thus proceeds an examination of pop-cultural appropriation that's sometimes brash, sometimes nuanced, and often unexpectedly disconcerting. A fraught series of exchanges about the connotations and complications of the N-word, for example, eventually results in Black adopting a buzzer from the board game Taboo to use in place of speaking it himself.
Eric Gerard, Garrett Young and Tevion Devin Lanier in P.Y.G.
Chisholm embraces the reality-TV frame to the point of interspersing commercial-break parodies reflecting the "woke" economy, represented in Lili-Anne Brown's sharp staging by video interstitials that add another dozen or so Chicago-fave actors to the three talents onstage.
Both Chisholm's commentary and Jackalope's production are so savvy and so engaged with the broader cultural moment that P.Y.G. is the kind of theater you want to bring non-theater people to see. That's why I'm making this review free for everyone to read and share. Because I want you to see P.Y.G. and I want you to bring someone who doesn't think they like theater. Let's start a Mis-Edumacation campaign.
---
P.Y.G. or The Mis-Edumacation of Dorian Belle
Jackalope Theatre at Broadway Armory Park (5917 N Broadway). By Tearrance Arvelle Chisholm. Directed by Lili-Anne Brown.
Cast: Tevion Devin Lanier (Alexand Da Great), Eric Gerard (Blacky Blackerson), Garrett Young (Dorian Belle).
Designers: Lauren M. Nichols (scenic), Stefani Azores-Gococo (costumes), Jared Gooding (lighting), Paul Deziel (projections), Emily Hartig (props), Aaron Stephenson (sound and original music). Assistant director: Kirby Gibson. Casting director: Catherine Miller. Stage manager: Devonte E. Washington.
Running time: 1 hour 40 minutes; no intermission. Through December 21. Tickets ($10–$35) at jackalopetheatre.org.
Photographs by Reed Carson.
---
Paid supporters of Storefront Rebellion have received two additional reviews from me this week.
Martasia Jones and Shariba Rivers in Hoodoo Love. Photograph: Michael Brosilow
Hoodoo Love at Raven Theatre: Director Wardell Julius Clark and an able cast work some Memphis magic with this early piece from playwright Katori Hall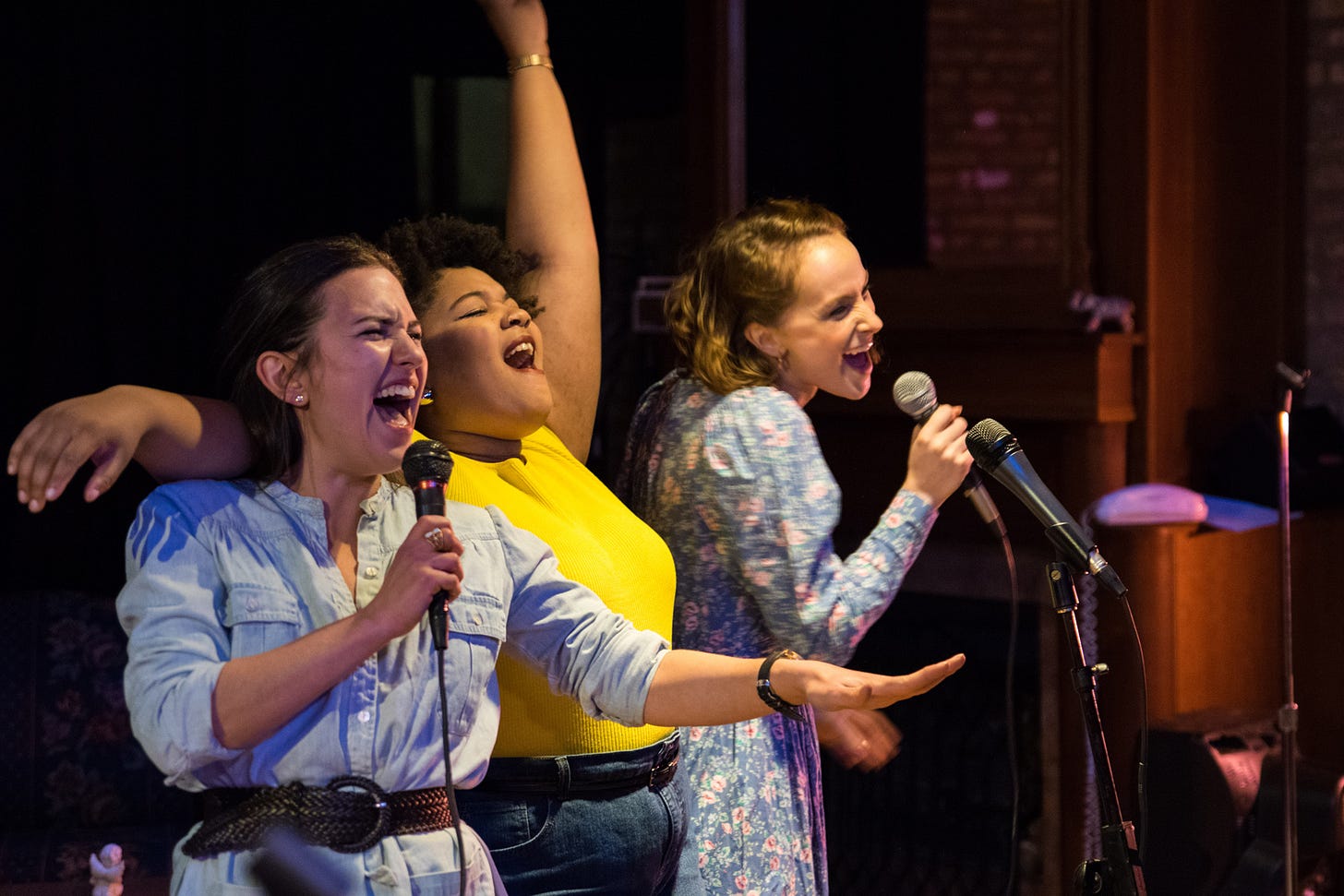 Kelly Combs, Lena Dudley and Charlie Irving in My Life Is a Country Song. Photograph: Joseph Ramski Photography
My Life Is a Country Song at New American Folk Theatre: The heartache's right but the songs are wrong in this lightly sketched concert-musical hybrid
---
Questions or feedback for me? Reply to this email, or if you're reading this on the web, hit me at kris@krisvire.com or find me on Twitter @krisvire. You can also leave public comments on the web version of the newsletter; click the headline above or the links at the bottom of this post.