Step inside a snapshot of pre-Stonewall city life with an engaging revival of this landmark gay drama
Theater review by Kris Vire
(Standing, from left) Denzel Tsopnang, William Marquez, James Lee and Jackson Evans in The Boys in the Band
Here's a fact I have a hard time wrapping my head around: The original, 1,001-performance Off Broadway run of The Boys in the Band was almost perfectly bisected by the Stonewall riots.
Mart Crowley's landmark gay drama opened in April 1968 and became a commercial hit, running until September 1970. Midway through that run, the gay liberation movement was accelerated overnight—the night of June 27, 1969, to be precise—by a police raid on the Stonewall Inn. In a way, Boys went from contemporary drama to period piece that same night, a snapshot of gay life in the Before Stonewall era.
But as proven by Windy City Playhouse's engaging new revival—apparently the play's first Chicago production since About Face Theatre staged it in 1997—there are compelling reasons to keep old snapshots around, so future generations have a window, even a narrow one, into the life their predecessors lived.
William Marquez, Kyle Patrick, Sam Bell-Gurwitz and Denzel Tsopnang
Crowley's plot centers on a birthday party being hosted by Michael (Jackson Evans), who seems to manage his self-loathing by spending beyond his means, for Harold (Sam Bell-Gurwitz), who's insecure about his looks and his advanced age (he's turning 32). Also in attendance are Donald (Jordan Dell Harris), Michael's confidante and conscience; Hank (Ryan Reilly) and Larry (James Lee), a new couple still negotiating the boundaries of their relationship; Bernard (Denzel Tsopnang), a dapper charmer who's all too aware he's the group's only Black member; and the effusively effiminate Emory (William Marquez), who's bought Harold a birthday present in the form of a prettyboy hustler (Kyle Patrick).
It's all good, bitchy fun for a while; the various intragroup tensions (and there are plenty) manifest in craftily catty remarks pitched back and forth over cocktails. Crowley's bon mots don't quite make him the Oscar Wilde of the 1960s, but he has a way with a campy insult (or skillfully redeploys those he's picked up from others).
But then a sharp outside stressor arrives in the form of Alan (Christian Edwin Cook), Michael's ostensibly straight college chum who shows up, unexpected and nearly unannounced, just as four of the boys are rehashing an old dance routine. The air goes still as the gay men clock the presence of a stranger in their midst. As Crowley's dialogue sometimes clunkily spells out for the presumed benefit of '68 straights, vice cops of the time regularly raided gay bars and ran sting operations at bathhouses, and being arrested for simply congregating was a real potential threat.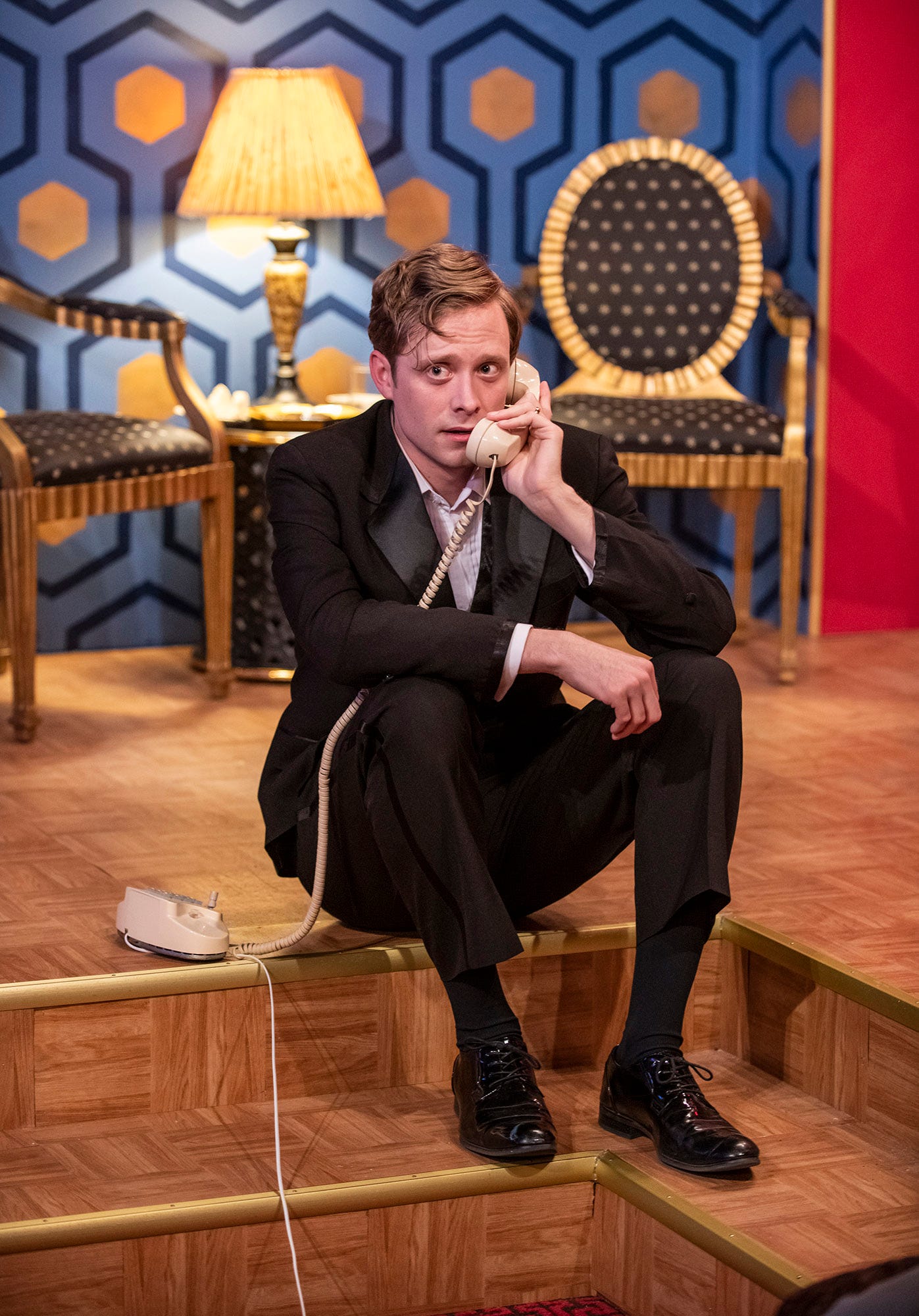 Christian Edwin Cook
The presence of Alan, who's come to seek advice from Michael about some never-explained trouble with his marriage, unnerves everyone—most of all Michael, who had pledged not to drink but starts refilling his glass with straight gin instead of club soda. Alan, struggling with untold internal conflict over having found himself among a group of avowed homosexuals, physically attacks Emory, the greatest threat to his sense of masculinity. And in the aftermath, Michael—now in full Mean Drunk mode—initiates an ad hoc party game designed to immiserate his so-called friends.
(Boys owes a clear and clearly acknowledged debt to Who's Afraid of Virginia Woolf?, which premiered just six years earlier. The heavily soused party with a game of "get the guests" because misery loves company? All lovingly borrowed from Albee.)
In keeping with Windy City Playhouse's recent affinity for immersive stagings, director Carl Menninger's production places the audience inside Michael's apartment, seated on benches built into the outer walls and inside the sunken conversation pit at the center of the room.
William Boles's set magically accommodates the extra space this requires without making the apartment feel ridiculously cavernous (though we are meant to intuit that Michael can't afford his rent). To make us feel even more like part of the festivities, bartenders periodically bring around trays of drinks and hors d'oeuvres without interrupting the action. (If the ticket prices feel a little steep, know that they include a light bite and two rounds of cocktails.)
The cast is generally terrific, with extra points to Evans for keeping Michael sympathetic even at his worst moments, and to Harris for infusing interest into a character who's written as a bit of a cipher.
If anyone stands out in the wrong way, it's Bell-Gurwitz's Harold, an outside observer at his own party who speaks entirely in proclamations. But that's not the actor's fault; I think it's baked into the writing. Tony Kushner, in an introduction to the 40th-anniversary edition of the script, describes Harold as "the play's deus ex machina… he seems to come from another world—maybe the future."
Jackson Evans and William Marquez
Elsewhere in the same essay, Kushner calls The Boys in the Band "the first homosexual play intended for general audiences." Even establishment critics at the time of its debut seemed to recognize this. Clive Barnes, the New York Times' chief critic in 1968, wrote that "the point is that this is not a play about a homosexual, but a play that takes the homosexual milieu, and the homosexual way of life, totally for granted and uses this as a valid basis of human experience. Thus it is a homosexual play, not a play about homosexuality."
Barnes's review was greatly admiring of the play, even as it also contans some casual epithets and questionable attitudes. But that reflects the "homosexual milieu" of the time. Straight society was beginning to publicly recognize that the gay community existed, but it wasn't happy about it. Just two years earlier, in 1966, Time magazine had published an essay on "The Homosexual in America" that acknowledged that "homosexuals are present in every walk of life" but presented this as a problem to be solved, "a pathetic little second-rate substitute for reality, a pitiable flight from life… a pernicious sickness."
At a key juncture near the end of The Boys in the Band, Harold suggests Michael views himself that same way. "You are a sad and pathetic man," Harold says. "You're a homosexual, and you don't want to be. But there is nothing you can do to change it."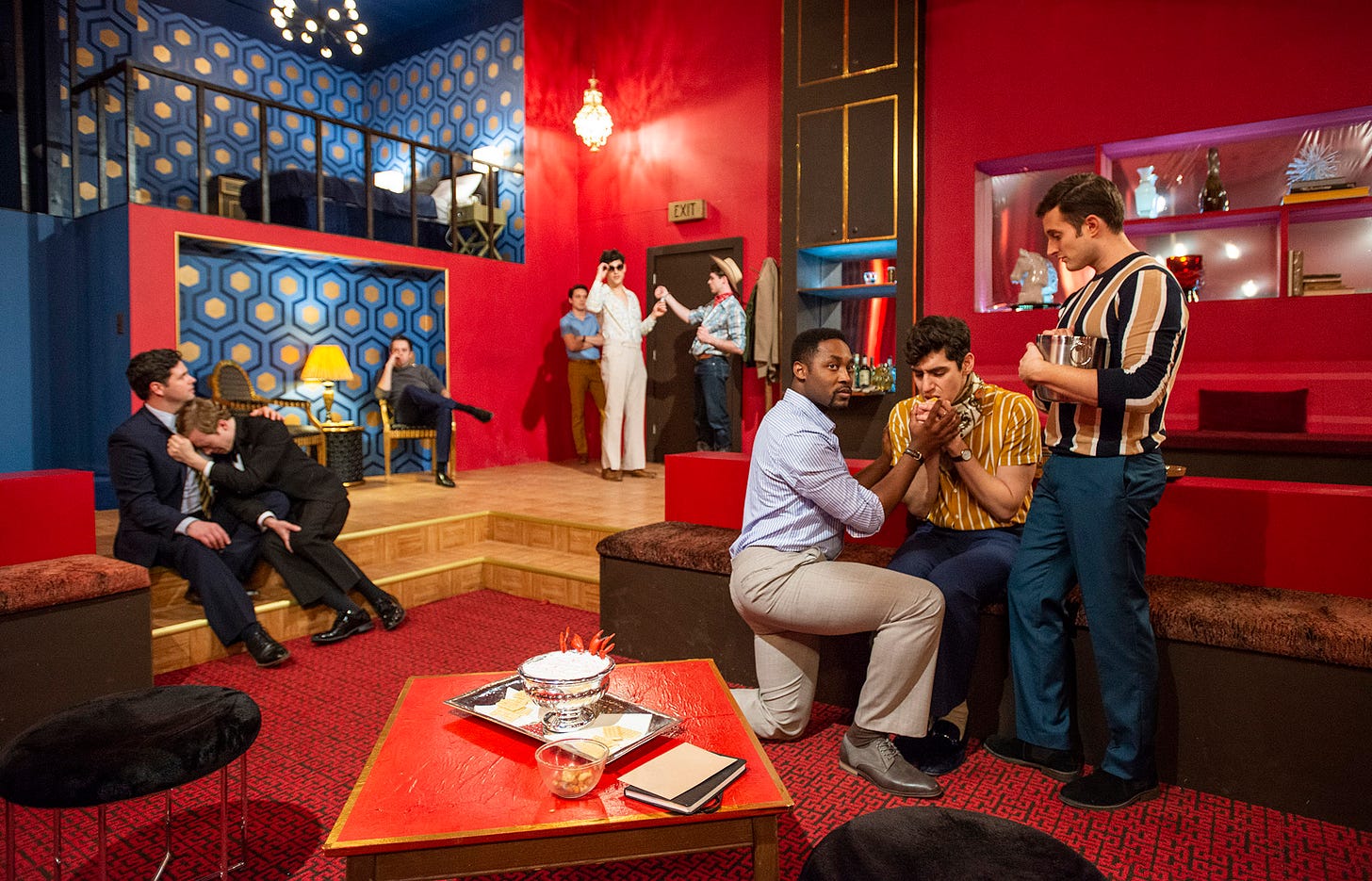 By October 1969, months after Stonewall and a year and a half into the play's hit run, Time put a slightly more evenhanded assessment of gay culture on its cover. By 1975, it was covering the gay rights movement as straight news. Then came Harvey Milk. Then the AIDS crisis. And then. And then. And then. And now.
Maybe Harold really was from the future. Seeing The Boys in the Band in 2020 feels a bit like looking at a snapshot of the moment before a movement was born; this worthwhile revival is a bracingly vivid print.
---
The Boys in the Band
Windy City Playhouse (3014 W Irving Park Rd). By Mart Crowley. Directed by Carl Menninger.
Cast: Jackson Evans (Michael), Jordan Dell Harris (Donald), William Marquez (Emory), Ryan Reilly (Hank), James Lee (Larry), Denzel Tsopnang (Bernard), Christian Edwin Cook (Alan), Kyle Patrick (Cowboy), Sam Bell-Gurwitz (Harold).
Designers: William Boles (scenic), Erik S. Barry (lighting), Uriel Gomez (costumes), Sarah D. Espinoza (sound), Mealah Heidenreich (props/set dressing), Max Fabian (violence/intimacy design). Stage manager: Jenniffer Thusing.
Running time: 1 hour 50 minutes; no intermission. Through April 19. Tickets ($75–$95) at windycityplayhouse.com.
Photographs by Michael Brosilow.
---
Questions or feedback for me? Reply to this email, or if you're reading this on the web, hit me at kris@krisvire.com or find me on Twitter @krisvire. Subscribers can also leave public comments on the web version of the newsletter; click the headline above or the links at the bottom of this post.