SR review: "The Total Bent"
This concert/musical hybrid is a raucous, rule-breaking, subversively thrilling event, even if the story remains a little fuzzy
You're reading an exclusive review for paying subscribers to Storefront Rebellion, a new endeavor in Chicago theater reviewing from longtime critic Kris Vire. Have feedback for me? Reply to this email or find me on Twitter at @krisvire.
---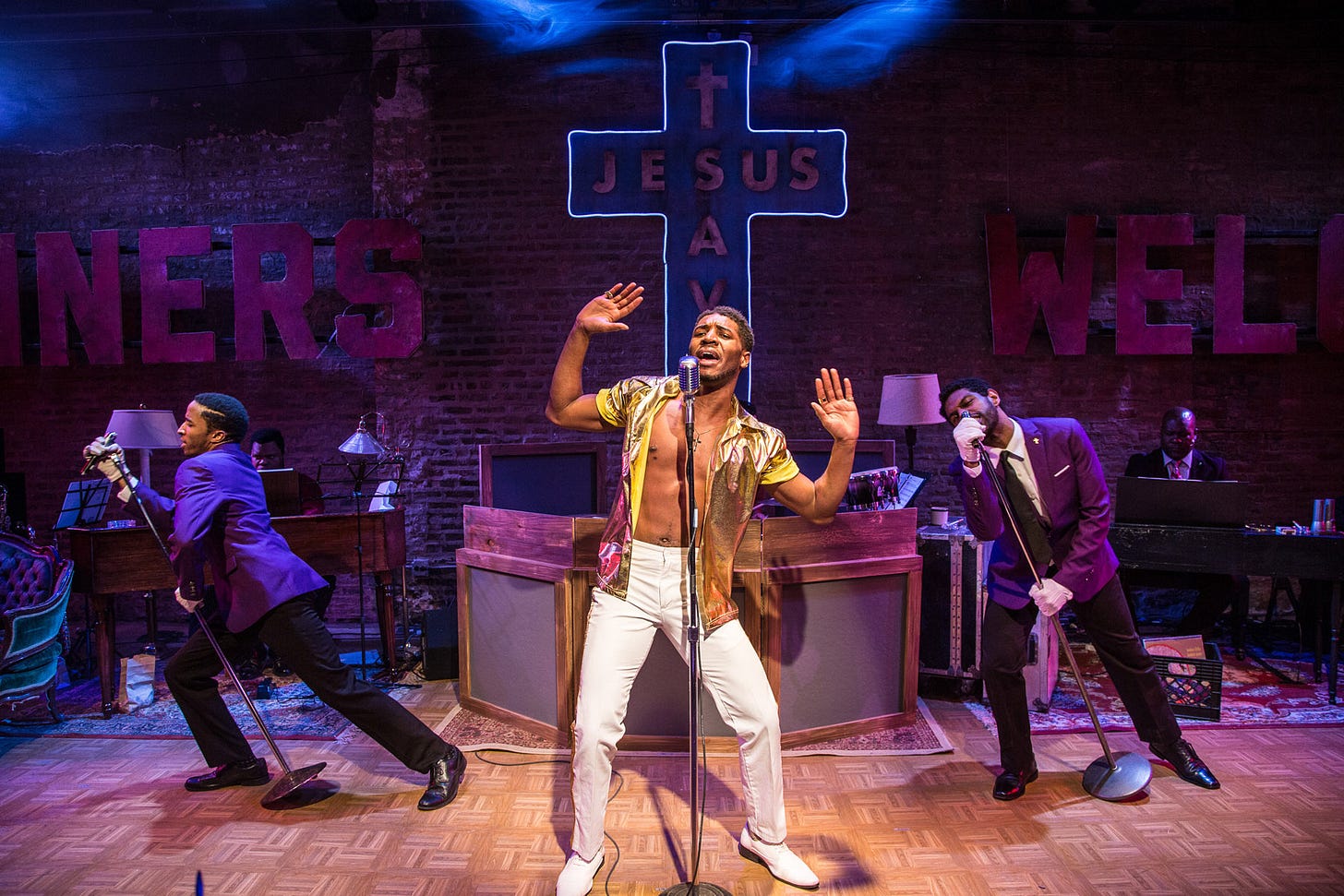 Gilbert Domally, center, and the cast of The Total Bent
This concert/musical hybrid from the creators of Passing Strange is a raucous, rule-breaking, subversively thrilling event at the Den, even if the story remains a little fuzzy
Theater review by Kris Vire
Backed by a six-piece band, the dapper man in the shiny suit steps to the microphone. A younger man—his son and his songwriter—watches from the control booth. "He forgave my sins / And then we made amends / And you know, that's why, that's why," the older man sings with gospel urgency. "That's why he's Jesus and you're not, whitey."
That top-of-show moment tells you a lot about the sensibility of The Total Bent, which opened last night in a co-production of Haven Theatre and About Face Theatre. Also indicative of what we're in for: The Total Bent comes from the idiosyncratic musician and writer Stew, the creative force behind the unlikely Broadway hit Passing Strange. This 2016 piece, a hybrid of musical, concert and revival meeting with an extremely loose narrative about a father and son at odds, is clearly close kin to its 2008 predecessor. Like Passing Strange, it throws all the theatrical rules out the window and blazes its own path.
Robert Cornelius
The actual story isn't the easiest to follow; Stew doesn't much go for attributes like linear or unambiguous. The gist is this: It's the 1950s in Montgomery, Alabama, though in a fable-izing touch, the characters all refer to the city as Bluntgomery. The bus boycott is under way, which is a major point of contention between the singer, a faded gospel star named Joe Roy (Robert Cornelius), and the songwriting son, Marty (Gilbert Domally). Joe is trying to stage a crossover comeback after an ill-advised overstep into faith healing; Marty wants to record protest music and join the cause.
Marty is also, it's heavily implied, queer. "He wore his momma's high heels when he was little," Joe tells the audience. "She loved that," Marty retorts. This comes into play when Marty meets Byron Blackwell (Eric Lindahl), a white man from England who's obsessed with black music. Byron wants to produce and/or seduce Marty—probably the latter more than the former, as he's also dazzled by Joe, and agrees to cut off contact with Marty in order to work with his dad. Marty seeks musical revenge, and with a new bent toward blasphemy becomes a hot act…for white audiences. Marty has a bit of a breakdown, and reconciles with his father, kind of. The end?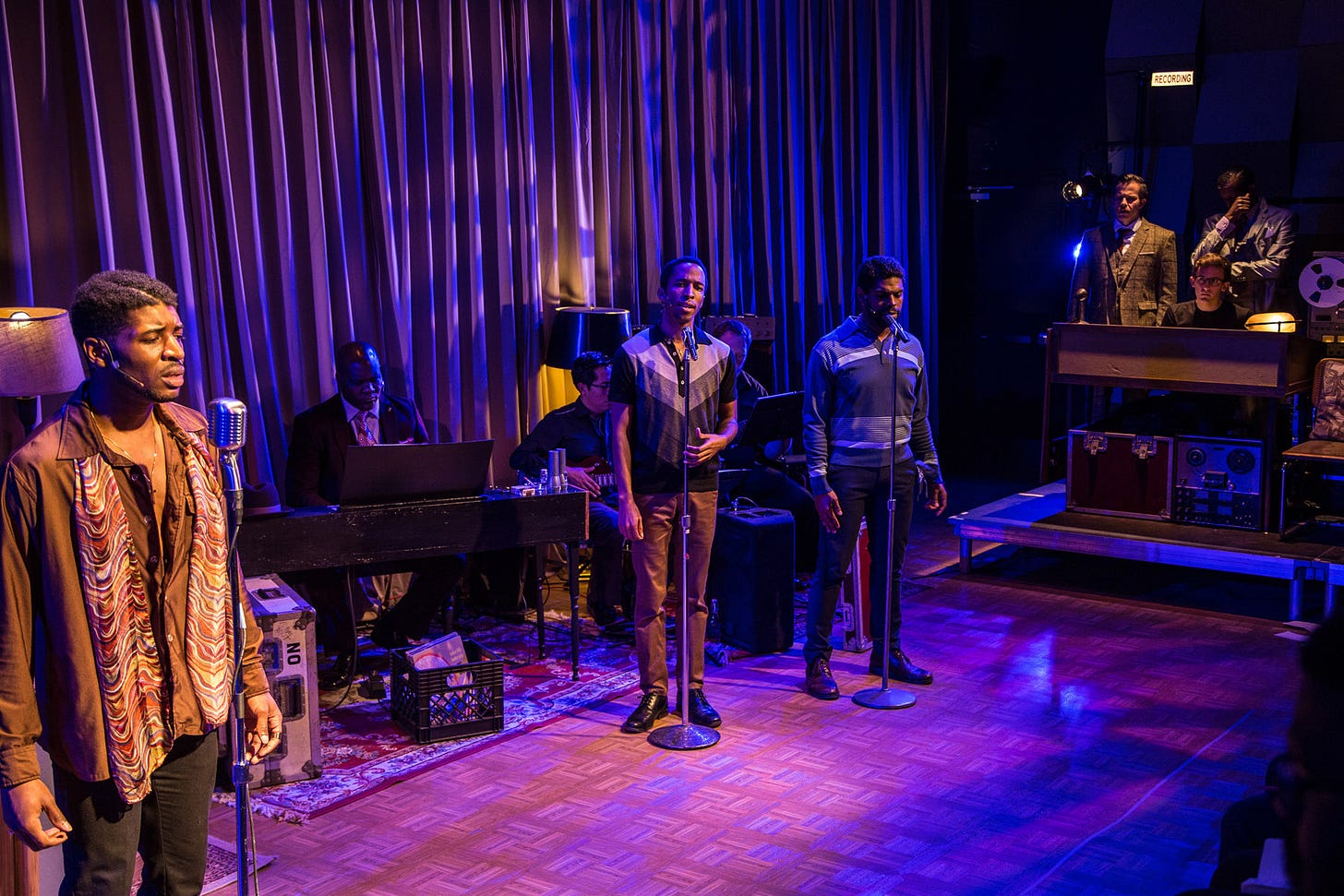 From left: Gilbert Domally, Michael Turrentine, Breon Arzell
So dramaturgically it's kind of a mess; you might find yourself feeling like you've missed a scene two or three or four times in the piece's intermissionless 100 minutes, but you haven't. It's as if Stew heard that Coco Chanel quote about looking in the mirror and taking one thing off before you leave the house, and interpreted it to mean he could excise whole passages from his story.
But there's so much in this raucous, subversive jumble of a show that works so well, I'd highly recommend you secure your tickets now and be prepared to just let it wash over you. Lili-Anne Brown, who directed the superb Chicago production of Passing Strange for Bailiwick back in 2011, is back in the director's chair here and has a clear affinity for Stew's inspired shagginess.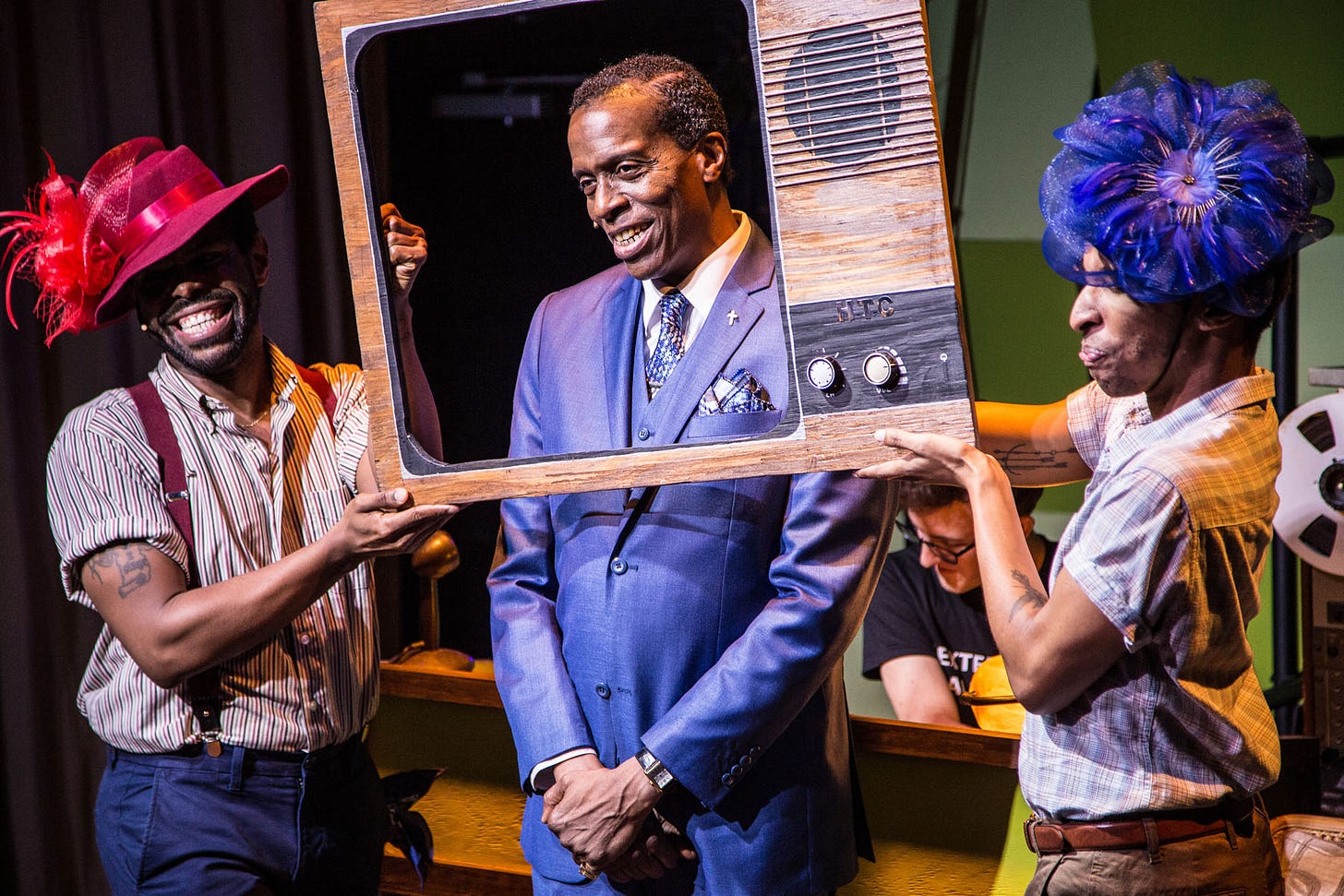 From left: Breon Arzell, Robert Cornelius, Michael Turrentine
There's some genuinely biting musical satire of the faction of black folks who'd prefer the civil rights movement stop rocking the boat (Joe sings a song called "Shut Up!" with the verse "get back on the bus / and take a back seat with a smile") and about African-Americans' continued adherence to the religion of their oppressors ("Why Do Black People Still Believe In God?"). And there's straight-up silliness, primarily in the forms of Michael Turrentine and Breon Arzell as Marty's backup singers; it's not even a little bit clear who they are or how they got here, but good god we're glad they did.
From left: Jermaine Hill, Gilbert Domally
Cornelius is in strong command in his numbers as the compromised voice of old authority; the production benefits greatly from his gravitas and charm. But the show belongs to Domally's transformative Marty Roy. Most of the last 20 or 30 minutes of The Total Bent consists of a concert sequence led by Marty, who's morphed by this point into a troubled superstar who suggests Tina Turner crossed with James Brown, up until he has his onstage meltdown. Arzell and Turrentine are giving their all here, too, when you remember to look at them. But Domally is absolutely captivating: forceful, regal, seductive. I've said before (writing about another production helmed by Lili-Anne Brown) that he was a star in the making. This time, let's say the star is born.
---
The Total Bent
Haven Theatre and About Face Theatre at the Den Theatre (1331 N Milwaukee Ave). Text by Stew. Music and lyrics by Stew and Heidi Rodewald. Directed by Lili-Anne Brown. Music direction by Jermaine Hill. Choreography by Breon Arzell.
Cast and band: Gilbert Domally (Marty Roy), Robert Cornelius (Joe Roy), Breon Arzell (Abee), Michael Turrentine (Andrew), Eric Lindahl (Byron Blackwell), Frederick Harris (Deacon Dennis/keys), Jermaine Hill (Deacon Charlie/keys), Christian Moreno (drums), Anthony Rodriguez (winds), Ricardo Santiago (guitar), Kurt Shelby (bass).
Designers: Arnel Sancianco (scenic), Christine Pascual (costumes), Jason Lynch (lighting), David Kelepha Samba (sound), Joe Burke (projections), Emily Boyd (props).
Running time: 1 hour 40 minutes; no intermission. Through March 10. Tickets ($43–$46) at haventheatrechicago.com.
Photographs by Austin D. Oie.
---
Thanks for being an early Storefront Rebellion paid subscriber!
If someone forwarded you this email, and you'd like to support independent, ad-free coverage of Chicago theater, you can sign up as a subscriber right now:
Send your feedback and tips to kris@krisvire.com.