SR review: "West Side Story" at Lyric Opera of Chicago
Francesca Zambello stages a wonderfully sturdy, traditionalist production—but with a brand-new wardrobe
Theater review by Kris Vire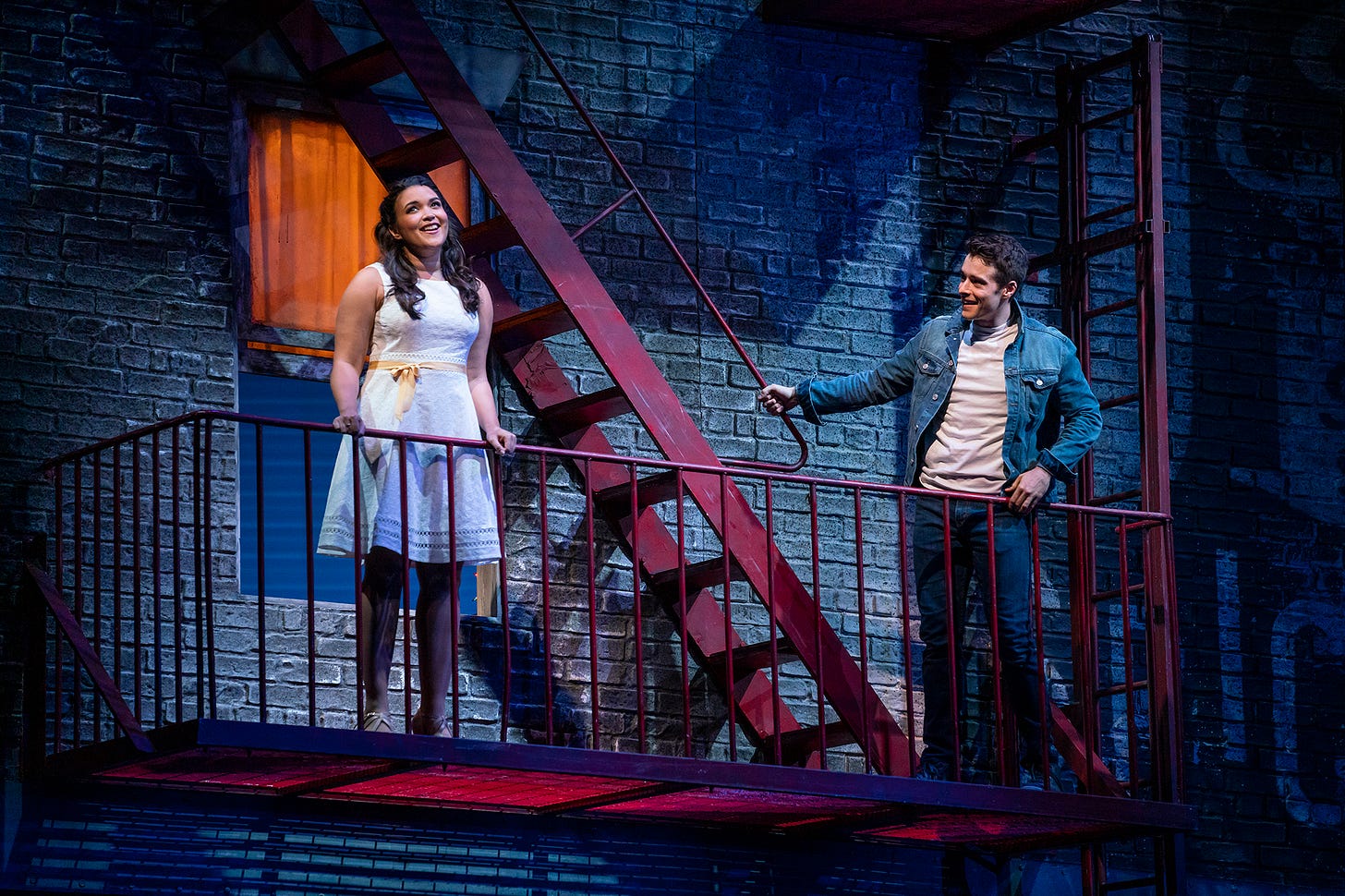 Mikaela Bennett and Corey Cott. Photograph: Todd Rosenberg
As I wrote in this month's theater listings for Chicago magazine, Lyric Opera's "Broadway at Lyric" series has become a welcome chance to hear classic theater scores played by an orchestra whose size you're unlikely to encounter in any other full productions these days. That's true for the new West Side Story—I counted 44 musicians listed in the program Saturday night.
But following on last year's Jesus Christ Superstar, the opera company is now dipping into shows with different sounds from the Rodgers & Hammerstein scores that have dominated the lineup (along with Lerner & Loewe and Hammerstein/Kern). Leonard Bernstein's West Side Story score incorporates sounds of jazz, mambo and cha cha—all played here, under the direction of conductor James Lowe, with a lushness that you'll only find bettered by symphonic recordings. And it brings Lyric into the beginning of the Stephen Sondheim era, as that young genius (he was 25 at the time) wrote the lyrics for Bernstein's songs. It makes you thrill to the possibilities yet in store.
But I'm getting ahead of myself; back to West Side Story. The 1957 musical set out to update Romeo and Juliet with rival street gangs standing in for the Capulets and Montagues. The Sharks are recent arrivals from Puerto Rico; the Jets represent "native" New Yorkers, though most would be first-generation children of immigrants. In place of R&J's benevolent Prince trying to end the family feud, we have authoritarian cops willing to bash heads on both sides. And then our star-cross'd lovers meet.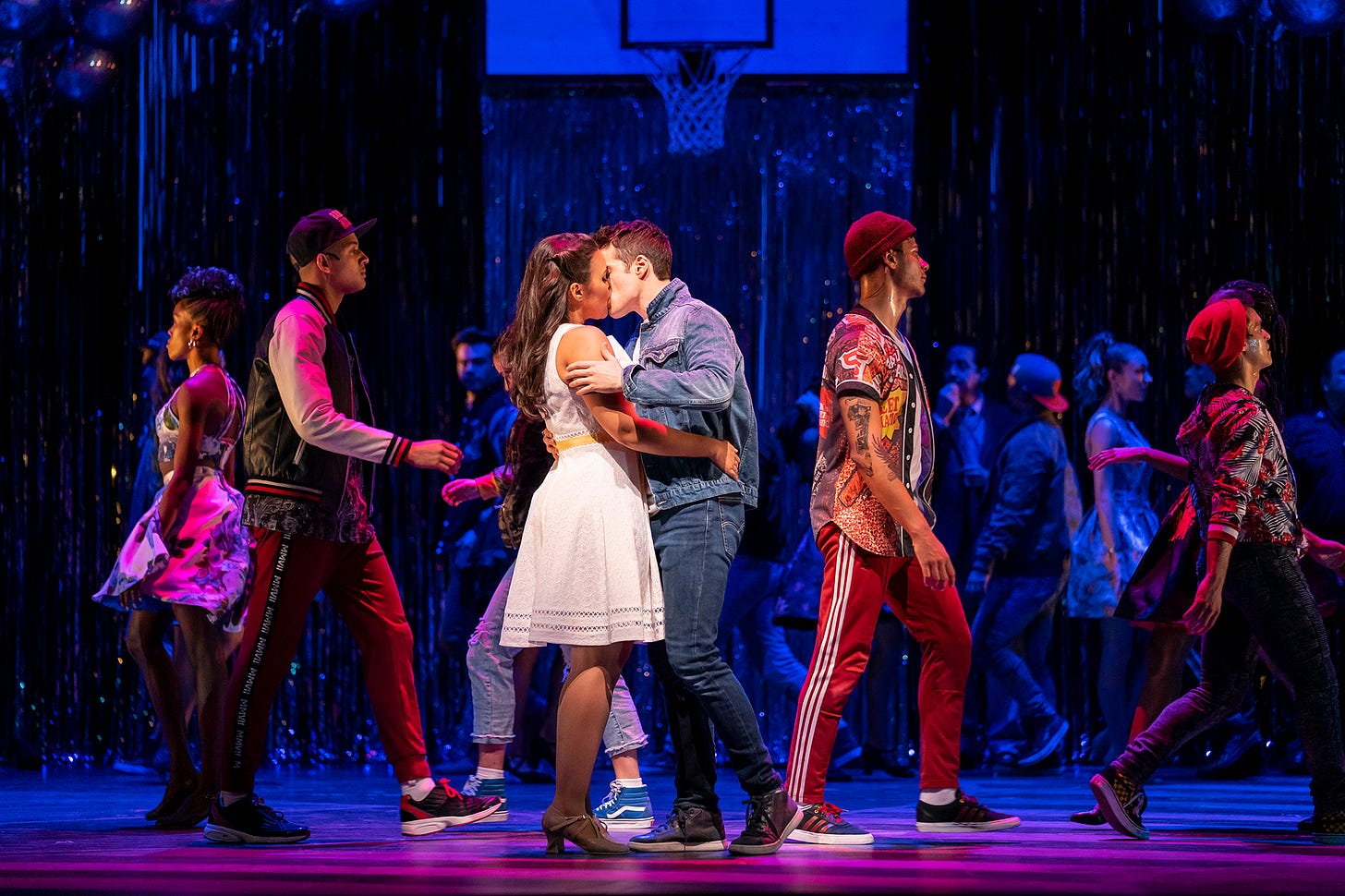 Photograph: Todd Rosenberg
Francesca Zambello's production is well cast, particularly in its leads. Corey Cott, of Broadway's Bandstand and Gigi, has the right look for Tony, undeniably handsome but approachable; you could imagine this Tony on the cover of Lisa Simpson's Non-Threatening Boys Magazine. And Cott handles deceptively difficult tunes like "Something's Coming" and "Maria" impressively.
As for Maria, the young singer Mikaela Bennett feels like a luminous star in the making, with a rich voice and solid acting chops. Amanda Castro's vivid Anita is at her best in her dance numbers; Brett Thiele and Manuel Stark Santos offer solid support as Riff and Bernardo, respectively.
While its portrait of NYC youth culture may be a bit dated (or never really au courant in the first place, as Arthur Laurents was a 40-year-old white man inventing street slang for teenage characters outside his own race and class), West Side Story doesn't need reinventing. You almost can't get away from the original Jerome Robbins choreography, for instance. And really, why would you want to? (Julio Monge is in charge of re-creating it here.)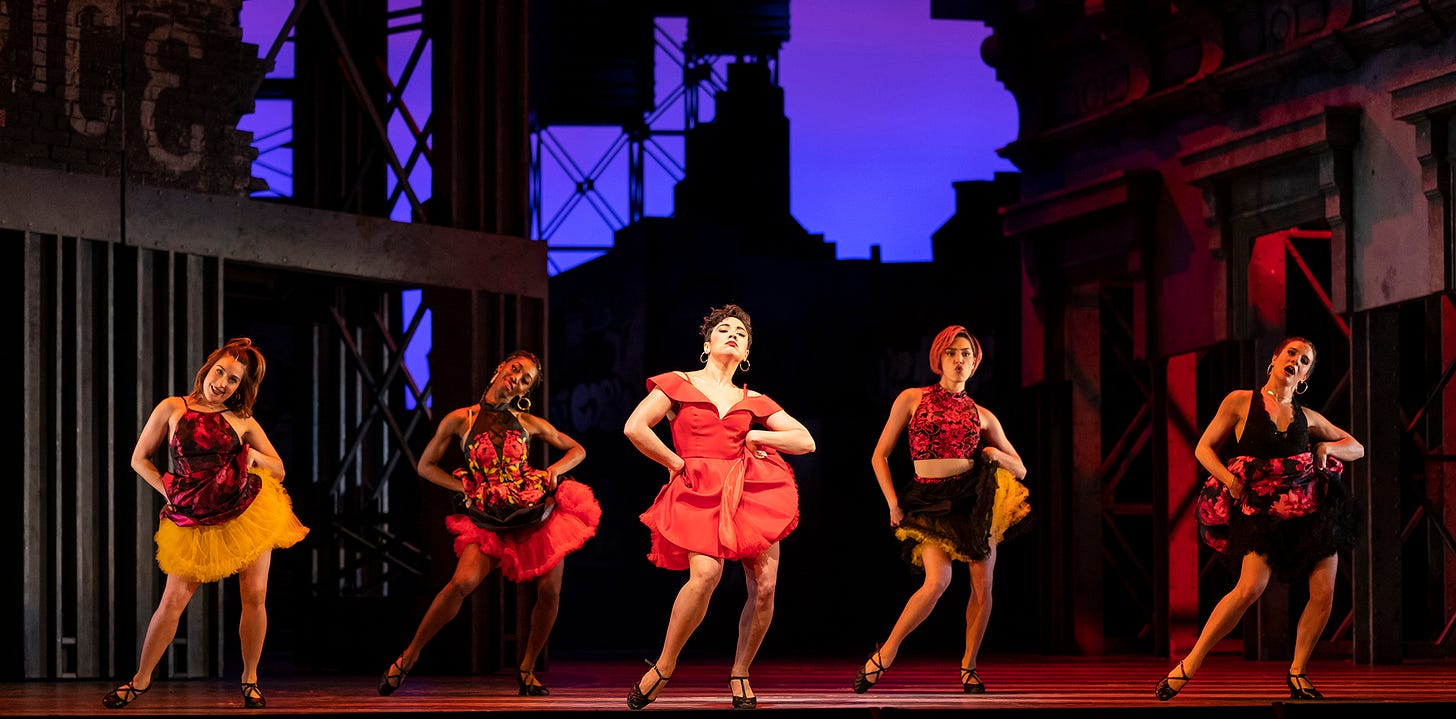 Amanda Castro, center. Photograph: Todd Rosenberg
And Lyric's musical-theater productions have, up to now, avoided imposing concepts on their stagings. The aim seems to be presenting the Platonic ideal of a big-budget staging of these musicals, as you might have imagined them if you grew up listening to the original cast recordings from the 1940s and '50s.
I think that's why I found Zambello's one relatively minor deviation more jarring than it might have been in any other setting. The director and her designers Peter J. Davison (on sets) and Jessica Jahn (costumes) introduce a number of visual cues to suggest that the production is taking place not in 1957 but now.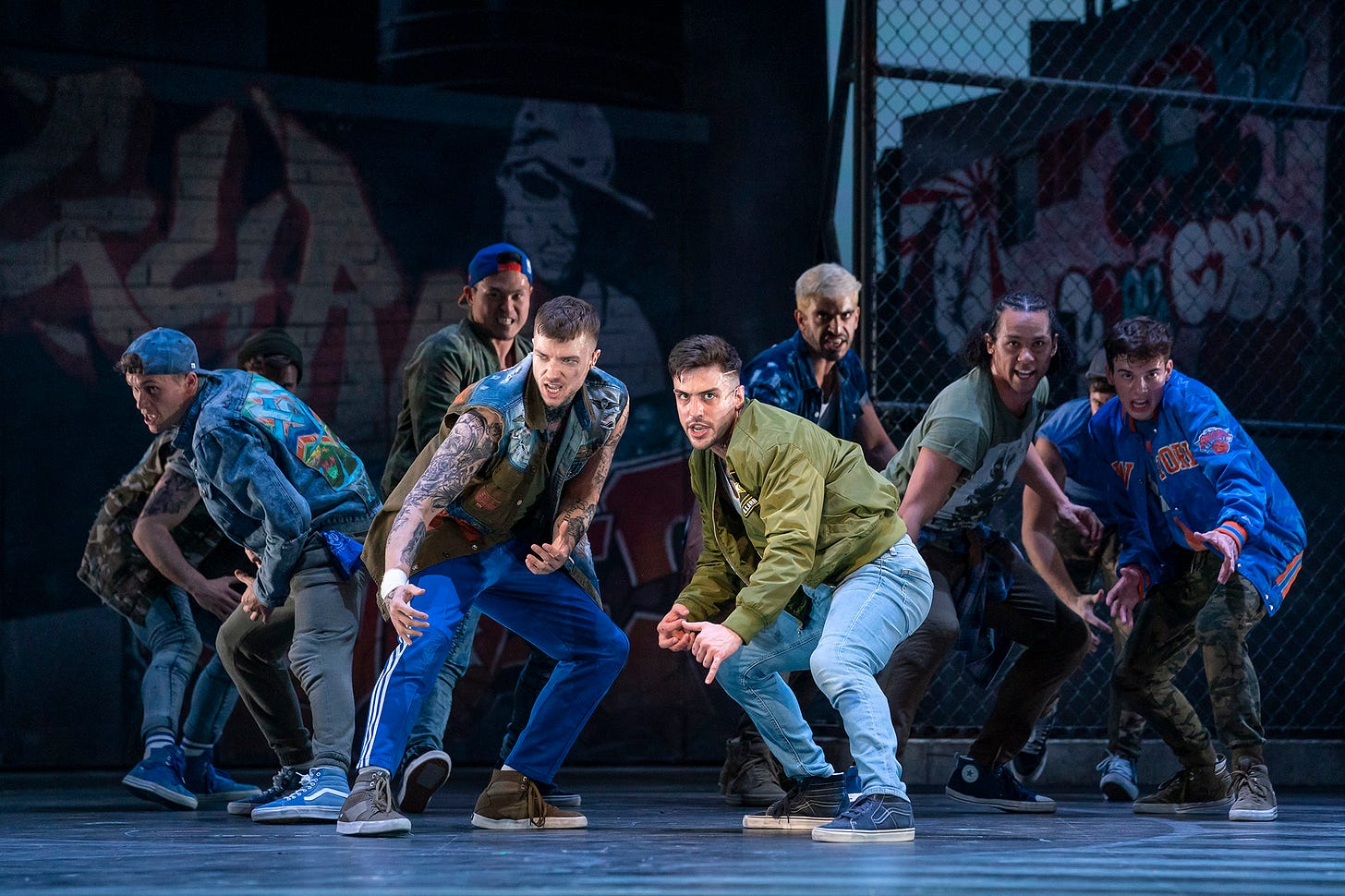 Adam Soniak and Brett Thiele, front, with the Jets. Photograph: Todd Rosenberg
The walls of Davison's set are tagged with modern-style graffiti, which you might not even register. But then the costumes are blatantly present-day—not just period-inaccurate for the 1950s, but high-fashion streetwear for 2019: camo joggers, track pants, collector-style sneakers. The Sharks and Jets both look like they could have walked right out of a Supreme lookbook. Action (Adam Soniak) sports tattoo sleeves that aren't the actor's; Gee-Tar (Paul HeeSang Miller) wears a Patrick Ewing Knicks jersey.
And then to really underline the choice being made, when we see Maria's bedroom in Act II, on the walls hang posters of Puerto Rican pop stars Luis Fonsi and Ricky Martin, and a framed photo of Sonia Sotomayor. Cute, but perhaps at odds with a script in which Puerto Ricans are a new thread in the fabric of New York City, still treated as intruders and referred to with casual slurs.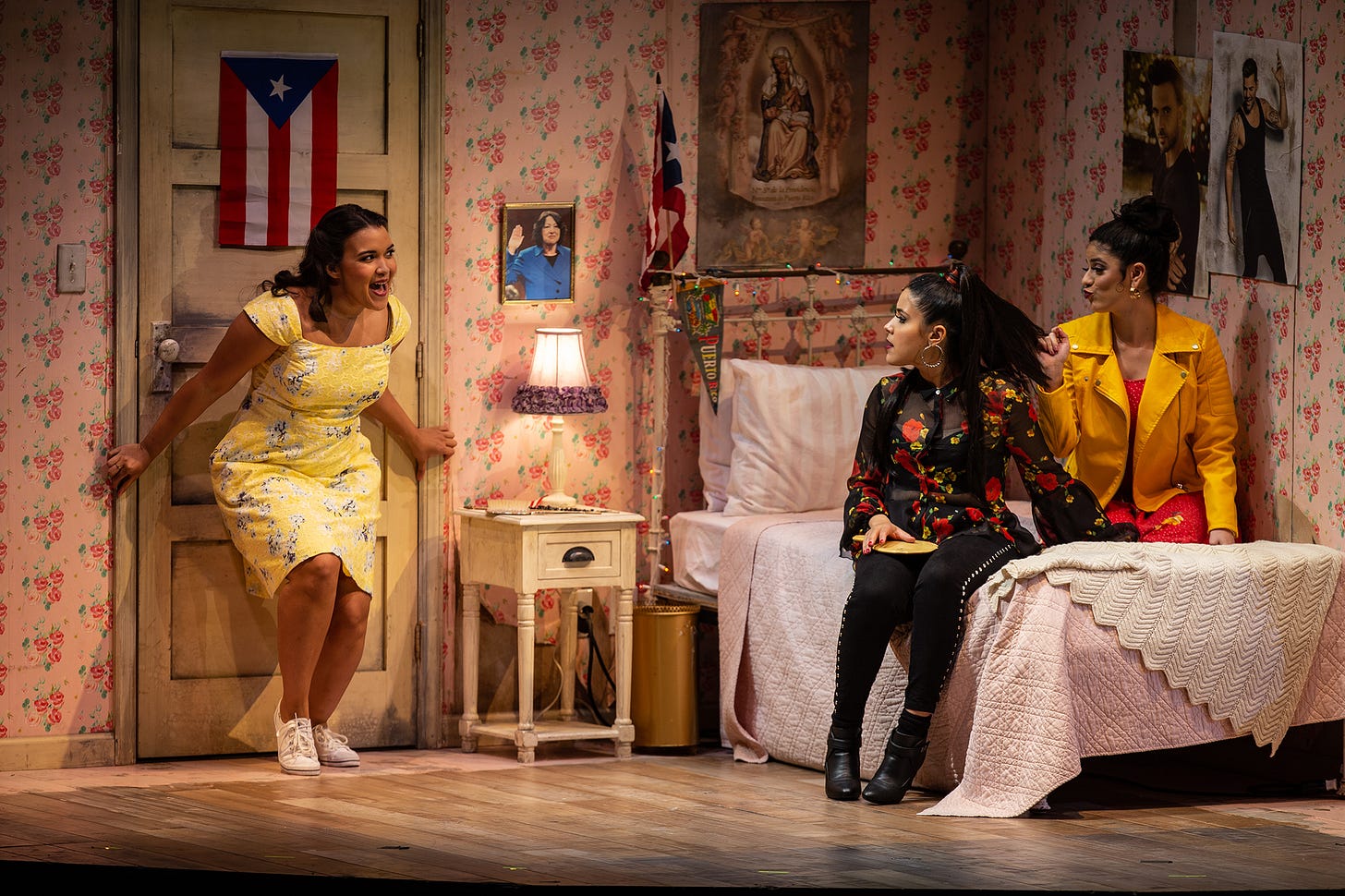 Photograph: Lyric Opera of Chicago
Really I'd just like to hear from Zambello about her thinking behind those decisions. If it's to highlight that the kind of senseless violence, territorialism and xenophobia on display in the show are still all too alive, it isn't necessary; that comes across just fine without the extra indicators. In fact we aren't still having exactly these same kinds of fights—highly choreographed, often balletic, and with knives and rocks instead of drive-by shootings or white nationalist militias. To put too fine a point on it leads down a path where you might start wondering if Lieutenant Schrank is wearing a body camera when he interrogates Maria in her bedroom or threatens to falsely arrest Bernardo.
That mild objection aside, though, this is a top-of-the-line, traditional West Side Story, a classy rendition of a classic musical—which makes it likely a far cry from the next Broadway revival, which is scheduled to get the Ivo Van Hove treatment (and scrap the Robbins dances). For an impeccably played, sung, danced and acted edition of this great musical—just in a new wardrobe—Lyric's staging is a welcome way to revisit the West Side.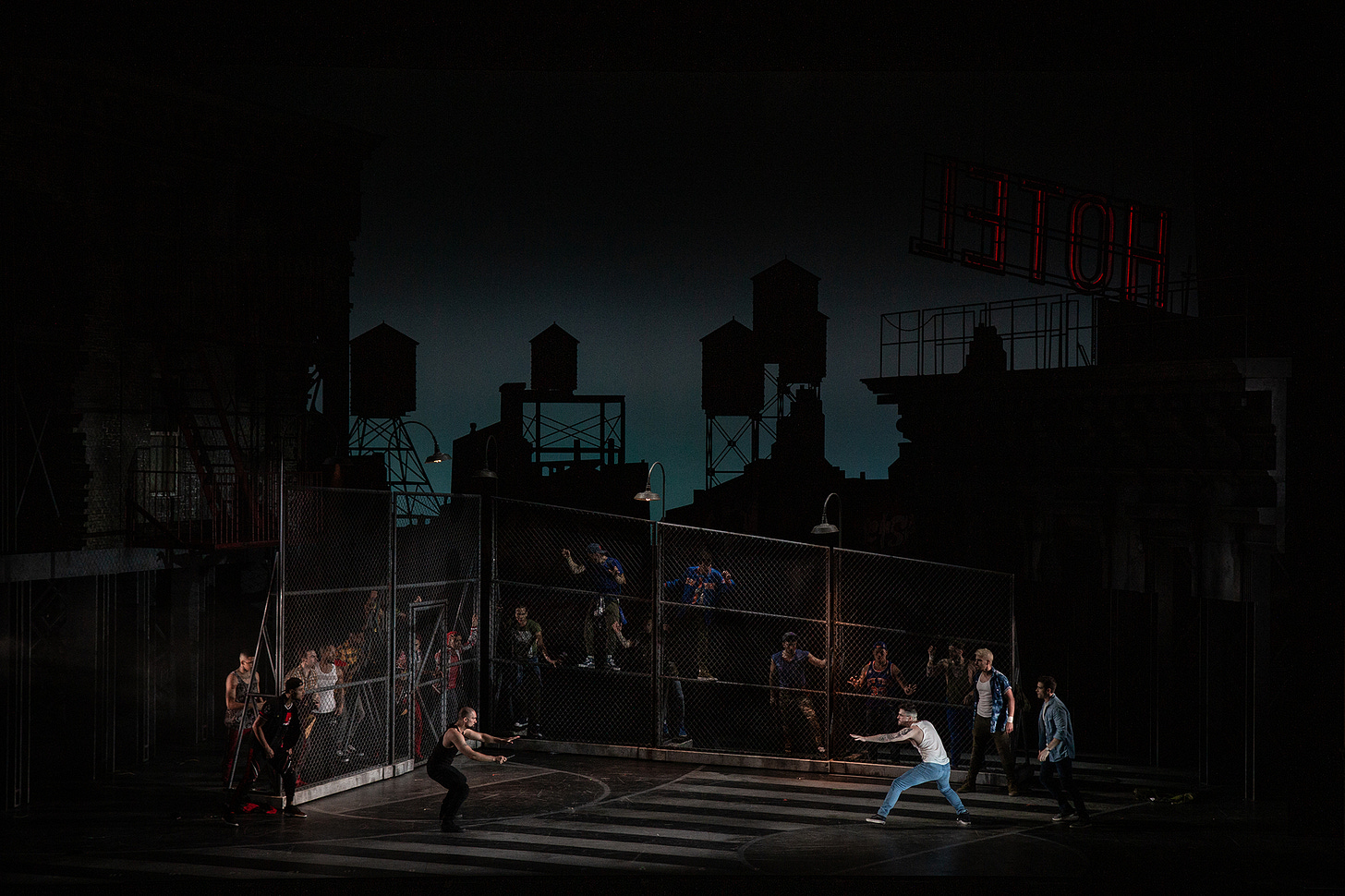 Photograph: Lyric Opera of Chicago
---
West Side Story
Lyric Opera of Chicago (20 N Wacker Dr). Book by Arthur Laurents. Music by Leonard Bernstein. Lyrics by Stephen Sondheim. Directed by Francesca Zambello.
Cast: Corey Cott (Tony), Mikaela Bennett (Maria), Amanda Castro (Anita);
The Jets: Brett Thiele (Riff), Adam Soniak (Action), Taylor Simmons (A-Rab), Jarred Manista (Baby John), Wesley Ryan (Big Deal), Jeffrey C. Sousa (Diesel), Callan Bergmann (Snowboy), Paul HeeSang Miller (Gee-Tar), Juan Caballer (Tiger), Kyra Sorce (Graziella), Veronica Sofia Burt (Velma), Paige Fraser (Minnie), Shannon Alvis (Clarice), Alyssa Sarnoff (Pauline), Alexa Magro (Anybodys);
The Sharks: Manuel Stark Santos (Bernardo), Julio Rey (Chino), Mark Deler (Pepe), Joshua LaMar (Indio), Joseph A. Hernandez (Luis), Greg Blackmon (Anxious), Michael J. Rios (Nibbles), Martín Ortiz Tapia (Juano), Sebastian Garcia (Toro), Linedy Genao (Rosalia), Alexandra Matteo (Consuelo), Addie Morales (Francisca), Kayla Moniz (Teresita), Antonia Raye (Estella), Carolina Villaraos (Margarita);
The Adults: David Alan Anderson (Doc), Bret Tuomi (Schrank), Jerry Kernion (Krupke), Ed Kross (Glad Hand);
The Ensemble: Hoss Brock, Matthew Carroll, William M. Combs, Desirée Hassler, Tyler Samuel Lee, Kenneth Nichols, Maia Surace, Corinne Wallace-Crane, Ron Watkins, Sherry Watkins, Nikolas Wenzel, Michelle Wrighte.
Designers: Peter J. Davison (scenic), Jessica Jahn (costumes), Mark McCullough (lighting), Mark Grey (sound), Joe Burke (projections), Sarah Hatten (hair & makeup). Choreographed by Julio Monge, after Jerome Robbins.
Running time: 2 hours 25 minutes; one intermission. Through June 2. Tickets ($29–$199) at lyricopera.org.
---
Thanks for being a Storefront Rebellion paid subscriber!
If someone forwarded you this email, and you'd like to support independent, ad-free coverage of Chicago theater, you can sign up as a subscriber right now:
Send your feedback and tips to kris@krisvire.com.