The best Chicago theater of the 2010s
SR digest #24—December 31, 2019
Happy (almost) new year, dear readers! As we're entering a new decade, I was moved to look back over the one we're ending, and the maybe-literally thousands of Chicago plays I saw in it.
Despite the headline above, I won't pretend this list represents the empirical best theater of the decade. On top of the truism that all criticism is subjective, there's also the fact that in a theater scene as sprawling as Chicago's, there's no hope of being a completist. I've been a professional theatergoer for the entirety of the 2010s, and I still likely missed more shows than I saw.
But I did see a lot, and looking back over the long list, these are the 25 (presented in roughly chronological order) that shine the brightest in my memory.
---
---
The Brother/Sister Plays
, Steppenwolf Theatre Company, 2010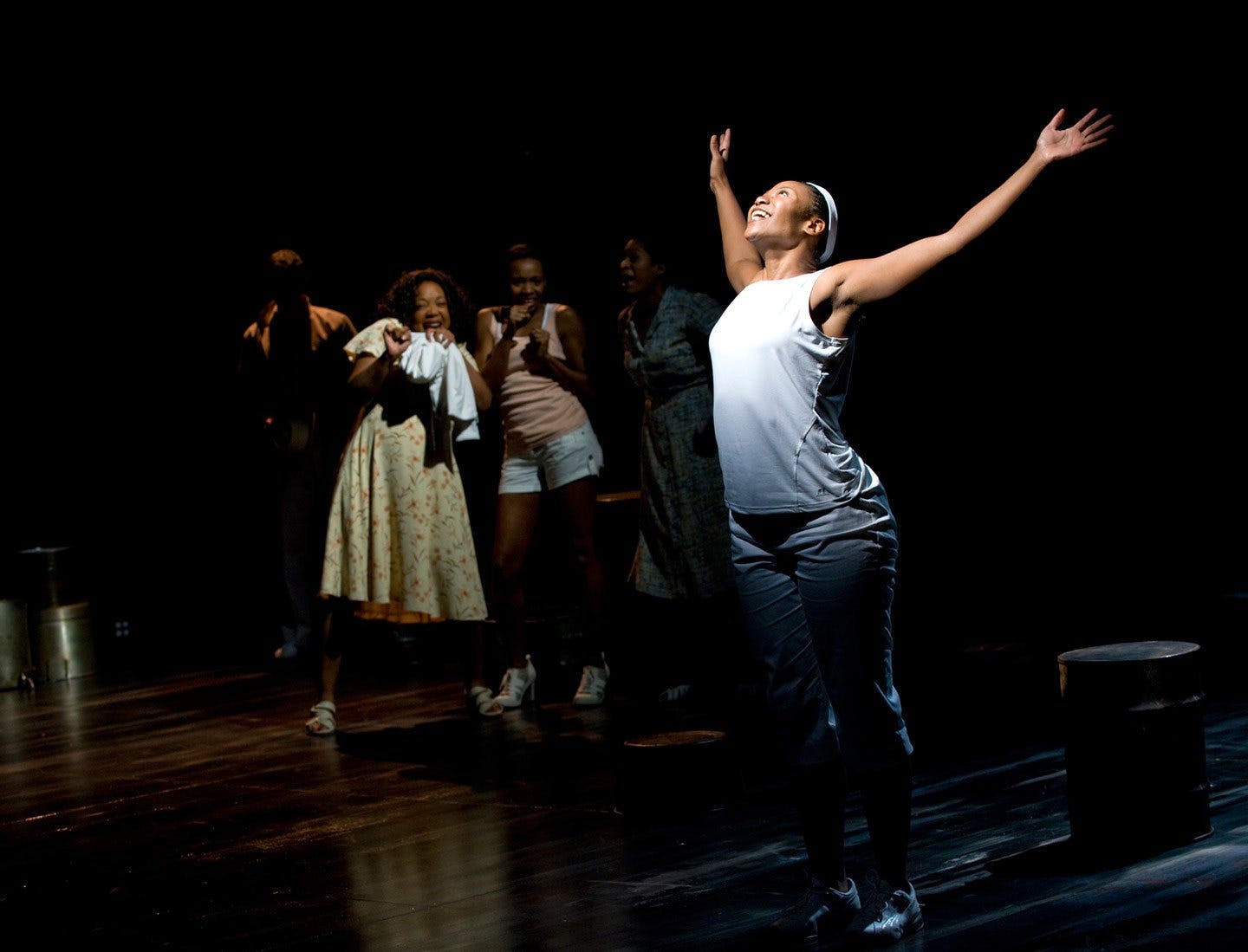 Photograph: Michael Brosilow
The decade started with a bang in January 2010, as Tarell Alvin McCraney made his Chicago debut as a playwright with this stunning triptych of interlocking plays set in the bayou and inspired by Yoruba myth. McCraney's mentor turned frequent collaborator Tina Landau directed a cast of heavy hitters including Alana Arenas, Glenn Davis, Jacqueline Williams, Philip James Brannon and the indispensable K. Todd Freeman. It felt like a landmark event at the time; looking back, it seems to have heralded the new direction Steppenwolf would take in the latter half of the decade.
Cherrywood
, Mary-Arrchie Theatre Co., 2010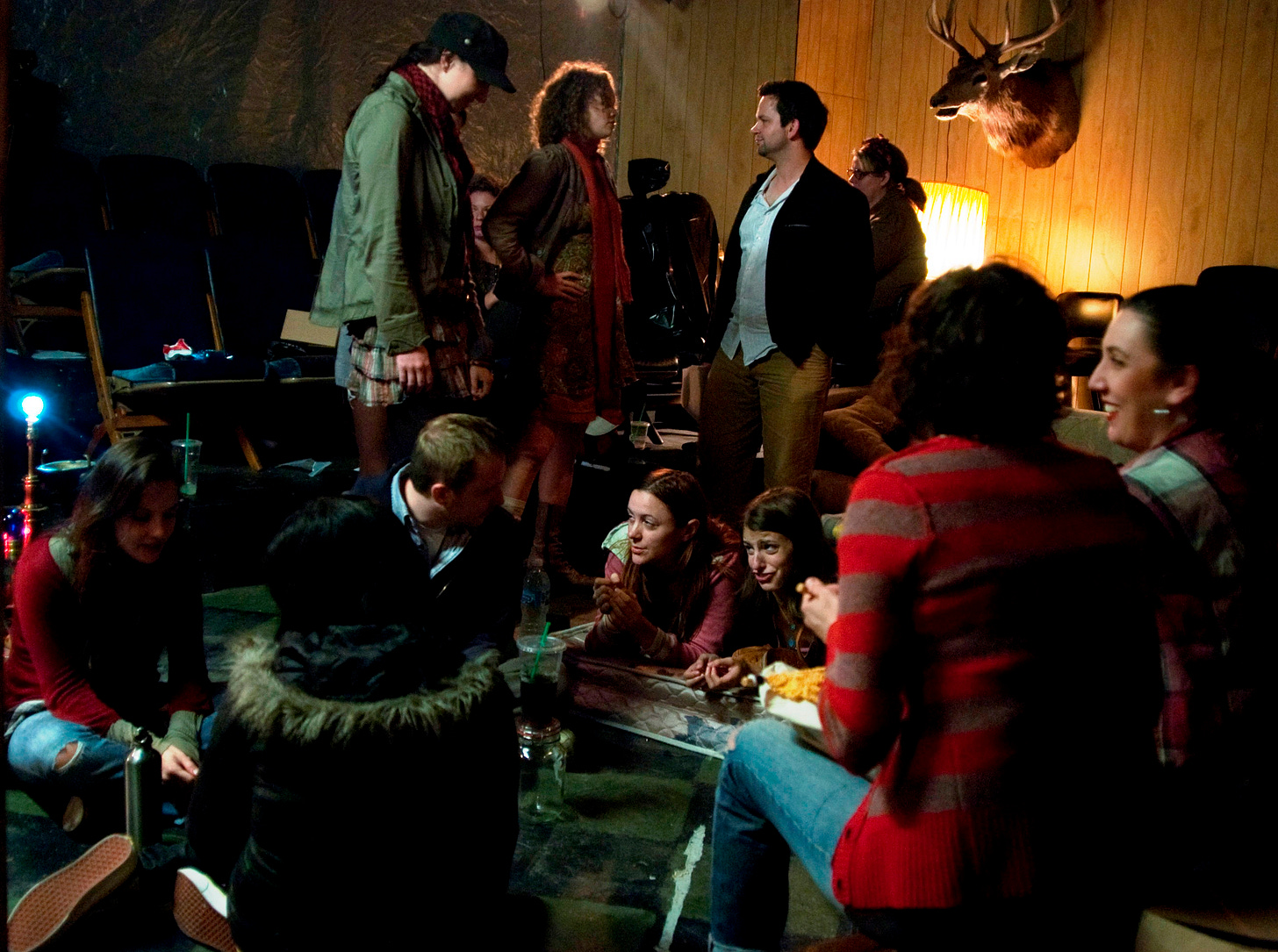 Photograph: Ryan Bourque
A better question than "Who was in Cherrywood?" is "Who wasn't in Cherrywood?" Director David Cromer, months ahead of being named a MacArthur Foundation "genius," came home from NYC and rustled up 50 of this city's finest non-Equity actors for his interpretation of the Rude Mechanicals' malleable script about group dynamics and milk and werewolves, I think? Mary-Arrchie's ramshackle theater was transformed into a giant wood-paneled rec room, with the audience seated in the midst of a party where you really had to be there.
Who's Afraid of Virginia Woolf?
, Steppenwolf Theatre Company, 2010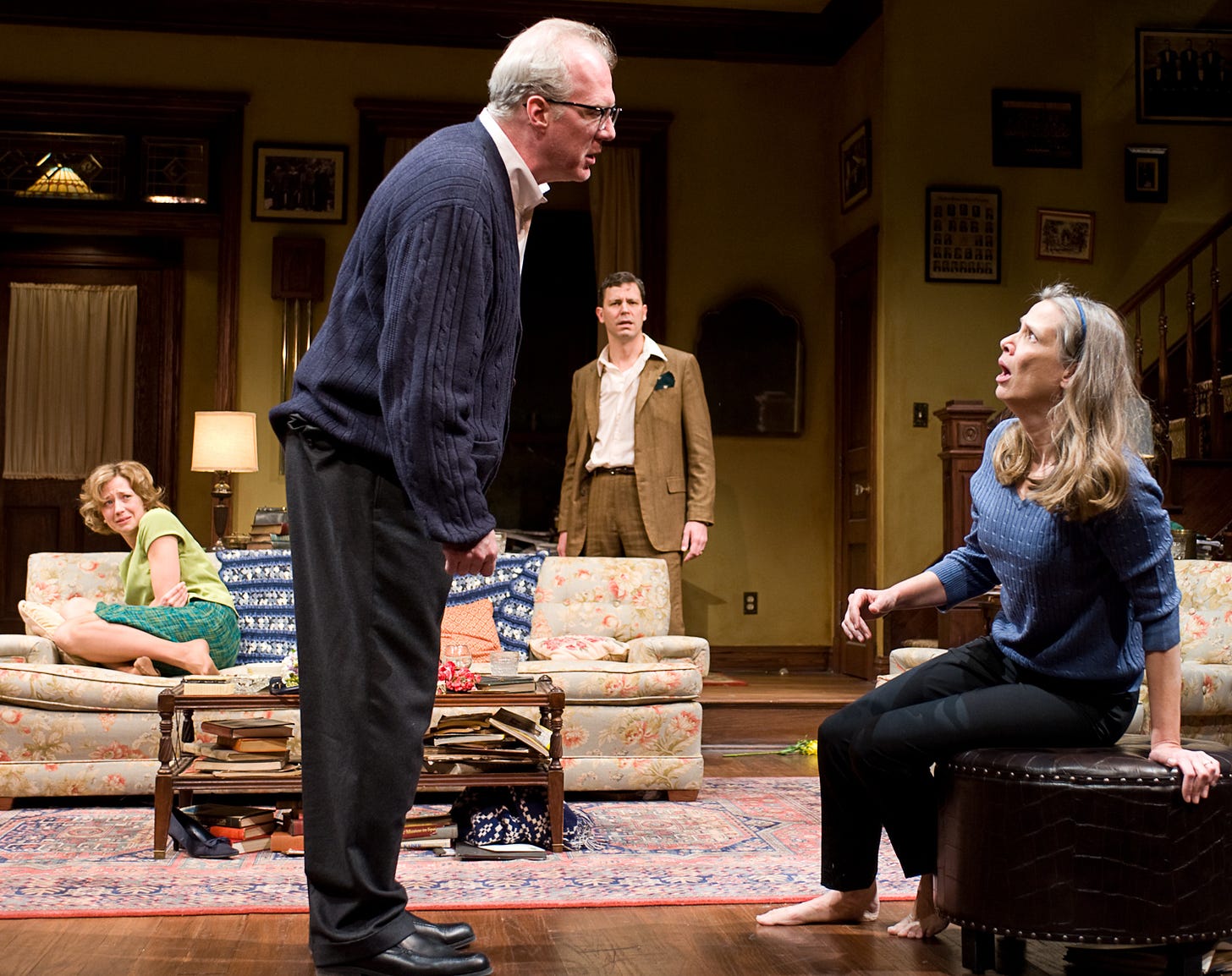 Photograph: Michael Brosilow
If Steppenwolf kicked off 2010 with the announcement of a major new voice, it bookended the year in December with a compelling return to a well-established one. The dynamic between Tracy Letts and Amy Morton as George and Martha offered a fresh take on the warring spouses; Pam MacKinnon's staging found so much new in Edward Albee's 1962 work that it got a Broadway transfer in 2012, just seven years after the play's last Broadway outing. Letts won the Tony for Best Actor in a Play and gave the "we are the ones who say it to their faces" speech that people have been quoting ever since.
The Big Meal
, American Theater Company, 2011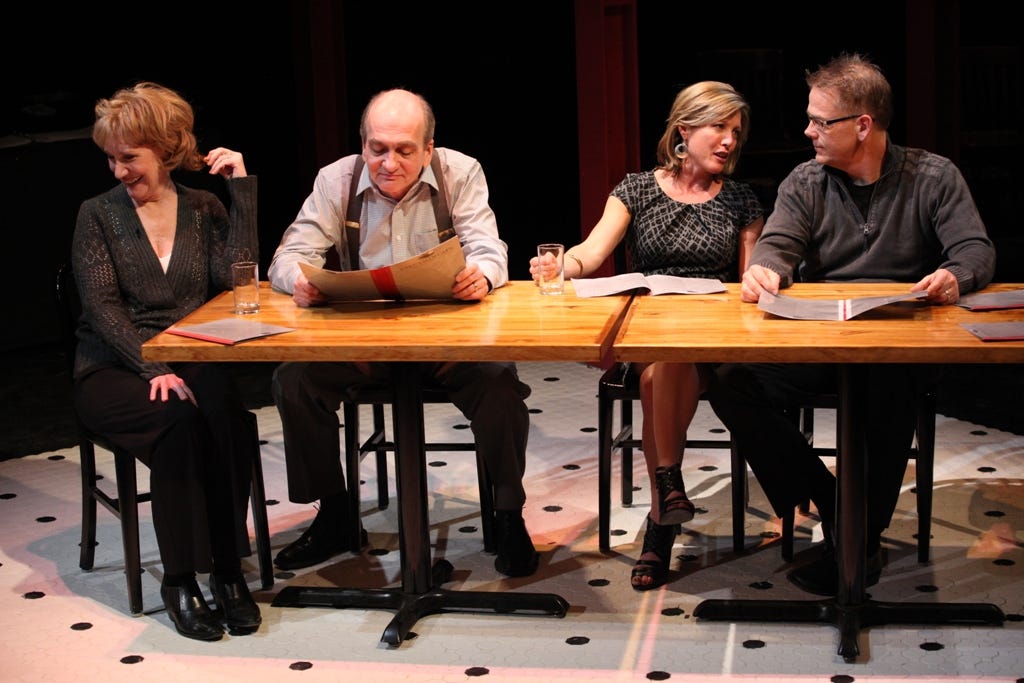 Photograph: Chris Plevin
Dan LeFranc's play used a multigenerational cast and a simple set of tables and chairs to paint a sort of time-lapse portrait of an American family, cleverly compressing several decades into a tight 90 minutes. The core conceit? The play's dozens and dozens of quick-cut micro-scenes all take place around restaurant tables, where the characters experience first dates, anniversaries, birthdays, breakups, and all the other markers of life—and death.
en route
, one step at a time like this, 2011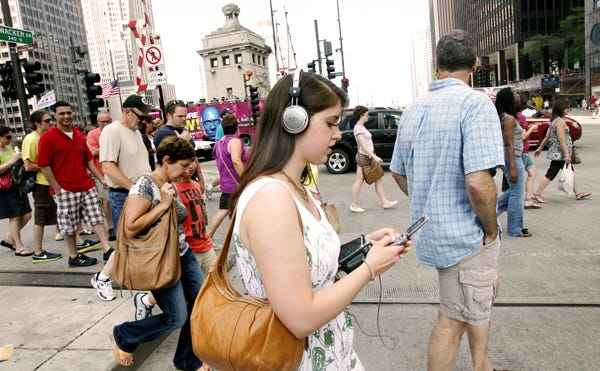 Photograph: Eric Y. Exit
It's difficult to describe en route, or what Australian makers 'one step at a time like this' do generally, to anyone who hasn't experienced it. This piece designed for Chicago Shakespeare Theater was a sort of narrative environmental walking tour in which you were sent off with an MP3 player and your own cell phone, both of which would direct you on a solo jaunt around the downtown area; you were having An Experience right there in the middle of the Loop workers and tourists who obliviously passed you by.
Invisible Man
, Court Theatre, 2012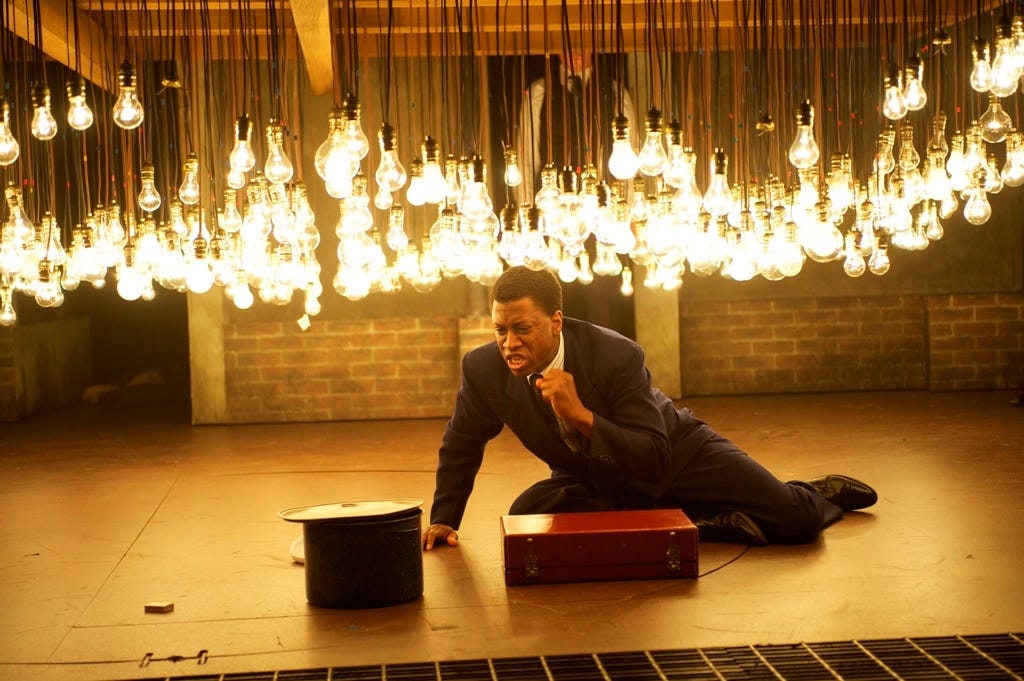 Photograph: Michael Brosilow
Ralph Ellison's 1952 novel seemed impossible to adapt. The first-person narrative of a young Black man's journey through the wringer of American bigotry (hard and soft) was too lyrical, too sprawling, too tonally adventurous. Playwright Oren Jacoby and director Christopher McElroen achieved the impossible at Court, with a thrillingly distilled translation, aided by Teagle F. Bougere's electric performance in the unnamed title role.
---
---
The Iceman Cometh
, Goodman Theatre, 2012
Photograph: Liz Lauren
Deeply felt performances, from Brian Dennehy and Nathan Lane down through the entire ensemble, paired with the chiaroscuro effects of Kevin Depinet's scenic designs and Natasha Katz's lighting to make five hours fly by in Robert Falls's gripping production of Eugene O'Neill's portrait of the American pipe dream.
Hit the Wall
, The Inconvenience, 2012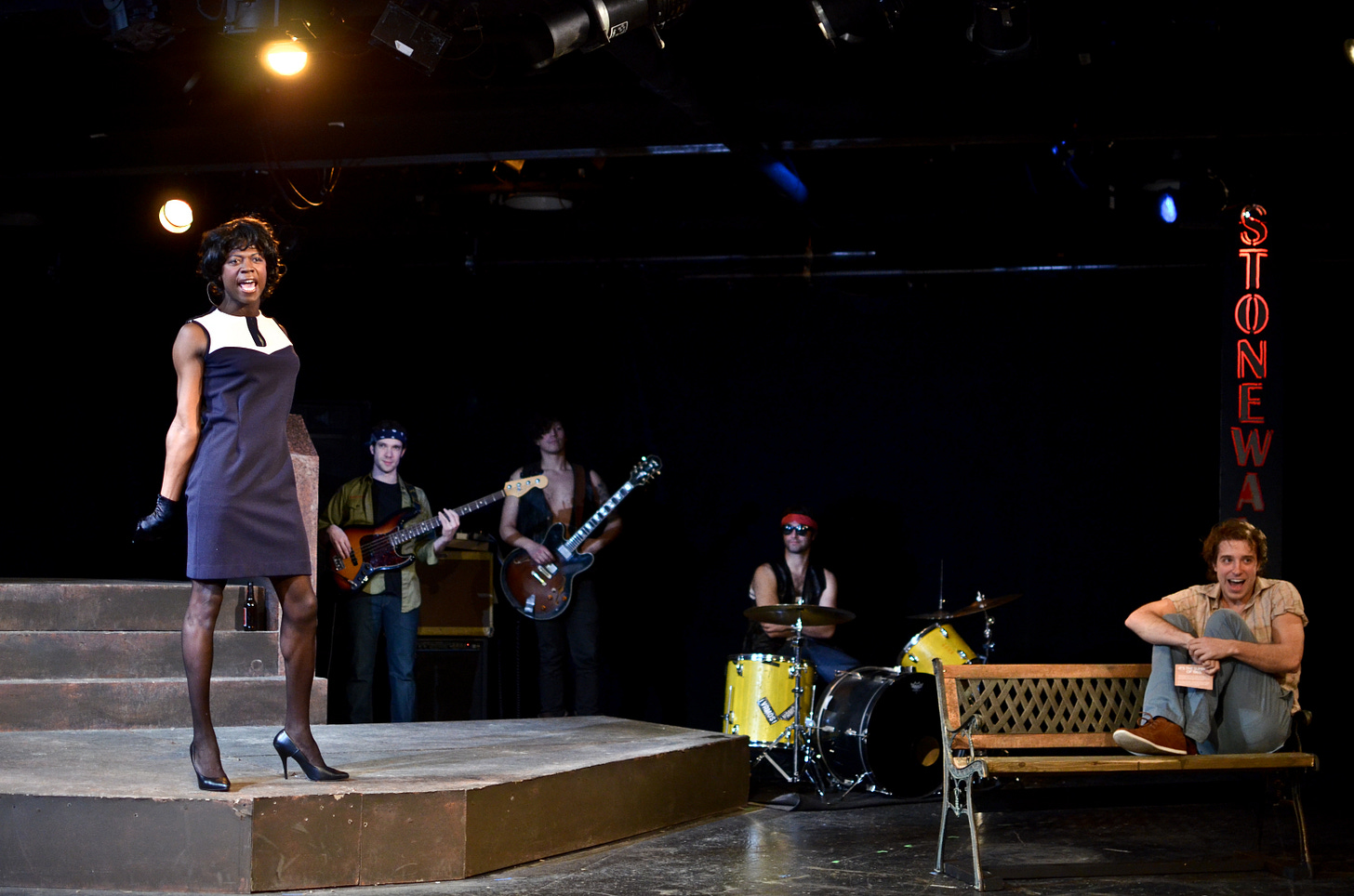 Photograph: Ryan Bourque
Ike Holter had the kind of prolific decade most playwrights would envy, but it all started with this indelible punk-rock hymn to queer generations past—specifically, to those who were there for the pivotal moment of 1969's Stonewall riot in New York City. Holter gave fervent voice to the composite characters he dreamed up to embody that seminal moment—a preview of a writerly voice that would dominate the discourse in the years to come.

Sunday in the Park with George
, Chicago Shakespeare Theater, 2012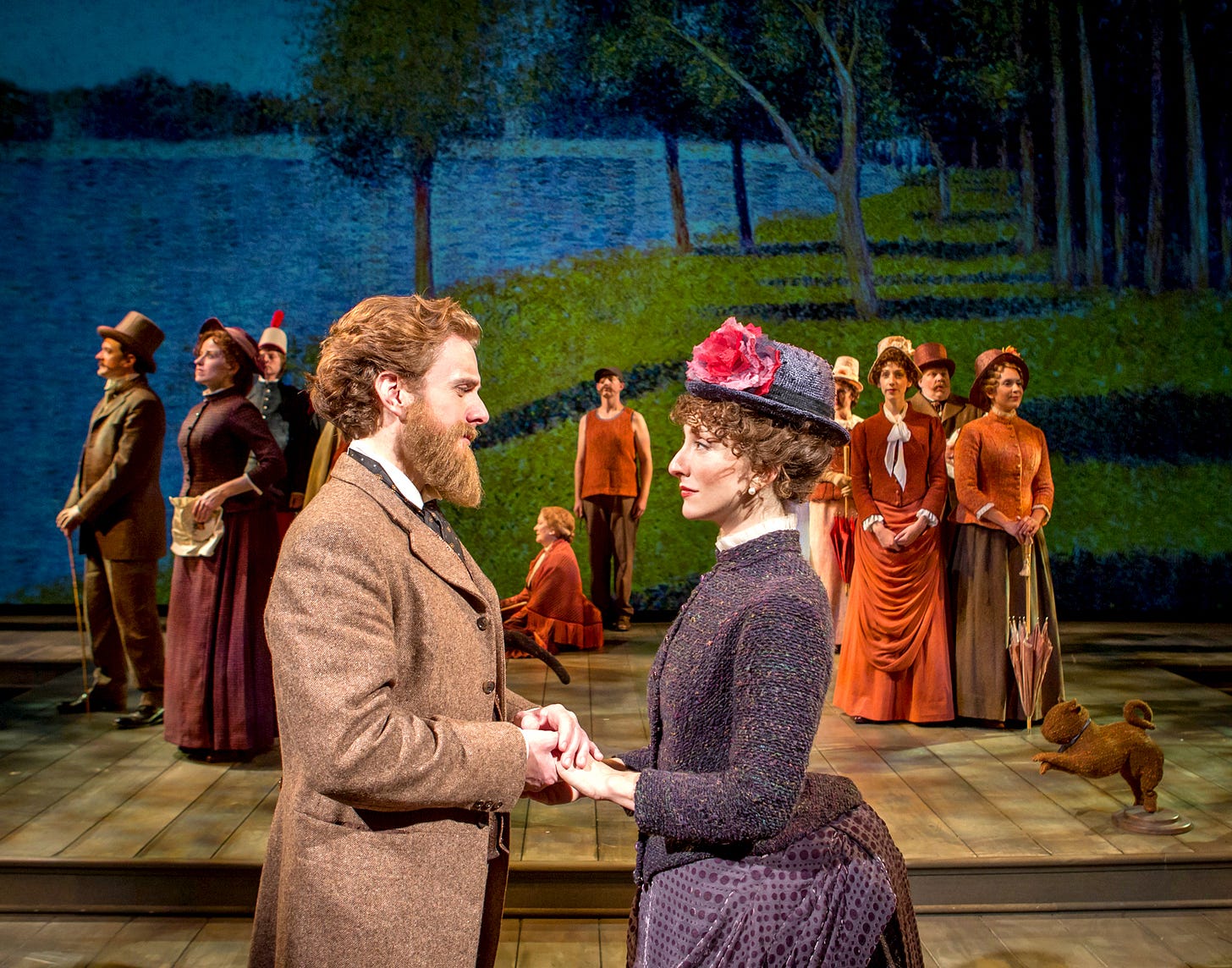 Photograph: Liz Lauren
Gary Griffin had several worthy engagements with the work of Stephen Sondheim this decade, including 2011's Follies at CST and 2019's Into the Woods at Writers Theatre. But the director's best work was this exquisite revival of Sondheim's portrait of two artists named George(s), starring Jason Danieley and Carmen Cusack. Griffin took the narrative problems of the 1980s-set second act head on, Danieley offered carefully considered, sharply distinctive embodiments of his two characters, and Cusack wrapped everything up in a very complicated bow with her performance of the show's thesis statement, "Children and Art."
Great Expectations
, Strawdog Theatre Company, 2013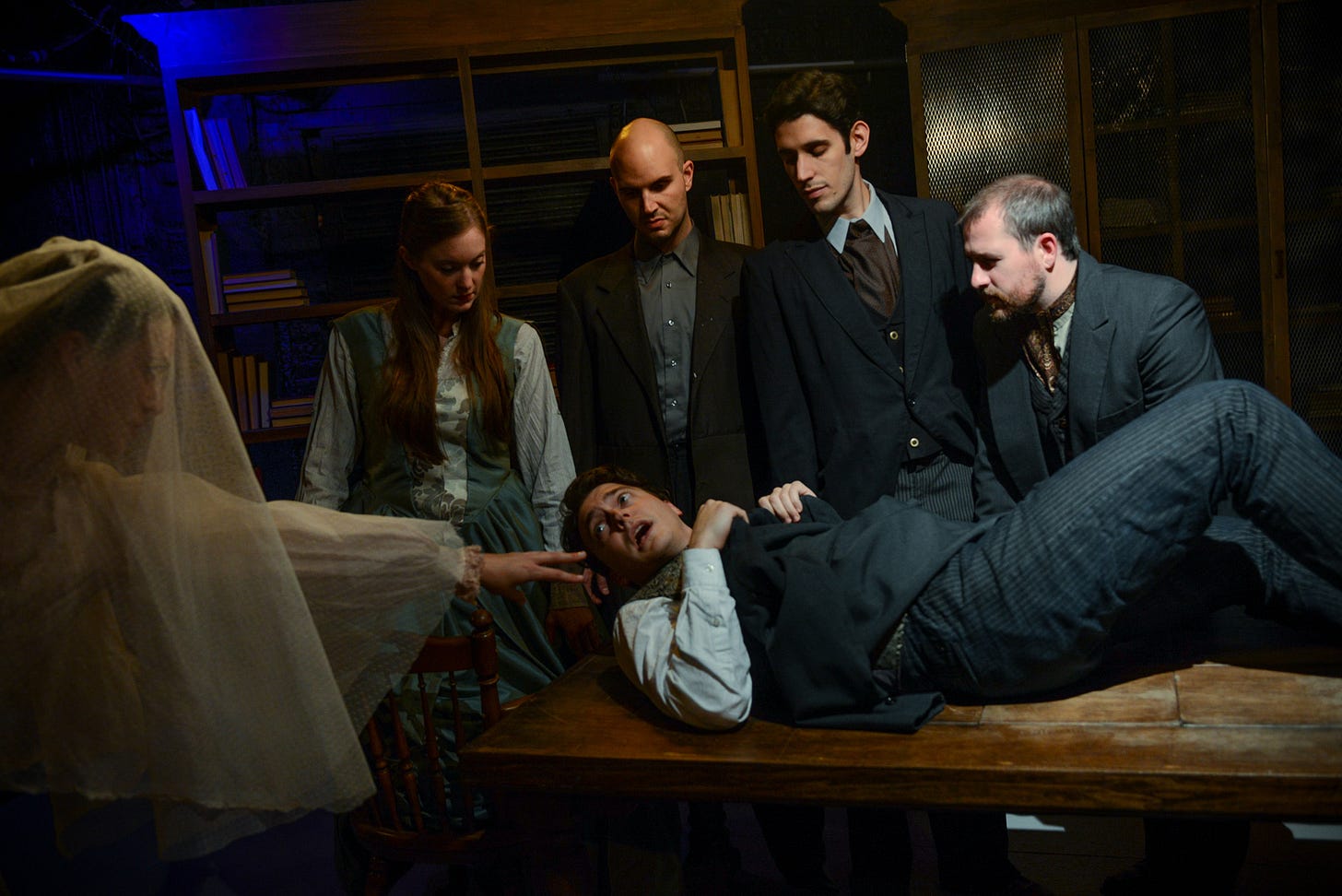 Photograph: Chris Ocken
In Gale Childs Daly's adaptation of Dickens's novel, given a smart, efficient storefront staging by director Jason Gerace, we got the remarkable wedding Miss Havisham never did. (Sorry.) In our case, it was a happy marriage of stagecraft and original text, brought to life by an agile ensemble led by Mike Tepeli's Pip.
All Our Tragic
, The Hypocrites, 2014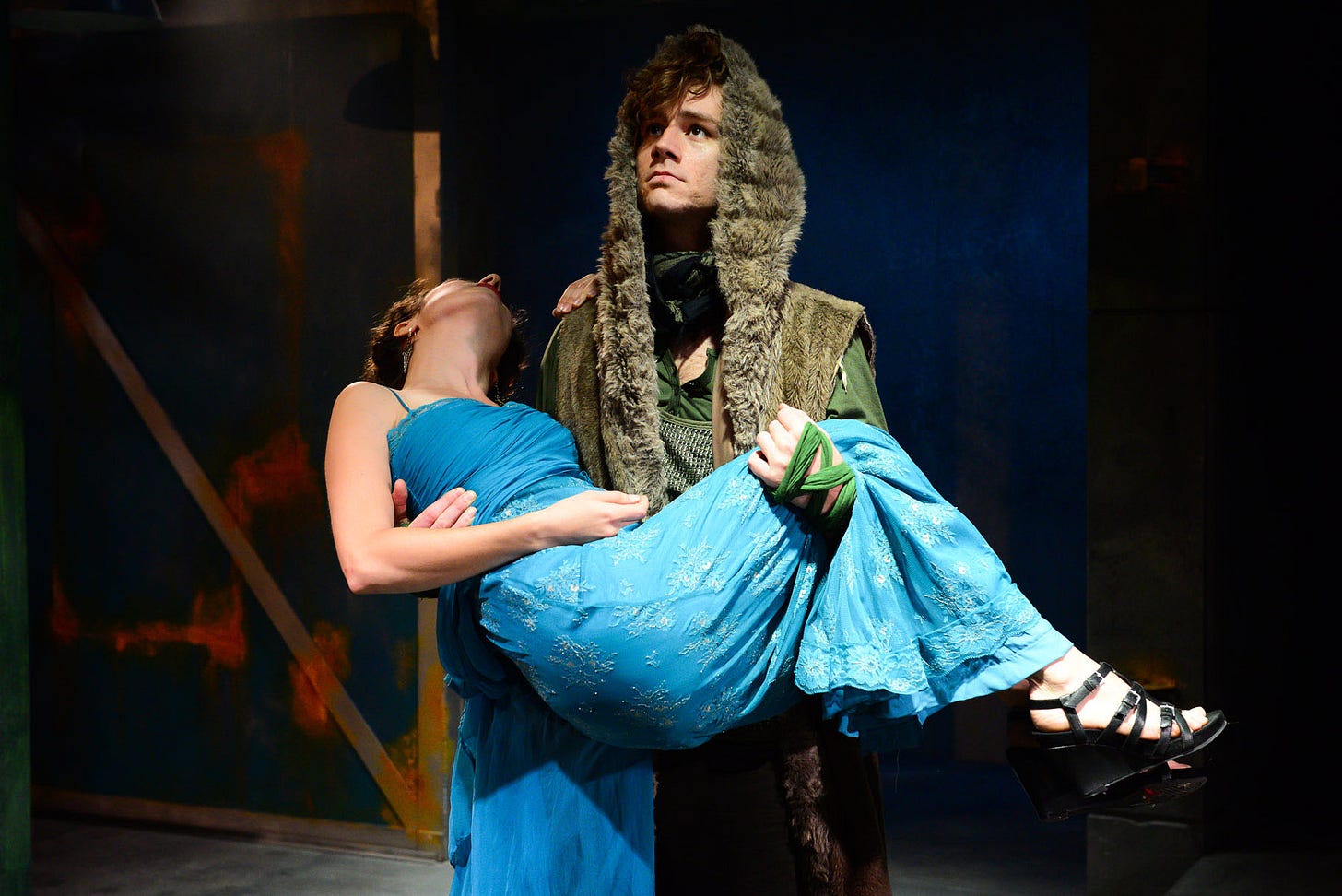 Photograph: Evan Hanover
Expanding on his 2011 work Sophocles: Seven Sicknesses, Hypocrites artistic director Sean Graney incorporated all 32 surviving Greek tragedies into this singular, eight-act maximal mythology experience, which played out in a full-day, 12-hour sitting (including meal breaks) and yet managed to sell out two consecutive summer runs. It was an only-in-Chicago marathon for actors, audience, and the power of storytelling.
Native Son
, Court Theatre, 2014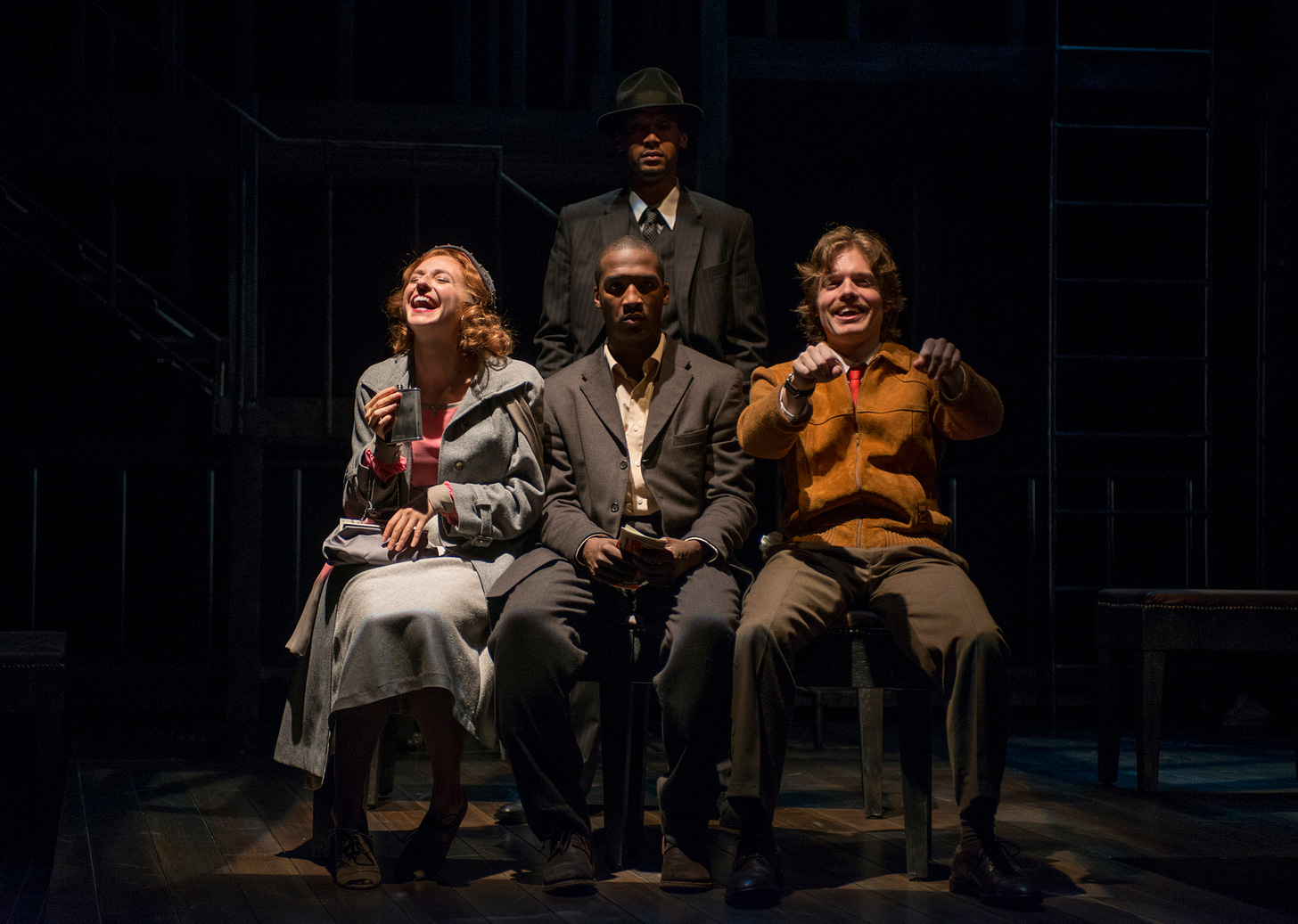 Photograph: Michael Brosilow
Translating Richard Wright's seminal Chicago novel for Court Theatre and American Blues Theater, Nambi E. Kelley's streamlined, 85-minute adaptation made several astute choices—such as dividing protagonist Bigger Thomas between two actors. Jerod Haynes portrayed the Bigger of the page, navigating the treacherous terrain of the city's systemic inequity, while Eric Lynch shadowed Haynes as The Black Rat, an embodiment of Bigger's subconscious that allowed Wright's prose to expand across the stage.
---
---
The Wild Party
, Bailiwick Chicago, 2014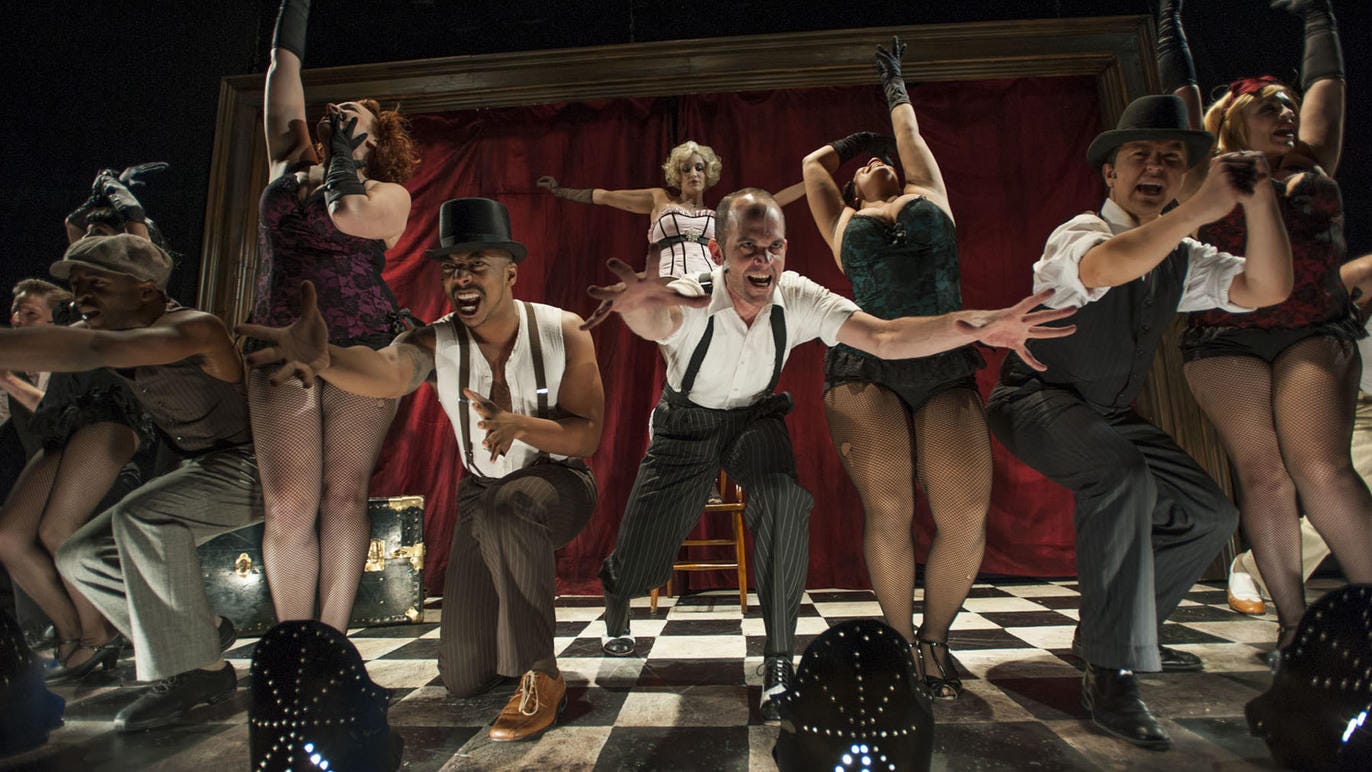 Photograph: Michael Brosilow
Born out of the ashes of the old Bailiwick Repertory Theatre, the company known as Bailiwick Chicago burned hot and fast before quietly fading out. The company's high point was Brenda Didier's seductive staging of Michael John LaChiusa's debauched Jazz Age musical. From Didier's choreography to her designers' precision work to an ace ensemble cast, this was a truly intoxicating concoction.
The Humans
, American Theater Company, 2014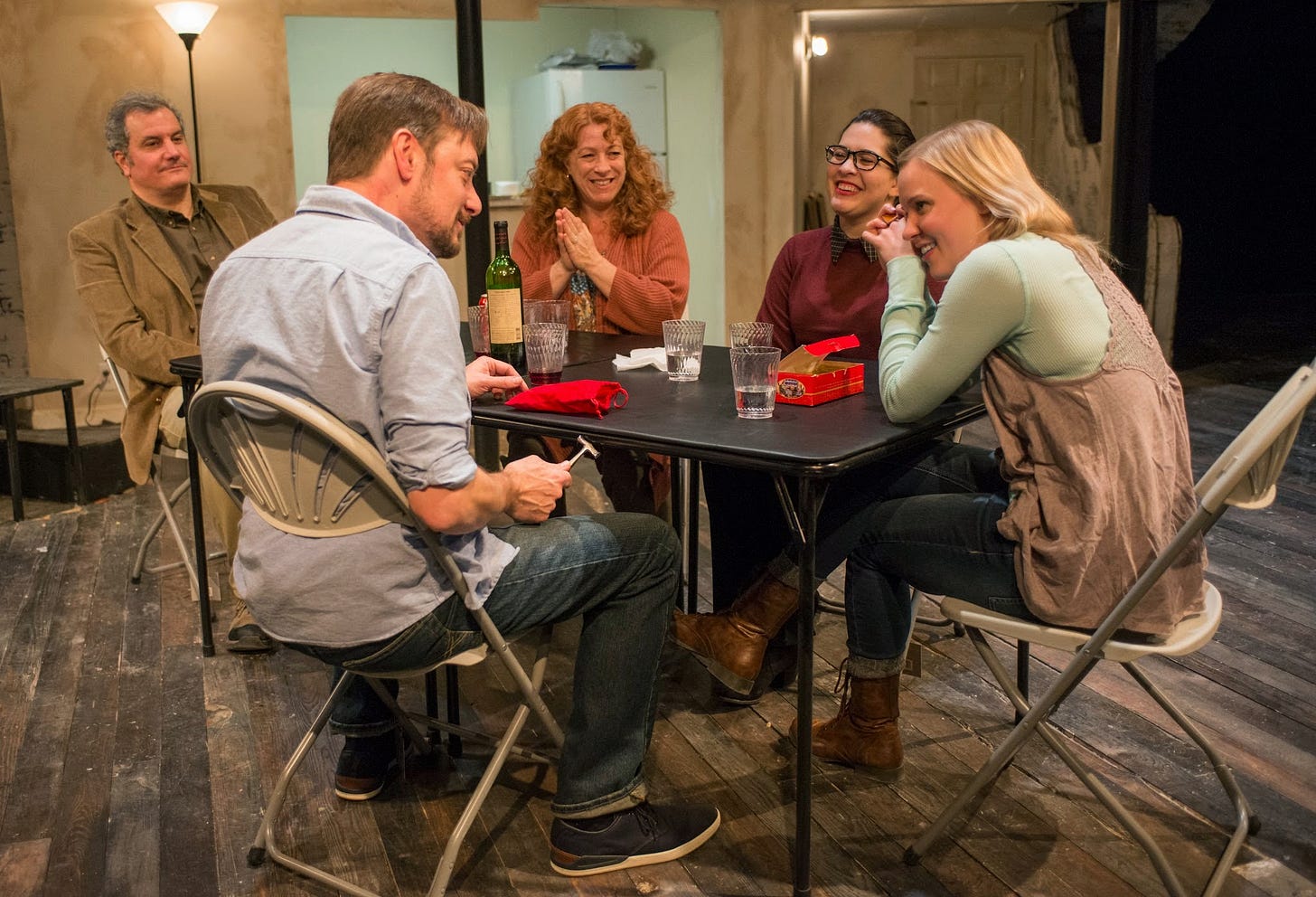 Photograph: Michael Brosilow
A family drama with vaguely supernatural undertones, Stephen Karam's Thanksgiving-set play spoke directly to the deepest-seated anxieties of a crumbling American middle class. It's little wonder that Karam's play went on to win the Tony Award for best play and earn a nomination for the Pulitzer Prize (losing to the Hamilton juggernaut). That Chicago got to see it first, with a cast of homegrown actors that helped Karam workshop his script, can be credited to the playwright's relationship with American Theater Company and its then–artistic director PJ Paparelli. Both ATC and the late Paparelli, sadly, were among the decade's losses.
Brilliant Adventures
, Steep Theatre Company, 2015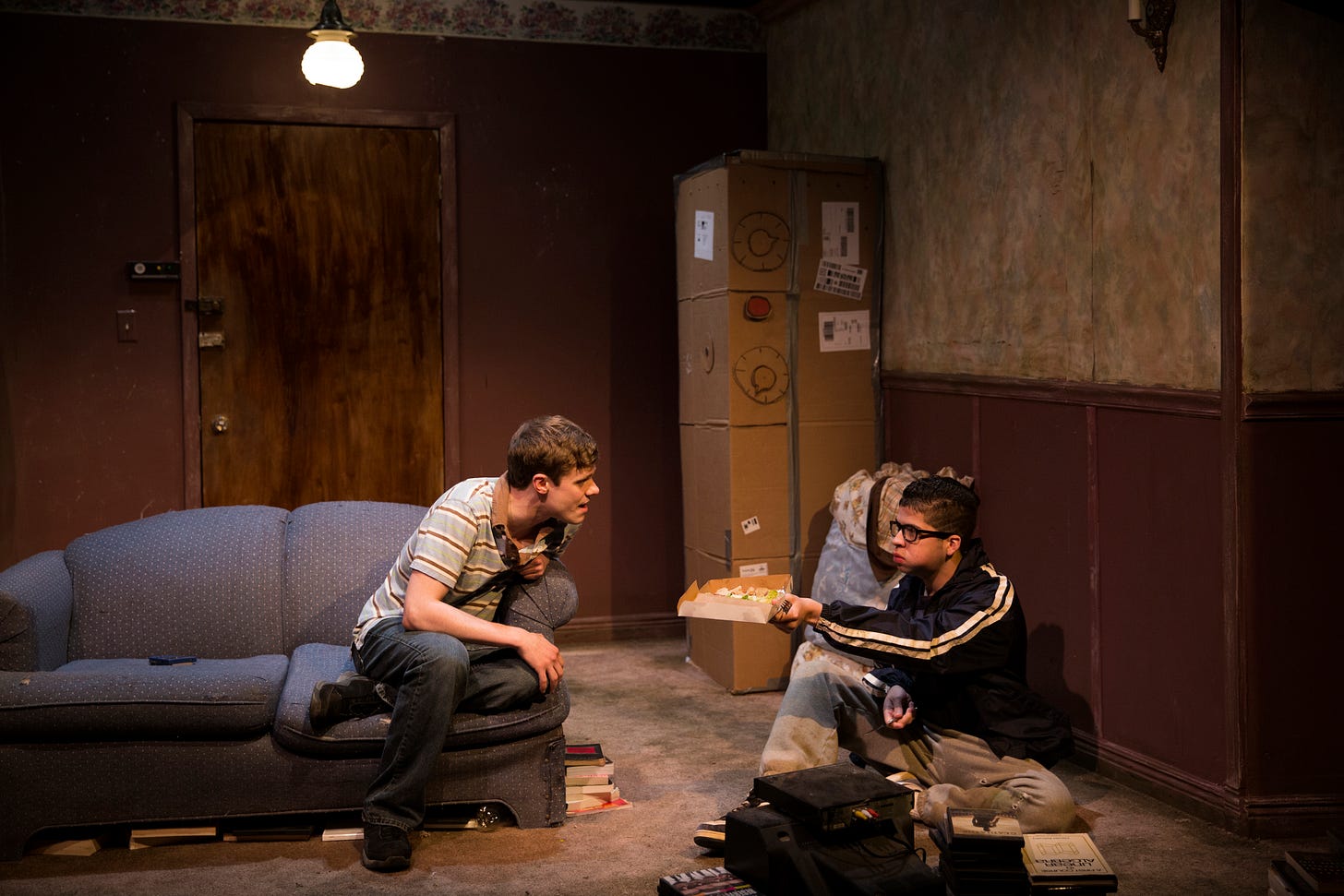 Photograph: Brandon Wardell
Choosing a pinnacle among Steep's productions of the 2010s is a near-impossible task. The company has been one of my most reliable favorites since its days in a thin-walled Sheridan storefront in the mid-aughts, and its adventurous programming continually upends expectations. But put a gun to my head (as characters in Steep's plays frequently seem to do), and I'd go with Robin Witt's 2015 production of this crackling science fiction–social commentary hybrid, which marked the United States premiere of inventive English playwright Alistair McDowall.
Ride the Cyclone
, Chicago Shakespeare Theater, 2015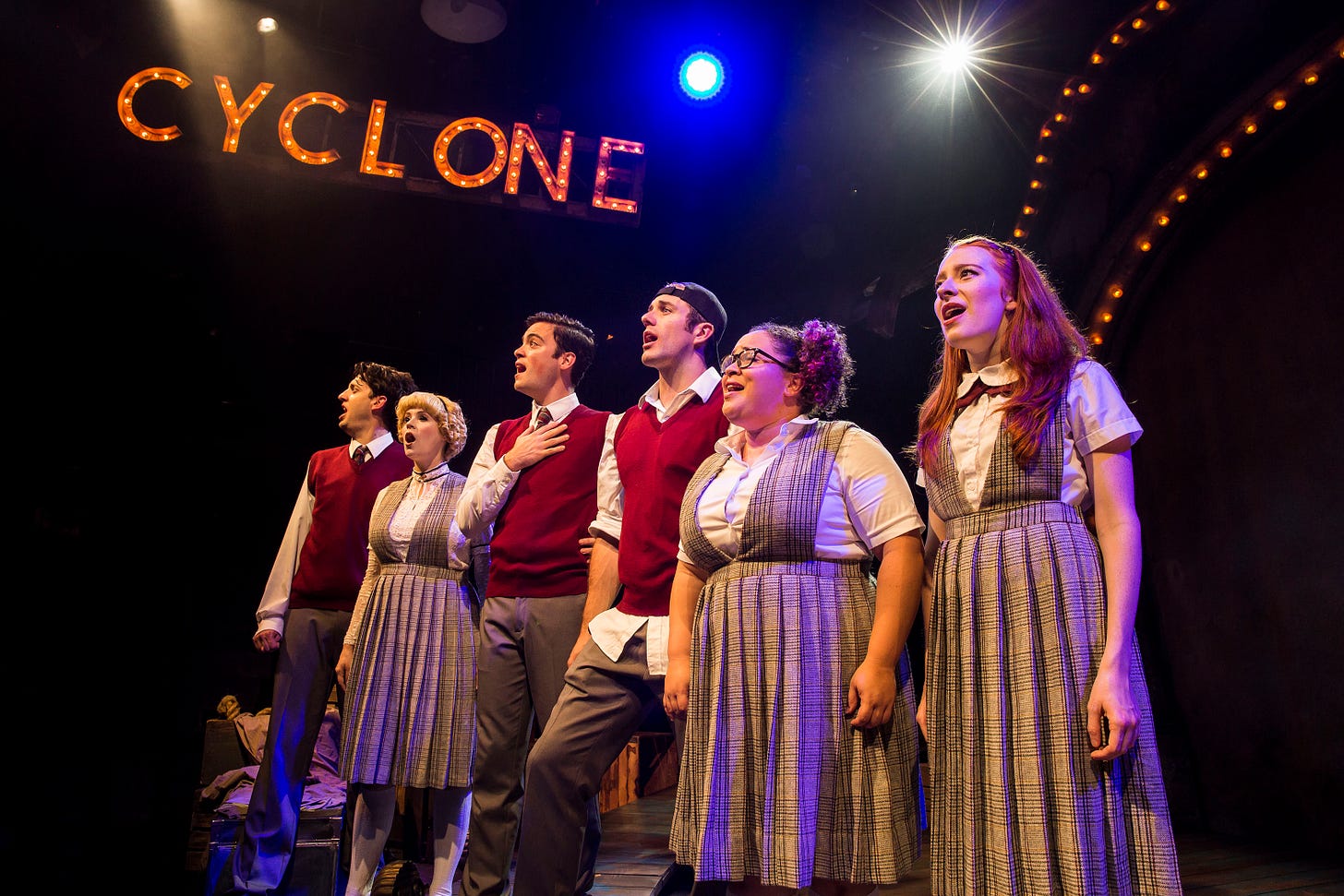 Photograph: Liz Lauren
The kind of concept musical whose concept sounds a little insane, this Canadian import (penned by Jacob Richmond and Brooke Maxwell) centered on six dead teenagers, victims of a roller-coaster accident, gathered in a theme-park purgatory and goaded to compete for a single opportunity to return to life. Irreverent, inventive and endlessly surprising in a staging by the late Rachel Rockwell (another talent we lost too soon), Cyclone was an unexpected thrill ride.
2666
, Goodman Theatre, 2016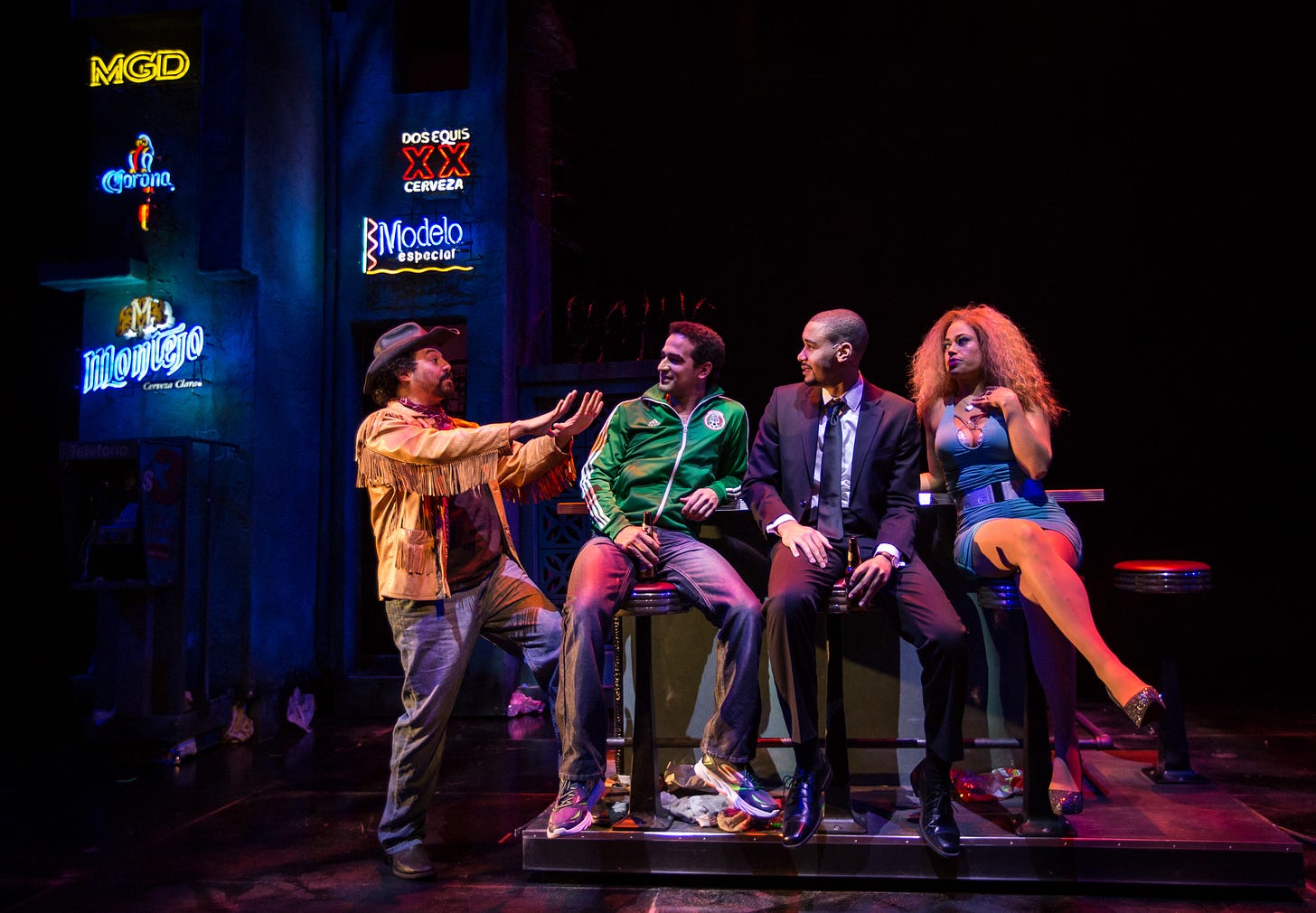 Photograph: Liz Lauren
I don't want this list to give the impression that a long running time is any kind of marker of merit. There are as many tight 90-minute sprints here as there are marathons like The Brother/Sister Plays, The Iceman Cometh or All Our Tragic. But like those other theatrical binge-watches, 2666 earned its five-and-a-half-hour running time with its ambition and execution. That Robert Falls and Seth Bockley's adaptation made Roberto Bolaño's multi-tentacled novel—about Mexican femicide, literary scholarship, and the futility of trying to read artists' minds, among its many discursive topics—theatrically viable was impressive.
---
---
Learning Curve
, Albany Park Theater Project, 2016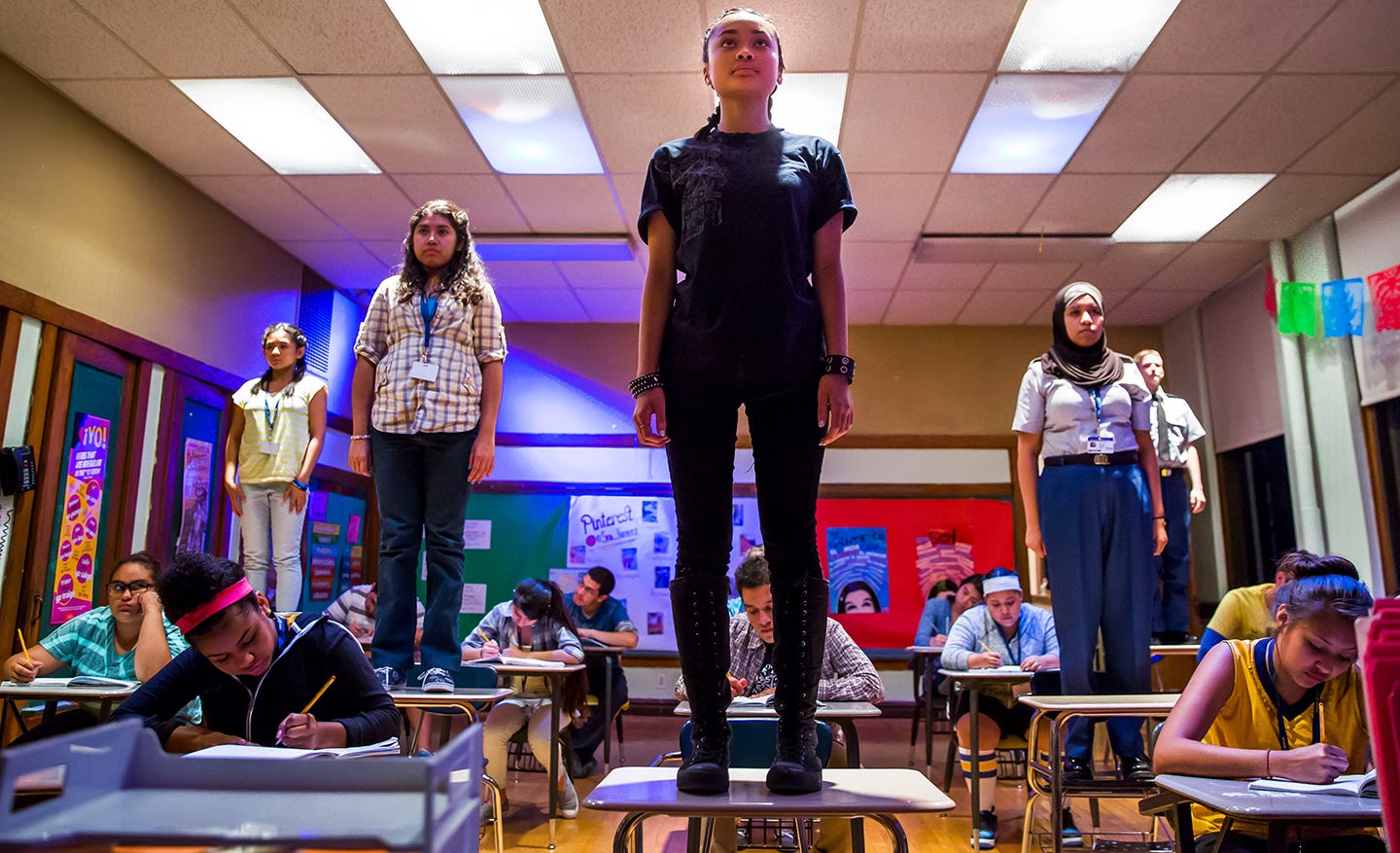 Photograph: Liz Lauren
Albany Park Theater Project has given theatrical agency and voice to the real-world concerns of its young ensemble members for more than two decades, turning out striking and effective stage product. But the troupe's 2016 work, an immersive and highly effective slice of public-school life produced in partnership with Brooklyn's Third Rail Projects, took APTP to a new level; that the company is currently developing another environmental piece with Third Rail to premiere in 2021 is very good news.
At the Table
, Broken Nose Theatre, 2017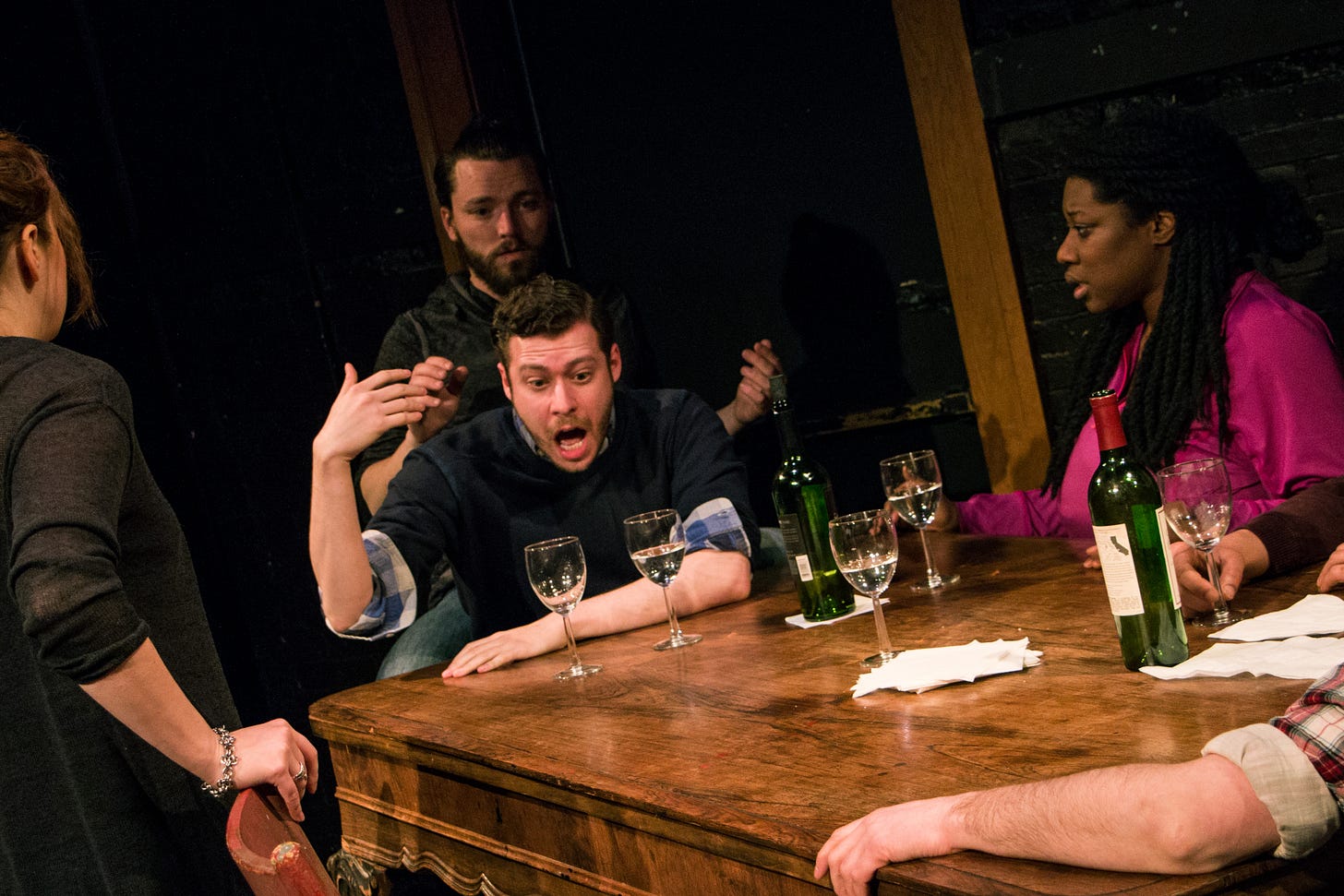 Photograph: Matthew Freer
Michael Perlman's script, in which a core group of college pals and their guests (mostly in their early 30s) drink, smoke and clash over identity politics, could easily have been a didactic straw-man puppet show. To his credit, though, Perlman put his arguments in the mouths of nuanced characters, and Broken Nose Theatre's riveting production—staged in a park district coach house with a microbudget and a maximally talented cast—went a long way toward raising the table stakes.
Pass Over
, Steppenwolf Theatre Company, 2017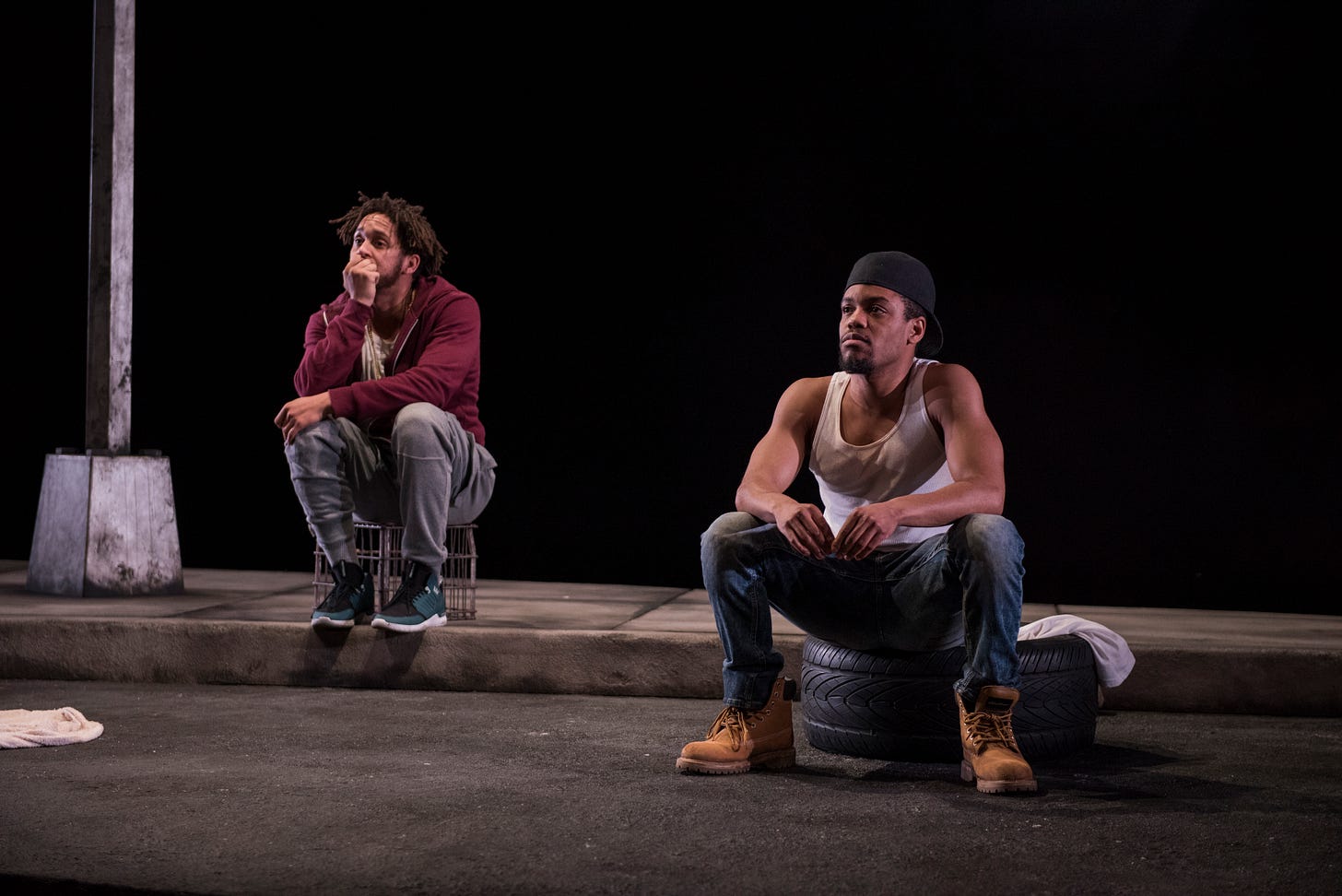 Photograph: Michael Brosilow
Even separated from the heated conversation set off across the city by the critical reception to Steppenwolf's world premiere production, Antoinette Nwandu's play—a riff on Waiting for Godot and the biblical Exodus—was a striking allegory about the powerful forces facing young Black men in America. Danya Taymor's spare staging let actors Jon Michael Hill and Julian Parker's laser-focused performances drive the action—except for the moments when Ryan Hallahan's characters stepped in to take away their keys.
Gypsy
, Porchlight Music Theatre, 2018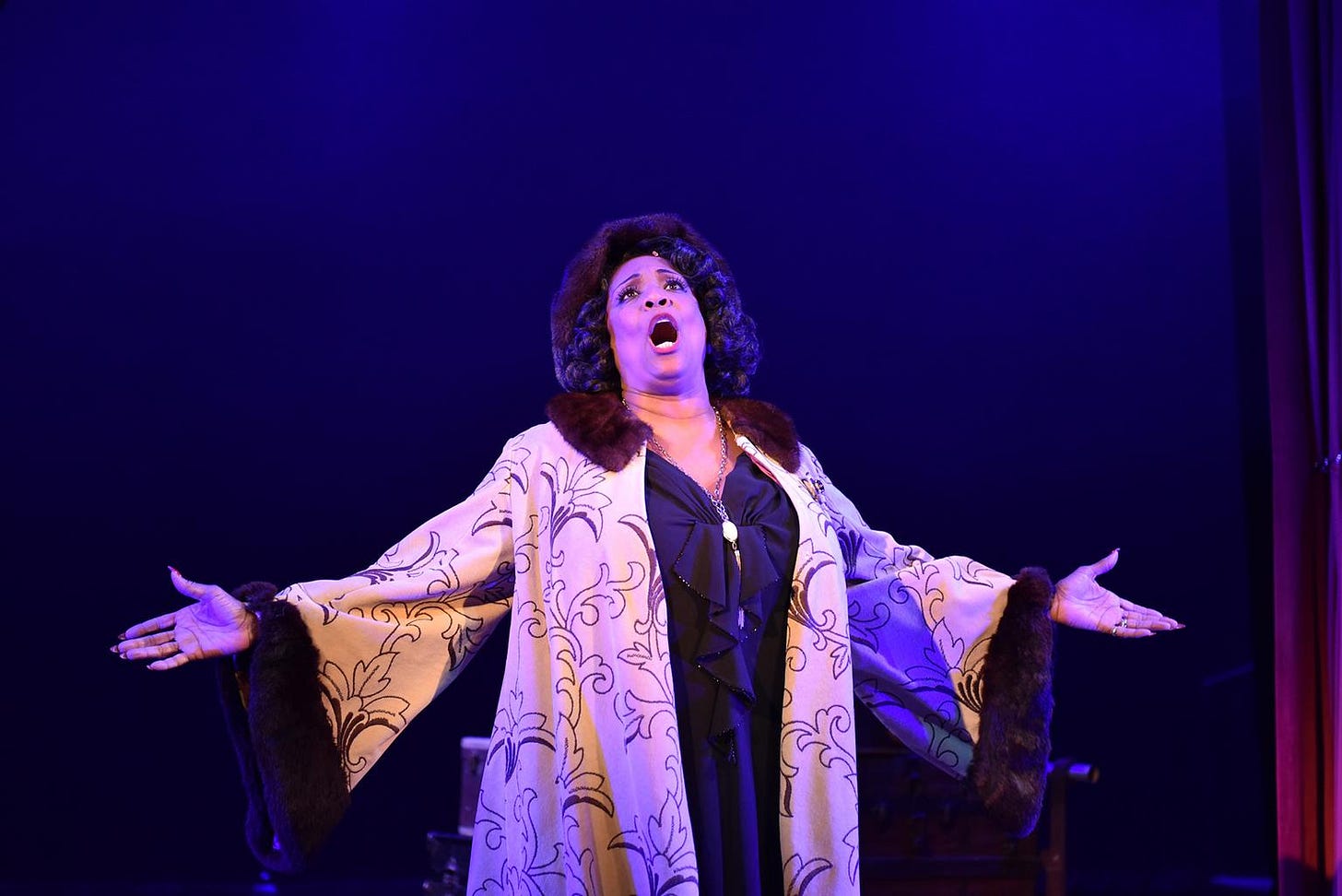 Photograph: Michael Courier
Porchlight Music Theatre has really leveled up since taking up residence at the Ruth Page Center for the Arts a few seasons back. The prime example, among many strong productions: granting E. Faye Butler's longstanding wish to play Gypsy's Mama Rose. The powerhouse actor's climactic, master-class performance of "Rose's Turn" would have been reason enough to buy a ticket. Yet Butler built up to that eruption slowly and incrementally, and Porchlight built a solid and freshly conceived revival around her.
In the Canyon
, Jackalope Theatre Company, 2018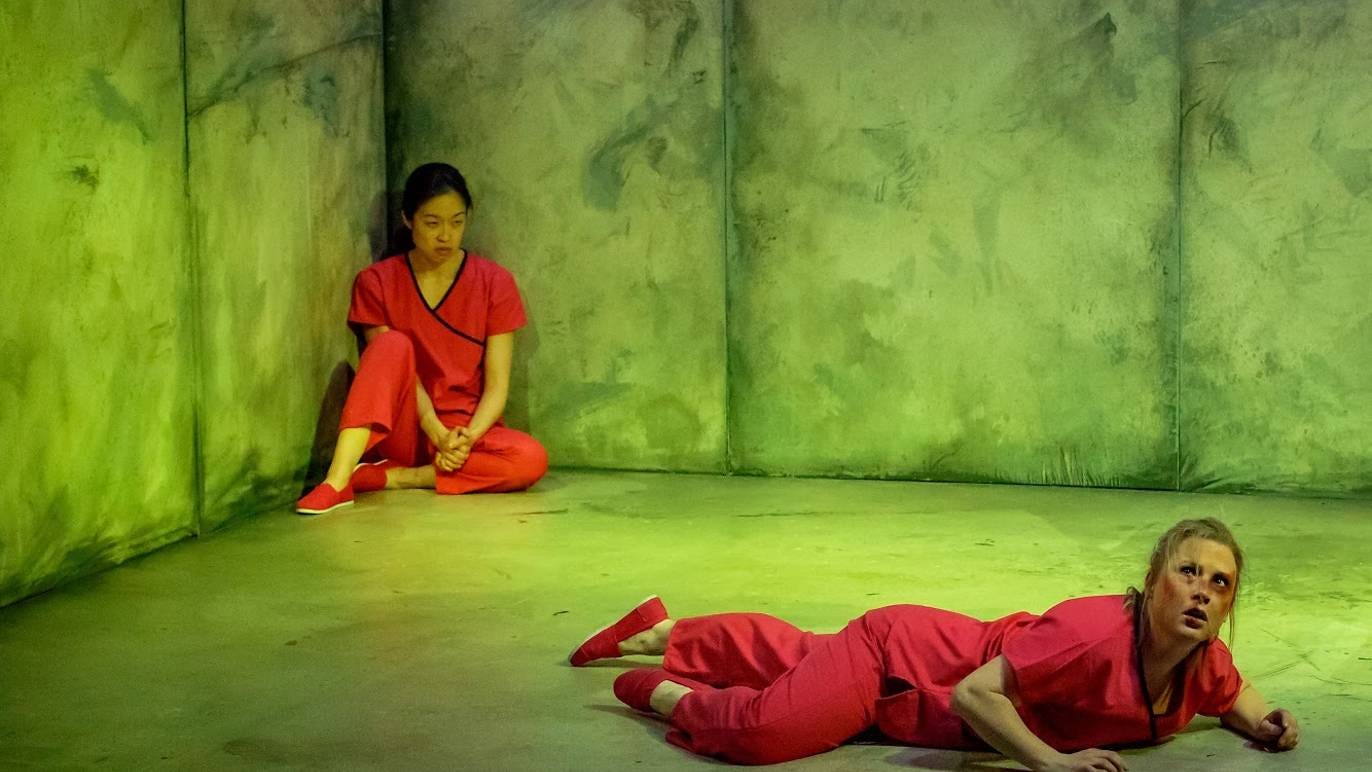 Photograph: Sarah Larson
Playwright Calamity West has touched on horror before—heck, back near the beginning of this decade she wrote a deeply disturbing play about John Wayne Gacy. But In the Canyon might have that real-life serial killer beat for visceral terror, if only because this was a play about a political horror unfolding in real time outside the theater. West's time-jumping play imagined a Handmaid's -esque future in which abortion is made illegal, even retroactively. A commanding Liz Sharpe led an ensemble cast in building a dystopian world that felt all too within reach.
---
---
Witch
, Writers Theatre, 2018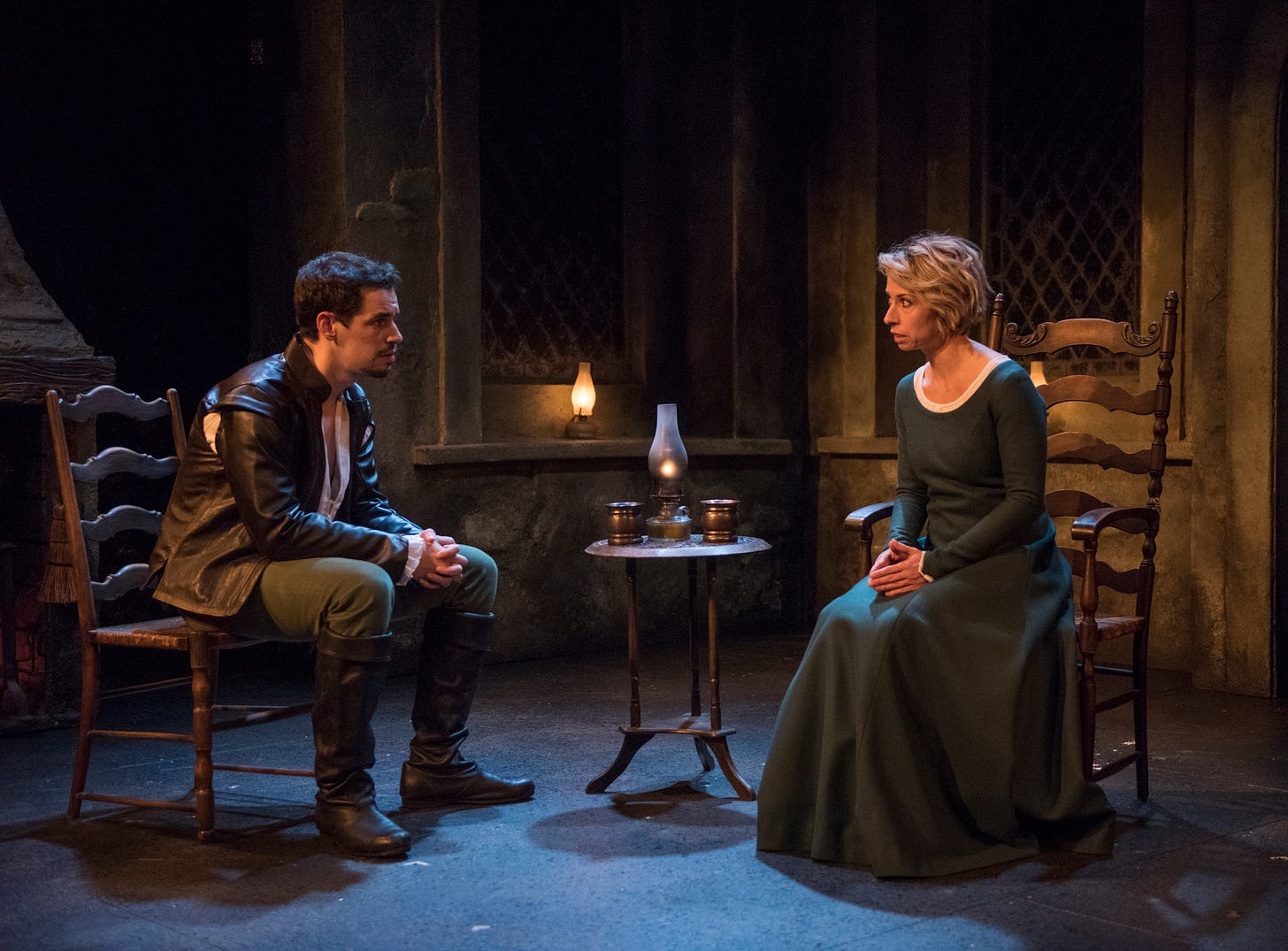 Photograph: Michael Brosilow
Jen Silverman's world premiere comedy bit off the Jacobean drama The Witch of Edmonton, applying the 1621 play's general themes and situations in the service of a sharp but much more modern-minded satire—particularly cutting on the subject of gendered expectations. Marti Lyons's cast, including Steve Haggard, Jon Hudson Odom, and a dazzling Audrey Francis, dug their teeth into the gleefully anachronistic material with spellbinding aplomb.
Midsummer (A Play with Songs)
, Greenhouse Theater Center, 2019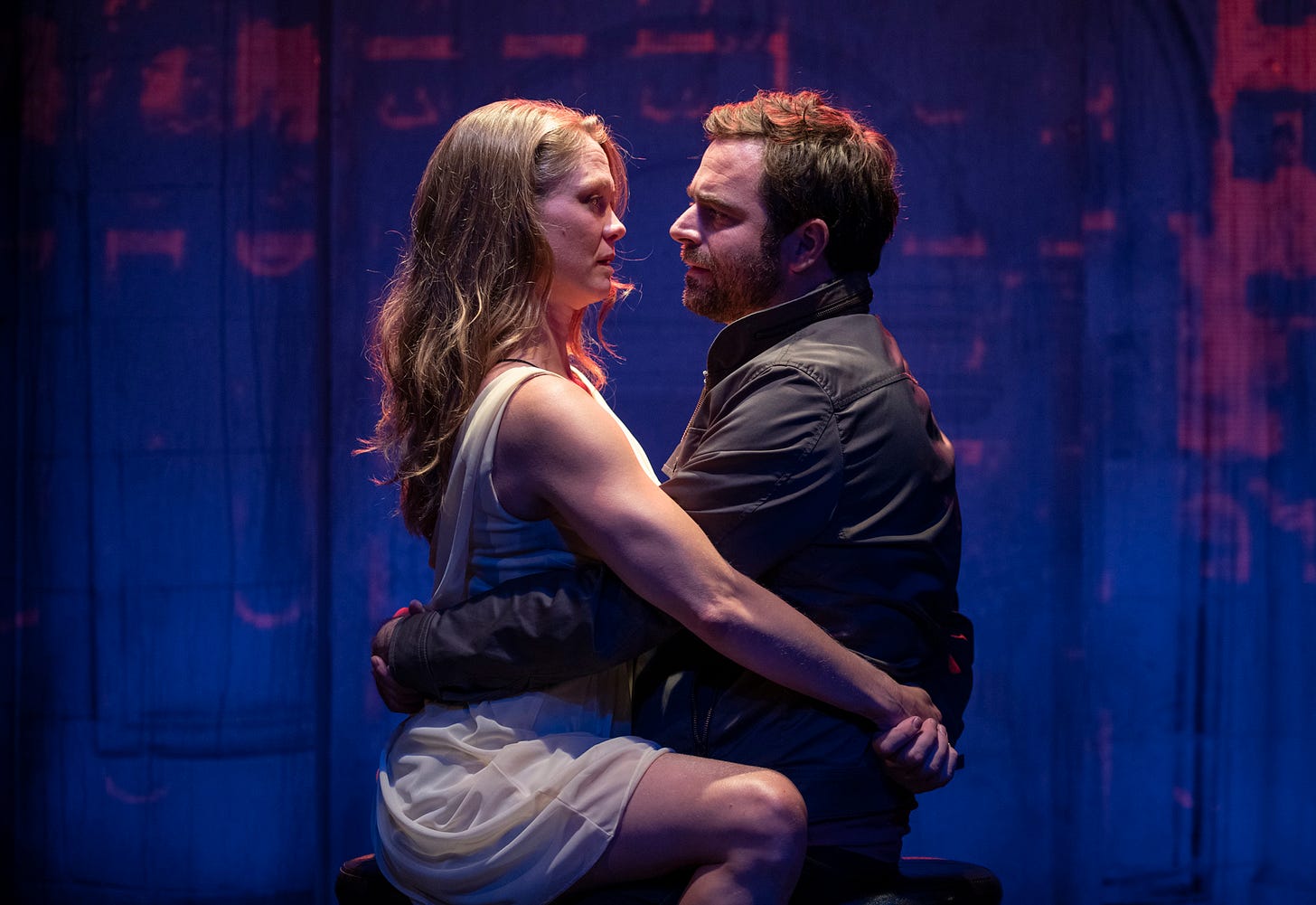 Photograph: Michael Brosilow
The sexiest surprise to kick off the current season this fall was the pairing of Chaon Cross and Patrick Mulvey in this downscale delight of a two-hander. Playwright David Greig's surly romcom conceit employs two actors to play a surfeit of characters, but chiefly Edinburgh residents Helena and Bob, for whom a besotted hookup turns into a weekend of unlikely adventure. Mulvey and Cross oozed chemistry and charm in a production that, like their characters' attraction, proved impossible to resist.
The First Deep Breath
, Victory Gardens Theater, 2019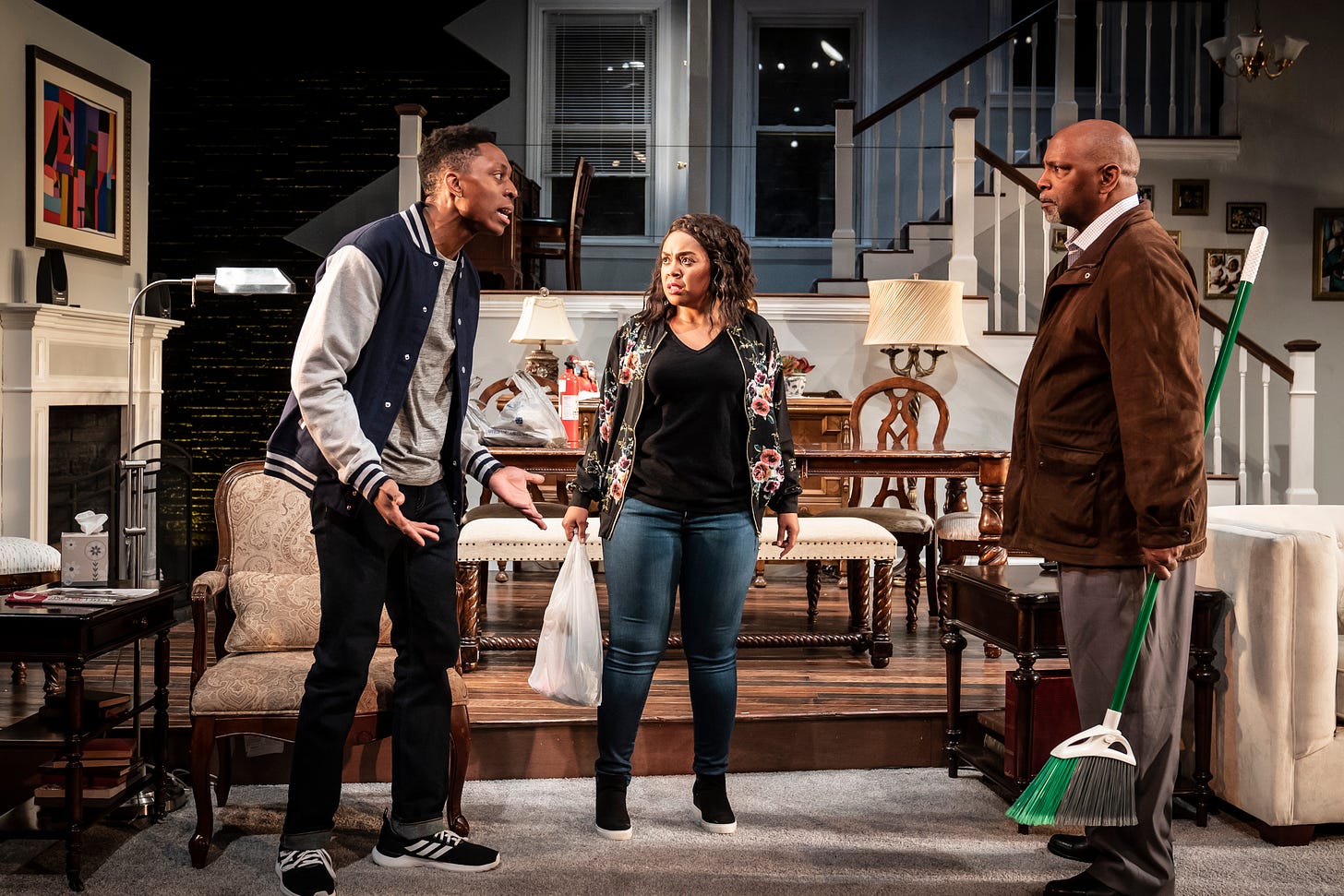 Photograph: Liz Lauren
Victory Gardens has had a truly transformative decade, most of it under the artistic tenure of Chay Yew, whose run as artistic director began in mid-2011. The theater announced this month that Yew's run will conclude at the end of this season, after nine years at the helm of an institution that has shown a renewed commitment to championing new and emerging writers. The First Deep Breath, an accomplished debut that opened in November and announced playwright Lee Edward Colston II as a major talent to watch, was a fitting show to have onstage as Yew announced his departure. The sprawling family drama put generational trauma in an unsparing spotlight, in a production enhanced by a fiery ensemble cast.
---
Questions or feedback for me? Reply to this email, or if you're reading this on the web, hit me at kris@krisvire.com or find me on Twitter @krisvire. You can also leave public comments on the web version of the newsletter; click the headline above or the links at the bottom of this post.