Discover more from Storefront Rebellion
Reviews and commentary about theater in Chicago from critic Kris Vire.
Jeff Awards announce 2020 Non-Equity winners
All Quiet on the Western Front leads the pack with six awards.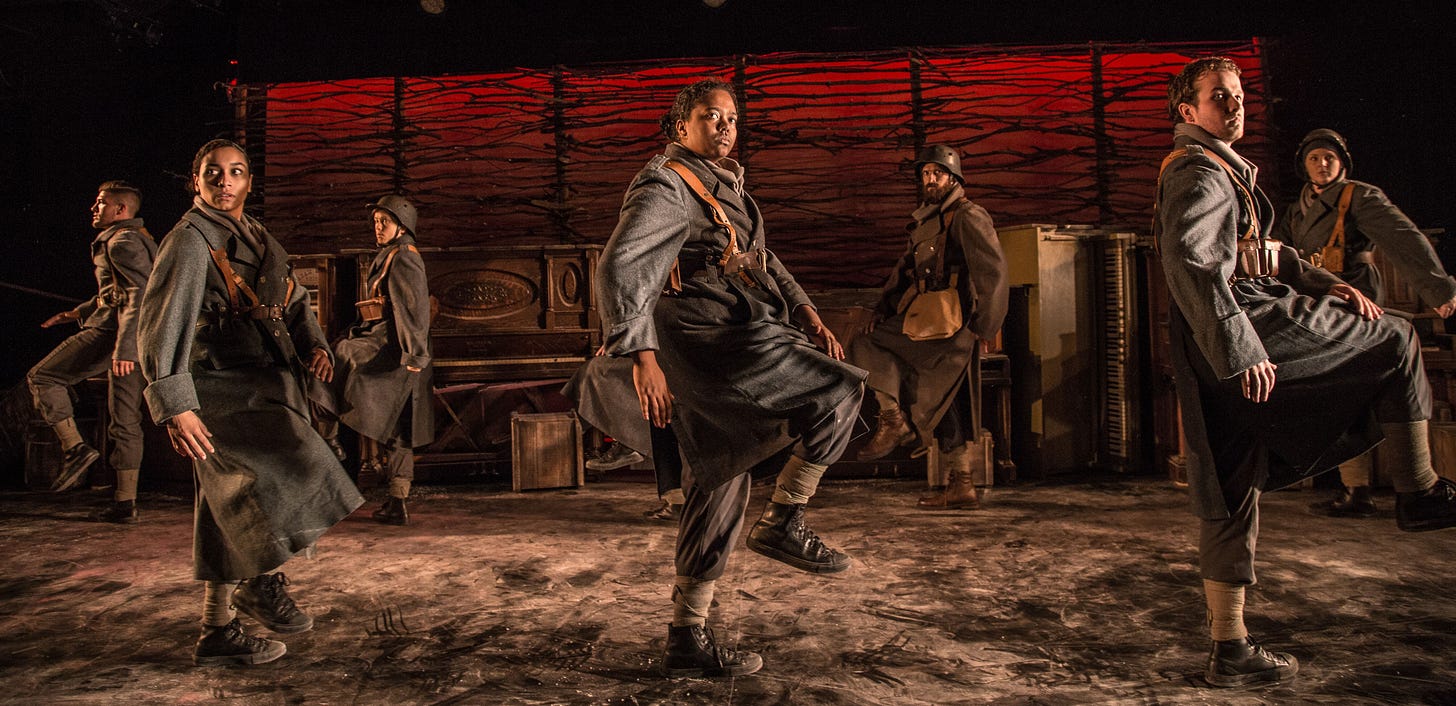 The company of
All Quiet on the Western Front
. Photograph: Austin D. Oie
---
The Jeff Awards committee revealed the winners of its 2020 Non-Equity Jeff Awards this evening, with Red Tape Theatre's inventive new adaptation of Erich Maria Remarque's World War I classic All Quiet on the Western Front taking home six awards, including Production—Play, Ensemble, and New Work. BoHo Theatre's local premiere of Big Fish was named the best musical production of the season.
Notably, neither of the productions that earned top honors from the Jeff committee were reviewed by either of the city's daily newspapers.
The Non-Equity ceremony, originally scheduled to take place June 8, was moved online due to the ongoing Covid-19 pandemic. The virtual ceremony was delayed by two weeks amid the nationwide protests following the murder of George Floyd in Minneapolis.
It remains unclear what the committee plans to do about the 2020 Equity Jeff Awards, which are normally presented in the fall. Under the awards body's rules, the Non-Equity season runs April 1 to March 31, so only a handful of shows were affected when the lockdown began in mid-March; the Equity season, though, runs August 1 to July 31, meaning more than a third of the season was lost. The committee says it will announce its plans in late August.
See the full list of tonight's winners below; find the complete list of nominees here.
---
Production – Play
All Quiet on the Western Front — Red Tape Theatre
Production – Musical
Big Fish — BoHo Theatre
Ensemble
All Quiet on the Western Front — Red Tape Theatre
New Work
Matt Foss — All Quiet on the Western Front — Red Tape Theatre
Director — Play
Lili-Anne Brown — P.Y.G. or The Mis-Edumacation of Dorian Belle — Jackalope Theatre Company
Director – Musical
Stephen Schellhardt — Big Fish — BoHo Theatre
Performer in a Principal Role — Play
Eric Gerard (Blacky Blackerson) — P.Y.G. or The Mis-Edumacation of Dorian Belle — Jackalope Theatre Company
Brookelyn Hébert (Ada Byron Lovelace) — Ada and the Engine — The Artistic Home
Performer in a Principal Role — Musical
Will Lidke (Hedwig) — Hedwig and the Angry Inch — Theo Ubique Cabaret Theatre
Amanda Raquel Martinez (Pearl, The Victim, Lady Usher, Soldier, Scheherazade) — Ghost Quartet — Black Button Eyes Productions
Solo Performance
Scott Gryder (Alex More) — Buyer & Cellar — Pride Films and Plays
Performer in a Supporting Role — Play
Renee Lockett (Aunt Mama) — Sugar In Our Wounds — First Floor Theater
Michael Turrentine (Geedi, Wamwara, Hassan Abdulla) — Mlima's Tale — Griffin Theatre Company
Performer in a Supporting Role — Musical
Kyrie Anderson (Sandra Bloom) — Big Fish — BoHo Theatre
Jeff Pierpoint (Will Bloom) — Big Fish — BoHo Theatre
Scenic Design
Alan Donahue — Middle Passage — Lifeline Theatre
Costume Design
Mieka van der Ploeg — First Love is the Revolution — Steep Theatre Company
Sound Design
Dan Poppen — All Quiet on the Western Front — Red Tape Theatre
Lighting Design
Stephen Sakowski — All Quiet on the Western Front — Red Tape Theatre
Choreography
Breon Arzell — Head Over Heels — Kokandy Productions
Leah Urzendowski — All Quiet on the Western Front — Red Tape Theatre
Original Music in a Play
Ben Chang — The Hound of the Baskervilles — City Lit Theatre
Musical Direction
Michael McBride — Big Fish — BoHo Theatre
Fight Choreography
Maya Vinice Prentiss & Casey Hoekstra — EthiopianAmerica — Definition Theatre Company
Projection Design
Paul Deziel — P.Y.G. or The Mis-Edumacation of Dorian Belle — Jackalope Theatre Company
Artistic Specialization
Keith Ryan (Wig Design) — Hedwig and the Angry Inch — Theo Ubique Cabaret Theatre