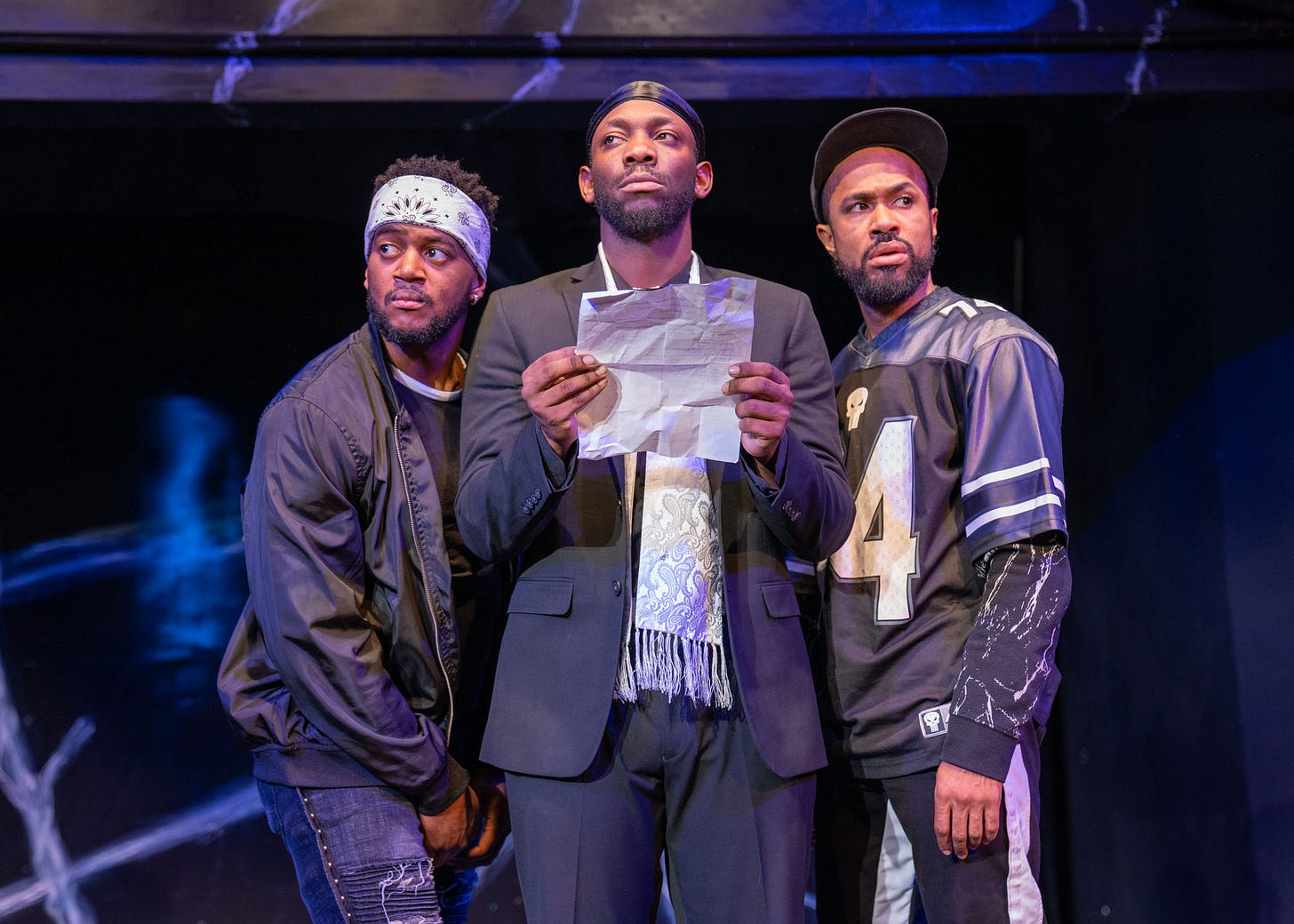 Cage Sebastian Pierre, Kai A. Ealy and Charles Andrew Gardner in TimeLine Theatre Company's production of Kill Move Paradise, now available to stream at home. Photograph: Lara Goetsch
---
Welcome to your next month of sheltering at home. Luckily, more Chicago theater companies are figuring out ways to bring (approximations of) their work to your nearest screen.
TimeLine Theatre Company managed to film a performance of James Ijames's Kill Move Paradise, which was forced to close early last month, and is selling "remote viewing" tickets to stream the production starting tonight. Visit TimeLine's website to choose a "performance time" and purchase a $25 ticket; 99 streams are available for each performance. At "curtain time" you'll receive an emailed link and password allowing a one-time stream at any point in the next seven days.

The House Theatre of Chicago is offering a truly unique experience this Saturday: a "watch-party" YouTube viewing of one of its earliest productions, 2002's The Terrible Tragedy of Peter Pan, with live commentary from original cast members Stephen Taylor, Lauren Vitz, Johnny Arena and Carolyn Defrin, playwright Philip Klapperich and director Nathan Allen. The House was sort of an early adopter of home viewing; the company made a habit in its early days—when its scripts were all generated in-house (in-House?) and its performers were all non-union—of filming its productions and then making them available for DVD purchase at its Swag booth—making possible this streaming revisit of a production that's almost old enough to vote. The livestream will commence Saturday, April 4 at 7:30pm Central at the House's YouTube channel; if you can't make it live, it'll be archived for later viewing.
Look at these freaking babies: the cast of The Terrible Tragedy of Peter Pan in 2002. Photograph: courtesy The House Theatre of Chicago
The Second City will host a live "Improv House Party" on Zoom on Thursday, April 2 at 7pm Central. "Watch co-quarantined pairs convene digitally to improvise their hearts out in this wild west of comedy from streaming live from everyone's bunker," says the comedy theater; the improv teams are Paul Bates & Christy Bruce; Kris Siddiqi & Aurora Browne; and Julie Marchiano & Charles Pettitt. Register in advance at this link; the performance is free to stream, but the company is gladly accepting donations for The Second City Alumni Fund. The Second City's social channels will have updates on future performances.

Black Button Eyes Productions has crafted a one-of-a-kind text-and-video "play" inspired by Edgar Allan Poe and the pandemic. Check out The Masque of the Red Coronavirus any time you choose.

The Auditorium Theatre has launched a weekly Facebook Live performance series, At Home with the Auditorium. Tune in to the theater's Facebook page every Sunday at 6pm; this week, April 5, will feature Too Hot to Handel soloists Alfreda Burke and Rodrick Dixon.

Albany Park Theater Project has made available a short film based on its immersive production Learning Curve, one of my top ten plays of 2016.

Salonathon, the weekly experimental performance series at Beauty Bar that went on indefinite hiatus in 2017, has returned via Facebook Live the last two Mondays. It's not confirmed that broadcasts will continue, but I'd keep an eye on Salonathon's Facebook page.
---
Thanks for reading! This is the free edition of Storefront Rebellion, a newsletter about Chicago theater by Kris Vire. Send tips and feedback to kris@krisvire.com, and if you know someone you think would enjoy this newsletter, feel free to forward this to a friend.