SR Digest: Why aren't Chicago playwrights getting more productions?
Issue #19—September 20, 2019
Welcome to the free edition of Storefront Rebellion! This newsletter brings Chicago theater news and reviews from me, Kris Vire, right to your inbox. If you're enjoying it, please tell your friends. Word of mouth is our best advertising. (I borrowed that from a few thousand post-curtain-call speeches.)
Storefront Rebellion is ad-free and supported entirely by readers. If you appreciate my perspective on theater in Chicago, please consider supporting at $6 per month or $60 per year.
I also very much want to hear your feedback: Reply to this email, or if you're reading this on the web, hit me at kris@krisvire.com or find me on Twitter @krisvire. You can also leave public comments on the web version of the newsletter; click the headline above or the links at the bottom of this post.
---
What a month of theater so far, eh? I feel like I've been attending openings non-stop for the past two weeks, and that still leaves plenty of other shows I'm still hoping to catch up with.
Let's get to the reviews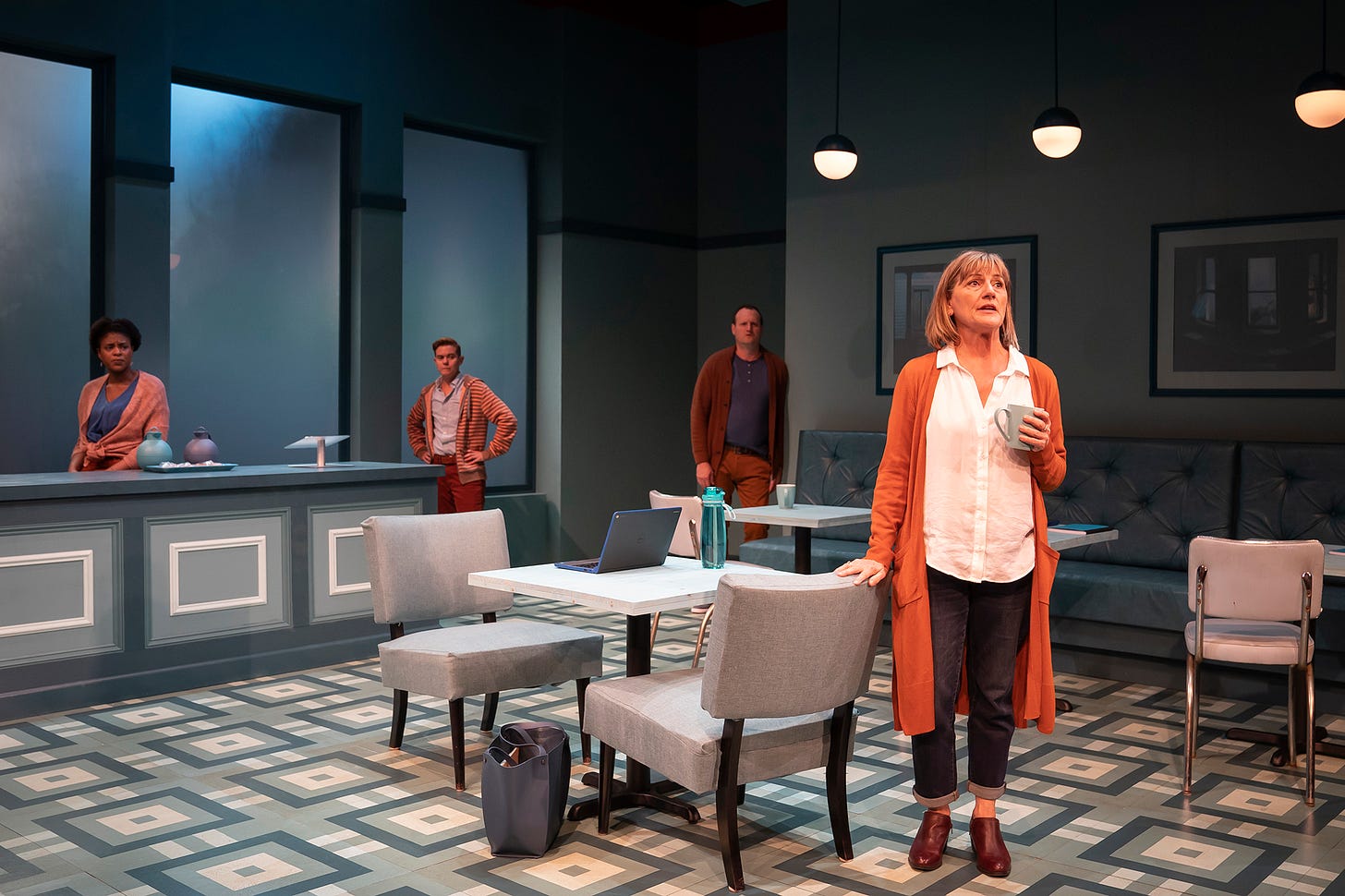 Tiny Beautiful Things
at Victory Gardens Theater. Photograph: Liz Lauren
I might be obsessed with Tiny Beautiful Things? This script, adapted by Nia Vardalos from the collected "Dear Sugar" advice columns by Cheryl Strayed, does not sound on paper like something that should work on stage. But it's reaped praise in every city it's played before Chicago, and guess what? It's among the most moving pieces of theater I've seen in I can't tell you how long—so smartly arranged, so open-hearted, so fantastically staged at Victory Gardens by Vanessa Stalling and embodied by the incredible cast of August Forman, Eric Slater, Jessica Dean Turner, and our queen Janet Ulrich Brooks. Read my 4-star review at the Sun-Times.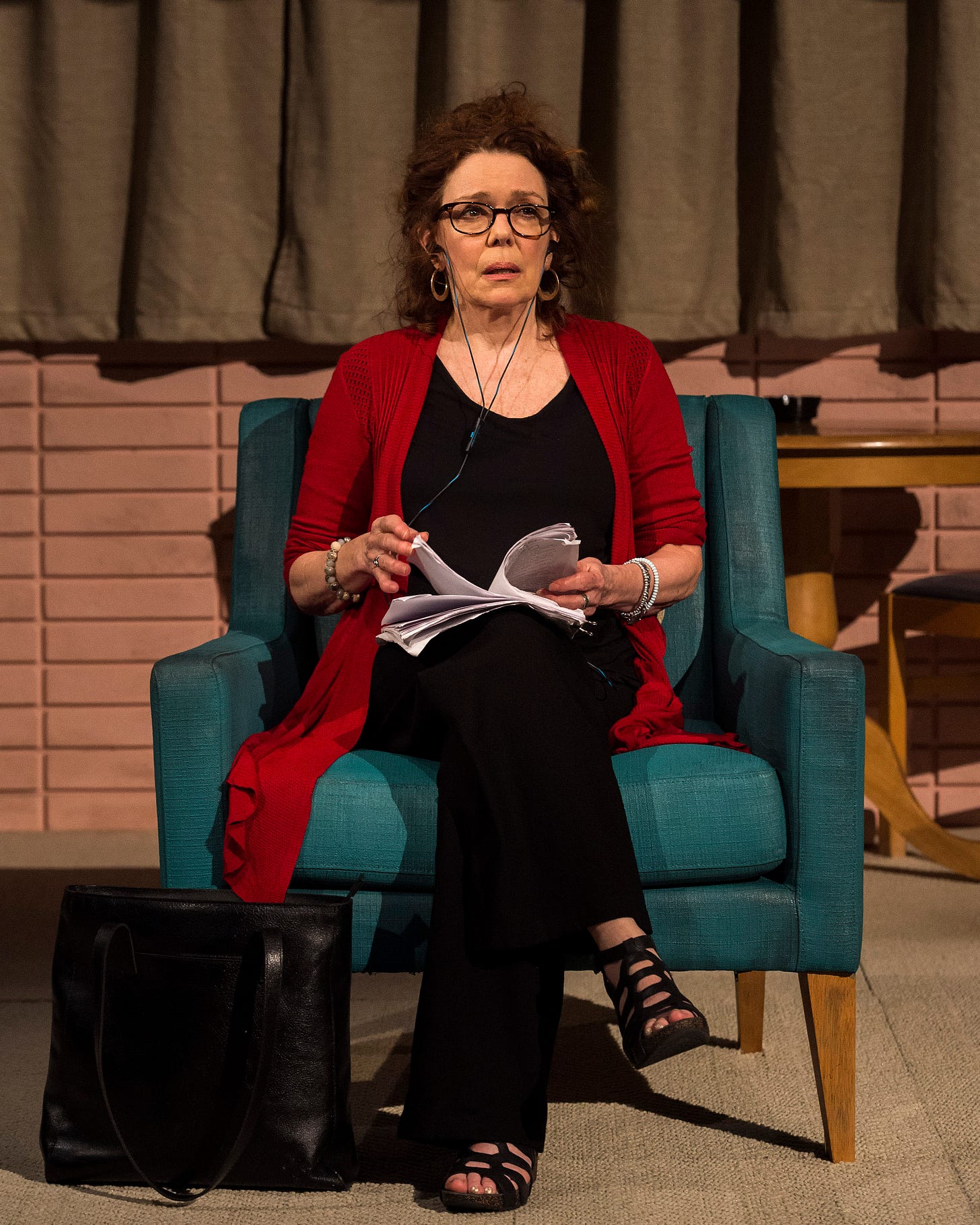 Dana H.
at the Goodman Theatre. Photograph: Craig Schwartz
Equally as fascinating and far more harrowing is Lucas Hnath's latest, Dana H., the story of his mother's kidnapping ordeal—told not just in her words, but in her voice, with the impressive Deirdre O'Connell lip-syncing for her life. Though it only uses the actual words spoken by Dana Higginbotham and her interviewer, Steve Cosson of the Civilians (along with a brief, supertitled preface from Hnath), it says something compelling about the slipperiness of memory, the power of first-person testimony, and our expectation that a trauma survivor should be able to recall their suffering in perfect detail. I didn't include this in my Sun-Times review, but seeing the opening on Monday night, I couldn't stop being reminded of Christine Blasey Ford.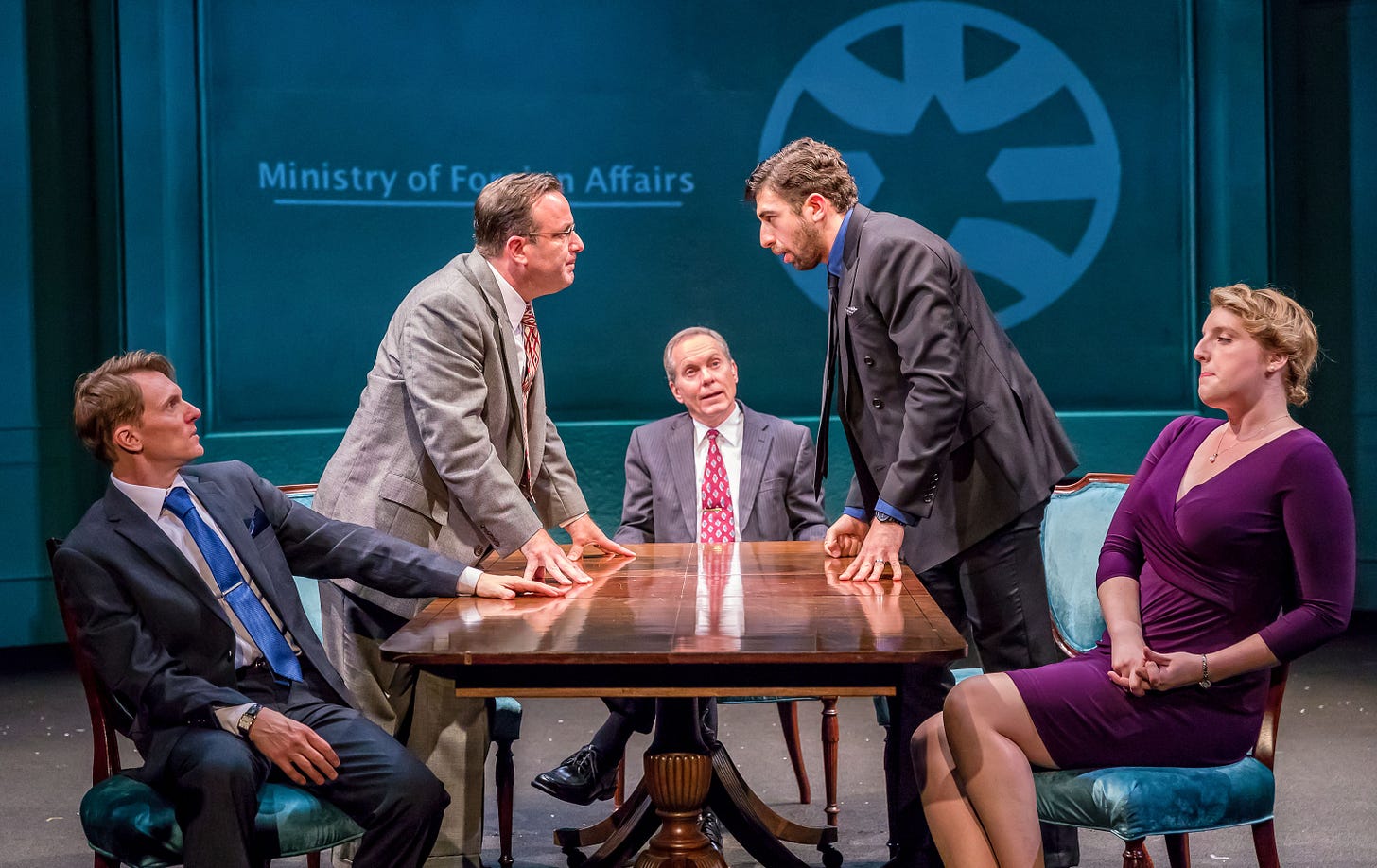 TimeLine Theatre Company's
Oslo
at the Broadway Playhouse. Photograph: Brett Beiner
J.T. Rogers's Oslo won the Tony Award for Best Play in 2017, a year in which that category might have been the most stacked in recent memory; the other nominees were Paula Vogel's Indecent, Lynn Nottage's Sweat, and Hnath's A Doll's House, Part 2. Now that TimeLine Theatre Company has brought Oslo's Chicago premiere to the stage, well, I'm not sure I agree it was the best of that heavy-hitting bunch. But it's an impressive dose of historical drama, and TimeLine rises to the opportunity to present itself to a new audience as part of Broadway in Chicago's subscription season. Read my full review at the Sun-Times.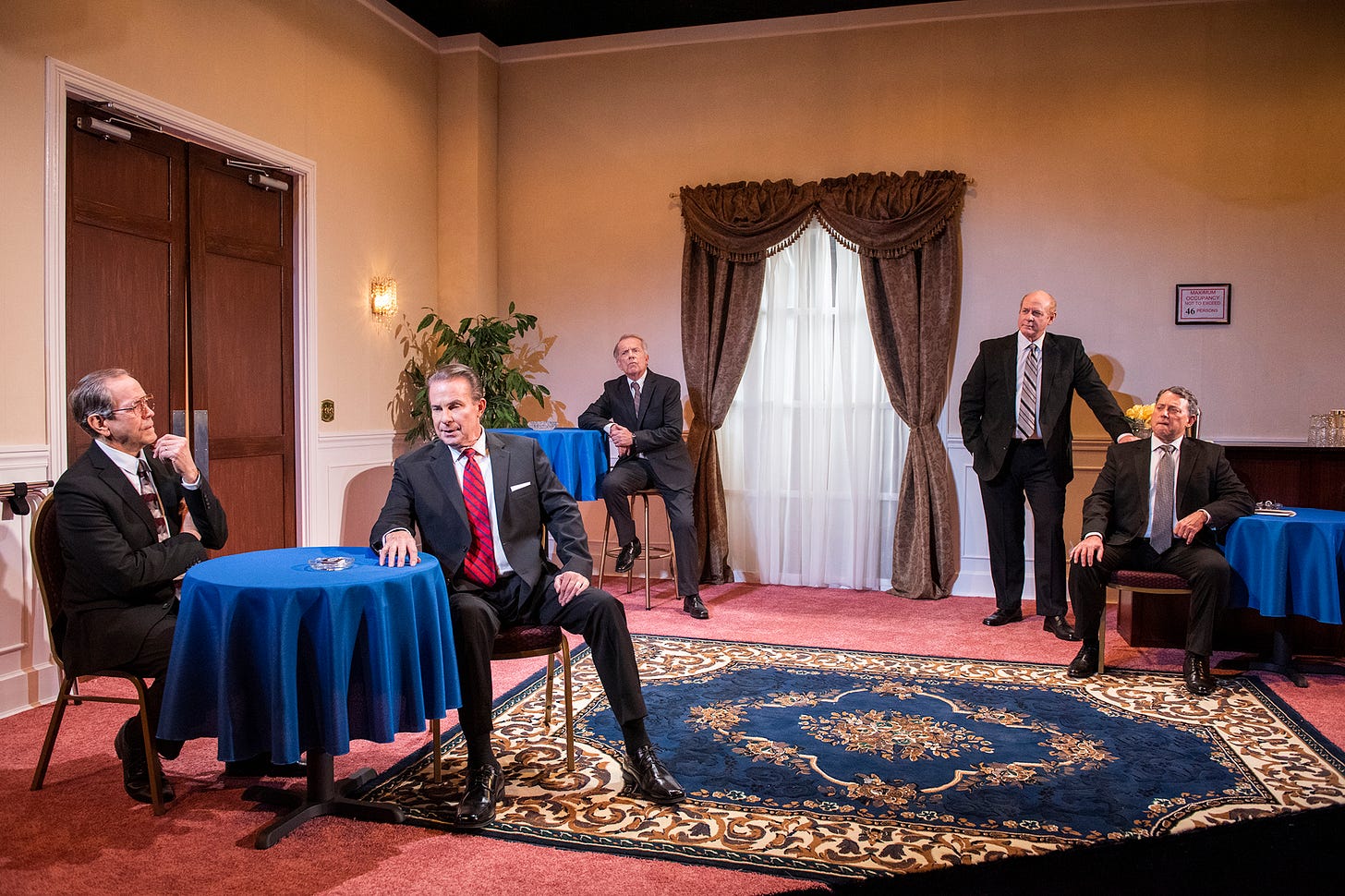 Five Presidents
at American Blues Theater. Photograph: Michael Brosilow
The fourth of my Sun-Times reviews in the last two weeks, Rick Cleveland's Oval Office fanfic Five Presidents, didn't wow me as much as the other three. It's a pretty static, by-the-book imagining of what the conversation might have been like at the moment when former presidents Gerald Ford, Jimmy Carter, Ronald Reagan and George H.W. Bush and "new kid" Bill Clinton were gathered together for Richard Nixon's funeral in 1994. But I appreciated the performances, which suggest their subjects without going full SNL. And it helped me answer a Jeopardy! clue I otherwise wouldn't have known this week (about which president turned down offers to play football for the Packers and the Lions), so there's that.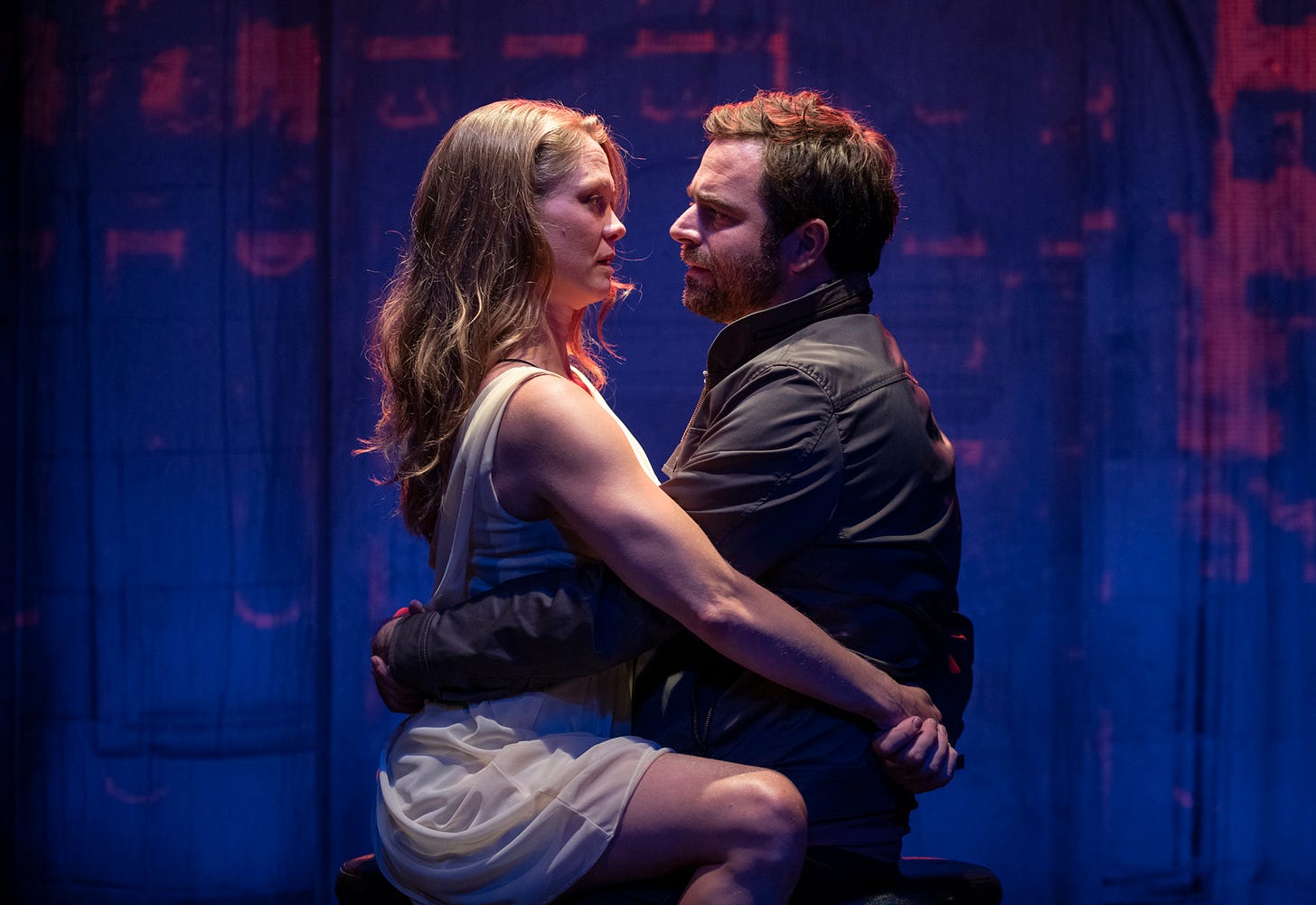 Midsummer (A Play with Songs)
at the Greenhouse Theater Center. Photograph: Michael Brosilow
Paid supporters of Storefront Rebellion also saw my review of another show I would love to see a second time, the David Greig charm-machine that is Midsummer (A Play with Songs) at the Greenhouse, featuring ridiculously winning turns by Chaon Cross and Patrick Mulvey. That review is here if you missed it.
---
American Theatre
's most-produced lists
I mentioned in my review of Dana H. that Lucas Hnath had topped the 2018–19 list of the most-produced playwrights in the country, compiled by my friends at American Theatre magazine. That review was published Tuesday afternoon; on Wednesday evening, American Theatre released the 2019–20 edition of the list, and Hnath has relinquished the top spot to last year's no. 2, Lauren Gunderson, and her Christmas-scented Jane Austen spinoffs.
There's actually much to cheer on the new top 20 list (actually 22 thanks to ties): women just slightly outnumber the men, and playwrights of color including Lauren Yee, Dominique Morisseau, August Wilson, Karen Zacarías, Lynn Nottage, and Quiara Alegría Hudes are all represented with productions in the double digits.
Me being me, of course, I couldn't help noticing who's not represented on the list: Chicago playwrights. There are some playwrights with strong Chicago ties, to be sure—like Simon Stephens, the British playwright who Chicago's Steep Theatre counts as an artistic associate, and Sarah Ruhl, who grew up in Chicago but has made her career on the East Coast.
But what about those who've built their careers here? Diep Tran, who compiles the list for AT, rightly noted on Twitter that Gunderson and Yee, who occupy this year's top two slots, are both women who have never been produced on Broadway. That is a heartening sign, that regional theaters aren't just taking all of their cues from New York City's commercial theater district.
So why aren't there any Chicagoans on the list? Where are the Ike Holters, the Nambi E. Kelleys, the Brett Neveus, the Kristiana Rae Colóns, the Isaac Gomezes, the Mickle Mahers? Calamity West's fundamentalist dystopia In the Canyon has become more horrifyingly prescient every single day since it premiered at Jackalope Theatre Company last fall; where are its next 12 productions?
Chicago has a longstanding reputation as an actors' town; I'd argue we do a solid job of nurturing directors as well. Are we falling down on the job when it comes to promoting our playwrights?
---
One last link
Speaking of nurturing directors, I have a short piece in Chicago magazine's October fall culture preview on Marti Lyons, whose work I first reviewed over a decade ago when she self-produced a María Irene Fornés play at the Viaduct, under the moniker Tooth and Nail Ensemble. Now she's crisscrossing the country mounting new works by Jen Silverman and Lauren Yee (both of whom appear on the most-produced playwrights list!).
At the bottom of that piece you'll also find some of my top picks for shows opening between now and Thanksgiving. I'll be back here in your inbox next week with even more recommendations for October.
---
Questions or feedback for me? Reply to this email, or if you're reading this on the web, hit me at kris@krisvire.com or find me on Twitter @krisvire. You can also leave public comments on the web version of the newsletter; click the headline above or the links at the bottom of this post.