The latest cancellations (and non-cancellations) in Chicago theater
Many large theaters closed shows abruptly last night, but some smaller companies are soldiering on for now.
Last updated: Thursday, April 2 at 5pm CDT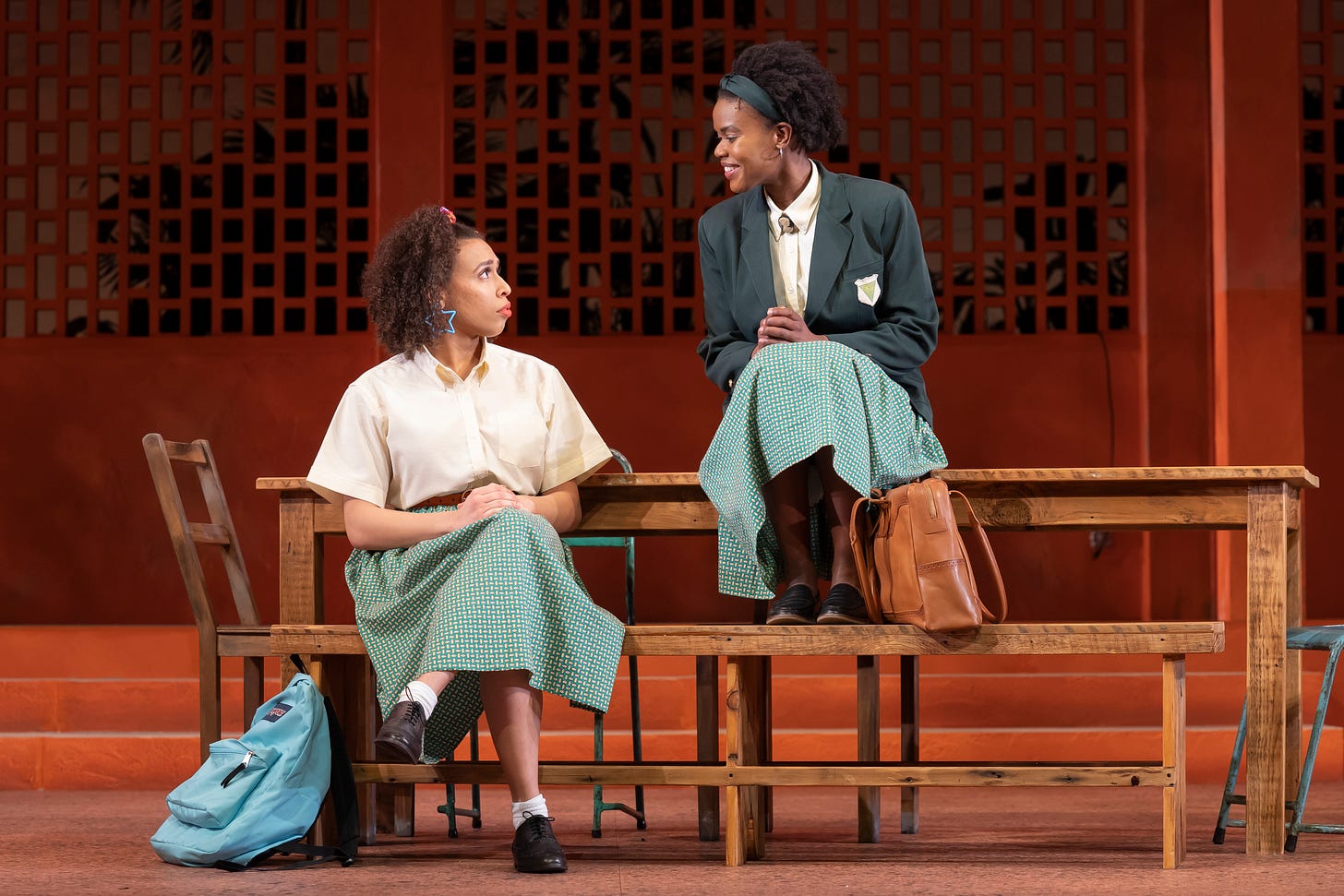 Kyrie Courter and Ciera Dawn in
School Girls; or, The African Mean Girls Play
, which will not open as scheduled on Monday at the Goodman. Photograph: Liz Lauren
---
For the last 18 hours, since the end of the press conference in which Gov. Pritzker and Mayor Lightfoot announced new restrictions and guidelines on public gatherings, my inbox and social media have been a steady stream of notices and lamentations: premature ends of shows currently running, suspensions of shows in previews that now may never open, cancellations or postponements of shows still weeks or months down the line. The two shows I saw on Tuesday and Wednesday, with the intent to review them here in the newsletter, are both now closed the same week they opened.
As a reminder, the governor's mandate calls for a 30-day ban on all gatherings of more than 1,000 people. Pritzker and Lightfoot, along with Cook County Board President Toni Preckwinkle, are strongly encouraging the voluntary cancellation or postponement of gatherings over 250 people through May 1; the governor said yesterday he won't put resources into enforcing that suggestion.
Chicago's many storefront theaters, most of which fall well under 250 seats, remain free to make their own decisions, although the League of Chicago Theatres seems to be encouraging erring on the side of caution.
As this is all still in flux, I'm trying to figure out as a critic and journalist how to cover a shutdown—the absence of art as well as a major financial burden on institutions and individuals. To that end, I'll be appearing on Dean Richards's WGN Radio show on Sunday morning to talk about what this means for theater in Chicago; I'd love to hear from you about specific impacts you think we should discuss.
In the meantime, I'll use this space as best I can to keep a running tab of what's called off and what's still on.
Closures and cancellations, large scale
In emails to staff on the night of March 19 announcing layoffs of many hourly workers, Chicago Shakespeare Theater noted that circumstances gave it no choice but to postpone its upcoming productions of As You Like It (scheduled for May 1–June 21) and the Royal Shakespeare Company's The Taming of the Shrew (April 15–May 2).

Broadway in Chicago has suspended performances of What the Constitution Means to Me at the Broadway Playhouse through March 29, with hopes to resume at reduced capacity on March 31 through its original end date of April 12. The touring engagement of My Fair Lady, scheduled for March 24–April 12 at the Cadillac Palace, will shift to May 2021. March 17 update: Constitution is officially canceled, as is the pre-Broadway tryout of the Britney Spears jukebox musical Once Upon a One More Time, which had been scheduled for April 14–May 17 at the James M. Nederlander Theatre. The upcoming Broadway Playhouse engagements of The Choir of Man and The Crown—Live! have been shifted to February 2021. The May return engagement of The Simon & Garfunkel Story at the CIBC Theatre has been rescheduled for December. The May return engagement of Waitress at the same theater has been pushed to February 2021.

The Lyric Opera has officially canceled April's years-in-the-making performances of Wagner's Ring Cycle. "Enthusiasts of Wagner's Ring cycle from all 50 states and 30 countries had purchased tickets for Lyric's new production, which was to be the first new production in North America since 2012," Lyric said in a statement. Reversing its previous stance, the company will be offering refunds, though tickets can also be turned into credits or donations. Update, April 2: Lyric is postponing the remainder of its season as well. The spring musical 42nd Street will shift to spring 2022; Lyric's production of Jeanine Tesori and Tazewell Thompson's opera Blue, originally scheduled to be presented in June at Chicago Shakespeare Theater, will move to January 2021.

Northlight Theatre has called a halt to its production of Intimate Apparel following its first preview last night. "We are currently working toward a postponed schedule for Intimate Apparel, which would also shift dates for the last remaining production of our season, Songs for Nobodies," the theater said in a statement. "We are still working on putting all of this together, and ask for your patience and understanding as we determine a new course of action."

The Goodman Theatre has suspended performances of School Girls; or the African Mean Girls Play, which had been in previews for a Monday opening in the Albert Theatre. Molly Sweeney, which had been set to start performances March 27 in the Owen Theatre, has been pushed back to April 20.

Victory Gardens Theater has canceled the world premiere of Dhaba on Devon Avenue, scheduled to run March 27 to April 26. It was to have been Chay Yew's final directing turn at VG before he ends his tenure as artistic director this summer.

Lookingglass Theatre Company has canceled all remaining performances of Her Honor Jane Byrne, less than one week after opening. It was intended to run through April 12.

Court Theatre canceled the entire run of The Lady from the Sea, which was scheduled to begin Thursday night and continue through April 12.

Thursday night was the final performance of Drury Lane Oakbrook's An American in Paris, which was meant to run through March 29. The theater will remain closed until May 1; any April tickets for Drury Lane's production of Evita, which had been scheduled to begin performances April 10, will be exchanged for later dates.

The remaining performances of Steppenwolf Theatre Company's Bug (which was in its extension week), I Am Not Your Perfect Mexican Daughter, and First Floor Theater's visiting 1700 Theater production of Plano have all been canceled. Touring performances of Mexican Daughter are canceled as well. March 17 update: The Most Spectacularly Lamentable Trial of Miz Martha Washington, slated to run April 2–May 17, will shift to the 2021–22 season. April 2 update: Rajiv Joseph's King James will also be delayed to the 2021–22 season.

Paramount Theatre cut short the world premiere production of The Secret of My Success, which was scheduled to continue through March 29.

The new commercial musical Hit Her with the Skates, which had begun previews on Tuesday at the Royal George Theatre for an opening night of March 18, has suspended performances and now plans to resume previews April 21 for an April 23 opening.

The commercial staging of Be More Chill, which is taking up residence at the Apollo Theater with an all-Chicago cast, has pushed its opening back from April to July.

Cirque du Soleil has canceled the June engagement of Alegria at Soldier Field.

Writers Theatre is suspending operations for 30 days, canceling the final weekend of Stick Fly and postponing the opening of The Last Match. In a statement, Writers said "It is our hope to resume performances of The Last Match after April 15 and move forward with the run of Manual Cinema's Mementos Mori, scheduled to begin performances on May 6."

The Second City is suspending all performances in the mainstage and e.t.c. theaters through at least March 26. (The e.t.c. space holds about 200 people, while the mainstage capacity is 290, according to the Tribune. One could imagine producers cutting back the number of bentwood chairs in both famously tightly-packed theaters in order to resume business on March 27.)

Black Ensemble Theater has suspended performances of The Healing (which debuted earlier this month under the title Legends: A Civil Rights Movement), with hopes of resuming in 30 days.

Blue Man Group has suspended performances at the Briar Street Theatre in Lakeview, where it's been running since the last century.

Mercury Theater, which had previously indicated it would not be canceling performances, reversed course to cancel Shear Madness perfs on March 14 and 15, but according to its website as of Sunday afternoon, it planned to resume performances on March 18. Its Venus Cabaret production of Priscilla, Queen of the Desert has postponed its opening from March 20 to April 24.

The Marriott Theatre, which had previously closed its productions of Grease! and The Princess and the Pea, has also announced a postponed opening for its production of Kiss Me, Kate, originally scheduled to begin March 25. The company is now hoping to open that show April 15.

Teatro Zinzanni, the cirque-style dinner theater in the Loop that had previously committed to staying open with a reduced house size, had its hand forced by Gov. Pritzker's March 15 order to close all restaurants and bars for dine-in service throughout the state. Zinzanni is now on hiatus until further notice.

Teatro Vista has postponed the world premiere of Marvin Quijada's The Dream King, which was scheduled for April 4–May 10 in the Richard Christiansen Theater at Victory Gardens.
Closures and cancellations, smaller houses
Trap Door Theatre was among the first to make a decision, announcing before Gov. Pritzker's press conference on Thursday that it would call off the remainder of its run of Lipstick Lobotomy and postpone its May production of The Water Hen. New dates for the latter are expected to be announced.

The 68-seat A Red Orchid Theatre, which initially said Thursday it would go on with all five final performances of Do You Feel Anger?, will instead play Friday night's performance but cancel the remainder of the weekend.

Jackalope Theatre Company has called off the full run of Fast Company, which opened Tuesday; it won't play another performance. March 25 update: Jackalope has also postponed its production of Justice Hehir's Night Creatures, which had been scheduled for May 26–June 27.

Congo Square Theatre Company has canceled the remainder of its run of Day of Absence, which was playing in the Richard Christiansen Studio Theater at Victory Gardens.

The Den Theatre has shut down operations effective today through April 12. This affects, among other events, the Den's own production of David Harrower's Blackbird, which had been scheduled to begin March 21 and will be canceled entirely. Also in the next 30 days had been scheduled engagements by comedians Cameron Esposito, Kurtis Conner, Erik Griffin and Akaash Singh, as well as Chicago Dance Crash and WildClaw Theatre's Deathscribe. "It is our intention to reopen on Monday, April 13, and though the nature of this situation offers no guarantees, we remain optimistic that all performances will continue as scheduled at that time," the theater said in a statement posted to its website.

One of the Den's resident companies, The New Colony said its world premiere of K.L. Parker's Under the Tree, scheduled for April 1–May 3, would not go on at all.

Another Den production, Irish Theatre of Chicago's U.S. premiere of Phillip McMahon's Pineapple, had been scheduled to open Saturday March 14 and run through April 11. "If we are somehow able to resume the production or mount it at a different time or venue, we will be sure to let you know," the company said on its website.

Lifeline Theatre says it is postponing—not canceling—performances of its two current productions, Middle Passage and Neither, as it suspends operations for 30 days.

Raven Theatre said Thursday night that it would be suspending all performances in its building, including the final two weeks of A Doll's House, its children's production of Aesop's Amazing Adventures in the Land of Fables, and Griffin Theatre's visiting production of Mlima's Tale. Update March 25: Raven will also postpone its production of Eden Prairie, 1971, which was scheduled to run May 7–June 21.

Little Time Theatre Co. said it would postpone its inaugural production, Clementine by Cameron Roberts, which was set for a three-week run at Chicago Dramatists beginning tonight.

Shattered Globe Theatre Company has canceled this weekend's final performances of Sheepdog. The production had been extended beyond its original closing date of February 29.

TimeLine Theatre Company's production of Kill Move Paradise—which, like Sheepdog, was directed by the busy Wardell Julius Clark—has also closed. It was meant to continue through April 5.

Blank Theatre Company has postponed its production of the musical Nine, which was set to run March 28 to April 26 at Stage 773.

As of now, all performances at the Chopin Theatre of The House Theatre of Chicago's Verböten (extended through March 29) and its following production, Henry V (scheduled for April 9 to May 24) are canceled. The solo performance by Verböten composer Jason Narducy scheduled for Saturday, March 14 has also been canceled.

Also at the Chopin, Kokandy Productions has indefinitely postponed its run of Hundred Days, which was set for its official opening tonight.

The Comrades' production of Leslye Headland's The Layover has closed early at Greenhouse Theater Center; it was scheduled through March 22.

Chicago Children's Theatre has ended performances of Red Kite, Brown Box, its current production for kids on the autism spectrum, and postponed its upcoming staging of Me…Jane: The Dreams and Adventures of a Young Jane Goodall until the fall.

Cabinet of Curiosity's new production The Farewell Fables, which opened last night at Links Hall, will not have any further performances at this time. In a statement posted to its website, the company asked patrons to "please look for announcements in coming days featuring updates and ways we hope to share this magical new work digitally with you, our audience and community."

Interrobang Theatre Project has canceled the remainder of its run of Here Lies Henry at Rivendell Theatre, effective Saturday, March 14.

City Lit Theater made the decision Saturday morning to cancel all remaining performances of Thirteen Days, which was set to open the following day, March 15.

The Plagiarists have canceled this weekend's final performances of Poison at the Berger Park Coach House.

The final weekend performances of Odd's Bodkins' The Wayward War, playing at Jackalope Theatre's Frontier space, have been called off as well.

The Gift Theatre on Saturday suspended performances of its revival of The Pillowman, which had been scheduled to continue through March 29.

Also on Saturday, Promethean Theatre Ensemble ended its run of Mrs. Warren's Profession, adding in a statement: "Things have been changing quickly and we've been following the CDC's recommendations closely. Yesterday's statements about small gatherings being safe doesn't seem to be so true any more."

The Factory Theater canceled the March 14 and 15 performances of Last Night in Karaoke Town, as well as the March 14 late-night show Factory After Dark. The company has not yet called off the remaining two weekends of Karaoke Town.

Similarly, Idle Muse Theatre Company called off its March 14 and 15 performances of In the Next Room, or the vibrator play at the Edge Theatre, but said in a statement posted to the company's website that "our hope is to re-evaluate in the coming week as the situation continues to develop and return soon with further updates" regarding the remainder of the run, scheduled through April 5.

Per a commenter below, the Jedlicka Performing Arts Center in Cicero has canceled the March 20–29 engagement of Visión Latino Theatre Company's Just Like Us by Karen Zacarías.

On Sunday morning, Theo Ubique Cabaret Theatre made the decision to cancel that night's opening performance of Grey Gardens and suspended performances "for the foreseeable future," according to a spokesperson.

Windy City Playhouse said that its Sunday, March 15 performance of The Boys in the Band would be the last for at least a month. The production had been extended through May 17 and audition notices had been posted for replacement actors to take it into June. A statement posted to WCP's Facebook account said the theater would be closed through April 12 but suggested The Boys in the Band may reopen.

Silk Road Rising announced that it has suspended rehearsals for My Dear Hussein, which was to have begun preview performances on Tuesday, March 17. "The show will be going on an indeterminate hiatus, and rehearsals and performances will not resume until it is safe for our artists and patrons. If conditions change and we are able to resume rehearsals, we will run the show for as many performances as possible prior to the April 19, 2020 closing date," reads a statement on Silk Road's website. March 17 update: Silk Road Rising has called off the entire run.

16th Street Theater has canceled all live performances of Steven Strafford's solo play Methtacular!, which was to have run March 19 to April 4. The theater is exploring digital options, according to a statement on its website: "Stay tuned as we are looking into how to bring password-protected streaming of Methtacular! into all ticket holders homes for a limited time!"

MPAACT has postponed its world premiere of Pulled Punches, which was scheduled for April 17–May 30 at the Greenhouse Theater Center.

Both Otherworld Theatre Company and the Newport Theater said on Sunday, March 15, that they would close to the public through the end of the month. Both venues said they were looking at options to make programming available digitally.

Otherworld Theatre Company added in an announcement on Friday, March 20 that it was canceling its production of The Legend of Merlin, originally scheduled for April 11–May 3.

Pan's Flute Productions postponed its April production of Poisoned: A Snow White Rock Musical at Stage 773.

The Redacted series of satiric screenplay readings at the Music Box Theatre canceled its March and April shows, to be rescheduled at a later date. (I was writing the April one…)

Theatre Above the Law will postpone its world premiere of Ghosts of Chernobyl to next season.

Pride Films & Plays has closed its two concurrent productions, Dex & Abby and Five Encounters on a Site Called Craigslist, adding that "both productions may continue at a later date if circumstances permit."

As of Monday, Theater Wit has scrapped plans to continue with live performances of Teenage Dick. The company will film a performance Monday night with an invite-only audience, and make that recorded performance available for streaming as it announced on Saturday.

The Neo-Futurists have suspended performances of The Infinite Wrench.

Adventure Stage Chicago has canceled the Chicago premiere of Idris Goodwin's Ghost, slated to run April 25–May 3.

AstonRep Theatre Company has canceled its production of When We Were Young and Unafraid, scheduled to run April 9–May 10 at the Edge Theater.

As of 5pm on Tuesday, March 17, TUTA Theatre Chicago has canceled the remainder of its run of Hedda Gabler: A Play with Live Music. "We are working diligently to create a professional digital recording of the production that can be shared with patrons that have purchased tickets and are now unable to attend the show," the company said in a statement on its website.

In an undated statement posted to its website and retrieved on Friday, March 20, the Greenhouse Theater Center said it was closed effective immediately. Three days earlier, two rental productions at the Greenhouse, Judy & Liza — Once in a Lifetime: The London Palladium Concert — A Tribute, and Teddy Roosevelt: The Man in the Arena, had said they planned to continue with their regular performance schedules.

While the production hadn't issued an announcement as of 5pm on March 20, Ticketmaster indicates that performances of I'm Not a Comedian… I'm Lenny Bruce at the Royal George Theatre have been canceled for at least the next four weeks. Even had the production wished to continue, the Royal George would presumably have fallen under the category of nonessential businesses required to close per Gov. Pritzker's order today. The next performance currently on sale is April 18.
What's still on
---
Thanks for reading! This is the free edition of Storefront Rebellion, a newsletter about Chicago theater by Kris Vire. Send tips and feedback to kris@krisvire.com, and if you know someone you think would enjoy this newsletter, feel free to forward this to a friend.