SR Digest: Our cup runneth over
Issue #21—October 18, 2019
Welcome to the free edition of Storefront Rebellion! This newsletter brings Chicago theater news and reviews from me, longtime critic and journalist Kris Vire, right to your inbox. If you're enjoying it, please tell your friends. Word of mouth is our best advertising. (I borrowed that from a few thousand post-curtain-call speeches.)
Storefront Rebellion is ad-free and supported entirely by readers. If you appreciate my perspective on theater in Chicago, please consider supporting at $6 per month or $60 per year.
I also very much want to hear your feedback: Reply to this email, or if you're reading this on the web, hit me at kris@krisvire.com or find me on Twitter @krisvire. You can also leave public comments on the web version of the newsletter; click the headline above or the links at the bottom of this post.
---
On Wednesday morning, I went to a downtown hotel to meet with a visiting group from Western Massachusetts, supporters of a small summer theater in the Berkshires who had arrived on Tuesday night for a week of Chicago theater. I was there to give them the lay of the land, as it were—a brief overview of Chicago's theater scene and its history.
Their theater's artistic director had told me beforehand that this would be a crowd of savvy theatergoers. Many of his patrons regularly travel down to New York or over to Boston to see shows, and he leads a trip like this to a different city every fall, along with a trip to London every spring. And it was true: They were an eager and knowledgeable group, with smart questions. A few of them had lived in Chicago growing up, and asked me for updates on things they remembered. (One woman asked me if Mike Nussbaum was still going strong; I was delighted to report that he was.)
But when I gave them that statistic that we tend to throw around so casually here—the one that says there are approximately 200 entities producing shows around the city in any given year? Reader, there were gasps. When I told them that according to my count, there were around 500 productions running, all told, in the year 2019? Well, I wish you could have seen their faces.
All too often, I look at the calendars and spreadsheets I use to track all this activity as a problem to be solved—or a problem that can't be solved. There's no way to even come close to catching every show. My friends who are casual theatergoers often tell me their version of this problem: There's so much to choose from, they don't know where to start to find a show for them. The sheer breadth of offerings can be intimidating.
But to my new friends from the Berkshires, what I was describing was an embarrassment of riches. They were fascinated by the idea that you could see the same actors in a 500-seat theater one month and a 50-seat theater the next—and that the press would (or at least used to) give both equal coverage. They asked me for recommendations of storefront shows to see in their free periods, and asked me if I knew anything about the Joffrey's new Jane Eyre.
Near the end of the Q&A portion, one gentleman asked me, "When you know you can't cover everything, how do you decide what to cover?" Ain't that the everlasting question.
---
Speaking of cups that runneth over, I've ended up with a backlog of overdue reviews. Since I'm running so behind, I'm going to knock them out here in the free edition of the newsletter rather than keep them behind the paywall.
---
X
at Sideshow Theatre Company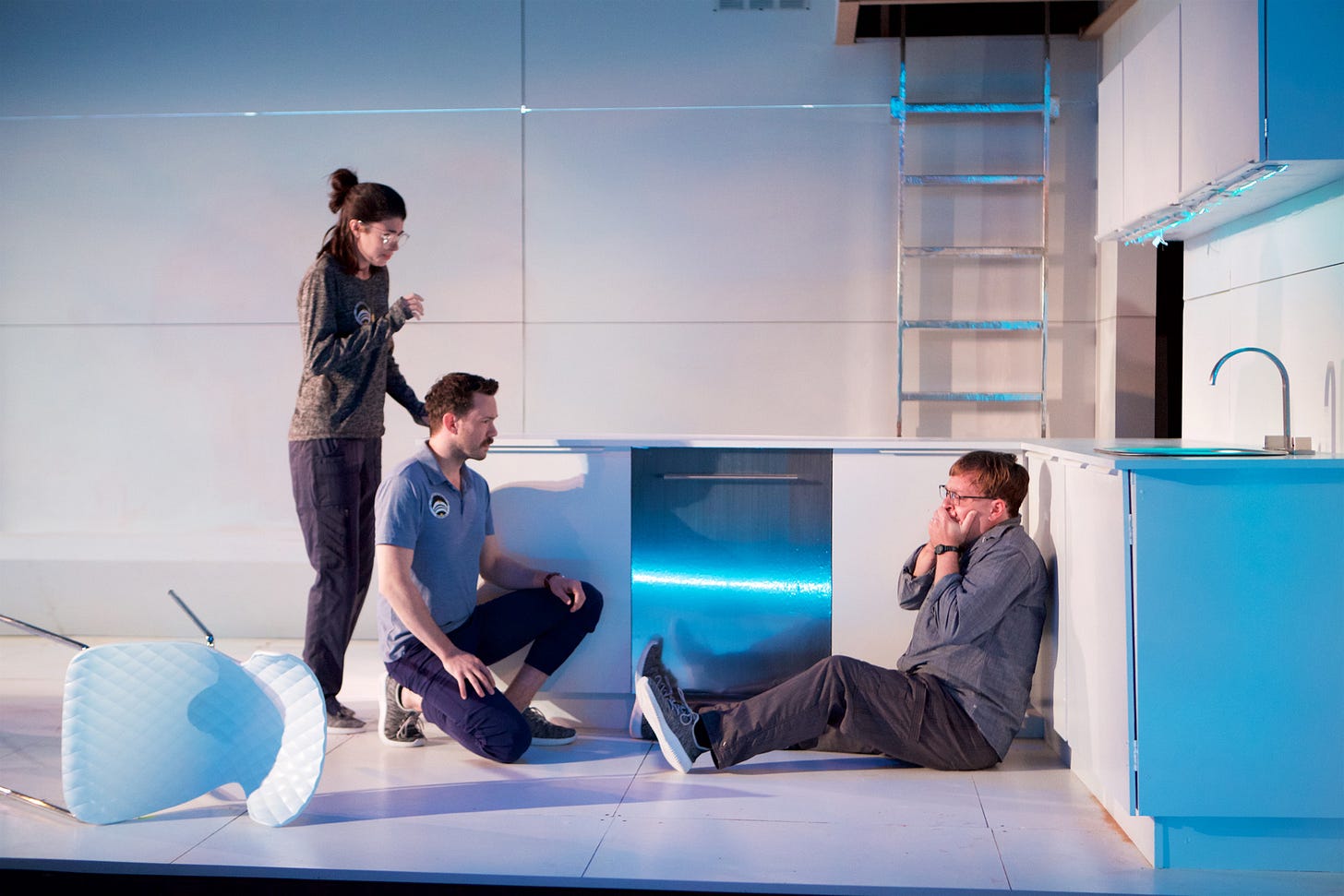 Sarah Price, Gage Wallace and Nate Whelden in
X
at Sideshow Theatre Company. Photograph: Jonathan L. Green
The crew of a research outpost on the surface of Pluto has lost contact with Earth. It's been weeks since their last communique. Or maybe months? Maybe both. Alistair McDowell's deeply unsettling sci-fi thriller keeps us on our toes with what first seems to be nonlinear scene ordering, but it turns out that the station itself has lost track of time. No one can tell how long the clocks have been glitching, and with no connection to Earth's cycles, the crew starts to lose all sense of duration. And that's before you even consider the question of the creepy space ghost.
English playwright McDowell seems to specialize in introducing reality-tweaking elements into grubby stories: see the functional time machine in Brilliant Adventures or the dark magicks of Pomona. Those plays both made their Chicago debuts at Steep Theatre, but X is ideally matched to Sideshow Theatre Company and director Jonathan L. Green, who give it just the right glossy sterility for a story that goes right to the question of how our minds process input. There's not a weak second (or hour? or decade?) among the cast: H.B. Ward, Krystal Ortiz and Nate Whelden are all spot-on, but Sarah Price and Gage Wallace might take top marks for a long, chilling scene in which their entire vocabulary is reduced to its lowest terms.
Running time: 2 hours 5 minutes; one intermission. Tickets ($20–$30) at victorygardens.org. Through October 27.
---
Mosquitoes
at Steep Theatre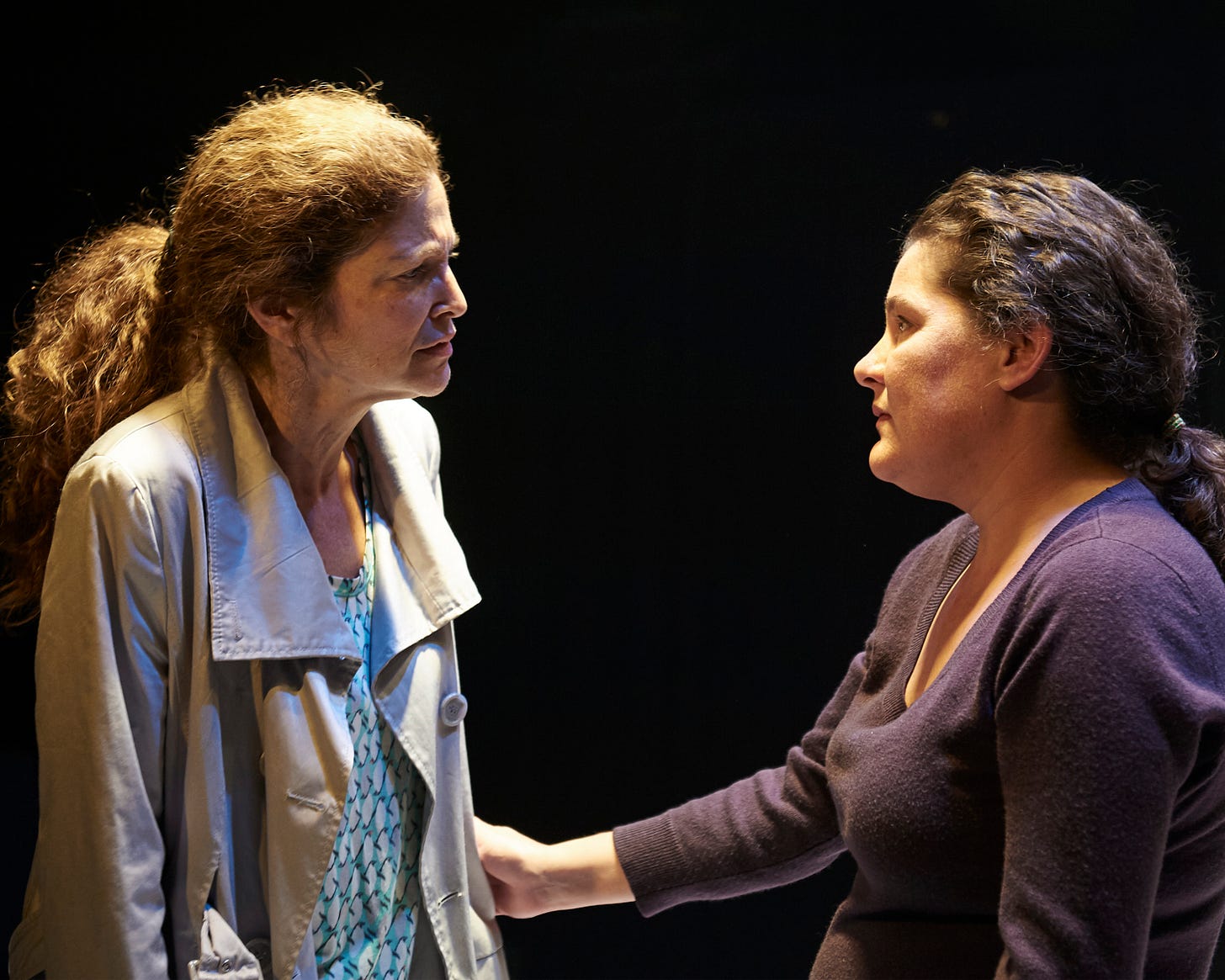 Cindy Marker and Julia Siple in
Mosquitoes
at Steep Theatre Company. Photograph: Lee Miller
Speaking of Steep and their expertly executed Anglophilia, the Edgewater troupe's season opener is the U.S. premiere of Lucy Kirkwood's drama, which first bowed at London's National Theatre in 2017. For those who saw Kirkwood's The Children earlier this year at Steppenwolf, you'll find her working in some of the same themes of science, ethics and responsibility. But where that play potently employed the constraints of three characters and a single location, Mosquitoes is more in the vein of Kirkwood's Chimerica (seen at TimeLine in 2016), with a sprawling, densely-packed plot that pings from scene to scene like a pinball.
At the center of Kirkwood's tale are two sisters. Alice (Cindy Marker) is a scientist living in Geneva, a leader on the Large Hadron Collider project (the play's events take place around the massive particle accelerator's initial experiments in 2008). Jenny (Julia Siple, in a welcome return to Steep's stage after a five-year absence) compares herself unfavorably to her successful sister and is grieving the loss of a young daughter, whose death everyone seems to blame her for.
Kirkwood sets these two on their own collision course, representing science versus instinct, rationality versus practicality. As in any good experiment, there are other complications; Alice's teenage son Luke (a terrific Alexander Stuart) is desperate to be seen while his mother's otherwise occupied, while the siblings' mother Karen (Meg Thalken), once a brilliant but overlooked scientist in her own right, is losing control of her faculties.
Even the Higgs Boson particle appears, personified (played by Richard Costes), to hint at the big picture. Disease-spreading mosquitoes, which live and die in days, kill a million human beings a year; human beings, which are as mosquitoes to the universe, are doing our best to kill our own environment; a social embarrassment, to a teenager, can feel as momentous as the heat death of the universe. Director Jaclynn Jutting's even-handed production keeps both the macro and micro relatable.
Running time: 2 hours 40 minutes; one intermission. Tickets ($10–$39) at steeptheatre.com. Through November 9.
---
---
Sundown, Yellow Moon
at Raven Theatre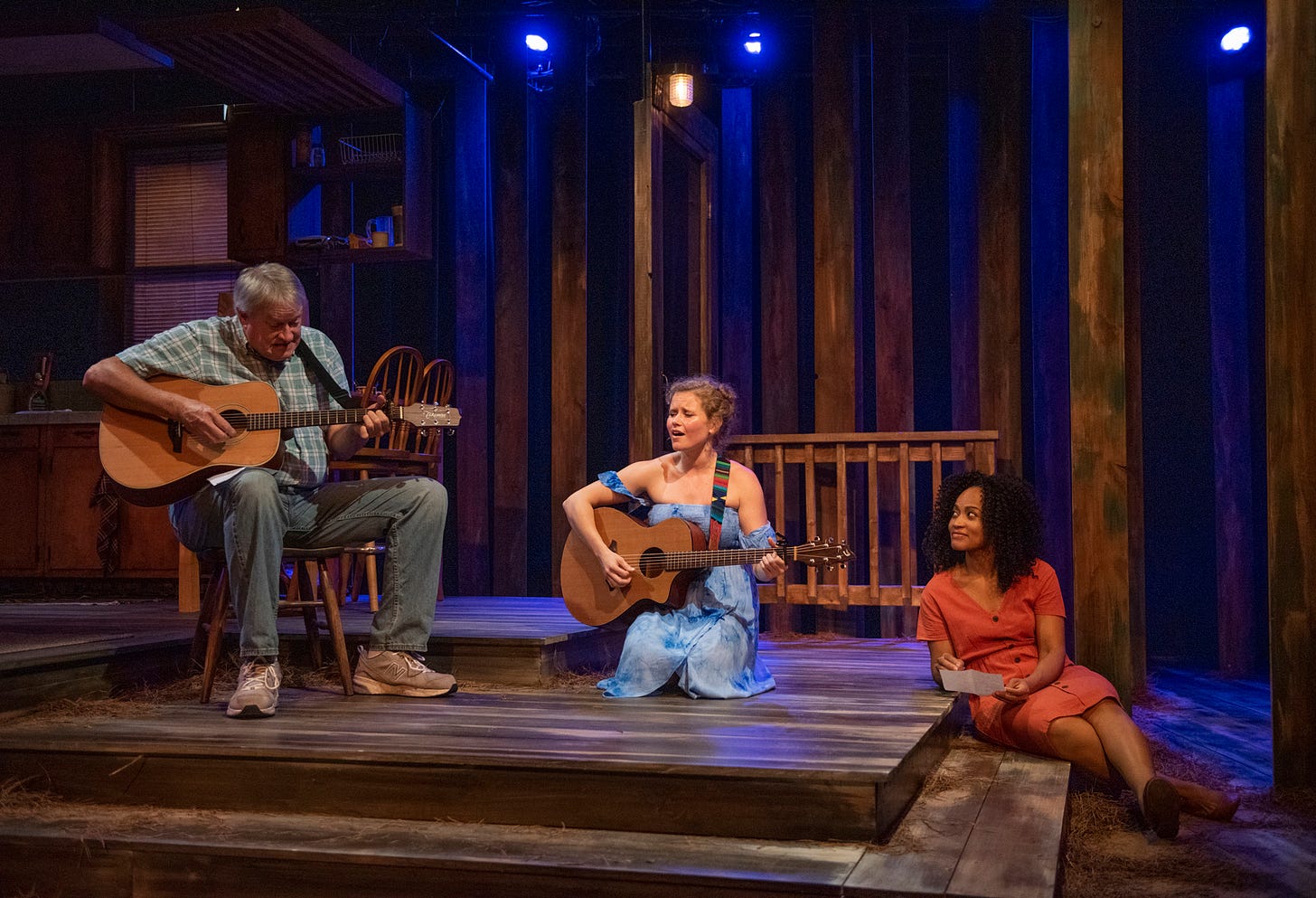 Will Casey, Liz Chidester and Diana Coates in
Sundown, Yellow Moon
at Raven Theatre. Photograph: Michael Brosilow
Rachel Bonds's 2017 family drama, now in its Chicago premiere at Raven Theatre, contains not a single big bang. Hardly anyone even raises their voice in this soporific tale; even the promised songs, composed by husband-and-wife songwriters the Bengsons and performed by Raven's cast, feel like speed bumps on the way to something happening. Unfortunately, that's a destination we never actually reach.
Bonds's play is also focused on a pair of sisters. Here they're fraternal twins Ray (Liz Chidester) and Joey (Diana Coates), home from New York City for a visit to the small Southern college town where they grew up. Joey, the overachiever, is about to embark to Berlin on a Fulbright scholarship; Ray, a frustrated singer-songwriter, is licking her wounds from an ill-advised affair with her boss. They're here to check up on their dad, Tom (Will Casey), who's not taking great care of himself post-divorce from their unseen mom, and got suspended from his job as a high school teacher after an angry outburst.
There are a few more melancholy souls on hand. Joey has a handful of flirtatious but chaste midnight encounters with a poet (Josh Odor) who's stuck in a creative rut; Tom is visited by a school counselor, Carver (Jordan Dell Harris), who's emotionally stifled for his own reasons.
Truth be told, Sundown, Yellow Moon made me feel nearly as frustrated as Bonds's characters. It's hard to say what makes this so different from, say, the work of Annie Baker, who mines similarly mundane territory. But Baker at least offers character arcs and rising action. Bonds practically dares us not to check our watches; twice (twice!) in the course of this very long 100 minutes, we're asked to watch Carver sit silently in his truck listening to an entire song on the radio.
Harris has an engaging presence, and squeezes all he can from those two sequences. Cody Estle's entire cast, in fact, offers honest, lived-in performances. Having grown up in a Southern college town not unlike the one depicted here, I felt like I recognized these people. But I also felt kept at a remove from them. Jeffery D. Kmiec's set design, an abstract forest stretching the entire length of Raven's mainstage space, didn't help; from my seat on the house-left end, Coates and Odor's scenes way over yonder stage-left were tough to see and hear. It's like being invited to dinner in a lovely home where the food is never served.
Running time: 1 hour 40 minutes; no intermission. Tickets ($43–$46) at raventheatre.com. Through November 17.
---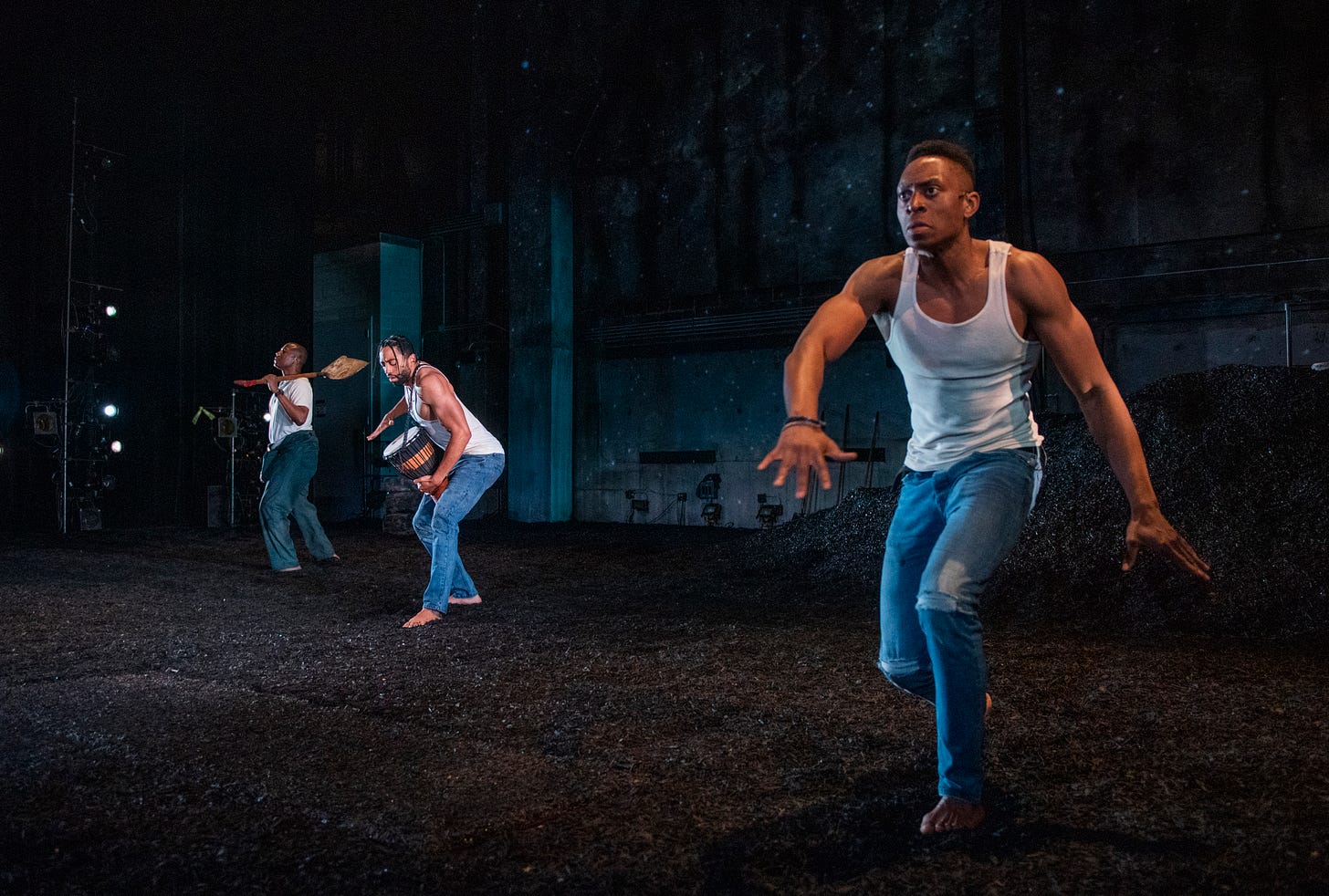 From left: Manny Buckley, Rashaad Hall and Patrick Agada in
The Brothers Size
at Steppenwolf Theatre Company. Photograph: Michael Brosilow
Two external links for today: Over at the Sun-Times, you can check out my reviews of the Steppenwolf for Young Adults staging of The Brothers Size (which closes October 19) and Pride Films & Plays' revival of the musical A Man of No Importance (running through November 10).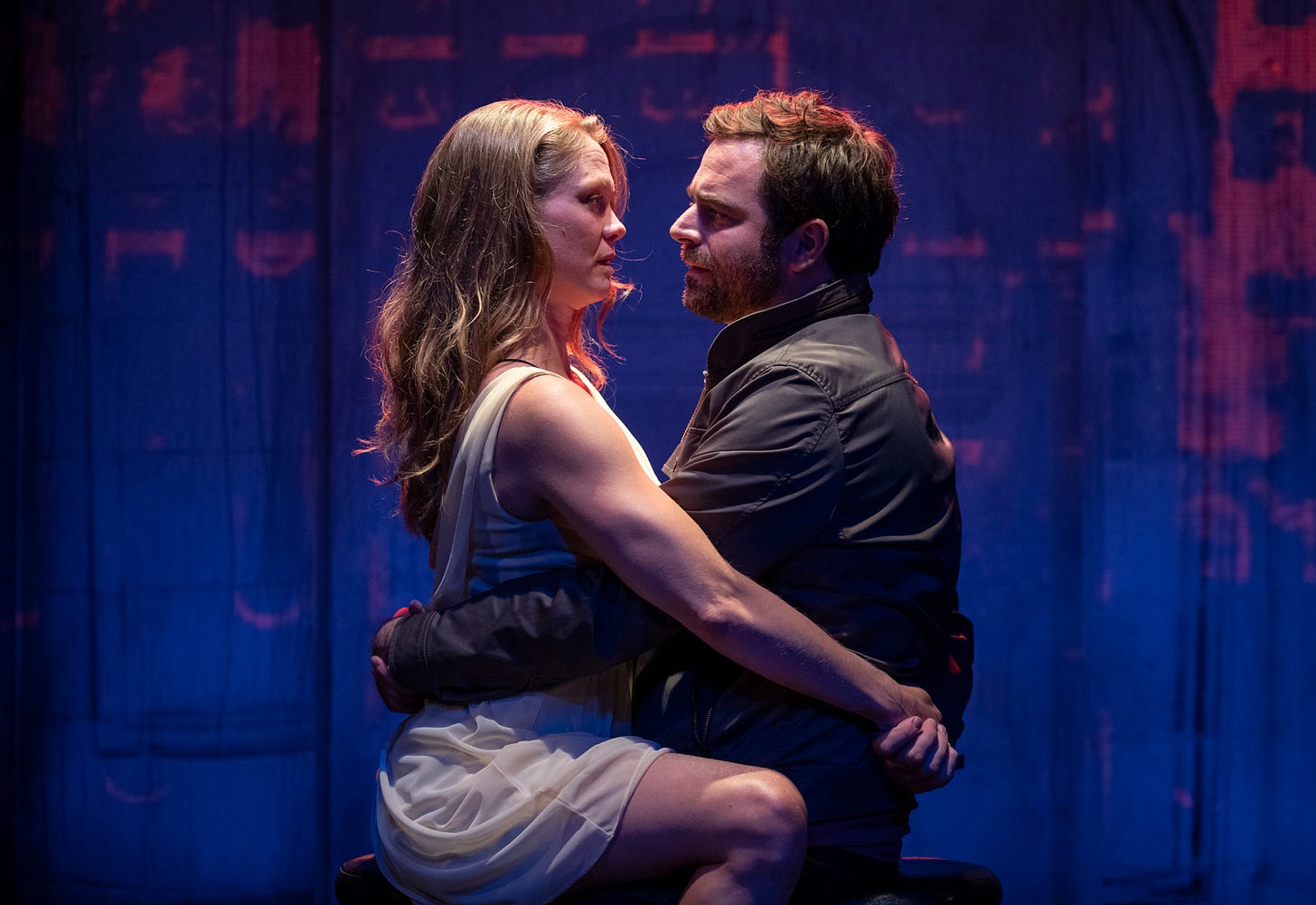 Chaon Cross and Patrick Mulvey in
Midsummer (A Play with Songs)
. Photograph: Michael Brosilow
And if you're not a paid subscriber, you can now check out two Storefront Rebellion reviews from last month that I've brought out from behind the paywall: Remy Bumppo's original adaptation of Howards End and the Greenhouse Theater Center's incredibly charming Midsummer (A Play with Songs). Have a great weekend, everyone.
---
Questions or feedback for me? Reply to this email, or if you're reading this on the web, hit me at kris@krisvire.com or find me on Twitter @krisvire. You can also leave public comments on the web version of the newsletter; click the headline above or the links at the bottom of this post.